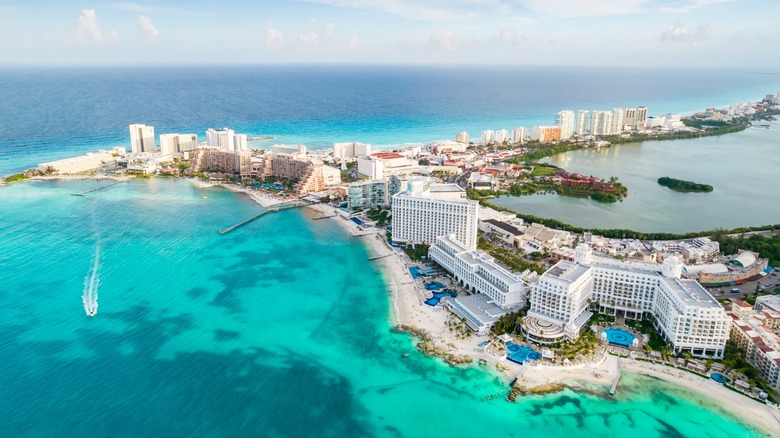 Perhaps the most famous beach destination in Mexico, Cancún is known for its clear turquoise Caribbean Sea and silky soft white sand, a waterfront wonderland that half a century ago was undeveloped wilderness. Early mentions of Cancún have it written as Kankun, a Mayan term that means a nest of snakes, and the barrier island that is today's tourism paradise was, up until the late 1960s, pure nature, according to Quintana Roo Tourism. The beaches were there, but getting to them meant overcoming marshes, mangroves, and thick forests.
Everything changed with the launch of a government master plan in 1969, which initiated the building of roads onto the island, hotel infrastructure, and the construction of an airport to support the imminent tourist influx. In 1974, the first resorts appeared, and Cancún's rise has since been unstoppable with millions now visiting every year (via Tourism Analytics). The beaches here are exceptional, with a number of them accredited Blue Flag, an award by the Foundation for Environmental Education that recognizes environmentally responsible beaches, marinas, and tourism vessels around the world. The main hotel zone part of the town extends along the long barrier island, and many beaches seamlessly merge into each other. While that might suggest that they are all equal, those below, working north to south and including some in neighboring areas, deserve special mention.
Isla Contoy
This quiet island might only be about 20 miles north of Cancún, according to Isla Contoy Tours, but while Cancún is notable for its high-rise hotels, raucous atmosphere, and hordes of package tourists, Isla Contoy is a retreat into solitude, with the number of daily visitors capped at 200 per day (via Island Life Mexico). The island isn't large, a touch over five miles long, but does have grand status, gazetted as a national park in 1988 (via Amigos de Isla Contoy).
The natural beauty is everywhere, with stately palm trees, sandy beaches, and striking turquoise seas. These attributes make it a great place to visit, and Isla Contoy Tours brings travelers here as part of an excursion that also includes snorkeling, lunch, and a stop at Isla Mujeres. Humans aren't the only species that frequent the island — it's an important roost for marine animals (lobster, four types of turtle), marine birds (pelicans, frigatebirds, cormorants), and flora (mangroves blanket more than half of the island).
Playa Norte
South of Isla Contoy, and closer to Cancún, Isla Mujeres offers some of the natural charms of its northern neighbor with the added bonus of accommodations (there are no hotels on Isla Contoy). The island has a rich history, according to Isla-Mujeres.Net, once a refuge for the Mayan goddess Ixchel, hence the Mayan ruins and artifacts on the island. Another story claims the island name is derived from a much later era, when pirates plied these waters and left behind their women on the island.
Today, the seas are more hospitable, welcoming tourists that enjoy the island's easy-going ambiance. Many fine beaches ring its shores, but perhaps the best is Playa Norte, where clear water and soft sand are guaranteed. This is an easy day trip from Cancún, while guests that want to linger over the island's attractions can stay at one of the many resorts here, visit the underwater museum MUSA, or take a snorkel tour of Garrafon Marine Park.
Costa Mujeres
The name of this part of mainland Mexico gives a hint to its location — across the bay from Isla Mujeres, north of Cancún, sits Costa Mujeres. A more relaxed alternative to its busy neighbor to the south, Costa Mujeres enjoys the same stunning water as Cancún, a town whose nightlife and attractions are just 30 minutes away, but without the dense development and rambunctious masses. The sea, water sports, golf, fantastic sunrises and sunsets, and the convenience of an all-inclusive resort stay, like in Cancún, are all here, but it's quieter, while kite surfers enjoy the dependable winds.
For some historical context, Costa Mujeres is home to the Mayan ruin El Meco, which this story in Yucatan Magazine explains was built more than 1,000 years ago, and where the relics clearly mark the outlines of various structures. Visitors that have a pooch in tow can take their beloved baby to the pet-friendly beach at Isla Blanca.
Playa Las Perlas
At the north end of the hotel zone, near the port and marina of Cancún, this is the first beach just off Boulevard Kukulcan, the strip known for its concentration of hotels and resorts. Since it's not in the thick of the action, Playa Las Perlas is a relatively quiet public beach, with easy access, restrooms, and a playground, making it a sound choice for families that want some tranquil together time. It's also popular with locals thanks to its proximity to downtown Cancún, the actual town that lends its name to the beach resort part.
Sun worshippers will find a handful of thatch palapas and calm seas; the blog Traveling By notes that paddle board rentals are available nearby. The beach isn't very wide here, unlike those further south, and at high tide parts almost seem to be consumed by the water, but the lack of crowds easily compensates for the temporary paucity of any beachfront.
Playa Tortugas
Ranked highly by U.S. News & World Report in its list of things to do in Cancún, this beach sits within the town's hotel zone. A few restaurants near the water enable travelers to enjoy a meal with views of the surf, while ferries to Isla Mujeres also depart from here.
But what really sets the beach apart from Cancún's many other fabulous strands of sand is that this is the only place in the city where people can bungee jump. For about $50, Bungee In Cancun takes intrepid travelers out to a platform 25 meters (about 80 feet) above the Caribbean Sea, and, as they survey the gently curling coastline and rows of resorts to the south, they leap into the unknown. The gravity-induced action takes place most days (the operation is closed on Mondays), and after the leap, participants receive a diploma testifying to their feat of daring.
Playa Langosta
Still in the northern section of the hotel strip, with the de rigueur fine sand and calm water, this beach is the archetypal Cancún slice of waterfront magic, earning it praise from Lonely Planet. Visitors can expect seas perfect for kids, or for paddling around on a kayak (rental kayaks and boats are usually available at the waterfront). Otherwise, the main attraction here is to enjoy the sumptuous shoreline, from a lounge chair, under one of the beach palapas, or from a resort cabana. Families will find a small playground here, though this might be less of an enticement than the water.
For a more memorable activity, book a dinner and sail aboard a galleon with Captain Hook — it's located at the western end of the beach. There are three boats here, replicas of 15th-century Spanish galleons, and the onboard experience not only includes a meal, but also an evening show, and the opportunity to hang out with a modern-day Jack Sparrow.
Playa Gaviota Azul
Starting on a small headland that juts out from the main arm of the tourist zone, this beach merges with Playa Forum to the south. This part of the hotel strip is known as Punta Cancún, where the main road makes a sharp 90-degree turn, altering course from an east-west to one that travels north-south. The beaches are both public, though access is often through the hotels that sit behind them, and parking is limited for non-hotel guests.
These beaches are undeniably beautiful, with this video of Playa Forum on Welcome To The World showcasing the beach's captivating qualities. In addition to the normal scattering of beach-goers, travelers might see conventioneers here — these are the closest beaches to the Cancún Center convention facility — and visitors of the Chabad of Cancún, which neighbors the convention center. Of interest to the north is the lighthouse, known locally as the Faro de Punta Cancún, a red-and-white striped tower set atop a rocky point.
Playa Chac Mool
Just south of Playa Forum, this beach received Blue Flag global accreditation, attesting to its environmental, access, and safety protocols. What's more, unlike the placid beaches throughout the region, Playa Chac Mool has some decent waves, which is why you'll find surfers here. Though the conditions might not stack up to the barrels and breaks in other parts of Latin America, there's enough movement for wave riders to catch some thrills. Crowd-sourced blog Wanna Surf gives detailed directions on where to find waves here, with a breakdown of who the water is good for (all skill levels!), the directions of the breaks, and the expected size of the swells.
A number of surf schools in Cancún take adventurers out on the water, but the closest to Playa Chac Mool is 360 Surf School Cancún, right across from the beach, and it offers board rentals and lessons to anyone ready to ride the gentle swells.
Playa Marlin
For fans of calm water, this is your place. Playa Marlin promises vacationers placid seas, so families take note. Site Beachsearcher rates it highly among beaches in the state Quintana Roo (where Cancún is), with facilities that include changing rooms, beach umbrellas, and places to eat nearby. While the beach is an undeniable draw in this part of the hotel zone, there are a couple of other places that visitors will want to check out.
Just inland is the office of Travel Art, a Mexican-owned agency that arranges swims with dolphins and diving tours of the underwater sculptures in the area. In the next building over, Luxury Avenue mall is a high-end shopping paradise that offers an alternative to the sun and sand. Here, you'll find a broad selection of stores hawking everything from high fashion to simple resort wear to artistic watches, and there's even a coffee bar with comfortable chairs, cool lighting, and craft beers that offers a respite from all that conspicuous consumption.
Playa Delfines
There aren't a lot of facilities by this public beach, but what Playa Delfines does offer is a long stretch of sand — four kilometers, or about 2.5 miles, according to Cancún Airport Transfers. Those comely dimensions mean that sun-seekers will always find a place to lay down their beach towels without fear of being sandwiched between strangers like sardines tightly packed in a tin.
This part of the tourist zone is also where to find a lookout point, and from it, travelers will spy the vast Iberostar Selection Cancún to the left (when facing the sea), one of the most distinctive properties in the destination — a giant, white pile that resembles a three-armed pyramid, or a futuristic spaceship. Playa Delfines is well suited to beach purists, but golfers might also take notice of its location. It's the closest stretch of sand to the Iberostar Cancún Golf Club, where the 18-hole course set between the Caribbean Sea and Nichupté Lagoon extends over 150 acres, featuring native plants and fiendish water obstacles.
Playa Ballenas
Blink and you might miss the entrance to this fine beach without many crowds. Access is between the Hard Rock Hotel Cancún and Secrets the Vine Cancún, with a small blue sign marking the way to the water. While the beach might seem like many others here in Cancún, the blog Cancun Playas warns that the waves can be powerful, making it less suited to families with young children. For some, the waves make it an attractive option, with the ideal combination of fewer crowds, water that remains blissfully warm, and sand that is always soft to the touch.
Playa Ballenas, clearly a fine destination in itself, is also a smart way to get to Playa San Miguelito — Beach-Inspector.com lauds the latter's amazing soft sand and mentions that it has water sports operators all along its stretch, but notes that getting to the actual beach paradise is obstructed by hotel buildings.
Playa Puerto Morelos
This former fishing village is only 20 minutes away from Cancún's international airport and the southern part of the hotel zone, but the feeling here is one of tranquility. Puerto Morelos maintains echoes of its sleepy past, with most accommodation concentrated in a compact section by the shore, and hotels are small in size, maintaining the town's intimate atmosphere (via Quintana Roo Tourism). The laid-back aspect of the town is apparent in the beachfront wooden eating shacks, and the bizarre El Faro Inclinado, or leaning lighthouse, an iconic landmark that looks like it might topple into the water at any moment (it won't).
The beach here is as alluring as in Cancún, while a reef just offshore affords swimmers great opportunities for snorkeling. Water lovers will also delight at the many cenotes, or underwater caves, that pepper the area, with more than 50 dotted around the Cenotes Route. Fishing continues to play a key role in current-day Puerto Morelos, with fishing tournaments hosted here throughout the year.
Playa Playacar
Part of a gated community south of Playa del Carmen, this beach sits in front of a development with upscale homes, golf courses, and lavish resorts. The entryway to the beach isn't immediately obvious, though the blog PlayaDelCarmen outlines directions on the easiest way to access the sand. That sand is spectacular, by the way, with few crowds and a broad beachfront that cedes to the tranquil Caribbean Sea. Visitors will find the Mayan ruins of Xaman-Ha here, its name translating to Water of the North (according to the Cancún Sun).
While you are in the area, it's definitely worth visiting Playa del Carmen, a boho-chic town with its very own Fifth Avenue (called La Quinta Avenida), where shops and restaurants offer travelers plenty of diversions. And a little south of Playacar, Rió Secreto is a fantasy land of stalactites and stalagmites, an underground river with dramatic stone formations that visitors can explore while swimming in the water.
Playa Xpu-Há
The blog Ocean Breeze Akumal considers this tame beach, where tourists are often in short supply, an undiscovered gem. Pronounced Ish-Pu-Ha, this part of the coast promises calm seas thanks to the long Mesoamerican barrier reef just offshore, which also makes the water here a hugely satisfying spot for snorkelers. The scene here is certainly not high octane, with a scattering of palms, some low-key restaurants, and a few water-sports operators.
For some refreshments, La Playa Restaurant & Beach Club serves meals with a focus on seafood (ceviche is a popular choice), drinks to patrons seated on swings by the bar, and features an area for relaxing with shaded hammocks where guests can catch some shut-eye during the mid-day siesta. One group of visitors, however, does ensure that this beach is never empty — turtles. The beach is a nesting site during the season, typically from May to November.
Playa Akumal
Day-trippers from Cancún love to come to this beach for the chance to swim with turtles. The frequent spotting of the hard-shelled marine reptile shouldn't be surprising given the name of the location — Akumal is Mayan for Place of the Turtle, according to Let's Travel To Mexico. Most visitors come here as part of a tour, and numbers in the water at any one time are capped at 200, ensuring that the turtles, or the sea, aren't overwhelmed by inquisitive onlookers.
Independent travelers might prefer to swim with the creatures on their own, not as part of a tour, and the site Travel Addicts offers simple tips on how to do that. The key takeaway is that the earlier you can get there, the better, since there will be fewer people in the water (always a big plus), and less commotion in the water, hence clearer visibility. Just north of the beach, Yal-Kú lagoon offers fabulous snorkeling.
Playa Ruinas
Beaches along the Riviera Maya — the stretch of coastline that extends south from Cancún to the Sian Ka'an Biosphere — are stunning, and visiting any of them will produce an excursion to remember. What makes this beach at Tulum stand out is its proximity to the famous Mayan ruins, an image that has adorned many a regional tourist brochure or hotel website.
The walled complex of faded stone structures set against the brilliant blues of the Caribbean Sea makes for an exceptional snapshot. The drama here is definitely all down to the setting — the site sits on a cliff more than 30 feet above the sea. The former settlement was key for trading, according to Tulum Ruins, with jade and obsidian exports earning the Mayans huge fortunes. At Playa Ruinas, the views of the ruins are spellbinding, but they are only available with entry to the archaeological park.
Sian Ka'an Biosphere Reserve
When the Sian Ka'an Biosphere Reserve was added to the Unesco World Heritage list in 1987, it rewarded the preservation efforts afforded to the area's environment, a realm of great natural beauty with rich, unique flora and fauna. It's also a place of impressive numbers, more than a million acres of protected land with a network of underground rivers, nine distinct ecosystems that include mangroves, wetlands, and jungle, and animal residents such as the jaguars, manatees, and giant storks (via the Government of Mexico).
For lovers of nature who come to this part of Mexico, this is a must-see, not just for the wilderness and its inhabitants, but also for the fabulous beaches. The easiest way to get on those stretches of sand is via a tour, and outfitter Visit Sian Kaan takes travelers out to snorkel with dolphins (with an afternoon beach picnic as part of the trip), explore old Mayan canals, and go birdwatching at sunset.