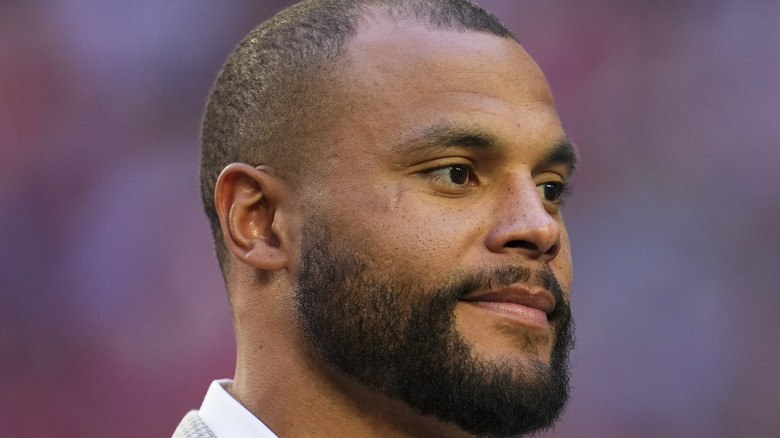 For almost his entire life, Dak Prescott has been exceeding expectations. From humble beginnings all the way to starting quarterback for the Dallas Cowboys, Prescott has time and again found ways to beat the odds and achieve the success he promised his mother. He went on to play college football at Mississippi State, where he twice received first-team All-SEC honors. But his plan finally came to fruition when he was selected by the Dallas Cowboys in the 2016 NFL Draft. Even though he wasn't picked until the fourth round, he would be put on the biggest stage in football right away when starting quarterback Tony Romo was injured in the preseason. Prescott took it all in stride, leading the team to the top spot in the National Football Conference and setting several rookie quarterback records, including Offensive Rookie of the Year.
Although Prescott was taken out of action in 2020 with an ankle injury, it didn't stop the Cowboys from securing his place on the team by making him one of the NFL's highest-paid quarterbacks in a four-year, $160 million contract. As of 2023, Prescott has 24,943 passing yards, 166 passing touchdowns, and 65 interceptions. Prescott's 97.8 passer rating is tied for the eighth-best in history. Still, for all of his major achievements, Dak Prescott has had his share of tragedy. But in his own unique way, he's turned those adversities into strength and positivity — some of which have even earned him the Walter Payton Man of the Year award.
A challenging upbringing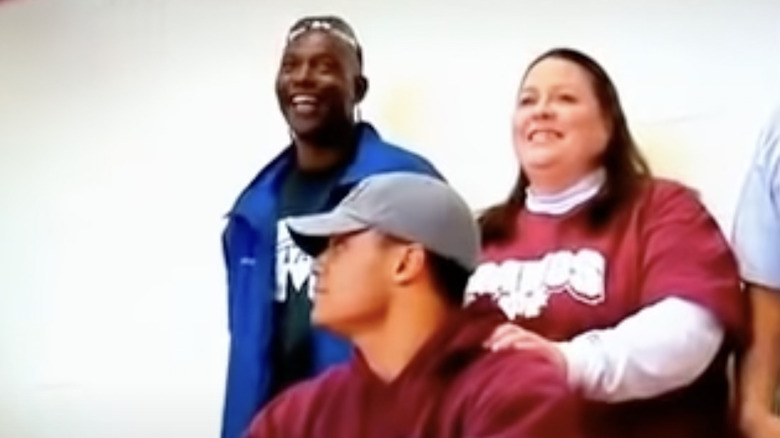 On July 29, 1993, Rayne Dakota Prescott was born to Peggy and Nathaniel "Nat" Prescott in Sulphur, Louisiana — the youngest of the couple's three boys. While Dak was a young child, Peggy and Nat divorced, leaving Peggy to raise three boys in a trailer park in rural Louisiana on her income as a manager of a nearby truck stop. The boys were often on their own, and Dak's older brothers taught him how to play football in the field behind the park. But it was Peggy who was the rock of the family. "We were best friends and still are. She was everything, my coach, my mom, my teacher and anything you could think of, it was deeper than just mom and son," Dak said (via the Faith Fight Finish Foundation).
There is little doubt that the divorce between Peggy and Nat came with a financial burden, but Dak has routinely said the amount of love and support from his family outweighed their struggles. For his part, Nat said he was anything but estranged from his family. In fact, he said even after he and Peggy were divorced, they kept a standing Wednesday night date and remained close friends. "It wasn't for me to try to come out and convince the world," Nat said of his parental role (per The Dallas Morning News). "That's not my job. My child knew and that was the main concern for me." He added: "I am Pops."
Losing his mom
On November 3, 2013, Peggy Prescott died after being diagnosed with colon cancer a year and a half earlier. At first, she didn't want to tell Dak. At the time, he was early in his college career as a quarterback for the Mississippi State Bulldogs. For a month or two, she kept it to herself. The last thing she wanted was to become a distraction as he was making his dreams become reality. "It was just the woman she was," Dak told The Dallas Morning News. "I think she was scared of how it was going to affect me. Obviously I wanted to go home and be with her, but her words were, 'No, you're not coming back here. You're right where you want to be and that's where I want you to be.'"
Dak took his mother's message seriously. It left a lasting impression on his college coach, Dan Mullen, as well. Mullen traveled with Prescott to Peggy's funeral and was blown away by his young quarterback's resiliency. "On a Wednesday we're at his mother's funeral, we fly back and I'm talking about what the next steps are and can we get ready and what his role will be in the game for the weekend," Mullen recalled to ESPN, "and then him going to me, 'Coach, I mean my mother would kick my rear end if I didn't play this weekend.' That tells you how he was raised and the type of person he is and competitor he is."
Tragedy strikes the Prescotts again
After Dak Prescott graduated college, he entered the 2016 NFL draft and was picked up in the fourth round by the Dallas Cowboys — his all-time favorite team. Within a year, he became the team captain, received an ESPY for the 2017 Breakthrough Player of the Year, and was named the 2017 NFL Offensive Rookie of the Year, among other accolades — all by the time he turned 25 years old. His career was going exactly as he promised his mother it would. But in 2020, tragedy struck the Prescott family once more — Jace Prescott, the middle brother, died by suicide on April 23, 2020. He was 31 years old.
Dak said their mother's death hit Jace harder than anybody else because he was there on a daily basis taking care of Peggy. It took a toll on Jace. "You can't even put into words the burden," Prescott said in an interview with "In Depth with Graham Bensinger." (via Yahoo! News). "It's something only Jace knew. And he didn't necessarily share that. Jace never was really much of a talker." Dak added: "When something like that was a huge burden on him, he didn't know how to share it — didn't know how to be vulnerable about it." He later said (via CBS Sports): "I mean, I sat there and tried to gather what had happened, and wanted to ask why for so many reasons. It was like this sense of all these emotions coming off of my back." He also noted his own feelings of depression due to the global COVID-19 pandemic.
If you or anyone you know is having suicidal thoughts, please call the National Suicide Prevention Lifeline​ by dialing 988 or by calling 1-800-273-TALK (8255)​.
Building a foundation
After the death of Peggy Prescott, Dak wanted to take action to help others who experienced conditions similar to the ones his mother faced. In 2017, while still a rookie with the Dallas Cowboys, he launched the Faith Fight Finish Foundation, named after the motto Peggy instilled in each of her sons. The foundation started by focusing on funneling funds to colon cancer research, providing financial assistance to struggling families, and building stronger bonds between communities and law enforcement. After his brother Jace died, the foundation added mental health and suicide prevention as a fourth pillar of its work.
For Dak Prescott, it wasn't his mother's struggles that made him want to build a foundation — it was how she handled the adversity. "Losing my mom and watching her fight motivated me. As much as I can raise awareness and educate people on how to get ahead of cancer, showing how to make your adversity your inspiration is probably the most significant goal," he said (via Faith Fight Finish). "It's about how to face adversity and use it to make you a better person, to think positively and take the better path because of it." It would be a theme that he would carry through his entire career, now codified in his work off the football field.
The NFL's Man of the Year
For his work in his Faith Fight Finish charity, Dak Prescott was named the NFL's Walter Payton Man of the Year in 2023. The award is given each year to a current NFL player who shows "excellence on and off the field." In his acceptance speech, he acknowledged the importance of the tragedies of his mother and brother in the work of his foundation. "I made a promise that it would be one life taken to save many," he said, USA Today reported. "Therefore, I am very thankful for this amazing platform that allows me to do just that. Share the story of my mom and my brother and hopefully inspire so many others." The award comes with a $250,000 donation to his foundation from the NFL.
Prescott recalled a conversation he had with his mother Peggy a decade earlier. "My mother told me when she was diagnosed with cancer that, 'All greats have a story. Allow me to be your story,'" Prescott said. "She is my 'why.' And with these words, just as she does and always did, my mother inspired me and motivated me to be great beyond the circumstances. And it was in her honor that I started my foundation in 2017 and named it Faith, Fight, Finish, the three words she left me and my brothers." He added (per Yahoo! News): "She was one of a kind … My mother inspired me and motivated me to be great despite the circumstances."