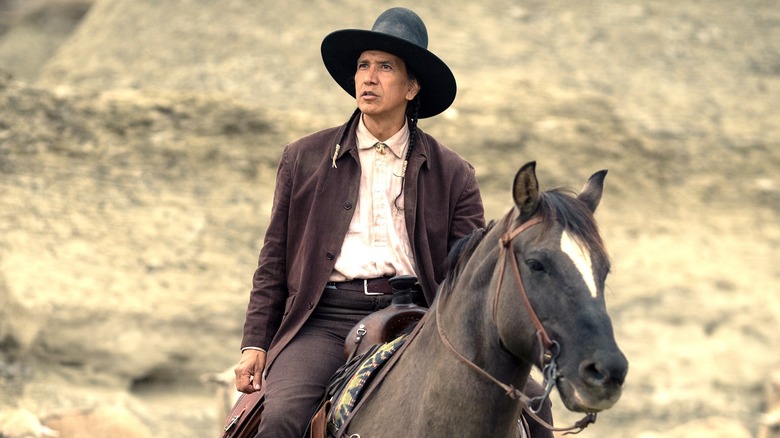 As Taylor Sheridan's "Yellowstone" universe continues to expand, it's only getting more challenging to keep track of the Dutton family tree and timeline. And regarding both, things have only gotten trickier with the release of "1923." The series is, of course, centered mainly on the Duttons of the Prohibition era as they seek to cement their hold on their vast Montana ranching lands. While the Dutton's ongoing battle continues to dominate the "1923" narrative, Sheridan has devoted considerable time to exploring the family history of another prominent "Yellowstone" figure, Thomas Rainwater (Gil Birmingham).
That explorations comes via the troubling tale of his distant relative, Teonna Rainwater (Aminah Nieves). And as far as Teonna's story goes, it's all the more upsetting as it's taken directly from a dark part in American history during which young indigenous women were taken from reservations and raised in government-funded boarding schools.
As has been well-documented of late, most were severely mistreated, and many more died in such situations (per NBC News). Sheridan wisely doesn't look at Teonna's predicament with rose-colored glasses in "1923," with the young woman enduring physical and sexual abuse during her boarding school captivity. Having escaped, Teonna has begun the arduous journey back to the Broken Rock Reservation. It seems she'll be aided in that journey by series newcomer Hank, a kindly sheepherder played by an actor you probably recognize from elsewhere. Here's why Hank from "1923" looks so familiar.
Michael Greyeyes played a First Nations legend in Crazy Horse
The actor who plays Hank in "1923" is Michael Greyeyes. And if you're wondering where you've seen him before, the options are many, as he's been as regular a presence on screens big and small over the past three decades. A descendent of the Plains Cree Tribe (per TV Guide), the Canadian-born Greyeyes — who told ICTnews in 2017 that he was inspired to become an actor after seeing indigenous people featured so prominently in 1990's "Dances With Wolves" — has nobly spent the bulk of his acting career painting portraits of strong First Nations characters in film and Television.
In 1996, Greyeyes was tasked with telling just such a story when he landed the title role in the TNT movie "Crazy Horse." That project explores the legendary Lakota Chieftain's early days as his and his people's refusal to be ushered to reservations leads to a bloody rebellion against U.S. armed forces. Crazy Horse and his allies are surprisingly effective in their resistance, even beating back calvary forces during several battles, including the famed showdown with General George Custer at Little Big Horn. That battle and more are depicted in thrilling detail throughout "Crazy Horse," with Greyeyes delivering a breakout turn in the title role that's as soulfully stirring as it is historically vital.
Fear the Walking Dead found Greyeyes trying to survive the zombie apocalypse
Though Michael Greyeyes has often played indigenous peoples from the past in his decades-long career, recently, he's particularly excelled at portraying native characters in the modern day. That's precisely what the actor did during his Season 3 run on "Fear the Walking Dead."
Greyeyes appeared in 10 episodes of the AMC hit as the fearsome Hopi Chief Qalataqa Walker. When we meet Taqa and his Black Hat Reservation faction, they're riding out the zombie apocalypse on the Res while beefing with a local ranch over a decades-old land quarrel that's already left some of his own people dead. As so many lives did, Taqa's existence gets exceedingly complicated when he meets Madison Clark (Kim Dickens) and her crew of survivors. While those factions are at odds for much of the season, they eventually find some common ground in later episodes, with Taqa and his right-hand man Crazy Dog (Justin Rain) finally helping the Clarks try to sort out a potentially deadly pickle.
If you saw Greyeyes at work on "Fear the Walking Dead," you know his performance remains one of the series' strongest to date, particularly in its extensive "recurring character" stable. So much so it was sad to see him go at the season's end. Given that he escaped the Season 3 finale with his life, it was just as frustrating that series creatives never brought Taqa back into the fold.
Greyeyes made the most of a rare starring role in Wild Indian
On the subject of Michael Greyeyes' work as indigenous men in the modern world, few of his performances have been quite as impressive as the one he delivered in the lauded 2021 thriller "Wild Indian." As it is, the actor's part in the film is one of the few starring roles he's earned over the years. And when you see him in the movie, you'll wonder how the hell he hasn't had dozens more. And as Greyeyes told The Digital Fix during a 2021 interview, it was very much a role he felt he had to play. "I was telling my reps, I said, 'I have to do this film. I don't care how we do it; we have to make it happen'. That's the way the script affected me."
Beloved by the critical set upon release (per Rotten Tomatoes), "Wild Indian" finds Greyeyes portraying Makwa, a successful and deeply-conflicted Ojibwe man so quietly consumed with self-hatred he's essentially disowned his native roots, even changing his name as an adult to Michael to better fit into the modern business world. Michael's carefully constructed life begins to fracture when his cousin Teddo (Chaske Spencer) emerges from a prison stint bearing a long-buried secret that could destroy him. Yes, "Wild Indian" is every bit as tense as it sounds. And Greyeyes' evocative turn as Makwa-Michael is the very definition of towering.
Firestarter found Greyeyes playing a very deadly foe
If you've been watching entertainment outlets recently, you know 2022's "Firestarter" has been making headlines for less than flattering reasons (via Yahoo! News). But even as shameful as the actions of the Razzies nomination committee were towards the film's young star Ryan Kiera Armstrong, said committee's read on the film itself is not entirely inaccurate.
In fact, according to the film's Rotten Tomatoes scores, not many viewers had much use for "Firestarter" when it hit theaters in early 2022. While the latest big screen adaptation of the Stephen King classic bore many of the same problems as its 1984, Drew Barrymore-starring predecessor, acting was undoubtedly not one of them. Some might even argue that the Razzies nomination was all the more deplorable as Armstrong is pretty good in the movie despite working with a screenplay that maybe could've used a revision or three.
Not surprisingly, Michael Greyeyes also works around the problematic script to craft one of the film's more complex characters in Rainbird, a deadly bounty hunter hired to track down Armstrong's pyrokinetic Charlie McGee. Initially an enemy of the McGee's, Greyeyes brings a profound sense of inner turmoil to his role that humanizes Rainbird even as he does a few genuinely vile deeds. That duality proves pivotal to the narrative when Rainbird's true allegiances are eventually made clear, and Greyeyes has rarely been better than he is in those moments.
Greyeyes has booked countless other film and television roles over the years
While the aforementioned projects are obvious career highlights for Michael Greyeyes, they barely even scratch the surface of his notable work. The actor indeed started turning heads with his first credited screen appearance in the Emmy-winning 1993 biopic "Geronimo." After breaking out with "Crazy Horse," Greyeyes was soon earning roles in beloved '90s series like "Dr. Quinn Medicine Woman," "Millennium," and "Walker Texas Ranger." Greyeyes also delivered one of the standout performances in the '98 Sundance Film Festival hit "Smoke Signals."
The 2000s brought Greyeyes appearances in "Charmed," "Numbers," and "Law & Order: Criminal Intent." He also turned up in John Sayles' "Sunshine State," the indigenous mystery "Skinwalkers," and Terrance Malick's "The New World." Having touched on some of Greyeyes' more recent accomplishments, we'd be remiss if we didn't also mention his bravura turn during a 5-episode arc in Season 3 of "True Detective," his run opposite Mark Ruffalo in the HBO miniseries "I Know This Much is True," a fascinating one-off turn in "Star Trek: Discovery," and his current gig with Ed Helms in the Peacock sitcom "Rutherford Falls" (via IMDb).
For the record, if you've yet to see Greyeyes working alongside Jessica Chastain in the 2017 drama "Woman Walks Ahead," just know the term "overlooked gem" exists because of such films. And as it stands, we'll surely see a little more of Greyeyes in "1923" as Hank and Teonna have just begun their journey to Montana.