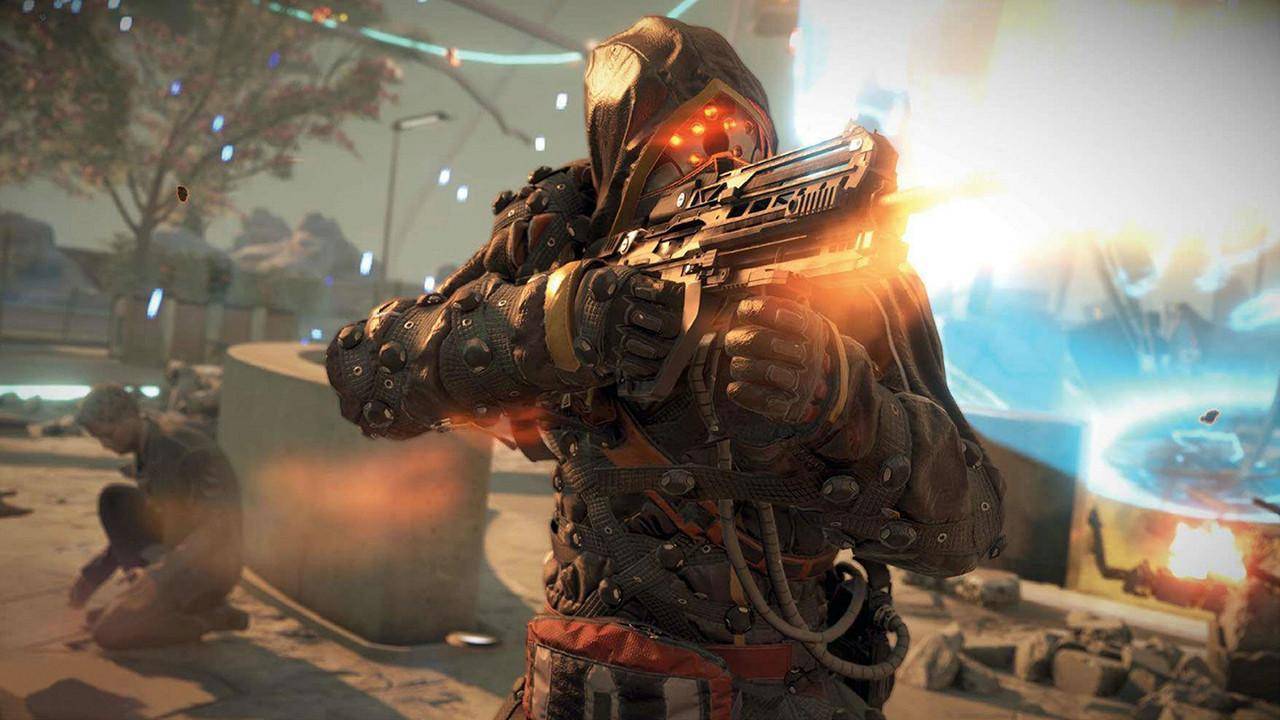 With Sony's next-generation console now released, we thought it would be good to look back at the PS4 launch titles that arrived with the console back in 2013 – y'know for nostalgia. Without further ado then! (Oh, and don't forget, we've also taken a trip down memory lane in regards to the PS3's launch line-up too!) For additional reading. you might want to check out our feature which details all the PS5 games that support crossplay. You also might want to take a look at all the PS4 games that offer free PS5 upgrades too. For further reading you can check out our guides on the best PS5 games, best PS5 FPS games, best PS5 JRPGs, best PS5 racing games, every PS5 game that outperforms the Xbox Series X version and every PS4 and PS5 game releasing in 2022.
All PS4 Launch Titles – Guide
PS4 Launch Titles – Angry Birds: Star Wars (Rovio)
Back in 2013 Angry Birds was arguably a much bigger deal than it is now – what with the likes of Fortnite and others stealing its popularity crown in the intervening years since.
As such, it was hardly surprising to see that Rovio's physics based, bird-flinging puzzler was present at the PS4's launch – albeit with a Star Wars slant that introduced some new puzzle types and mechanics. That said, Angry Birds: Star Wars was hardly the stuff that launch line up dreams are made of.
PS4 Launch Titles – Assassin's Creed IV: Black Flag (Ubisoft)
Though Ubisoft's superb Assassin's Creed IV: Black Flag was also released on PS3, it was really on the PS4 that the adventures of Edward Kenway were truly able to come to life.
With a raft of visual improvements, Assassin's Creed IV: Black Flag was one of a number of cross-gen titles that arrived at launch for PS4. Though it arguably didn't show off the system as much as the first party exclusive titles, Assassin's Creed IV: Black Flag was still a great game to own on Sony's shiny new console all the same.
PS4 Launch Titles – Battlefield 4 (EA)
Another example of a cross-gen title being present at the launch of PlayStation 4, EA's Battlefield 4 was perhaps the most evocative example of just how much more powerful the PS4 was when compared to its last-gen sibling. Indeed it's a credit to the game that some seven years on, people are still playing Battlefield 4 fairly frequently online too.
Though the PS4 version of EA's epic shooter boasted a native 1080p resolution and double the frame rate at 60 frames per second with improved loading times to boot, it was really in the online multiplayer side of things that the gulf between the two systems became apparent, as Battlefield 4 on PS4 supported a full 64 players whereas Battlefield 4 on PS3 only supported a maximum of just 24. Ouch.
PS4 Launch Titles – Blacklight Retribution (Hardsuit Labs, Zombie Studios)
One of the first free-to-play titles on the PlayStation 4, Blacklight Retribution is a cyberpunk themed online shopoter that allowed players to extensively customize their soldier's appearance and weapons loadout.
Boasting 16 maps and a range of game modes, though not quite a stellar shooter, Blacklight Retribution has maintained something of a enduring presence on PS4, since while the developers ceased PC support back in March 2019, the game's online services remain active on Sony's current gen console.
PS4 Launch Titles – Call of Duty: Ghosts (Activision)
Sadly the weakest Call of Duty title to come along in quite some time, Call of Duty: Ghosts failed to impress on account of its poor single-player campaign and general absence of anything remotely resembling innovation.
Though Call of Duty: Ghosts did bring some new multiplayer modes to the table, such as the underrated 'Extinction' mode, the game just didn't do enough to make it stand out among the likes of genre stablemates Battlefield 4 and Killzone: Shadow Fall at the launch of PlayStation 4. At least Call of Duty: Ghosts had Riley the attack hound though – who to this day, arguably remains very much a Good Boy.
PS4 Launch Titles – Contrast (Compulsion Games)
One of the first PS4 PS Plus titles alongside Resogun, Contrast is an indie title that tasked players with completing a variety of puzzles by leveraging their shadow within an art nouveau fantasy world.
While the concept sounded great, in practice Contrast came somewhat unstuck thanks to glitch-ridden physics, poor platforming and a desperately short game length that boasted few challenging puzzles. A pity.
PS4 Launch Titles – DC Universe Online (Daybreak Game Company, WB Games)
Exceptional by the very virtue of the fact that it was the first free-to-play MMORPG on PS4, DC Universe Online nonetheless turned out to be a fairly unremarkable launch title for PS4 that improved as time went on.
With a seemingly endless stream of new quests, enemies, heroes and stories all plucked from the near infinite pages of the DC Comics library, DC Universe Online is one PS4 launch title that is still going strong today.
PS4 Launch Titles – FIFA 14 (EA, EA Sports)
Of course any PlayStation console wouldn't be complete without an EA Sports FIFA title in the mix and so FIFA 14 unsurprisingly decided to accompany the PS4 to retail when it launched in late 2013.
Powered by the brand new Ignite Engine, FIFA 14 looked more lifelike than ever before – with all-new animations and levels of texture detail that the previous generation platforms could only dream of. Throw in all-new signature goal celebrations, all the modes from the previous year's game and it soon became apparent that FIFA 14 was not just a decent PS4 launch title but a commendable entry in the long running EA Sports FIFA franchise too.
PS4 Launch Titles – Flower (Thatgamecompany, SCE, Bluepoint Games)
Without a single bit of text or dialogue, Flower instead conveys its delicate tale through ear-stroking sounds and vividly colorful visuals. The premise is wonderfully simple to get into too – as a petal caught on a rushing wind, players must direct the petal through valleys and grasslands as they cause flowers to instantly bloom upon contact, the goal being to bloom as many flowers as possible before going onto the next stage.
Even today, Flower is simply lovely – a peaceful odyssey of a game that you can just whisk yourself to in order to escape the manic pressures of the real world. A true PlayStation gem that if you haven't played yet you absolutely should without hesitation.
PS4 Launch Titles – Injustice: Gods Among Us Ultimate Edition (NetherRealm Studios, WB Games)
Scoring a modicum of points simply on account of the fact that it was the only one-on-one fighter at the launch of PS4, Injustice: Gods Among Us Ultimate Edition was a wholly unsurprising cross-gen offering.
Sure enough, this was the definitive version of the game but still, it hardly stood as a shining beacon of the PS4's superiority over the previous generation of PlayStation.
PS4 Launch Titles – Just Dance 2014 (Ubisoft)
Though largely much the same as previous Just Dance titles in the series, Just Dance 2014 nonetheless didn't arrive on PS4 without any extra features.
Boasting a new 'On Stage' modes which allow one player to be the main dancer during a routine while others take the roles of backup performers, Just Dance 2014 on PS4 allowed up to six players to take part in these game types. Hardly revolutionary then, but one could argue that there was nothing else quite like Just Dance 2014 at the launch of Sony's current-generation console.
PS4 Launch Titles – Killzone Shadow Fall (Guerrilla Games, SCE)
Arguably the greatest demonstration of the PS4's newfound technical grunt, it should come as little surprise that Guerrilla Games would produce an effort that would best define the generational leap that Sony's new console represented.
A stunning FPS that looked every bit the poster boy for the next console generation, Killzone: Shadow Fall was far from perfect, but nonetheless remained a powerful example of what developers could do with the PlayStation 4.
PS4 Launch Titles – Knack (SCE Japan Studio)
The target of abuse since its release alongside Sony's current-gen console, Knack was supposed to be a child friendly, adventure platformer that would make the most of the PlayStation 4 hardware.
What we got, sadly, was a uninspired, dull, glitchy and derivative effort that did little to convince folk of the PS4's superiority. Definitely something of a missed opportunity then.
PS4 Launch Titles – LEGO Marvel Super Heroes (Travellers Tales, Warner Bros Interactive Entertainment)
The cross-gen mania that was present at the launch of PlayStation 4 would continue with LEGO Marvel Super Heroes and again, it was certainly a familiar story.
With shinier visuals and not much else, that still didn't stop folks from buying LEGO Marvel Super Heroes at the launch of PS4 in droves – and quite rightly too, as the title was (and is) a great entry in the long-running Lego series of adaptations that was a whole bucket of fun when played with friends and family.
PS4 Launch Titles – Madden NFL 25 (EA, EA Sports)
Marking the 25th anniversary of the Madden NFL video game franchise, Madden NFL 25 gave what many people craved when they set their eyes on the PS4 for the first time, namely a solidly playable game of football that absolutely looked the part to boot.
Using the same next-gen Ignite Engine that powered other PS4 EA titles such as FIFA 14, Madden NFL 25 was an eye-opening, spectacle stuffed take on America's greatest sport. One neat touch that was especially visible on the PS4 version of Madden NFL 25 was that the pitch would visibly wear down in areas of heavy footfall, adding yet more realism to the title in the process.
PS4 Launch Titles – NBA 2K14 (2K Sports, Visual Concepts)
If EA's Madden NFL 25 filled a hole in people's hearts for a decent take on football at the launch of PS4, then NBA 2K14 from 2K Sports arguably did the same thing for basketball.
Though hardly awash in fresh new features, NBA 2K14 nonetheless leveraged a large enough visual upgrade over the current-gen versions of the game to make it befitting of rubbing shoulders with other titles in the PlayStation 4's launch line-up. Oh, and it didn't hurt either that the game brought reworked dribble and shoot mechanics too in a bid to ensnare newcomers to the franchise.
PS4 Launch Titles – Need for Speed Rivals (EA, Ghost Games, Criterion Games)
Jointly developed by Ghost Games and Criterion Games, it's quite obvious that the influence of the former is certainly more keenly felt over that of the latter. However, despite that (or rather in spite of it), Need for Speed Rivals actually turned out to be pretty decent.
Lacking a high-end racer at the launch of PS4, EA was able to fill that gap quite nicely with Need for Speed Rivals, the latest entry in the long running Need for Speed franchise that boasted next-gen visuals, fast and furious racing and a massively open game world to do it all in.
PS4 Launch Titles – Resogun (Housemarque, SCE)
The second of the PS4's PlayStation Plus launch line-up freebies, Resogun was as essential in 2013 as it is now in 2020.
A side-scrolling retro shooter that owes a knowing debt to arcade classic Defender, Resogun is a blistering celebration of old-school arcade blasting and very much new-school particle effects that can ensnare you for hours.
PS4 Launch Titles – Skylanders: Swap Force (Vicarious Visions, Activision)
In retrospect, it should come as little surprise that there was a Skylanders title at the launch of PlayStation 4, given the popularity that the series had enjoyed up until that point.
That said, having a title such as Skylanders: Swap Force that provided hours of kid-friendly entertainment must surely have gone some way to helping older folks convince their other halves that they were buying the PS4 as a 'family console', and not just for playing the likes of Killzone: Shadow Fall and Assassin's Creed IV: Black Flag (which is inevitably what happened).
PS4 Launch Titles – Sound Shapes (Queasy Games, SCE)
Another neat little indie effort, Sound Shapes was a music infused puzzler that had previously resonated extremely well with PS3 and PS Vita owners.
Though showcasing a simple but vividly colorful art style, Sound Shapes was an addictive puzzling effort that you could pick up and put down at a moment's notice. Still worth a play even today, we would certainly recommend seeking out Sound Shapes.
PS4 Launch Titles – Super Motherload (XGen Studios)
Accompanying the other more high-profile PS4 launch titles with far less fanfare was Super Motherload, a spritzed up take on the classic balderdash template of old.
Though perfectly playable and enjoyable in its own right, it's fair to say that Super Motherload didn't just struggle to standout against the bigger budget fare at the PlayStation 4's launch, but also many of its indie brethren too such as Resogun and Flower, for example.
PS4 Launch Titles – Trine 2: Complete Story (Frozenbyte)
A gorgeous 2D platform puzzler with a wonderfully evocative fairytale setting, despite being a cross-gen title, Trine 2's art style and overall design still made it look like a proper PS4 launch title all the same.
With pin-sharp 1080p resolution visuals shooting along at a butter smooth 60 frames per second and with all of the previously released expansions thrown in for kicks, Trine 2: Complete Story was/is the definitive version of one of the best platform puzzlers available.
PS4 Launch Titles – Warframe (Digital Extremes)
With its generous free-to-play model, space ninja gameplay, seemingly endless (and free) content updates and the stunning use of Unreal Engine 4, Warframe was always destined to be a roaring success.
A roundly entertaining loot shooter in its own right, it's also a testament to the long-term support that Digital Extremes has given Warframe that in 2020 it remains one of the most popular games on PlayStation 4 – a trend that looks set to continue into the next generation of PlayStation at the end of this year.