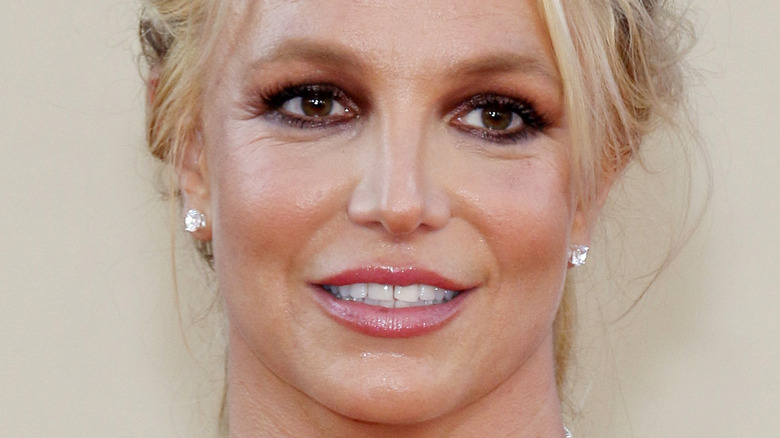 This feature discusses mental health issues and allegations of substance misuse.
If you're a megastar like Britney Spears, then you're probably used to rumors constantly swirling around about your life, whether there's some truth to them or not. It shouldn't come as a surprise that some gossip has actually hurt the pop star's feelings. For example, in February 2023, Spears responded to a TMZ report that alleged her loved ones had been planning an intervention due to mental instability and substance misuse. She took to Instagram to vent, writing, "It frustrates me to know that any news outlet would say any of this! … It's worse than a cruel joke because people actually believe this stuff." In another post, she maintained that the only drug she was using was Prozac to treat depression.
A month earlier, TMZ had posted a video of Spears allegedly experiencing a manic episode at a Los Angeles restaurant. Her husband, Sam Asghari, was said to have walked out of the establishment because of her behavior. However, he disputed the report on Instagram Stories, and defended his wife by stating, "Don't believe what you read online." Spears then poked fun at her alleged behavior making headlines in another one of his Instagram Stories, dishing, "The best thing about the TMZ video, to me personally — I'm starving — was the pasta."
While a lot of rumors about the "Womanizer" singer are clearly false and even hurtful, there are some that actually got the facts straight. So let's break down those rumors about Britney Spears that turned out to be true.
Britney Spears wanted out of her conservatorship
For years, fans had speculated that Britney Spears wanted out of her conservatorship ever since it was put in place in 2008. In that year's MTV documentary, "Britney: For the Record" (via Page Six), she admitted, "If I wasn't under the restraints I'm under right now, with all the lawyers and doctors and people analyzing me every day … I'd feel so liberated."
Spears remained quiet about her conservatorship in the years that followed. However, in 2021, The New York Times published a report that basically confirmed her fans were right with the #FreeBritney movement — their pop idol had indeed tried to end her conservatorship behind closed doors several times. At a court hearing in June 2021, transcribed by Variety, Spears told the judge that she'd been putting a brave face on a pained existence. "I've lied and told the whole world I'm okay … I am traumatized," she said. Later, she alleged that the conservatorship had been both exploitative and abusive.
At that same hearing, Spears alleged that the rumors that she was held against her will at a mental health facility in 2019 were also true. She claimed it was prompted by her not doing certain choreography, telling the court, "I'm not here to be anyone's slave. I can say no to a dance move." Spears later thanked her fans for spreading the truth, dishing in a now-deleted Instagram video, "I honestly think you guys saved my life in a way, 100%."
If you or someone you know needs help with mental health, please contact the Crisis Text Line by texting HOME to 741741, call the National Alliance on Mental Illness helpline at 1-800-950-NAMI (6264), or visit the National Institute of Mental Health website.
She was estranged from her sons
There had been rumors that Britney Spears was estranged from her teen sons, Sean Preston, and Jayden James, ever since they didn't attend her June 2022 wedding to Sam Asghari. Their father, Kevin Federline, supported the claim to Daily Mail, saying, "The boys have decided they are not seeing her right now. It's been a few months since they've seen her." He took it one step further, claiming the boys had taken issue with her risqué Instagram posts.
Jayden then gave his own interview to ITV News where he reiterated his dad's claims, saying, "It's like almost as if she has to put something on Instagram to get attention." He even suggested that her health issues had also strained their relationship. "I just want her to get better mentally," he said. "When she gets better I really want to see her again."
Not surprisingly, Spears was hurt by them talking about their family issues to the press. She responded on Instagram, writing in part, "It deeply saddens me to know [Jayden's] outcry of saying I wasn't up to his expectations of a mother." She also appeared to take a swipe at Federline's lack of employment, making it clear that she was hurt by what Jayden had said since she's financially supported their entire family. Three months later, Spears suggested that there were no hard feelings, writing in another Instagram post, "To both of my boys … I love you … I would give anything just to touch your face!"
If you or someone you know needs help with mental health, please contact the Crisis Text Line by texting HOME to 741741, call the National Alliance on Mental Illness helpline at 1-800-950-NAMI (6264), or visit the National Institute of Mental Health website.
Britney Spears had issues with her parents
Just as fans surmised that Britney Spears had problems with her conservatorship, there was hearsay that the "Circus" singer had issues with the person who controlled it: her father, Jamie Spears. During her bid to end the conservatorship, Britney and her lawyers alleged as much in court, claiming that she was afraid of him. Two years later, the superstar made further allegations in since-deleted posts on social media. On Instagram, Britney accused her dad of treating her like a dog, adding, "He was never a father to me because he was always drunk." Just a week later, she wrote on Twitter, "I really felt like my dad was trying to kill me. And I hope he burns in f***ing hell."
For his part, Jamie claimed he did everything for his daughter's own good, telling the Daily Mail, "Where would Britney be right now without that conservatorship? … I don't know if she'd be alive." As for Britney's mother, Lynne Spears, there was gossip the two weren't on good terms either. In July 2022, the star confirmed that rumor by sharing text messages that appeared to show her mom not responding to her pleas for help three years earlier (Lynne claimed the messages had been edited). Months later, Lynne issued a public apology by commenting on one of her daughter's Instagram posts. In a response post, Britney made it clear she wasn't having it, writing, "Mom, take your apology and go f*** yourself!"
Britney's feud with her sister, Jamie Lynn Spears
Britney Spears' sister, Jamie Lynn Spears, was another family member who was rumored to be on the outs with the "Stronger" singer. That seemingly began when fans noticed she didn't publicly comment on the #FreeBritney movement. In June 2021, Jamie Lynn tried to downplay the situation by saying on her Instagram Stories, "Maybe I didn't support her the way the public would like … but I can assure you I've supported my sister long before there was a hashtag."
Britney apparently disagreed and perpetuated the feud rumors with cryptic posts that appeared to accuse her sister of lying about having had supported her. Things escalated when Jaime Lynn released her memoir, "Things I Should Have Said," in January 2022. Britney wasn't best pleased to discover that her sister had been blabbing about her alleged past behavior on "Good Morning America" while promoting the book. "She was never around me much 15 years ago at that time," Britney tweeted in response. "… She wants to sell a book at my expense." Britney reportedly issued a cease and desist against her sister, writing in a since-deleted Instagram post, "You are scum, Jamie Lynn."
Her sister didn't attend her wedding that June. However, the two may have made peace by December, when Britney posted a tribute to Jaime Lynn on Instagram. In a since-deleted caption, she wrote, "Congratulations on being so brave, inspiring, and showing guts and glory in your show … I love you!"
Britney was accused of substance misuse
For years, there were rumors that Britney Spears' drug misuse and had been a contributing factor to her infamous 2007 behavior. During Sam Lufti's defamation lawsuit against Spears and her parents, he alleged in court that the pop star had shaved her head in a bid to avoid her hair being used for drug testing. "She liked to use amphetamines, speed or uppers … and most of the things that went wrong were related to that drug," he said, per New York Post. Meanwhile, her ex, Jason Alexander, claimed to The Sunday Mirror (via CBS News) that Spears' drug use was frequent and dangerous, stating, "We used ecstasy at night to party and cocaine during the day."
The issue had been raised in court cases, too. For instance, a judge in her 2007 custody case against Kevin Federline had ordered her to submit to random drug testing, stating (via People), "The court finds that there is a habitual, frequent, and continuous use of controlled substances and alcohol by [Spears]." During a sexual harassment lawsuit filed against the performer by one of her former bodyguards in 2010, she was likewise alleged to have used methamphetamines, per Radar.
While Spears has remained relatively quiet on the matter, she did claim in a since-deleted Instagram post that she was drug tested three times a week during her conservatorship and was banned from consuming alcohol — even though she can't stand drinking most alcoholic beverages.
If you or anyone you know needs help with addiction issues, help is available. Visit the Substance Abuse and Mental Health Services Administration website or contact SAMHSA's National Helpline at 1-800-662-HELP (4357)
Britney Spears' musical comeback with Elton John
You could say it was Britney Spears herself who started the rumor that she would be making a musical comeback in 2022, when she listed all her career accomplishments in a now-deleted Instagram caption in December 2021. That's because she had written, "Pssss new song in the works." However, days later, she took to Instagram again to seemingly deny that she would ever return to music. She wrote, "I guess it seems odd to most now why I don't even do my music anymore … after what I've been through, I'm scared of people and the business!"
But, months later, there were reports she had once again changed her mind, thanks to music legend, Elton John. A source told Page Six, "This was Elton's idea, and Britney is a huge fan. They have recorded a remix of 'Tiny Dancer.'" That was, of course, just hearsay until Spears confirmed it herself in a since-deleted Twitter post, writing, "My first song in six years! It's pretty damn cool that I'm singing with one of the most classic men of our time." She added that the track was more than just another song to her — the collaboration meant the world to Spears.
John likewise commented on its significance, telling The Guardian, "It will give her so much more confidence … and she will realize that people actually love her and care for her and want her to be happy."
The three times that Britney Spears got married
All three of Britney Spears' weddings began as rumors. That is until she established that she had indeed gotten married. Even her 2022 wedding to her husband, Sam Asghari, started with sources spilling to TMZ that she had planned to tie the knot with him. And in a small June ceremony that didn't include her immediate family, no less. Spears later confirmed this was true on Instagram, sharing a photo from the wedding with the caption, "We did it! We got married!" She even confirmed the gossip that celebrities like Drew Barrymore, Madonna, and Selena Gomez were in attendance, to name a few.
Spears' second marriage to Kevin Federline was a little more surprising. Particularly because in 2004 there were rumors she had canceled their big October wedding. She later told People that was partially true. However, it was because the couple decided to get married in a smaller ceremony a month earlier instead. "It became this huge thing," she explained. "… That's why I wanted to sneak and do it our little way."
Yet perhaps the craziest wedding rumor that turned out to be shockingly true was when Spears married childhood friend Jason Alexander in Vegas earlier that year. At the time, she told E! News that she didn't have a level head when it happened. "It was me being silly, being rebellious, and not really taking the responsibility of what I was doing," she clarified. "And after partying … you really don't think about what you're doing."
She may never perform on stage again
If you're a Britney Spears fan, then the rumor that she won't ever perform again is probably an upsetting one. Unfortunately, it's probably true. The "Baby One More Time" singer had first claimed she'd quit performing live in July 2021 in a now-deleted Instagram post. "I'm not gonna be performing on any stages anytime soon with my dad handling what I wear, say, do, or think," she wrote. "I've done that for the past 13 years." She went on to blame not being allowed to do remixes of her songs or perform her new music during her conservatorship as a reason.
In another now-deleted post, Spears reflected on how she has no interest in touring again either, because of the toll it took on her in the past. She shared, "I'll be completely honest and say that after those three tours and the pace I was going … I don't think I ever want to do it again! I hated it!"
Despite making a musical comeback with "Hold Me Closer" in 2022, a source told Hollywood Life, "Britney is not performing the song in any way, shape, or form." Spears too, clarified that she despite the song's success, she hadn't changed her mind about performing live due to her past experiences. She dished in a deleted Instagram post, "I'm pretty traumatized for life … and no I probably won't perform again just because I'm stubborn and I will make my point."
Britney Spears' nasty breakup with Justin Timberlake
If you grew up in the late 90's and early 2000's, then you know the epic love story between Britney Spears and Justin Timberlake that began in 1999 and came to a crashing end in 2002. There were rumors that Spears had cheated on Timberlake, which were exacerbated by Timberlake's breakup anthem, "Cry Me a River," and Spears' apology ballad, "Everytime."
When asked by Barbra Walters about the cheating rumors in 2002, Timberlake cryptically responded (via New York Post), "We're not perfect. I don't judge anybody … it's just young love" Meanwhile, during an intense interview with Diane Sawyer a year later, Spears addressed speculation that her ex had accused her of a betrayal, stating, "I'm not technically saying he's wrong, but I'm not technically saying he's right either." In a 2021 Instagram post (via ET), she slammed Sawyer for the emotional interview. Indicating that the gossip about her Timberlake ending on bad terms was true, Spears added that she barely left her apartment following the breakup.
Still, the pair was eventually able to put their breakup behind them. In 2020, the "Toxic" singer posted a since-deleted Instagram video of herself dancing to the Jay-Z track, "Holy Grail" — which featured her first love as a guest vocalist. On Instagram, Timberlake also publicly apologized to his ex after the 2021 documentary, "Framing Britney Spears" suggested he helped pit the media against her.