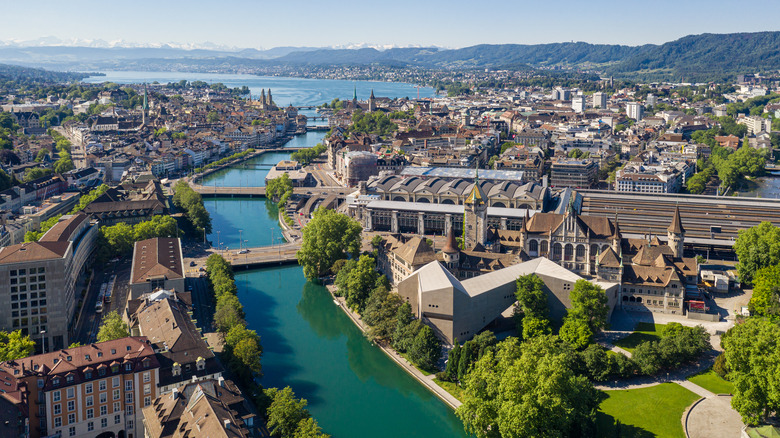 WARNING: Reading this article may induce profound chocolate cravings. It's always good to start out with a disclosure when discussing the most-consumed and most-loved ingredient around the world, and of course, we're talking about chocolate. That rich, creamy, melt-in-your-mouth blend of cocoa beans, sugar, milk (and, sometimes nuts) used in an array of delectable treats, sweets, beverages, and so much more, globally. Heck, it's even starred in a host of films.
While Americans favorite their chocolate producers, there's something to be said about sinking your teeth into chocolate sourced and manufactured in Europe. Countries such as Belgium, Italy, France, Germany, and Switzerland lead the pack in creating some of the finest chocolate delicacies in Europe. And, if you're a chocolate lover, the city of Zürich in Switzerland should be at the top of your travel list for discovering and tasting premium chocolate at its best. Thanks to the Swiss confectioner father-and-son team by the name of Sprüngli, and Swiss inventor and chocolatier Rodolphe Lindt, their passion for chocolate made history when they merged to create the world's leading premium chocolate: Lindt.
A nearly two-century love affair with chocolate
They say that chocolate is beneficial to both your mental and physical health in many ways, particularly dark chocolate. So, it comes as no surprise that the masterful chocolate creations of Lindt & Sprüngli had a momentous growth spurt during and after both world wars, and continued to trend well into the 21st century. After nearly two centuries of concept, manufacturing, and producing the finest chocolates in the world, the three chocolatiers who started it all would be quite proud to find that the Lindt brand chocolate now, in present day, boasts a museum dedicated solely to it in Zürich, Switzerland, and their delicious sweets are as popular as ever with consumers.
It was July 2020 when the Lindt Home of Chocolate museum opened its doors officially to the public offering the ultimate chocolate experience and vast educational insight into how Lindt chocolates are manufactured and produced. Tantalizing milk and dark chocolate fixtures and attractions contrast against the pure white textiles and furnishings the moment you enter the museum: Its strikingly, yet modernized, and similar take to the Wonkavision Studio (aka White Room) in the beloved chocolate film we've all watched, "Willy Wonka & The Chocolate Factory."
The home of chocolate, and so much more
Step into the main lobby of Lindt's chocolate museum, and your eyes immediately transfix upon the nearly 30-foot chocolate fountain, revealing a larger-than-life gold whisk magically hovering in the air, as though an invisible hand were holding it; gently pouring approximately 3,300 pounds of luscious, melted chocolate into an equally large chocolate truffle: The pool-size gold basin beneath it revealing liquid cocoa instead of water!
But that's not all this magical museum affords. Visitors are offered an unprecedented educational and sensory experience in the world of chocolate from start to finish through their Chocolate Museum Tour. The educational portion teaches visitors how cocoa beans are picked and processed through a 21st-century multimedia tour; then onto learning about the fascinating history and culture of chocolate; followed by learning how the founding fathers, Lindt & Sprüngli, began their chocolate journey; how chocolate is produced and manufactured, and much more. And, after being immersed in all things choco-educational, visitors find themselves face-to-face with a Lindt Master Chocolatier in the Chocolate Tasting Room, where an entire futuristic banquet table is filled with an array of dreamy, creamy Lindt chocolates for your unlimited sampling pleasure.
Willy Wonka would be proud
If you've ever made your way through an airport gift shop and noticed a selection of Lindt chocolates to purchase (duty-free of course), you haven't seen anything until you set foot inside the Lindt Home of Chocolate museum. Once visitors end their chocolate tour, they step inside the world's largest Lindt Chocolate Shop where they can purchase every single creation this premium chocolate producer offers, all to their heart's content.
And, if that's not enough, visitors can also book either walk-in, private, or business reservations to attend their very own chocolate courses in the mouth-watering Chocolateria, where they'll learn hands-on how to create luscious bars of chocolate, pralines, truffles, and other enticing treats and sweets that are sure to make your lips smack. This incredible school of chocolate also boasts a beautiful lounge and auditorium that can be booked for those momentous occasions, such as anniversaries, birthdays, wedding receptions, and business gatherings.
Premium chocolate with the planet in mind
It's important to note that Lindt has come a long way since its conception in 1845 in how they produce and manufacture its world-famous, premium chocolates. Their commitment to being responsible and sustainable chocolate producers is unwavering. Since 2008, Lindt has launched a series of sustainability programs to ensure that each morsel of chocolate they produce has the planet in mind. And that, our dear readers, makes their high-quality treats even more appealing.
Lindt is an open book when it comes to documenting and identifying its promise to offer sustainable products and tourism, and consumers are encouraged to follow their green initiative from start to finish. From their Lindt & Sprüngli Farming Program to their Bean to Bar concept, and everything in between, Lindt is paving the way when it comes to ethical and sustainable standards in the food industry.
Before heading off to Zurich and the Home of Chocolate
Located within the Swiss town of Kilchburg, the Lindt Home of Chocolate museum is located directly next to its famous and historical chocolate factory where it all began nearly two centuries ago. How to find the museum and opening hours can be found on their website. Please do check before booking tickets for the Chocolate Museum Tour or Chocolateria Courses, as the times and dates vary per season. Pricing also varies depending on what you would like to experience at the chocolate museum.
Tickets are encouraged to be purchased online well enough in advance, as both their chocolate tour and courses are quite popular, and fill up quickly. Tours offer both self-guided audio options, or a guided tour for the chocolate lovers arriving at the museum: Catering to individuals, schools, and groups. And, since this is Switzerland, (the country of cleanliness and neutrality), visitors will be required to follow admittance guidelines upon arriving at and while visiting the museum. That being said, if after reading all of this you find yourself rushing to book tickets or sense a strong desire to head to your local store in search of that perfect Lindt chocolate, well, you're not alone in your thoughts and chocolate cravings!