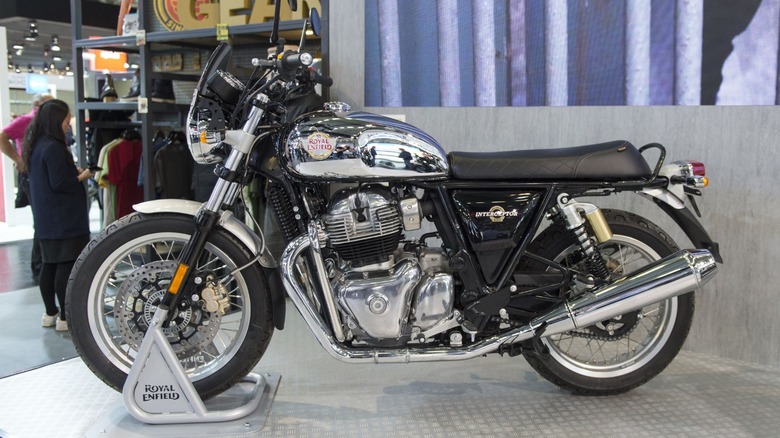 Motorcycle design is something that naturally lends itself to a wide variety of outcomes relating to style. This allows designers to work on the machines as mechanical canvases that offer broad interpretations of design aesthetics, leaving us with creations that differ wildly, from a Japanese scooter to an American bagger. This is a great thing for consumers as manufacturers can produce bikes to fit the personal identities of riders with vastly different objectives for what they want out of a motorcycle.
Additionally, designs have changed much over the years, with some vintage and antique designs remaining classic and beautiful expressions of their time. The oldest of these manufacturers are Harley-Davidson in the U.S. and Matchless in the U.K. Many riders appreciate the aesthetics and style of previous eras, but do not relish the idea of actually owning an antique motorcycle as it can accompany a certain level of technical skill and additional maintenance. Therefore, many companies are today making motorcycles that recycle designs of yesterday, while others have never stopped making those old machines. This means today's rider can experience something with the style of yesterday while enjoying the benefits of modern technology and reliable mechanicals. This has resulted in plenty of great vintage-inspired models on the market to choose from. Barring bikes from Harley-Davidson and Indian, since making retro bikes has mostly been their entire business model for years, here are 10 of the best retro motorcycles you can buy right now.
Ural Gear Up
IMZ-Ural has its roots at the beginning of World War II when the Soviet Ministry of Defense decided to build motorcycles for the war effort by copying the BMW R71, according to East Highway. Fears of being exposed to German bombers prompted the moving of the factory east to the Ural mountains, where it remained until recently. With the severe sanctions imposed as a result of Russia's invasion of Ukraine, Cycle World reported that the now independent company decided to move production to Kazakhstan to continue to produce and sell motorcycles abroad. It is important to note that the motorcycle company is made up of regular citizens with no direct link to political leadership; they just want to keep making great bikes.
The primary Ural model, the Gear Up, continues to be built upon the same BMW design of the pre-war era, although it has had dozens of upgrades over the years, including components like fuel injection and Brembo disc brakes. Ural's focus is building bikes made for use with sidecars using a unique drive setup that connects the sidecar wheel to the final drive, making it two-wheel drive. This setup, according to Popular Mechanics, makes for a machine that can go anywhere, including traversing trenches and barbed wire as they were originally designed. Cycle World explains that riding with a sidecar is a completely different experience and takes some getting used to, however, once you get a feel for it, there is nowhere you can't go. Keeping in mind this is not a highway cruiser and it does not like hitting high speed, a Ural is a blast and a perfect partner for serious adventure riding well off the beaten path.
Royal Enfield Classic 350
The Royal Enfield story begins pre-World War I in England, eventually being a supplier for the British military through two world wars. The rugged motorcycles would also prove to be popular in the British colony of India, and that led to assembly and then full-scale production in India after independence. The English company closed shop in the late '60s, but the Indians continued with the brand and it still exists to this day (via Rider Magazine).
The company has since produced many different models of motorcycles, including the Bullet from 1931 to 2020. The Enfield Classic line began in 2008 and was updated for the 2022 model year. It is currently the most classically styled motorcycle from the company and it retains not just the style, but many mechanicals of historic models. In a Cycle World review, the bike shows many flaws in a modern context, with throttle response and braking capability being subpar. However, the Classic is a robust, simple, and affordable bike that is perfect for its home market but is also a good choice for budget-conscious and beginning riders in Western markets.
Kawasaki Z900RS Cafe
One of the pioneers making great performance inroads in the '70s motorcycle market was Kawasaki. Throughout the decade, the company introduced motorcycles with ever-increasing engine sizes that made more power than ever but also provided excellent reliability. In 1972, Kawasaki released its Z1 900, entering the burgeoning superbike market, featuring bigger and more powerful bikes than had been previously seen. Silodrome describes the original Z1 as a possible "King of Motorcycles" due to the incredible power and handling it offered for the time.
It appears that management at Kawasaki looked to its back catalog to resurrect one of its hits and is currently selling the Z900RS Café, a modern iteration of the original Z1 900 in the café racer style. This bike shares classic lines from the original, but the frame, engine, suspension, and pretty much everything else are updated to be competitive in today's market, and it is impressive. Timeless 2 Wheels explains that this bike is a powerful and capable machine, but includes many of Kawasaki's digital aids, such as traction control and ABS, to keep it manageable for less-experienced riders while maintaining the performance that veterans want. For anyone wanting a classically styled bike with tons of power and good reliability, the Z900RS Café is an excellent choice.
BMW R 18
If Arthur Davidson and William Harley had been born in Munich instead of Milwaukee, their company could have built the BMW R 18. In reality, this is BMW's second attempt to garner a larger portion of the huge cruiser market dominated by Harley-Davidson. Its first attempt was the R1200C, which, according to Rider Magazine, was a complete failure. However, with this go around, it appears BMW has learned from its mistakes, as the R 18 is a beautiful machine backed up by mechanical prowess.
Built around a giant 1,800cc boxer V-twin, the R 18 does double styling duty in representing the BMW R5 of the 1930s while going up against a Harley Fat Boy in terms of style. BMW has executed this one quite well. Its hidden rear suspension gives it the look of an old hardtail and combined with its low and wide seat along with wide, swept-back handlebars make it a genuine contender for buyers of cruisers. While the bike is full of modern technology, Rider Magazine also says it has been kept to a minimum, keeping a clean and uncomplicated machine. Despite its fantastic style, it does come up a bit short by having a harsher ride than it should and excessive vibration. Regardless, in its attempt to build a good-looking cruiser to compete with the Americans, BMW has succeeded.
Moto Guzzi V9
Moto Guzzi has a knack for making motorcycles that look as if they have always existed, yet were just made. The Italian company has been building two-wheelers for a century and has created some magnificent machines in that time. Unlike many motorcycle manufacturers that start off with small displacement engines before graduating to larger ones, Moto Guzzi's first bike was 500cc, and building larger bikes for cruising the Autostrada has been its mainstay. It was in the early '60s that the company developed its V-twin engine with shaft drive (via Motorpedia).
The V-twin has become the signature of Moto Guzzi motorcycles, which is easy to recognize from each cylinder poking up from underneath the gas tank and it is the engine on its current V9 model. It comes as the Roamer or Bobber, with the latter having fat tires, shorter forks, and lower handlebars less swept back than the other model. Both share Moto Guzzi's 850cc, 90-degree V-twin with six speeds and shaft drive. Cycle World claims the bikes to be user-friendly and manageable for most any rider. These are not speed machines, but cruisers in the classic European style.
Ducati Scrambler
Ducati is a company known for its innovation and technical expertise as a leading Italian motorcycle manufacturer that has been winning races for decades. While style is always a consideration in creating a new model, power and efficiency are primary concerns. Ducati bikes keep the flash and frills to a minimum while delivering clean and sharp bikes that go in the direction you point them as quickly as possible. Recently, the company has released a model that fits in line with this general direction but seems to use a retro class of motorcycle to guide its style. The end result is a thoroughly modern machine with inspiration from bikes of the past, the Ducati Scrambler.
Scramblers are, according to Bert's, street bikes that have been stripped down and fitted with knobby tires for use off-road. They have grown in popularity recently but have roots in the 1960s. The new Ducati model, per Rider Magazine, fits in line with this but has been designed from the ground up as a dual-purpose bike with the handling characteristic of a road-going street bike. The current Scrambler comes with Ducati's signature L-twin making 73 horsepower and plenty of exposed frame tubing and mechanical bits. The suspension rides a bit higher than average street bikes and the tires are typical of enduro or dual-purpose models. The current Ducati Scrambler is clearly a modern motorcycle, but with roots in the past. Regardless of how and when its styling originated, it is a great-looking bike that is sure to be a blast to ride on dirt and pavement.
Triumph Bonneville
The Bonneville name has been a mainstay for the Triumph brand since the company first built it in 1959. Over the years, the technology has changed and improved but the classic looks remain. Triumph, per the Motorcyclist, offers the Bonneville with a 900cc parallel-twin on the T100 model, with the displacement increasing to 1,200cc on the T120 model, nearly doubling the debut model's size of 650cc more than half a century ago. Other modern mechanical amenities include water cooling, electronic ignition, and fuel injection. The vintage looks belie the modern technology packed within the frame.
The reason one rides a Bonneville is not to challenge every other bike from light to light but to cruise comfortably on a bike without fuss. It has no elaborate digital screen with Bluetooth integration and GPS onboard, but the engine does offer ride-by-wire throttle control with switchable traction control and ABS. USB charging is available under the seat, which is a good place to put the electronics, as the Bonneville is all about the ride. The parallel-twin offers a generous 75 pound-feet of torque to pull confidently ahead of traffic in most conditions, and, while it can top 100 mph, the Bonneville isn't built for this kind of riding. Anyone looking for a retro-styled bike would be hard-pressed to do better than a Bonneville, the epitome of a retro motorcycle offering a modern riding experience in an archaic package.
Honda Monkey
We have seen the Honda Monkey before, back when pant legs were flared and hair was long. It is more of a toy than a motorcycle, but if a bike can't be fun like a toy, what good is it? The Monkey began as a side attraction at a Tokyo amusement park owned by Honda in the early '60s, according to Cool Material. A tiny child-sized motorbike built by Honda with its near-indestructible 49cc engine was introduced and its popularity spurred the company into making so many it entered regular production for sale to the public. Many changes were made to it before 1968 when it arrived stateside as the Mini Trail and later the Monkey due to the adult's silly look while riding them. At first, it was off-road use only but soon received the required lighting for street legal use.
The new Monkey from Honda takes the popularity of retro motorcycles to an extreme conclusion by releasing this new bike in a form nearly identical to the one made around 1978. The engine of the Monkey has grown to 125cc, largely in part to having one readily available from the wildly successful GROM, per Motorcycle News. Updates from the original, besides engine size, include a digital LCD speedometer and display, fuel injection, and ABS disc brakes. The Monkey is more of a neighborhood cruiser meant for downtowns or the narrow streets in a place like Amsterdam or Tokyo, however, anyone who gets on one knows the biggest benefit of owning a Monkey is fun.
Genuine G400C
Genuine Scooter Company got its start in 2002 by contracting with a manufacturer in India to produce Vespa clones customized to its specifications and badged Stella for sale in the U.S. It later contracted with Taiwanese manufacturers to do the same thing with modern twist-and-go style models. The Chicago Tribune says this business model has led to steady growth over the past two decades to the point that Genuine outsold Vespa itself. Genuine later chose to offer an entry-level motorcycle to the mix, resulting in its G400C model currently on sale.
Using the same successful formula as the scooters, Genuine contracted with Shineray of China for its first motorcycle. Motorcycle.com explains that Shineray had once provided parts to Honda for its CB400SS and continued production of the engine once that model ended production. This engine is the powerplant for the G400C, and with Genuine's high level of quality control involved in manufacturing, the end result is a good bike.
Genuine sells the G400C as an alternative to scooter riders wanting to upgrade to something a bit bigger. While the engine is now fuel injected, power is still just 26 horsepower, which is adequate and perfect for cruising around town and even on state highways. It is also a great-looking bike with styling that looks nearly identical to anything Honda released in the late '70s. The G400C is also relatively affordable at just over $4,000 and would be the perfect fit for beginning riders on a budget.
Kawasaki W800
While classic Japanese bikes of the '70s are highly fashionable at the moment, and Kawasaki has brought its Z900 back to the future, another model from the brand goes even deeper into the archives. Kawasaki was an aircraft manufacturer when it bought struggling Meguro motorcycles in the early '60s, and the first bike to come from the merger was the 1966 W1 (via Old Bike Barn). The W1 is a large and powerful bike based on the British BSA and featured a large for Japan 500cc parallel twin. Kawasaki put its aircraft engineering expertise to work to improve it and ended up with a successful launch for the company's new venture.
Kawasaki has since revisited its first model with the current W800 which, at first glance, appears to be indistinguishable from the old W1. One could say this is retro done absolutely right. The W800 is powered by a parallel twin like the original but completely updated with an overhead camshaft, fuel injection, and modern manufacturing practices. It further has ABS disc brakes, a slip and assist clutch, and a contoured and ribbed seat (via Cycle News). The W800 is a perfect bike for casual rides and weekend cruises with plenty of power to get on the highway while remaining small enough to easily zip through traffic. It is also unencumbered with technology, displaying nothing but two needles on the gauges and a few warning lights, just like the old days. It is a classic and retro bike in every sense and anyone riding one likely cannot help but feel cool, regardless of how true that may be.