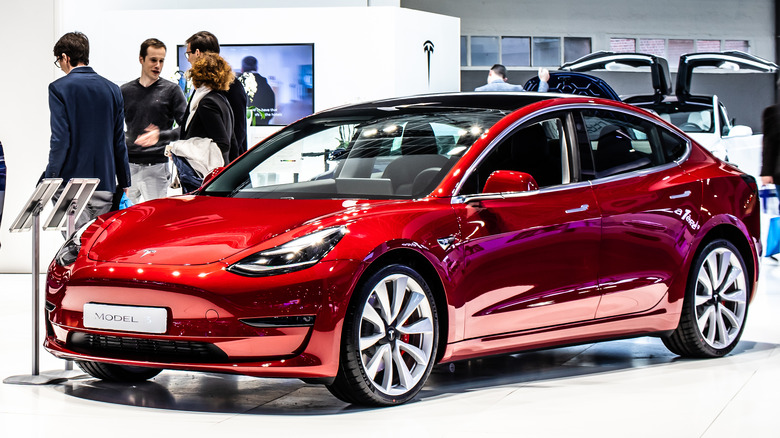 From charging issues to problems with its touchscreens, the Tesla Model 3 had been hit with a number of interior and exterior issues since its 2017 rollout. This may come as a surprise to some, as the vehicle has had — and continues to have — its fair share of acclaim. The Model 3 is an award-winning darling among EV enthusiasts around the world and in June 2021, it became the first EV to surpass the 1 million global sales mark, according to Clean Technica. So, why do so many owners complain about problems?
Critics point out that the answer possibly lies in quality control issues, which Tesla has taken steps to address (via Inside EVs). While some of these issues have been publicly resolved in the form of recalls — Tesla has already issued seven Model 3 recalls for 2022 at the time of writing — others don't get the response they want and may wind up filing class-action lawsuits against the company. If you're thinking about buying a Model 3 EV, here are some complaints owners have had about the vehicle.
Water leaks and touchscreen woes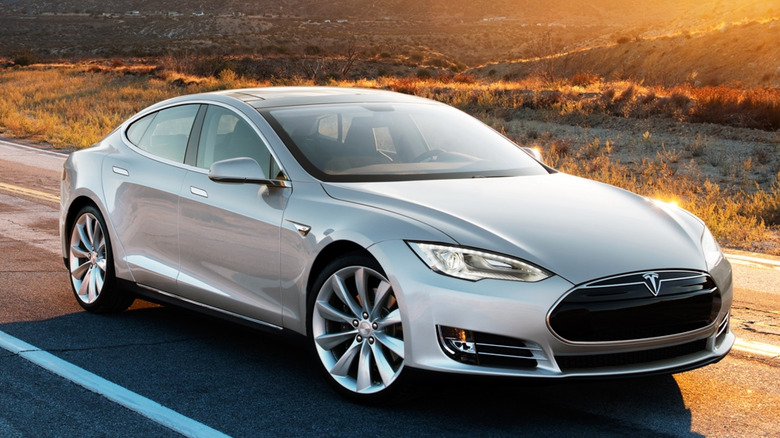 The Tesla Model 3 was recently ranked as one of the most overrated cars in a poll by Jalopnik. While that ranking is totally subjective, it seems that quality control problems may be one of the driving factors behind that perception. One common issue reported by some Model 3 owners is leaking, which the vehicle is allegedly susceptible to, including in the areas behind the tail lights. This could lead to tail light condensation and rusting if left unchecked, as highlighted in a series of images and reports published by Inside EVs. Some Tesla owners have also reported charging issues seemingly due to software glitches and faulty charging ports — though, fortunately, many of these problems can be resolved by power cycling the vehicle (via Tesla).
Another potential problem some drivers have reported is that because there is no physical key, it's possible to be locked out of the car if the electronic system fails or there's an app outage (via Jerry). Touchscreen issues and glitches are also an issue that some Model 3 owners have had to deal with. In 2022, the manufacturer recalled 130,000 Tesla vehicles — including the 2022 Model 3 and Model Y — due to their touchscreens overheating during fast charging, causing a complete shutdown, as first reported by the Associated Press. Some problems, though, like an unresponsive screen, can be fixed by restarting the display.
Paint issues seem to be a recurring theme
Some Tesla owners have reported that paint in certain areas of the Model 3, such as around the wheel-well and fender, degrades prematurely in cold weather seemingly from road salt and sand blasting against the car while driving. The issue was apparently widespread enough that it prompted Tesla to offer its customers a free weather protection kit to help protect the paint (via Electrek). In 2019, a class-action lawsuit was filed against the automaker by Jean-François Bellerose in Quebec after he allegedly noticed black paint chipping from his Model 3 on the lower rocker panels only half a year after buying it (via Driving).
The paint issues aren't limited to just cold weather driving, however, at least according to reports from some owners — and, unfortunately, the quality control issue doesn't seem to be limited to just the Model 3. A Model Y customer in Luxembourg, for example, shared images of what he claimed was a poor paint job present when the vehicle was delivered, something he was allegedly told fell within the company's "internal margins," according to Auto Evolution.
Some Model 3 cars have panel gap issues, too
Panel gaps are the lines between doors or the ones situated between the car's hood and the fender (via Car Bibles); they can occur when parts are misaligned during the assembly process. Although they are unattractive to look at, they seldom affect a car's performance unless it is a huge error (via Truth About Cars). During their initial rollout, Tesla Model 3 vehicles were the subject of complaints about the presence of panel gaps. The Model 3 was scrutinized by Michigan-based automobile industry veterans Munro & Associates, and the evaluation included claims about potential quality issues involving the panel gaps, as reported by Silicon Valley Business Journal in 2018.
However, it seems that may no longer be an issue. Tesla shot back that same year in a Motor Trend article to quell customer worries. The automaker said that its building processes for its EVs improved by 40% compared to earlier released models and that it had made the necessary gap improvements in trunk areas, rear lamps, and also the rear quarter panel. Despite these possible quality control issues, many of which have been addressed over the years, the demand for Tesla vehicles is at an all-time high. The automaker is now focused on ramping up production in 2022 as the demand seems to be bigger than the supply.