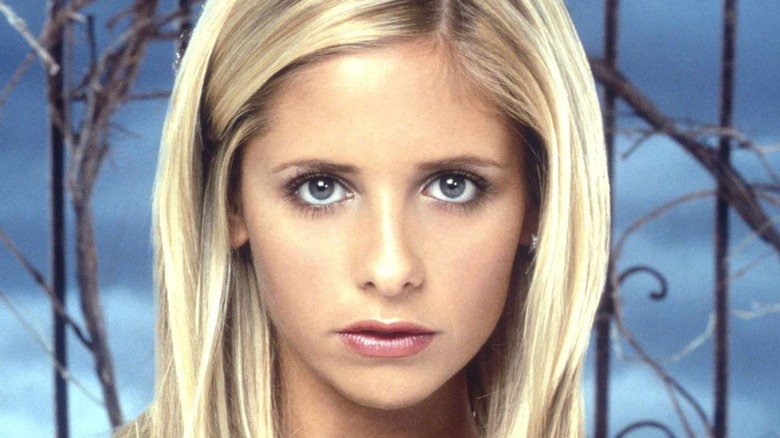 We may receive a commission on purchases made from links.
Pop culture was never the same after Buffy Summers (Sarah Michelle Gellar) started turning the undead into piles of dust in "Buffy the Vampire Slayer." Along with delivering messages of female empowerment, the series' singular blend of horror, teen drama, action, and humor changed what was possible in popular media. It helped make serial storytelling more popular on primetime TV, upped audience expectations for clever, snarky dialogue, helped herald in the age of geek chic, and made us all realize that a word like "apocalypse" could — somehow — have a plural form.
"Buffy the Vampire Slayer" concluded in 2003 with its 7th season and a year later the spin-off series "Angel" was canceled. Since then, no live action media from the Buffyverse has seen the light of day. Still, even though they no longer have their demon-slaying tools, their prosthetics, or their fake fangs, the actors who brought the story of Buffy Summers and the monster magnet of Sunnydale to life are still around. Keep reading if you'd like to know what happened to the cast of "Buffy the Vampire Slayer."
Sarah Michelle Gellar is using her voice more than ever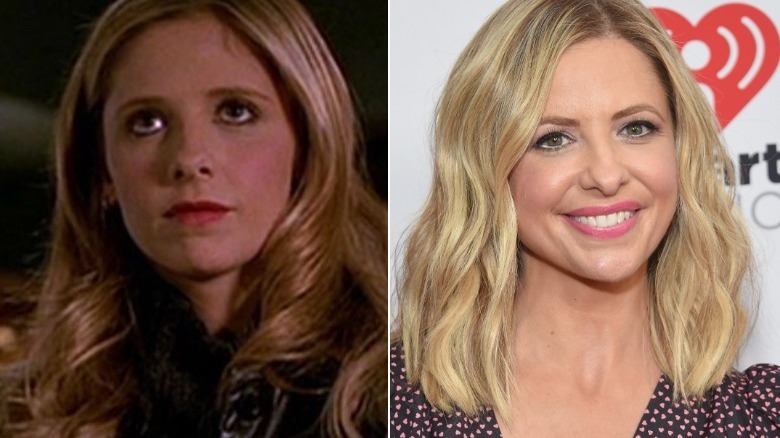 For seven seasons and more martial arts battles than we care to count, Sarah Michelle Gellar played Buffy Summers — the latest in a long line of Slayers tapped to wage war on demonkind.
After Sunnydale made its final plummet into the Hellmouth, Gellar left Buffy behind seemingly for good. While the character appears in one of the final episodes of "Angel," it wasn't Gellar playing Buffy and you never see the actress' face. As recently as 2019, Gellar's made it clear she has no interest in returning to the role.
Regardless she's been keeping busy both off and on camera. The year after "Buffy" ended she starred in the supernatural horror film "The Grudge" as the main character Karen. She reprised the role for the 2006 sequel, and that same year starred in the dystopian thriller "Southland Tales" alongside Dwayne Johnson and Justin Timberlake. She's also done a lot of great voice work on shows like "Robot Chicken," "Star Wars Rebels," and "He-Man and the Masters of the Universe," and in 2015 she co-founded the e-commerce startup Foodstirs.
Nicholas Brendon has had a bumpy ride
While there's always enough humor to go around on "Buffy," Xander Harris (Nicholas Brendon) is an enduring source of laughs, always ready with just the right amount of snark in even the most dire of circumstances.
Brendon's gone through some steep ups and downs since the end of "Buffy." His first post-Buffy regular series role — as pastry chef Seth Richmann on the culinary sitcom "Kitchen Confidential" — ended when the series was axed after 13 episodes. He enjoyed memorable recurring roles on shows like "Private Practice" and "Criminal Minds," and starred in the acclaimed 2013 surreal thriller "Coherence." The following year he returned to the world of "Buffy" by co-writing Season 10 of the Dark Horse Comics series.
Unfortunately, he's also had some very public battles with addiction and the law, including a disastrous 2015 appearance on "The Dr. Phil Show" and a number of arrests. Most recently, in February 2020 Brendon took a plea deal in the case of an alleged attack on his girlfriend in 2017. He was sentenced to three years probation, community service, and forced to take a 52-hour domestic violence course.
Alyson Hannigan is still landing memorable roles
Of the original four that made up the "Scooby Gang" of "Buffy," perhaps no one changed more over the course of the series than Willow Rosenberg (Alyson Hannigan). Beginning the series as a socially awkward computer-savvy nerd holding a torch for Xander, Willow eventually becomes a powerful witch and comes out as gay in Season 4.
While diehard "Buffy" fans will always know Hannigan best as Willow, she's also known as Michelle — the geeky girl with her long list of band camp stories — in the "American Pie" film series. Two months after the "Buffy" finale, Hannigan reprised the role in 2003's "American Wedding" and later that year she married her "Buffy" co-star Alexis Denisof. She returned to the role of Michelle once more in 2012's "American Reunion."
Two years later, Hannigan made one of the biggest splashes of her career as Lily on the popular sitcom "How I Met Your Mother." More recently, you may have heard her voicing the titular girl's mother Claire on the animated Disney series "Fancy Nancy."
Anthony Stewart Head is as busy as ever
"Buffy the Vampire Slayer" couldn't have been complete without a bookish Englishman who knows more about the supernatural than Neil deGrasse Tyson knows about the stars. Filling that role is Anthony Stewart Head as librarian, watcher, and magic store owner Rupert Giles.
Head went right from Sunnydale to London, playing the Prime Minister in the British sketch comedy series "Little Britain." Telling SuicideGirls.com that he was impressed with Head's performance in the "Buffy" Season 6 musical episode "Once More, with Feeling," director Darren Lynn Bousman cast him as a sadistic assassin in the 2008 horror rock musical "Repo! The Genetic Opera." Among many other roles, he's King Arthur's tyrannical father Uther in "Merlin" and plays another Rupert — Rupert Mannion — in the AppleTV+ comedy "Ted Lasso."
For years, there was talk of Head reprising the role of Rupert Giles in either a regular series, mini-series, or one-off special called "Ripper." As late as a 2015 interview with The AV Club, Joss Whedon was saying "Ripper" could still happen. But between its time on the back burner and the scandals Whedon's been dealing with, we wouldn't expect to see it anytime soon.
Charisma Carpenter broke her silence
While she starts off seeming like little more than a small-minded bully, Cordelia Chase (Charisma Carpenter) eventually proves to not only have surprising depth, but more often than not grudgingly helps out Buffy and her friends in their battles against the various monsters of the week.
After "Buffy" Season 3, Charisma Carpenter jumped ship with David Boreanaz on the spin-off "Angel," though she was fired after Season 4, appearing only briefly in the fifth and final season. She went on to play trophy wife Kendall Casablancas on Season 2 of "Veronica Mars" and Lacy Christmas — longtime girlfriend of Jason Statham's character — in the first two entries in "The Expendables" film series. She's also landed one-off and recurring roles in series like "Supernatural," "Lucifer," and "Sons of Anarchy."
In February 2021 — spurred by claims made by Ray Fisher the previous year about Joss Whedon's treatment of the cast of "Justice League" — Carpenter went public with what she called the "hostile and toxic work environments" Whedon allegedly created years earlier. Specifically, she talked about Whedon's allegedly abusive behavior toward her when she became pregnant while working on "Angel," such as fat-shaming her during her pregnancy and demanding she report to work in the middle of the night when she was 6 months pregnant. It didn't take long for many of Carpenter's former co-workers to declare their support for her side of things, including actors and writers from "Buffy," "Angel," and "Firefly."
David Boreanaz put down the fangs and picked up a badge
One of the most heartbreaking dramas of "Buffy the Vampire Slayer" is the doomed love between its titular hero and the vampire Angel (David Boreanaz). Cursed with a soul, Angel is haunted by the evil he's done, and in Season 2 he loses his soul and becomes one of Buffy's most sadistic and cruel enemies.
After Buffy and her friends graduated from high school, David Boreanaz struck out on his own in the spin-off series "Angel." The series finds the soulful vampire joined by other "Buffy" alums Charisma Carpenter and Alexis Denisof — among others — in his new private eye agency in L.A. "Angel" was canceled in 2004, but it didn't take Boreanaz long to find his footing. The following year he found another of his signature roles: FBI Special Agent Seeley Booth on the crime procedural "Bones." The crime dramedy enjoyed 12 successful seasons, and since then Boreanaz has been playing Master Chief Jason Hayes on the CBS military drama "SEAL Team."
Seth Green found his voice
Starting in Season 2, the enigmatic Oz (Seth Green) starts popping up and quickly develops an interest in Willow. The pair becomes a couple not long before Oz is turned into a werewolf. Seth Green was promoted to series regular in Season 3, but left to pursue other opportunities early in Season 4.
Green's done plenty of live-action work since leaving "Buffy," including reprising his role as Dr. Evil's son Scott in 2002's "Austin Powers in Goldmember," playing the computer expert Lyle in the 2003 heist thriller "The Italian Job," and landing the recurring role of Mitch on "That '70s Show."
But perhaps more than anything he's done in live-action, Green has become one of Hollywood's most popular voice actors. Some of his most well-known voice acting includes the son Chris Griffin on "Family Guy" and his work on the stop-motion animated series he co-created, Adult Swim's "Robot Chicken." He also provides the voice for Howard the Duck in the "Guardians of the Galaxy" films as well as the animated series, and has a long list of voice credits including "Star Wars: The Bad Batch," "Batman Beyond," "Phineas and Ferb," and many more.
James Marsters is still a force to be reckoned with
Initially meant to be a minor bad guy, the Billy Idol-flavored vampire Spike (James Marsters) had instant appeal with fans. Neutered with a microchip that stops him from attacking humans, Spike becomes a series regular in "Buffy" Season 5, and even a love interest for Buffy in the show's final two seasons.
James Marsters wasn't completely done with Spike when "Buffy" ended. Though he sacrifices himself in the series finale, he's brought back — initially as a ghost — in the final season of "Angel." Plans for a "Spike" spin-off TV movie written by Marsters died on the vine, and in 2014 Dark Horse Comics released the graphic novel "Spike: Into the Light," based on the unmade movie.
Marsters has never stopped acting. After "Angel" he played a captain on "Torchwood," a terrorist on "Caprica" and Brainiac 5 on "Smallville." He was the villain Lord Piccolo in the 2009 live-action adaptation "Dragonball Evolution" and more recently the troubled scientific genius Victor Stein in "Runaways."
Juliet Landau became a director and got creepy in Rapture
Even though most of her time as a "Buffy" villain takes place in Season 2 — and as one of Angel's allies she isn't even really the main antagonist of the season — few Buffyverse bad guys leave as strong an impression as the vampire Drusilla played by Juliet Landau.
After Season 2, Landau made occasional "Buffy" appearances along with showing up sporadically on the spin-off "Angel." Her screen-acting career continues apace, with some of the more recent examples including playing the secretive court stenographer Rita Tedesco on "Bosch" and her recurring role on the dramedy "Claws," where she borrows the fictional name of another "Buffy" alum — Cordelia. She enjoys a thriving voice acting career, and in particular she can be heard in all three installments of the "BioShock" game series. Among other characters, she voices the eternally creepy Little Sisters.
Landau's making time behind the camera as well. In 2020 she made her feature film directorial debut with "A Place Among the Dead." She is also reportedly working on "The Undead Series" which she likens to "Comedians in Cars Getting Coffee," but with Landau interviewing "the A-list of the [vampire] genre."
Eliza Dushku fought more battles than she should have had to
One of Buffy's most ruthless enemies is Faith the Slayer (Eliza Dushku), who becomes Mayor Wilkins' (Harry Groener) right-hand woman in Season 3. By Season 7, however, Faith proves to be one of Buffy's most valuable allies against The First.
For a long time, Dushku didn't have any trouble landing roles. The year "Buffy" ended, she starred in the slasher flick "Wrong Turn" and landed the lead of Fox's supernatural drama "Tru Calling." In 2009 she led the short-lived sci-fi series "Dollhouse," and began doing extensive voice work on projects like "Torchwood: Web of Lies." She voiced Selina Kyle for 2011's "Batman: Year One" and gave She-Hulk her roar in "Hulk and the Agents of S.M.A.S.H."
Things changed in a big way in 2018 when Dushku refused to keep silent. In a Facebook post (via the Hollywood Reporter), Dushku accused stunt coordinator Joel Kramer of sexually assaulting her on the set of the 1994 action thriller "True Lies" when she was only 12. That same year she was fired from the CBS drama "Bull," and told The Boston Globe she was ousted for complaining that series lead Michael Weatherly was sexually harassing and bullying her "day in and day out." When her credits dried up after that, rumors were rampant that she had either quit acting or was blacklisted. In 2019 she told Time neither was the case, but that she needed time to heal from her experiences and "distance to recalibrate and start a family."
Amber Benson is more than just an actress
Mentioning the name Tara to a "Buffy" fan is sure to provoke some strong emotions. Amber Benson played the shy, warm-hearted witch Tara for three seasons of "Buffy." It's Tara who helps Willow see the truth about her sexuality, and whose abrupt murder in Season 6's "Seeing Red" sends Willow on a world-threatening rampage.
Since leaving "Buffy," Benson's appeared briefly on TV series like "Cold Case," "Private Practice," and as Lenore the so-called "vegetarian" vampire in "Supernatural." She's found mostly supporting work in films like the romantic dramedy "Latter Days," or leading roles in smaller films like the 2018 drama "The Griddle House."
But acting isn't the beginning or the end for Benson. The same year she left "Buffy," Benson wrote, directed, produced, and starred in the indie film "Chance" and did the same four years later with "Lovers, Liars & Lunatics." She's also a writer who has co-written the "Ghosts of Albion" fantasy books and related media, worked on various comic books, and wrote the 2015 fantasy novel "The Witches of Echo Park."
There's a good chance you've been hearing Armin Shimerman a lot
The first Sunnydale High principal we meet gets gobbled up by hyena-possessed students in Season 1's "The Pack." Three episodes later in "The Puppet Show," we're introduced to Principal Snyder (Armin Shimerman). Clearly knowing more about the supernatural aspect of Sunnydale than he's willing to openly admit, Snyder is a thorn in Buffy's side until he's eaten by the transformed Mayor Wilkins in the Season 3 finale.
At the same time Armin Shimerman was making the Slayer's job tougher, he was causing all kinds of mischief as the Ferengi bartender Quark on "Star Trek: Deep Space Nine," which shuttered a year before "Buffy." While he's continued to make plenty of live-action appearances in TV series and films, he's become even more prolific as a voice actor, particularly in the realm of video games. You can hear him in "World of Warcraft," the first three "Mass Effect" games, and the later "Starcraft" games to name a few. Not to mention that Juliet Landau isn't the only "Buffy" alum to add an iconic voice to the BioShock games — Shimerman voices the game's objectivist antagonist, Andrew Ryan.
Emma Caulfield Ford is still all about the magic
First appearing in Season 3's "The Wish" as a powerful vengeance demon, Anya (Emma Caulfied Ford) eventually switches sides to the good guys and becomes Xander's main squeeze. Her irrational fear of bunny rabbits becomes legendary and sadly she's one of the heroes to fall in the series finale (though a bunny is not involved).
While Anya remains the role for which Emma Caulfield Ford is best known, that hasn't stopped her from inhabiting new characters. She's made memorable appearances in shows like CW's "Supergirl," AMC's "Fear the Walking Dead," and the web series "Husbands." She also plays the Blind Witch known for planning to gobble up Hansel and Gretel in the ABC fantasy drama "Once Upon a Time."
Caulfield made one of her biggest splashes since "Buffy" in 2021 as Dottie in the first Disney+ original TV series set in the Marvel Cinematic Universe, "WandaVision." While her role is only a recurring one in the mini-series, much of the fan speculation about the show focused on Dottie and whether or not she was secretly the main antagonist.
Michelle Trachtenberg is using the keyboard more these days
In the final moments of the Season 5 premiere, "Buffy" fans were shocked to discover that the eponymous vampire slayer was no longer the only Summers girl. Without any immediate explanation, the young Dawn Summers (Michelle Trachtenberg) appears in the final moments of "Buffy vs. Dracula" and in spite of her bizarre origin, she remains with Buffy and her friends until the end of the series.
Michelle Trachtenberg did pretty well after "Buffy" ended. She enjoyed a recurring role on the acclaimed HBO drama "Six Feet Under," starred as the science prodigy Casey in 2005's "The Ice Princess," and appeared in the 2009 fantasy comedy "17 Again." In 2011 she told Us Weekly she was close to playing Bella in the "Twilight" films — a role ultimately taken by Kristen Stewart. Bella or no Bella, she kept at it, getting memorable recurring parts on "Weeds" and "Gossip Girl" along with roles in other series as well as films.
Her last credited acting work was as the voice of Judy in the animated series "Human Kind Of," but that doesn't mean she isn't in the entertainment industry anymore. In 2016 Trachtenberg told Entertainment Weekly she'd become a professional screenwriter. While she said she'd sold "several projects," they have yet to be produced.