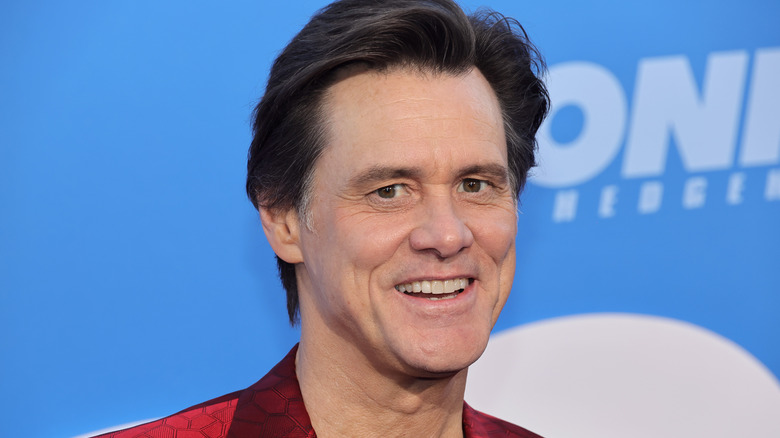 Jim Carrey got his foothold in entertainment doing stand-up comedy in Toronto, where Rodney Dangerfield caught his act and invited the young comedian to open for him on tour. From there, Carrey landed roles on television and supporting roles in a few films. Carrey's breakthrough came in 1990 when he landed a spot on the cast of Fox's sketch comedy series, "In Living Color." Carrey told BlackTree TV that the show was "a gigantic, huge doorway" for his career.
In 1994, when his stint on the show ended, Carrey released a trio of comedies — "Ace Ventura: Pet Detective," "Dumb and Dumber," and "The Mask" — that proved Carey was a reliable box office draw and a contender for the king of comedy crown. In 1996, Carrey was the first actor to command a $20 million dollar salary per picture for "The Cable Guy," and continued on a hot streak into the early '00s as one of the most in-demand actors in Hollywood, even branching out into dramatic roles that highlighted his range.
Carrey was born to play Stanley Ipkiss in "The Mask" and it's hard to imagine the film without him. Per Forbes, the role was actually written for him, although early in his film career he wasn't the first choice for many roles he landed. Over the years, some of Carrey's movies could have looked very different, with early casting choices that didn't pan out. Let's review actors who refused roles in Carrey's movies over the years.
Rick Moranis
It's hard to imagine another actor playing Ace Ventura, the totally bizarro Miami pet detective that Carrey brought to life. At the time producers were casting the role, however, Carrey was only just being considered for leading roles and he wasn't the first actor approached to play the character. Per Vulture, Rick Moranis of "Honey I Shrunk the Kids," and "Spaceballs" fame was offered the titular role, but Moranis passed on the job.
Moranis had already established a successful acting career during the '80s, starring in everything from "Ghostbusters," and "Parenthood" to the cult classic, "Little Shop of Horrors." By the time Moranis was courted to play Ace Ventura, he was intentionally taking fewer roles after his wife Ann Belsky died of breast cancer in February 1991 (per People). By 1997, Moranis had essentially retired from screen work to raise his children, Rachel and Mitchell, although he occasionally did voice work and other creative projects. Per USA Today, in 2005, Moranis released his first album, "The Agoraphobic Cowboy."
Moranis never regretted taking a hiatus from acting. In 2015, Moranis told The Hollywood Reporter that he enjoyed working with the interesting people he met during the heyday of his acting career, saying, "I went from that to being at home with a couple of little kids, which is a very different lifestyle. But it was important to me. I have absolutely no regrets whatsoever. My life is wonderful."
David Alan Grier
After Moranis passed on the role of Ace Ventura, they went to Carrey's cast mate from "In Living Color," David Allen Grier. Appearing on "The Howard Stern Show" in 2019, Grier admitted he turned down the lead role before they offered it to Carrey, telling Stern, "I turned that movie down. They came to me before Jim," revealing that producers wanted him or possibly Rob Schneider for the lead role. After reading the script, though, Grier didn't see a box office hit, so he passed on the project. After Moranis and Grier turned the role down, producers considered other stars, including Whoopi Goldberg, Judd Nelson, and Alan Rickman.
Finally, the producers turned to Carrey. Once he got involved, Carrey helped shape the character and the script by working alongside writer-director Tom Shadyac. Carrey even has a writing credit for his contributions to the script of "Ace Ventura: Pet Detective." Carrey told The Los Angeles Times, "From the beginning of my involvement, I said that the character had to be rock 'n' roll […] I wanted to be unstoppably ridiculous, and they let me go wild," adding that he knew "this movie was going to either be something that people really went for, or it was going to ruin me completely." Instead of ruining his burgeoning career, the movie was box office gold and made Carrey a movie star.
Lauren Holly
Lauren Holly began her long and successful acting career on television in the '80s as a cast member of "All My Children." Per Eila Mell's book, "Casting Might-Have-Beens," Carrey lobbied for Holly to be cast as his co-star, Melissa, in "Ace Ventura: Pet Detective." However, Holly turned down the role because of scheduling conflicts with her ongoing role in the television series, "Picket Fences." After Holly declined the part, it went to Courteney Cox, who was absolutely perfect in the role. In 1995, Holly told Entertainment Weekly, "I kicked myself when it came out."
When Holly got another chance to co-star with Carrey later that year in the Farrelly brothers' debut, "Dumb and Dumber," Holly accepted the role of Mary, a character whose husband has been kidnapped. She told E! News that "the minute I heard it was Jim and Jeff, I definitely wanted to be a part of it," adding, "I think my hardest job is just to keep a straight face and not ruin any of the takes—believe me, that's tough."
Holly and Carrey (who was still married, but separated) fell in love while making "Dumb and Dumber" and got married in 1996 after Carrey's divorce from his first marriage was finalized. Unfortunately, their marriage lasted less than a year, going their separate ways while focusing on their acting careers.
Martin Short
Although Carrey, Daniels, and Holly wound up being the perfect cast for "Dumb and Dumber," it wasn't what the producers had envisioned. According to E! News, New Line Cinema felt they were taking a chance in letting the novice Farrelly brothers direct the screw-ball comedy they had written, so the studio wanted to be very involved in the casting process.
Per Vulture, Martin Short was New Line's first pick for Lloyd, but he turned down the part. Although there are no statements from Short about why he passed on the project, Vulture postulates a seasoned comedian like Short, who made a name for himself during the '80s in movies like "Three Amigos!" and "Innerspace," may have been apprehensive about starring in the debut comedy of two directors with no track record.
Bobby Farrelly later told The Hollywood Reporter that they were trying to cast the movie for a couple of years, but getting turned down by everyone. While Peter Farrelly revealed in the same interview that although they thought they were getting turned down by "everybody that was anyone," in reality many of the actors were not informed of the offer by their agent, with Peter saying, it was "so hard to tell how many actually passed, but we were told 100."
Steve Martin
Martin Short wasn't the only big-time comedian to turn down the Farrelly brothers. According to Vulture, Short's longtime collaborator and friend, Steve Martin, also turned down the role of Lloyd in "Dumb and Dumber." Martin's work in "The Jerk," and "Three Amigos!" made him an obvious choice to play Lloyd, but Martin was super busy at the box office in the '90s. He starred in a grand total of 16 films during that decade and the competition to cast him must have been fierce.
According to The Hollywood Reporter, eventually one of the producers got a script to Carrey, and he responded favorably. Peter Farrelly said, "… when we met with him he was like, he got it exactly like we got it, and so we thought this guy would be perfect for it." When Carrey signed on, "Ace Ventura: Pet Detective" hadn't come out yet, so contract negotiations became an issue when Carrey re-negotiated his salary after winning big at the box office earlier in the year.
After casting Carrey as Lloyd, they turned their focus to casting Harry. As reported by Vulture, New Line Cinema wasn't interested in casting Daniels. Bobby Farrelly told THR, "Jeff Daniels was not the obvious choice because he hadn't done any, you know, out-and-out comedies before that." Per E! News, after reading together, Carrey lobbied for Daniels to get the role, and against his agents' advice, Daniels accepted the role of Harry at a discounted pay rate.
Nicolas Cage
According to Vulture, Nicolas Cage and Gary Oldman were the actors the Farrelly z originally envisioned as Lloyd and Harry in "Dumb and Dumber." Although Cage has moved more toward dramatic roles, his performance in "Raising Arizona" certainly proves he does has comedic chops. Cage confirmed this, telling The Huffington Post he was in talks with Carrey, his former cast mate in "When Peggy Sue Got Married," to co-star in "Dumb and Dumber." Instead, Cage turned the role down to star in "Leaving Las Vegas," a performance that he won an Oscar for. Obviously passing on the Farrelly brothers' debut film was the smart choice, setting Cage up for more serious roles down the line.
Years later, Cage had another opportunity to star in another role that eventually went to Carrey. Michel Gondry told The Daily Beast that he approached Cage for the role of Joel Barish in "The Eternal Sunshine of the Spotless Mind" before making the surprising choice to cast Carrey against type. Gondry said after Cage won an Oscar, the competition to get him into an independent film was stiff. Although Cage would have made a good Joel, Carrey was incredible in the role, proving he could pull off an understated performance. Gondry told Vanity Fair watching Carrey on the set of 2003's "Bruce Almighty" convinced him Carrey could handle the role because Gondry saw something lonely behind Carrey's comedic facade.
Robin Williams
Robin Williams was all set to play the Joker in Tim Burton's "Batman," and ultimately lost the part to Jack Nicholson, who was obviously fantastic in the role. Williams felt Warner Bros. had used him as bait to lure Nicholson, and he was disappointed to lose a role he would have been great in. Despite the loss, Williams still hoped to play The Riddler somewhere down the line.
In an interview with The Hollywood Reporter, "Batman Forever" screenwriter Lee Batchler revealed, "We wrote [The Riddler] with Robin's voice." In 1993, Entertainment Weekly reported Williams was excited to read the script: "I am just waiting to see the script, and if it's right, then I'll sign on." Sadly, later in the casting process, Entertainment Weekly announced that Williams turned down the role without giving a comment on why he declined. An insider told EW, "He believed the character was too intellectual and not as comedic as the Riddler played by Frank Gorshin on the TV series," while others suggested Williams was wary of Warner Bros. after what happened with the Joker.
After Williams turned down the role, Carrey was cast as The Riddler in "Batman Forever." Despite turning down the role, Williams was still interested in playing The Riddler in Christopher Nolan's iteration of the franchise, telling Empire, "I'd play The Riddler in the next Batman, although it'd be hard to top Heath [Ledger] as the villain. And I'm a little hairy for tights."
Cameron Diaz
A decade after "The Mask" made both Carrey and Cameron Diaz enormous stars, they almost teamed up again. In 2003, Entertainment Weekly announced Diaz and Carrey would reunite in "Fun With Dick and Jane," with the Coen brothers writing a new script for a remake of the 1977 crime comedy starring George Segal and Jane Fonda. In 2004, MovieWeb announced Diaz could no longer co-star with Carrey as a couple of bank robbers because of scheduling conflicts and was replaced by Tea Leoni.
Although NBC News thought Carrey and Leoni were a great team and that the remake was better than the original, it wasn't a success at the box office. Critics weren't kind to this remake, and it got poor scores on Rotten Tomatoes with audiences as well. Diaz and Carrey's comedic chemistry was so fantastic in "The Mask" we can't help wondering if "Fun with Dick and Jane" would have been more fun if Diaz hadn't dropped out of the project.
Chris Farley
Chris Farley was the first actor attached to "The Cable Guy" before Carrey came into the picture. Per Variety, after Columbia bought the script, they cast Farley to star in the titular role. Unfortunately, Paramount Pictures still had Farley under a two-movie deal, and he had to film "Black Sheep" to fulfill his contract with the studio. According to Variety, Farley and Columbia agreed he could film "The Cable Guy" after finishing out his stint on "Saturday Night Live," but Farley dropped out of the project because he reportedly didn't want to be locked into anything so far in the future. Sadly, Farley's career and life were cut short when he died in December 1997.
Carrey's turn in "The Cable Guy" wound up being a role that changed Hollywood forever. Carrey was on a career-high coming off his successes in 1994 and he negotiated a $20 million dollar payday for the dark comedy. Per Variety, Carrey was the first actor to command this salary, and it changed the salary expectations of A-listers. Looking back on the salary shake-up writer, Mike Fleming Jr. said, "Every major top-of-the-line movie star got a $5 million raise" because of Carrey's successful negotiation for "The Cable Guy." At the time, Carrey's payday was bigger news than the black comedy which failed to perform at the box office, although it has become a cult favorite amongst audiences with a darker sense of humor than mainstream audiences.
Dennis Hopper
Peter Weir's "The Truman Show" predicted the shift toward reality television with a bold and bizarre story about a man who doesn't know he's the star of a reality show and that everyone in his life are actors. The movie gave Carrey a rare opportunity to take on a more serious role, which would lead to other dramatic opportunities down the road.
Per Variety, Carrey wanted the opportunity to branch out and show his range so badly he even took a pay cut, making only $12 million instead of his $20 million fee. Per "The Making of the Truman Show," Weir was so set on Carrey taking the lead role, he waited a year to film because Carrey was busy filming "Liar Liar" and "The Cable Guy." Weir saw this as a happy accident rather than a frustration because it gave him time to work with Andrew Niccol on fine-tuning the script.
Although it seems Carrey was the only actor Weir seriously considered for the lead, the film had a last-minute casting shake-up — Dennis Hopper was actually cast as the antagonist Christof. Per The Los Angeles Times, after just one day of shooting, Hopper left the production due to "creative differences" and was later replaced by Ed Harris. Harris told The Hollywood Reporter, "They were shooting a scene in Malibu, and I live in Malibu. So I drove up the coast to meet with Peter. We talked. It was a Friday. I think I started work on Monday."
Ben Stiller
In April 2010, The Wrap reported Ben Stiller was talking to director Noah Baumbach about staring as Mr. Popper in the film adaptation of the award-winning children's novel, "Mr. Popper's Penguins." Per IndieWire, Stiller and Baumbach's interpretation of the project was a little bizarre and included an entirely new storyline with Peyton Manning and his real estate agent.
Two months later, The Playlist reported Stiller had walked away from the role when Baumbach passed on the project. Apparently, part of the appeal for Stiller was collaborating with Baumbach again. Passing on this part certainly didn't hurt Stiller's career as he has stayed active, writing, directing, producing, and acting. Per Collider, after Stiller passed on the role, both Jack Black and Owen Wilson were on the short list of actors the studio was interested in casting, but Carrey was at the top of that list.
Once Mark Waters joined the project, agreeing to come on board as the director, he called up Carrey hoping that he would star in the movie. Waters told Entertainment Weekly that he and Carrey had been trying to work together for a while and Carrey was the only person he could see in the role, saying, "I got lucky. I asked for Jim and I got him." Although Waters was thrilled to work with Carrey, the film adaptation of the beloved children's novel was tepidly received by critics, getting sub-par scores on Rotten Tomatoes, and didn't do great at the box office either.
Christoph Waltz
The true crime inspired "Dark Crimes" is a film adaptation of David Grann's New Yorker article about a cold case in Poland and the writer, Krystian Bala, being brought to justice after publishing a novel bearing strong similarities to an unsolved murder he had actually committed. During the developmental phase, not only did this movie get a name change, but it also had a change in the lead. Per The Hollywood Reporter, in 2013, Christopher Waltz was cast in "True Crimes" to play a Polish police officer who investigates a cold case involving Polish sex rings, drugs, and an unsolved murder.
In 2015, The Wrap reported that Carrey was in talks to lead the dark thriller, suggesting that the film struggled to find its way through the developmental stage to production. This role was a big departure for Carrey, and a bit of a risk, taking him into the gritty underbelly of the Polish crime world. Although Carrey's commitment to his performance was praised by some critics, The New York Times criticized the script for lacking focus and direction, while it also scored absolutely abysmal Rotten Tomatoes ratings. Perhaps Waltz made a good call when he walked away from the project.