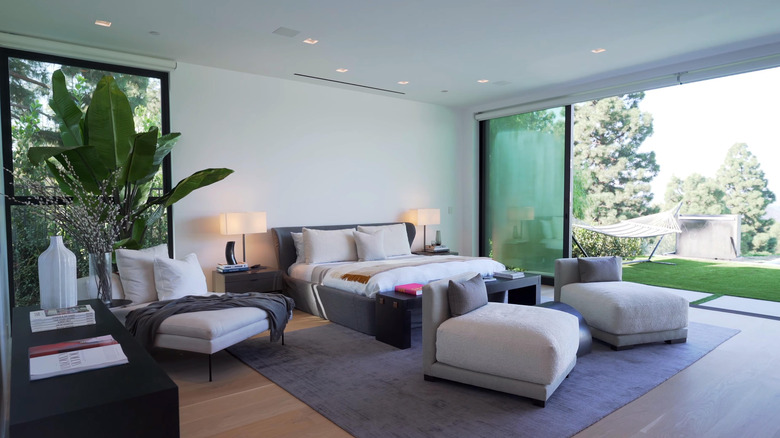 Arguably one of the most important places in your home, your bedroom is where you relax, unwind from the day, reflect on your future, and get ready for the next day's challenges and opportunities. This is a space that should feel welcoming and comfortable, and for many people, that means it should be stylish and even a bit luxurious. Homeowners tend to put a lot of time and money into their kitchens and living spaces because that's what visitors will see. Yet, your bedroom is a place where you'll want to put some focus as well. As noted by Mads Creations, you'll want to utilize interior design features that help you create a sense of serenity. The good news is that you don't have to overspend to do it, either.
Interior designer Stacy Garcia, who owns her own design firm, offers some ideas on how to create a bedroom that looks expensive without having to overspend to make it happen in this exclusive interview with House Digest. The right bedroom design ideas can help you love this space.
Inspire your senses with textures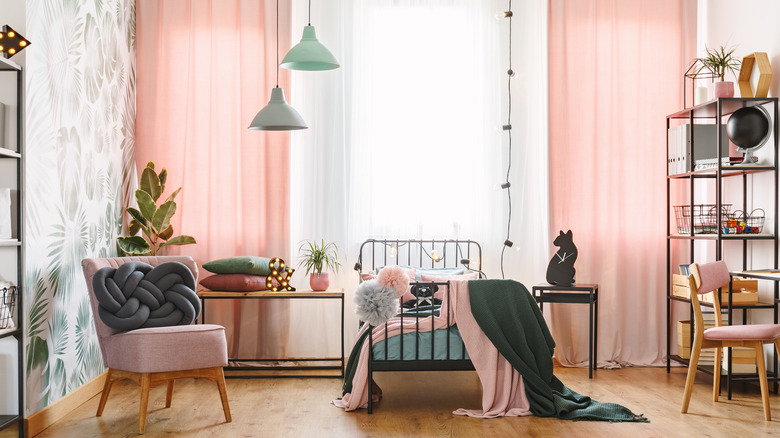 Looks are not all that matters when designing the interior of a bedroom. Garcia suggests, "Fill the space with things you want to touch — wool, bouclé, leather, or velvet, for example. These features will add depth, dimension, and luxuriousness to the room." Consider a wool carpet, for example, or choose a fabulous leather settee to place at the end of the bed that just beckons you to come and sit for a while.
"And don't forget to layer the windows. Use an outdoor drape with a shade. Take a page from hospitality and go with a blackout shade," Garcia adds. Since the windows are such a major focal point in the room, dressing them up creates an instant visual pop. She goes on to say, "You can also add scents to elevate the mood and the feeling when you enter." Choose scents that invigorate for first thing in the morning — like lemon — and choose calming scents — like lavender — to help you relax into sleep in the evening.
Select the right rug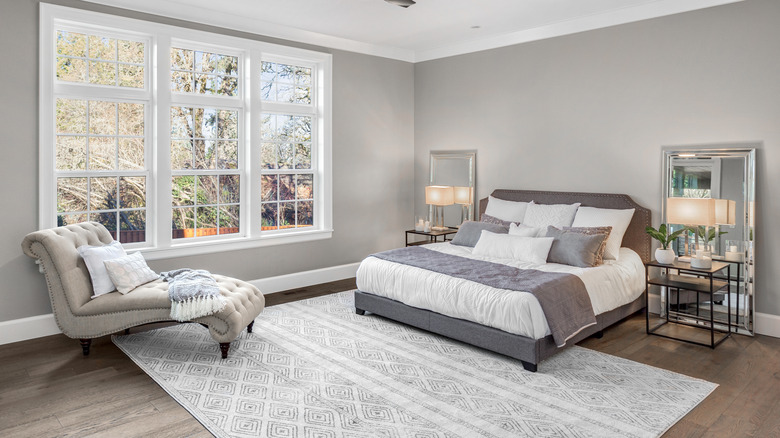 Whether or not you have a rug in place in your bedroom, this is one area of the room not to ignore. You can always add a visually stunning choice on top of what's there. Garcia states, "Consider choosing rugs made from high-quality yarns which will wear beautifully over time. Depending upon your décor, modern hues of gold, grey, silver, beige, and white in contemporary abstract designs can offer an upscale modern eclectic design aesthetic."
When you're considering the type of rug for this space, be sure to choose the right size. Garcia shares, "Make sure that you have at least 3 feet of rug extending on either side of the bed." That way, when your feet touch the ground in the morning, they're instantly warmed. "If budget is an issue, runners can be added to each side of the bed," she adds. That's a great way to get the same appeal without having to waste money on a rug that's hidden under the bed anyway.
Use soft textures on the bed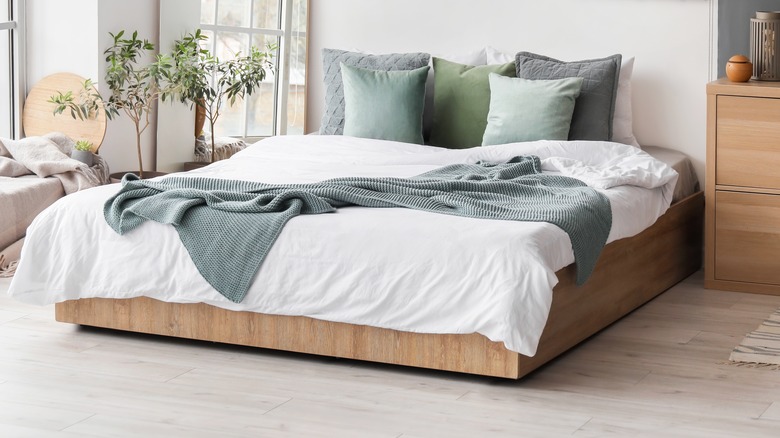 Your bed should welcome you, invite you to relax, and instantly be soothing. Textures that are soft and supple can help with that. "The textiles used on your bed make a huge difference. Use soft, velvet pillows, cotton throws, and buttery brushed cotton sheets," recommends Garcia. These fabrics feel soothing when touching your skin. She also notes, "Again, layering is a great way to add an upscale 'decorator' feel." Adding several layers of blankets can help to make that happen.
Don't stop there. Garcia suggests, "Trade cool colored pillows and throws for warmer tones and add in natural materials." Use colors and patterns that play off other tones in the room, too. "Using decorative pillows is one of the most effective ways of not only softening up the space but also bringing that room's design aesthetic together for a more upscale feel," reveals Garcia. You don't have to spend a lot of money to pick up a few different styles and colors of pillows to add to this space.
Curate your accessories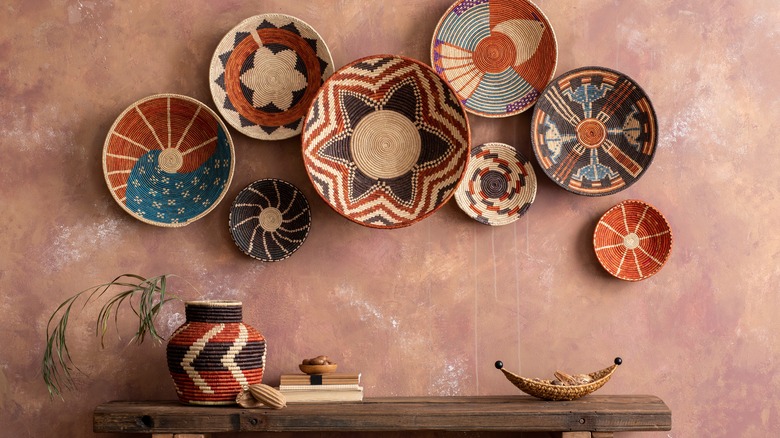 As you look around your room, each of the decorative items should bring a smile to your face. They should be items you cherish. Stacy Garcia offers a few tips on making them work. "Handmade baskets of varying sizes used for storage for pillows, throws, or blankets, or simply used as decorative additions can easily upscale a bedroom." Then, look to your dresser to de-clutter anything that shouldn't be there that doesn't add to the décor. Garcia recommends, "Consider large raw wood bowls placed on dressers to add a bold touch or lamps made from stone, which will do double duty for light and décor."
You can use textures like this on the walls, too. If you have a boring picture or a big, open space, consider this tip from Garcia. "Hand-woven baskets placed in a grouping on a wall can add an upscale feel and replace a simple painting." As you decorate the room, aim for each space to add something beautiful, sensual, or otherwise enjoyable.
Create a sitting area or quiet space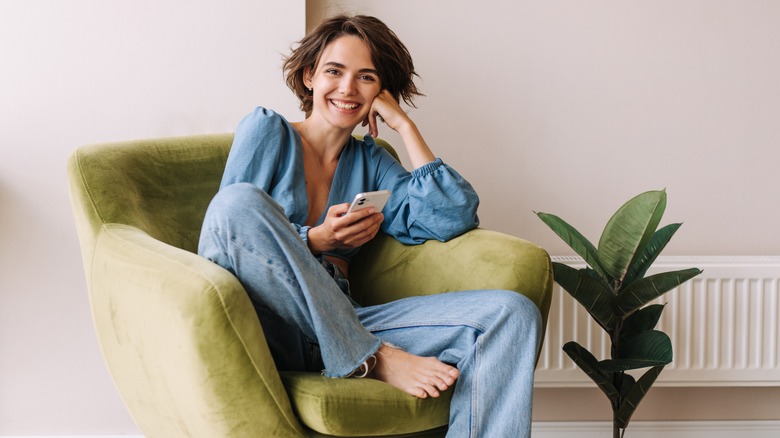 Make your bedroom feel like a retreat. There are many ways to do this besides just focusing on your bed. Garcia shares, "Whether it is a loveseat at the end of the bed or a sitting area with two chairs and a small table or ottoman, creating a space within the bedroom for relaxation will give it a designer feel." Even if you don't have a lot of room to dedicate to this, try to make it work. Perhaps remove the desk you've used for work or an extra dresser you don't really need.
Garcia also notes, "Creating an area where you can sit and relax, read a book, or meditate will also enhance the overall feel and use for the bedroom." Make this a space for you to unwind and not one that adds to the clutter, though. "Don't forget to introduce decorative pillows to add to any chair or loveseat." With a few relaxing bedroom ideas, you may love this space even more.