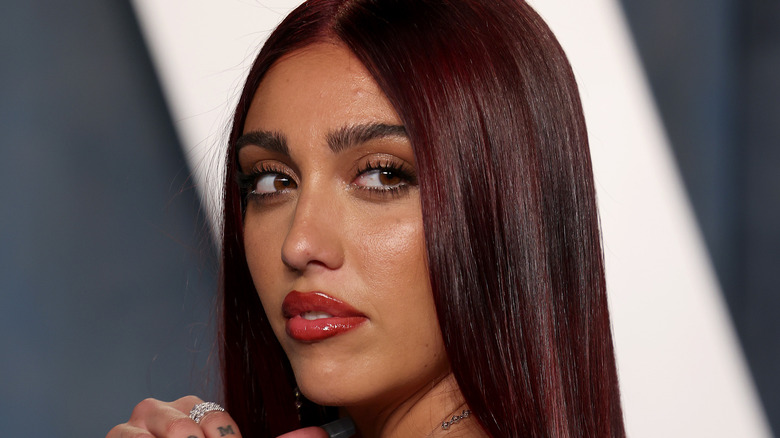 As the first child of global superstar Madonna, one might think Lourdes Leon feels some pressure to live up to her mom's example. While the two are extremely close and Leon is fiercely protective of her famous mother, she is forging her own unique and artistic path. Having led a fairly private life until relatively recently, she is now making waves in the world of fashion. In 2018, she did her first runway show for Gypsy Sport. Since then, she's participated in campaigns for top designers, including Marc Jacobs, Savage x Fenty, and Juicy Couture, per Grazia magazine.
While she said she believes modeling is a good financial proposition at this point in her life, Leon is more excited about curating a career that incorporates all of her talents, as she said in a recent chat with family friend Debi Mazar for Interview. Leon is a dancer, singer, musician, and artist who is taking her mom's life advice seriously. In the interview, she recalled Madonna's words: "Remember, this s**t is not real. It's not about the money or your face or how hot you look. It's about what you're bringing into the world and what you're going to leave behind."
Lourdes made Madonna a mother
"I was stunned when I saw on the ultrasound a tiny, living creature, spinning around in my womb," Madonna wrote in diaries that were excerpted in Vanity Fair. "Tap-dancing, I think, waving its tiny arms around and trying to suck its thumb. I could have sworn I heard it laughing."
On October 14, 1996, Madonna gave birth to Lourdes Maria Ciccone Leon at Good Samaritan Hospital in Los Angeles, California, per the Los Angeles Times. Pediatrician Dr. Paul Fleiss (the father of "Hollywood madam" Heidi Fleiss), made the birth announcement in front of a group of reporters that had gathered outside the hospital.
Lourdes' father, Carlos Manuel Leon, met Madonna while she was jogging in New York's Central Park. Working as a personal trainer at the time, he was 30 years old, several years younger than Madonna. Their romantic relationship didn't last very long after the birth of their child, but the two would find their way to a place of successful co-parenting soon after their split, per Vanity Fair.
Madonna chose a French education for Lourdes
By the time Lourdes Leon was 2 years old, people were speculating about where Madonna would enroll her daughter in school. According to the New York Post, the Material Girl had been considering an ultra-traditional British boarding school called Cheltenham Ladies College, but then decided against it in favor of an austere French-style school in London. "Everybody knows Madonna wants her daughter to be educated in Britain, but this way she gets the best of all worlds," a friend told the outlet.
At the time when Leon was enrolled, the Lycée Français Charles de Gaulle, located in the South Kensington area of London, offered a results-oriented education that required its students to be fluent in French by the age of 8, per The Guardian. The school has no selection criteria for its students other than the French fluency requirement, but reportedly achieves outstanding academic success rates as a result of its methods. The school day can begin as early as 8:40 a.m. and end as late as 6 p.m. At the time Leon attended the Lycée, there were approximately 3,500 students that hailed from 50 different countries.
Lourdes is a gifted entertainer
Lourdes Leon began making the occasional on-stage appearance with her mom starting at a very young age. At the MTV VMAs in 2003, she appeared as a flower girl at the beginning of Britney Spears' and Christina Aguilera's send-up of "Like a Virgin. Several years later, in 2009, she showed off her acrobatic skills at the end of her mom's "Celebration" video. Though her on-screen time in the music video is brief, it's clear she's beginning to develop her dance chops.
Later that same year, a video was posted on YouTube that featured Leon dancing on stage during Madonna's rehearsal of "Give It To Me" in Tel Aviv, Israel, and she's got the choreography down pat. During the live concert, Leon, clad in shiny pants and coattails, skillfully displayed yet another talent when she accompanied her mom on piano during "Devil Wouldn't Recognize You." Recently, in a 2021 chat for Interview magazine, Leon declared that she enjoys dancing, but she's not that interested in singing. Currently, she's keeping all of her options open and is committed to injecting her own aesthetic into all of the projects she commits to, as she noted in the interview.
She launched both a fashion and a beauty line
In 2010, Lourdes Leon, then 13, and her mom launched a fashion brand called Material Girl. In a video that features the two of them discussing their search for the perfect person to rep the brand, Madonna opines about her ideal. "We're looking for a woman-girl-female-child who embodies a certain je ne sais quoi, a certain spirit, energy, attitude. Cares but doesn't care. Material but immaterial … Likes to shop but also cares about, um, feelings." Taylor Momsen and Kelly Osbourne eventually did stints as the face of the brand, per the Daily News.
The following year, 14-year-old Leon took her next step to mogul status with the launch of Material Girl Beauty for Macy's. "I love everything that has to do with beauty! It's always fun to get made up for a party, and it makes you feel good," she told Teen Vogue regarding the collaboration with her mom. The line, which consisted of body lotions, body washes, nail polishes and various makeup items, was sold in brightly colored packaging that had a youthful vibe.
For her part, Leon enjoyed participating in the process of selecting scents for the line. As she told Hello! magazine, "There were like a million samples and some made me want to vomit, but the ones my mum and I thought were best, I think were nice and women would wear."
Lourdes' first boyfriend was actor Timothée Chalamet
When Lourdes Leon was 16, she was a student at LaGuardia High School in New York along with then-"Homeland" actor Timothée Chalamet. A romance between the schoolmates had been speculated about, but it wasn't until 2013 that it appeared to become official when the couple was spotted having dinner in SoHo with her father, Carlos Leon, and his girlfriend (per Us Weekly). A cute photo of them walking together (with his arm around her) began to circulate, and it seemed pretty clear that they were an item. A source told Us Weekly at the time, "Dating is a loose term for it, but yes, they are teenagers being teenagers, so I guess you can call it that." The source added that the romance was still new.
In an interview with Vanity Fair several years later, Leon confirmed that the popular actor had been her first romantic relationship. "I respect him a lot, we were a little item. My first boyfriend." Chalamet himself coyly confirmed they had dated, but refused to go into detail about it when asked by Andy Cohen on his SiriusXM radio show.
She graduated from the Fame high school
On June 25, 2014, Lourdes Leon graduated from New York's LaGuardia High School of Music & Art, aka the school that inspired the movie "Fame" (per Us Weekly). On the day of the ceremony, Madonna's oldest child donned a white cap and gown and received her diploma with the class of 2014 at Lincoln Center. Shortly afterward, the graduate took to reminiscing about her high school days on her now defunct website (per ABC). "I know that I was lucky enough to go to a truly exceptional high school that produces high-quality shows and actually teaches you the craft of what you're studying," she wrote, while also lamenting about some of her fashion choices during her four years there.
In her blog posts, Leon noted that she would miss her high school days, but was excited about her future. "It's really beautiful to be able to see all of the people I dearly love and care for, people that I grew up with for four years, go on and pursue their passions, whatever they may be, and find their place."
Lourdes followed in her mom's footsteps when it came to college
"I keep telling her Ann Arbor is an awesome place," Madonna told the NFL Network before her Super Bowl performance in 2012 (per Hello! magazine). Madonna, who attended the University of Michigan on a dance scholarship for a couple of years prior to heading to New York, was apparently keen on the idea that daughter Lourdes Leon would follow in her footsteps. The duo visited the campus twice before Leon decided to make it official. Once enrolled at the University of Michigan, Leon decided she would pursue a Bachelor of Fine Arts degree in musical theater and dance. She kept a fairly low profile during her four years at the university.
In an interview with Vogue, Leon fondly remembers a life-changing experience she had while in college. "A teacher of mine made me understand movement in a whole new way," she said. "You're using your body to define the space around you — to change it. That's a very naked form of expression." Leon reportedly paid for her college education with money that she earned from the Material Girl clothing line (per the New York Post).
She finally joined Instagram in 2021
"Instagram is not real. It's the biggest lie of all time. People create personas on Instagram that are nothing like who they are in person, and it's the scariest thing to me, because I'm the same everywhere," Lourdes Leon said about the popular social media platform in 2021 to Interview magazine. Despite her less than glowing opinion of it, Leon (who goes by the nickname Lola) recently created an Instagram profile and dedicated her first couple of posts to campaigns she did with Juicy Couture and Stella McCartney for Adidas.
Fans who were excited about her arrival began to comment and, much to their surprise, Leon responded with aggression and lots of foul language, per Daily Mail. One of the less expletive-laden interactions went as follows, "Hey queen we're waiting for your singing debut," to which Leon responded, "I'll sing at your funeral." Her comments, which have since been deleted, were met with various responses, including one person who was excited to share Leon's nasty reply with his friends.
Lourdes has already been on the cover of Vogue
"People think I'm this talentless rich kid who's had everything given to her, but I'm not," Lourdes Leon said in a 2021 interview with Vogue. Leon, along with several other models, had been chosen to grace the coveted September issue. In addition to Leon, the cover and accompanying article featured models Kaia Gerber, Bella Hadid, Anok Yai, Leon, Yumi Nu, and Precious Lee. The piece, aimed at embracing new standards of modern, inclusive beauty — or as Vogue put it, "American beauty now" — also included the experiences of Ariel Nicholson, the first openly transgender model to appear on the cover of Vogue.
Since taking up modeling, Leon has been involved with several campaigns and made appearances on the catwalk for top fashion designers. She walked her first runway for Rio Uribe's Gypsy Sport collection in 2018 (Per W magazine) and has since participated in campaigns for Swarovski, Burberry, and Miu Miu, to name just a few. At the most recent Paris Fashion Week, she closed out the Marine Serre show in an eye-catching catsuit and lots of gold accessories (per Today).
She's a chip off the old block
Lourdes Leon is forging her own creative path, but still values her mom's input and credits her for keeping her focused on what's important. "She's very much like, 'Proceed with caution and think about what you want to be known for,'" Leon said (per Interview). Like her mom, Leon is described as "fiercely original" and marches to the beat of her own drum. Though currently focused on her modeling career, she doesn't rule out the idea of taking on other challenges, including her wish to play Mother Teresa in a movie (per Vanity Fair).
Madonna told Vogue that Leon "is insanely talented. I'm green with envy because she's incredible at everything she does — she's an incredible dancer, she's a great actress, she plays the piano beautifully, she's way better than me in the talent department. But she doesn't have the same drive…" That said, Leon had launched her own clothing and beauty lines by the time she was 14 years old.
Lourdes says her mom has controlled her entire life
Lourdes Leon lived under a strict set of rules before going to college. As she said in a discussion for Interview in 2021, "We don't get any handouts in my family. Obviously, I grew up with extreme privilege. There's no denying that. But I think my mom saw all these other kids of famous people, and she was like, 'My kids are not going to be like this.' Also, I feel like if your parents pay for things, then it gives them leverage over you. My mom is such a control freak, and she has controlled me my whole life. I needed to be completely independent from her as soon as I graduated high school."
Madonna also admitted that she's a bit of an authoritarian when it comes to parenting. In 2011, she spoke with Harper's Bazaar during the period when Leon was helping to design the Material Girl clothing line. "Well, I say to Lourdes, schoolwork always comes first, so anything that gets in the way of that falls by the wayside. We put our energy in education." She also said of her eldest, "She loves fashion and style. She helps design the collection. I just stand in the background and watch. I proofread her blogs and edit them and give her a hard time when I think she's being a lazy writer."
She has a disdain for social media
Despite having joined Instagram in 2021 (where she immediately took to trolling her followers), Lourdes Leon has said that she has a "base level of hatred for social media" (per the Independent). Apparently using the platform primarily to promote her modeling career, Leon says that social media has made her feel bad about herself in the past. Though her account is verified and has amassed several hundred thousand followers, she currently follows no one. She has expressed a similar distain for TiKTok (per Interview).
Though Leon said that while she loved the now defunct video service Vine, she takes issue with the algorithms that are currently implemented by most social media platforms. "You're seeing things they want you to see so you become more and more of a consumer," she said in an interview with Paper magazine. "Like this horrible vicious circle, but I think it could be used in such a funny way, which is how I use it. There are just a bunch of trolls online, but unfortunately, people take it so seriously and it's literally their life, because it is a lot of people's lives."
Her armpit hair broke the internet
As if there aren't more important things to worry about, the internet began taking Lourdes Leon to task for her underarm hair way back in 2017. Just Jared posted a pic on his Instagram page featuring Leon in a bathing suit with a visible tuft of hair under her arm and people began weighing in both for and against her personal grooming habits in large numbers. Comments ranged from categorizing her as a "gross feminist" to "everyone grows hair. chill out" (per Teen Vogue).
In 2018, when Madonna posted a shot of herself with Leon whose underarm hair was, once again, on display, the photo received a mixture of positive and negative comments. Unmoved by public opinion, Leon has appeared in a Marc Jacobs campaign, walked numerous runways, and attended the Met Gala with her now signature hairy armpits. In her interview for the Vogue cover, Leon shared her answer to the trolls who want her to shave it off: "Yeah, come at me, bro."
Lourdes is defiant just like her mom
"Lourdes has an enormous sense of self — she is spiky and tough," a source who is close to Madonna told the New York Post recently. "Her attitude is defiant, all day, every day." As such, Leon is rumored to have weathered rough patches with her mom in the past over wardrobe choices, tattoos, piercings, and smoking. The same source also said Leon likes to "shock and provoke" and "wants to break boundaries like her mom did."
Some wondered if this was Leon's goal when she participated in a simulated orgy at Miami's Art Basel in 2019. Leon, along with several others, performed the racy spectacle that was later described by L'Officiel Editor-in-Chief Peter Davis: "It was inclusive and all body types and everyone was fully making out with everyone." He elaborated further by saying, "There was kissing and grinding — everything but X-rated action, which was simulated."
Such a display might result in many a mother clutching her pearls, but it seems unlikely Madonna would fall into this category. She is, after all, the author of the 1992 coffee table book called "Sex," which features several sexually explicit photos of herself.