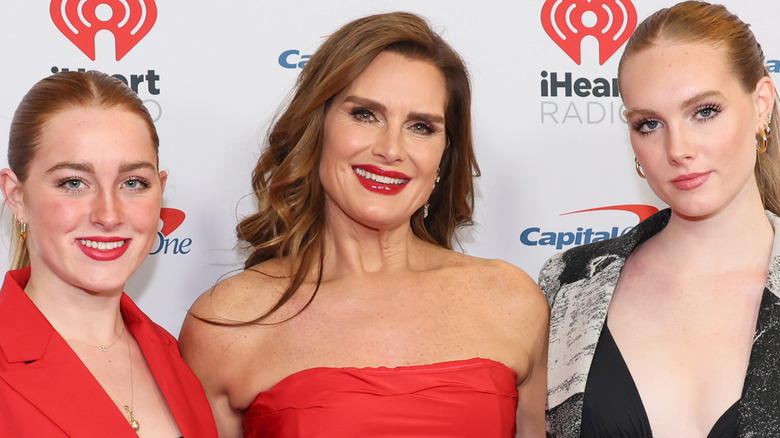 As a New York native who's worn multiple hats over the years, Brooke Shields was able to cultivate a lengthy career worth swooning over. Whether it be her feats as an actress — starring in several projects such as "Pretty Baby," "The Blue Lagoon," "Endless Love," and "Suddenly Susan" — or her run as a Calvin Klein model, Shields has been sure to pop up on our television screens for the better part of the last 40 years (via IMDb). Alongside her list of accolades ranging from film to illustration, the multi-talented actress eventually transitioned into a woman all about her family throughout her late 30s.
After her divorce in 1999, Shields met her future husband, Chris Henchy, on the Warner Bros. lot near the set of "Suddenly Susan" (via Today). From there, the two got married in 2001 and had their first child, Rowan Francis Henchy, in 2003. Despite the hardships she faced during and after her pregnancy with Rowan, the "Pretty Baby" actress set out to have another child, Grier Hammond Henchy, in 2006. Although Shields prefers to keep her daughters out of the limelight, the model-slash-business tycoon consistently expresses her love for her two daughters — oftentimes making herself appear as the doting yet stern parent. From emotional sendoffs to matching tattoos, it seems that their rapid growth from babies to adults has caught her and the general public off guard. To learn more about her ever-growing daughters, allow us to introduce you to Rowan and Grier Henchy.
Rowan got a matching tattoo with her mother after graduating high school
Born on May 15, 2003, Rowan Francis Henchy came after months of fertility treatments due to her mother's complications with pregnancy. Since her birth, Brooke Shields has opened up about her struggles as a new mother. Though she may want to forget that dark time in her life, she does remember the first time she came up with Rowan's nickname — which Rowan later used as an excuse to get a tattoo (via People).
Following her departure from high school, Rowan approached her mom with the idea of getting matching ladybug tattoos. Shields, seemingly against her daughters getting any ink before age 30, appreciated the gesture due to how sentimental the piece would be to her. In an interview with People magazine, she stated, "When she was born, she just looked like two [big] eyes. She just looked like a little bug and that's been her nickname ever since." To Rowan's surprise, she successfully convinced her mother to make an exception to the "no tattoos until you're 30 years old" rule. According to her mother, she knew Rowan had ulterior motives but decided to go along with it since it was a unique experience the two could share. "I felt like she wanted something to do with her mother," she told People magazine. "When you have teenagers, you take what you can get."
Rowan made her mother cry when she left for college
As the eldest of the two, it was only a matter of time before Rowan Henchy left the house to pursue a higher education. Despite her mother's jovial attitude toward preparing Grier to get out of the house, her emotional floodgates opened up when it was time for Rowan to leave for college. Following her high school graduation in 2021, the 19-year-old enrolled at Wake Forest University in North Carolina. Since she's in her sophomore year, one may assume that her mother would've adjusted to this change. The first time around, Brooke Shields took to Instagram to upload a collection of photos and a video of her crying on her drive back from dropping Rowan off. Similarly, Shields uploaded a video in 2022 of her crying for the same reason — stating, "It's so hard. I miss her already."
Both videos garnered massive attention due to the admirable connection the two seem to share. Though the "Blue Lagoon" actress acknowledges how neediness can sometimes drive children away, she's not afraid to express her discomfort toward her daughters leaving her. During her appearance on "Live with Kelly and Ryan" (via YouTube) she opened up about the hardship she was facing. "She's thriving and it's so great," she told Kelly and Ryan. "But you just sit there going like, 'For the last 18 years she's been in my house and she's not in my house anymore.'"
Grier was born on the same day as Suri Cruise
On April 18, 2006, Grier Hammond Henchy was born at St. John's Hospital in Santa Monica. Although it was a momentous occasion for Brooke Shields — successfully giving birth to a baby without the need for IVF treatments — she wasn't the only celebrity introducing a child into the world that night. According to the "Suddenly Susan" actress, Grier was born on the same day as Katie Holmes' daughter, Suri Cruise.
During her appearance on "Dirty Sexy Funny with Jenny McCarthy," Shields revealed how she found out about the coincidental occurrence (via People). Since she understood that she was someone of status, Shields went out of her way to keep Grier's birth top secret. After she got to her room, Shields noticed a barrage of photographers outside of the hospital. "I look out the window and there's helicopters and movie cameras downstairs and news cameras outside," she told Jenny McCarthy. "And I was like, 'This is an outrage. Who alerted the media? Can't I just have a baby?'" After expressing her wishes in a fit of rage, a nurse walked into the room to assure her that the paparazzi were for Katie Holmes and Tom Cruise, not for her. In light of the crazy coincidence, an insider told People magazine Grier and Suri celebrated their first birthday together. While it seemed like the two were the best of friends as children, their relationship status remains unclear.
Grier likes to steal designer clothes from her mother
As the daughters of a massive modeling icon, it's safe to assume that Rowan and Grier Henchy like to borrow designer pieces from their mother's closet to add to their ever-growing collection of clothes. Though we're sure their closets are filled with several attires most of us could only dream of having, the two still seek out garments from their mother's array of looks. Luckily, their mother doesn't seem to have a problem with this. In 2021, Rowan attended prom wearing a red strapless dress that Brooke Shields wore to the 1998 Golden Globes (via Instagram). As commemorative as it was, we're sure Rowan got her mother's blessing before wearing it rather than stealing it from her closet, unlike Grier.
Because Shields allowed Rowan to attend prom with a dress that held sentimental value, we're sure sharing lush wardrobes with her daughters isn't an issue for the doting mother of two. Shields, however, isn't a fan of her designer clothes suddenly disappearing from her closet. In an interview with People in 2021, the "Endless Love" actress revealed that this is a constant issue she faces in her household, and she usually knows who to blame when it happens. "If I want to know where anything good that I have is, and I can't find it in my closet, I know exactly where to find it," she told the publication. "It's her! [Grier]"
Grier has an attitude sometimes
Judging from her tendency to steal designer clothes from her mother's closet, it seems like Grier is the troublemaker while Rowan is the obedient one. Although we're sure this phase won't follow her into her adult life, her mother is ready for this rebellious phase to be over. In an interview discussing Rowan's college ventures on "Live with Kelly and Ryan," Brooke Shields jokingly expressed her want to get Grier out of the house — stating, "The younger one, I'd like to send to college now (via YouTube).
Based on her mother's description of her, Grier apparently has an attitude problem. During Shields' appearance on Spotify's Armchair Expert with Dax Shepard," the Calvin Klein model shared a story about the two arguing over a dress Grier wanted to buy. After Shields explained the best course of action in buying the dress, Grier sent a text stating, "I really don't appreciate the way you talk to me. I think that you talk to me like I am a child." Following the story, Dax Shepard revealed a theory in which the firstborn is much like the mother while the second child acts like the father. Shields, in agreeance, shared just how argumentative Grier can be. "She's like a social justice warrior," she told Shepard. "She could take an argument, and I mean manipulate it … she could do something wrong, and you'll apologize. I would love her to be a prosecutor."
Rowan and Grier are advised not to follow in their mother's footsteps
From interviews to documentaries, Brooke Shields, on several occasions, pointed out the wrongdoings of many higher-ups in the entertainment industry. Whether it be her portrayal of a child prostitute in "Pretty Baby" or her traumatic experience with sexual assault in her 20s, Shields has since suggested that her relationship with show business is bittersweet (via Hollywood Reporter). With Rowan and Grier Henchy growing up, onlookers may assume that the two are bound to follow in their mother's footsteps. This seems to be the case for Grier as she is heavily invested in fashion (via People). Shields, however, prefers her two daughters to stray away from the glitz and glamour of Hollywood.
In an interview with USA Today, the "Pretty Baby" actress went on to promote her book, "There Was a Little Girl" — detailing her relationship with her late manager-slash-mom, Teri Shields. Through explaining the contents of the book, interviewer Jocelyn McClurg asked Shields what would happen if Rowan and Grier wanted to follow in her footsteps. Seemingly perturbed by the idea, Shields stated that she'd support them if they were serious about it. Despite this, Shields suggested that she prefers a career outside of entertainment for them. "I say this all the time, but it's a business that's sort of predicated on eating its young," she expressed. "It's based on rejection, and it's based on all the things you're not."
They taught their mother to embrace her body
Thanks to their mother, Rowan and Grier Henchy appear to have a strong sense of self. From a young age, their mother expressed the importance of self-love and how it affects their well-being (via YouTube). Whether through skincare or staying in shape, Brooke Shields made self-love a priority in her household. In doing so, the Calvin Klein model seemingly taught them well enough to the point they're teaching her valuable lessons about body image. During her appearance on the "Tamron Hall Show," Shields stated, " They [Rowan and Grier] celebrate their bodies in a way that I never did."
Due to the several body-shaming comments from those around her — including her mother — Shields stated that she felt disconnected from her body for a long time. So much so that she developed habits that covered her figure rather than showing it off. In an interview with Kit Hoover on "Access Daily," Shields revealed that Rowan and Grier helped her break out of this practice and love her body even more than she already did. "My daughters would actually say to me, 'Mom, you've got a body. You should just embrace it,'" she revealed. "You know when your daughter teaches you something like that, and when you've been in an industry that I've been in forever, it really is unbelievably impacting."
Their mother showed them how to deal with negative comments online
As teenagers, it can be difficult to navigate social media, especially if you're the daughters of a well-known celebrity. From harsh comments to blog headlines, privacy online is a luxury that most people of status never have. Despite this, Rowan and Grier Henchy found themselves sharing bikini pictures, outfits of the day, and even harmless-turned-harmful pranks on social media platforms like Instagram and Tik Tok. As expected, the two also found themselves disgusted by users on the platform leaving hateful comments on not only their profiles but their mother's as well.
Brooke Shields, who seamlessly transitioned from an actress to a business tycoon, knows better than anyone what it's like to have unnecessary hate thrown their way. While Shields is never shaken up by the crude remarks about her — oftentimes not even paying attention to them — Shields told E! News that her daughters are not too pleased with what they read online. Instead of telling them what to do versus what not to do, Shields stated that her passiveness toward the hate is teaching her daughters how to navigate social media. "They have been privy to me as an example their whole lives," she told the publication. "So rather than it being 'you should do this, you should do that,' if I'm faced with something, I speak to them about it."
Their mother was 'tough' on them as children
Though Rowan and Grier Henchy are privileged enough to lead a life most can't, the two have grown into respectable human beings, thanks to their mother. As a teenager chasing a career in Hollywood, Shields understood at a young age how important it is to be surrounded by people that kept her grounded. According to an interview with ABC News, this was an easier feat to accomplish due to her mother staying by her side. "She wanted me to stay a kid for as long as possible, which may seem like a contradiction, but there was this freedom and naivety where I wasn't cognizant of things," she stated. "I wasn't cognizant enough to know that you would be insecure or uncomfortable."
Due to her experience dealing with massive public attention at a young age, Shields wanted to make sure her daughters were not caught up in the illusion of being famous. In an interview with Us Weekly, Shields revealed that she was tough on Rowan and Grier when they were children. In an attempt to make them appreciative of the life given to them, Shields' early disciplinary methods revolved around making them good-hearted and well-mannered individuals. "It's all about respect and manners and appreciation and giving back," she expressed. "You start them young. They could say 'please' and 'thank you' before they could even say [the word]. … It was, like, a tone. They would say 'peas' and 'ta tu' or something."
Rowan and Grier are encouraged to be independent
Given Rowan and Grier's relationship with their mother, it's safe to say their bond reminds us of how important it is to nurture a parental connection. This relationship, however, can turn into unnecessary neediness, causing the child — or parent — to rely solely on their counterpart. According to Brooke Shields, she knows this far too well. With mother Teri Shields behind her every step as a child model-slash-actress, Brooke's decision to attend college and chase a life of her own was hard because of their codependent relationship (via People).
Despite tearful goodbyes to Rowan when she left for college, the "Pretty Baby" actress wants Rowan and Grier to be independent. In her interview with People, Shields stated, "I want my daughters to know that I am fully me, I am not their responsibility." Luckily for the mother of two, her daughters have proven that they're capable of a healthy relationship with their mother. During Shields' and Grier's cover shoot for Victoria's Secret in 2022 (via YouTube), Grier suggested that she is comfortable with whatever life throws at her because she knows her mother will always be there. In addition to this, Grier stated that she's aware of the importance of prioritizing yourself over the ones you love sometimes. "I know you're always so focused on making sure that everyone else is okay," she told her mother. "Sometimes, it's okay to be a little selfish, and make sure your needs are taken care of."