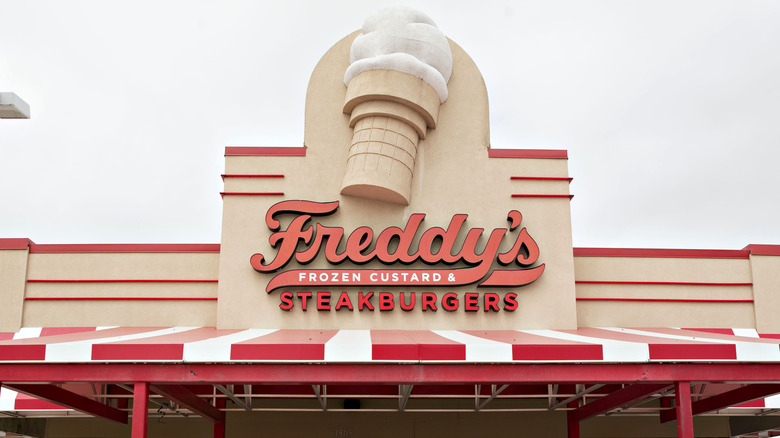 An earlier version of this article mistakenly said that Portillo's started in Chicago in 1963. Corrected on 2/13/2022.
There are plenty of midwest restaurant chains to love, and luckily, many of them may be accessible without a road trip in the near future. Whether you've move out of the midwest, or have fond memories from past visits, sometimes the things you miss most (other than people) are the restaurants that you grew to love there.
The hot dog from Sonic just isn't the same as a Chicago dog from Portillo's; nobody serves up the same ice cream combos as Rainbow Cone; and no other fast food chicken restaurant is smoking their chicken over almond smoke like Chick N Max. However, you can always hope that the really great restaurants will bust out of their home state and region to share their good foods all over the country. And the great news is that some of them have. If you've been craving an Italian beef sandwich, cheese curds, and the fresh-made tortillas from Pancheros, pretty soon you may not have to travel to middle America to enjoy them. Here are 14 restaurants that have already broken out of the midwest or will soon.
Portillo's
A newlywed couple planted the seed that would become Portillo's in 1963 when they opened a simple hot dog stand in Villa Park, Illinois. Known then as The Dog House, what started as an $1,100 investment turned into a restaurant worth a billion dollars (via QSR). Portillo's is famous for Chicago street food like Chicago-style hot dogs and gravy-covered hot Italian beef sandwiches. However, it also has plenty of other tasty menu options, like sandwiches, ribs, burgers, cheese fries, various kinds of pasta, salads, soups, tamales, shakes, and homemade cakes. The menu variety allows you to have something new to try for many, many visits.
Portillo's may have started in Chicago in a food truck, but they're now all over the midwest, with locations in Illinois, Indiana, Michigan, Minnesota, Wisconsin, and Iowa. They have also extended into California, Arizona, Texas, and Florida, with plans for 10% annual growth. Portillo's fame follows it such that the restaurant doesn't even need to advertise to get lines out the door on opening day. For example, when one did a soft opening in The Colony, Texas, it made $20,000 in sales in only four hours (via Nation's Restaurant News). Anyone who's ever visited a Portillo's knows what a treat it is to taste this piece of Chicago. To try it is to fall in love with it.
Happy Joe's Pizza
Joe Whitty is the "happy Joe" of Happy Joe's Pizza. His philosophy of happiness permeated his pizza restaurant as well as his philanthropy. When Whitty opened his first Happy Joe's Pizza in Davenport, Iowa, in 1972, he wanted to create a magical atmosphere to bring out the inner "happy child in all of us," which is evident in the restaurant's decor and menu. The walls are covered with pictures of happy kids and adults, including a beaming photo of Happy Joe himself (via AZ Central).
There are plenty of options to make everyone happy at Happy Joe's Pizza. In addition to standard pizzas, the menu contains several types of Mexican pizzas with nachos crumbled on top, a Reuben pizza, a mac and cheese pizza, and even fun dessert pizzas. You can also munch on appetizers, salads, hoagies, ingredient-laden plates of pasta, and ice cream.
As of January 2023, Happy Joe's has nearly 50 locations. While the majority are in the midwest, the restaurant now has a location in Navarre, Florida. Whitty dreamed of expanding his pizza restaurant around the world but died in 2019 before seeing his dream come true. There are currently also several locations open in Egypt, with plans to open a total of 50-75 throughout the Middle East in the next 10 years (via PMQ).
Buona Beef
With the release of "The Bear" on Hulu, a TV show about a struggling Italian beef restaurant, suddenly everyone was interested in Chicago's signature sandwiches. Joe Buonavolanto III, the VP of Franchise Operations for Buona Beef told The Takeout that Italian beef and ingredients like the giardiniera pickled vegetable relish were once regional foods that you wouldn't see outside of the Chicago area. Now that's starting to change.
The first Buona Beef opened as a family-run restaurant in Berwyn, Illinois, in 1981. As serendipity would have it, Buona Beef had already planned to take its restaurant nationwide before "The Bear" popularized the Italian beef sandwich. The Takeout reports that the first non-Chicagoland locations will open throughout the midwest, as well as in Colorado, Arizona, Texas, Tennessee, and Florida.
Besides its Italian beef sandwich, Buona Beef's most popular menu items include its char-grilled chicken sandwich, rigatoni marinara pasta, beef and sausage bowl, chopped chicken salad, cheeseburger, and Chicago-style hotdog. With sandwiches, bowls, pastas, pizza, salads, soups, desserts, and shakes, the menu appeals to both carnivores and vegetarians with varying tastes. Furthermore, Buona is now offering Italian beef sandwich kits nationwide, so you don't have to have a Buona Beef restaurant opening near you to be able to partake in this authentic Chicago sandwich.
Rainbow Cone
If you're getting a new Buona Beef restaurant in your area, it will come alongside another Chicago area favorite — Rainbow Cone (via The Takeout). Pairing Buona Beef and Rainbow Cones will allow the two Chicago favorites to expand the flavors of the Windy City beyond its usual boundaries.
Joe and Katherine Sapp first brought together slices (rather than scoops) of chocolate, strawberry, Palmer House (vanilla with cherries and walnuts), pistachio, and orange sherbet ice creams to craft their famous Rainbow Cones in 1926. Since that time, Rainbow Cone has been a Chicago institution. Not only does Rainbow Cone sell its original cone, but it also sells other flavors of ice cream as well as sundaes, shakes, donuts, cakes, and cake rolls.
Currently, Rainbow Cone's seven stores and its various pop-ups are all in Illinois. However, when it attaches itself to new Buona Beef locations nationwide, you will be able to find Rainbow Cones throughout states in the midwest and beyond into Colorado, Arizona, Texas, Tennessee, and Florida.
Culver's
While Culver's once only belonged to the midwest, it's now made its way into states outside the region in a big way, currently boasting around 900 restaurant locations in 26 states. In 2020, The Technomic Top 500 Chain Restaurant Report named it number two in sales growth among the largest burger franchises. The first Culver's opened in Sauk City, Wisconsin, in 1984, so it's not surprising that there are still far more Culver's restaurants in Wisconsin than in other state.
If you don't have a Culver's near you yet, you may wonder what Wisconsin wonders Culver's offers its guests. Its sizable menu features signature butterburgers, frozen custard, sandwiches, chicken tenders, soups, salads, seafood, sides, shakes, malts, and floats. Butterbugers get their name from the Wisconsin butter from Alcam Creamery that graces the crown of each bun. Other Wisconsin delicacies include fried Wisconsin Cheddar Cheese Curds from La Grander Hillside Dairy and Pretzel Bites with Wisconsin Cheddar Cheese Sauce.
Pancheros Mexican Grill
Iowa City, Iowa, seems like a long way from the border to produce such a great Mexican restaurant. But Pancheros Mexican Grill had its start there in 1992. Guests could watch their tortillas pressed and stuffed in front of their eyes, highlighting just how fresh their burrito would be. And, since they're so fresh, Pancheros tortillas don't fall apart before you finish eating your burrito. Making them even better, in 2002, Pancheros launched an innovative new tool called "Bob" helped to blend all the ingredients together before stuffing them into the burrito so that all the flavors are perfectly melded together and you get a perfect bite every time.
In addition to giant burritos, Pancheros offers quesadillas, burrito bowls, salads, chips, and tacos. Most of these offerings come with your choice of nearly 20 toppings, including plenty of vegetarian and dairy-free options to meet a wide range of dietary needs, which means you can please everyone all at once.
Pancheros is among several burrito chains that are taking over the U.S. For a long time, Pancheros was only a midwest restaurant, but the company has expanded into 13 states with a total of 74 restaurants. Currently, all the non-midwest locations are on the East Coast, but Pancheros plans to open hundreds more restaurants in other states across the country in the years to come. If you see your city's name on the list of future locations, congratulations! If not, you're likely to soon enough.
Hot Head Burritos
Ray and Cynde Wiley opened the first Hot Head Burritos location in Kettering, Ohio, in 2007. It didn't take long for them to expand into Dayton and Cincinnati, where they were winning top burrito awards (via Restaurant News). Now they have more than 80 locations. While the majority of the restaurants are in Ohio, it has expanded into six other states, including Connecticut, Florida, Indiana, Kentucky, Massachusetts, and Pennsylvania.
Of course, Hot Head Burritos serves burritos, but its menu also includes bowls, tacos, quesadillas, and nachos. All the offerings are available with your choice of meat or vegetarian toppings. Either choose a favorite recipe or choose from dozens of toppings to build your own. Hot Head's claim to fame is that it has 12 types of sauces, which can turn the same burrito toppings into something completely different each time you order it. With keto- and paleo-diet-friendly options on the menu, the chain appeals to more diet styles than the typical restaurant.
Rapid Fired Pizza
Ray Wiley not only co-owns Hot Head Burritos, but he's also the founder of Rapid Fired Pizza in Dayton, Ohio. However, after owning it for six years and expanding 33 restaurants into various states, he sold the chain to the Pie Guys Restaurants franchisers in 2021 (via QSR). The Pie Guys had previously owned some Rapid Fired Pizza franchises and had ideas about changes to keep the brand relevant. Online sales, curbside pickup, and take-and-bake options have been popular. However, the new team is also looking at nontraditional locations like student centers, grocery stores, and stadiums to drive new growth. While the earliest locations were in Ohio, Rapid Fired Pizza now has a presence in California, Indiana, Kentucky, South Carolina, Texas, and West Virginia.
Chip Hurst, Chief Development Officer for Rapid Fired Pizza, told the Dayton Daily News that he believes "the quality of the brand's offerings and strong consumer relationships have resulted in a loyal following and differentiates the franchise from the competition." The Rapid Fired difference is in the name. The pizzas come out of the oven in a mere 180 seconds. You can choose from more than 35 toppings and eight sauces, or select one of the 10 craft pizzas on the menu. Plus, you can order your pizza with a gluten-free crust or "No Doh," and have your pizza served on a bed of Parmesan cheese or spinach. The chain also sells custom salads, various sides, and desserts.
Chick N Max
Chick N Max is an underrated chicken chain you're going to wish you knew about sooner. Unless you live in or have visited Wichita, Kansas, you've likely never heard of it, but you probably will in the future. Several new stores will open nationwide in 2023, with at least 60 stores open in the near future (via Forbes). Its first location outside Wichita is slated to open soon in Willis, Texas, about 40 miles north of Houston. According to Fast Casual, another will be in Sioux Falls, South Dakota.
So, what do you have to look forward to when you finally spy a Chick N Max popping up near you? The restaurant considers itself the "home of the better chicken sandwich," which they call the Legendary Sandwich. It features chicken that is rubbed with a secret blend of spices before being smoked over California almond wood. This smoke is gentler than ordinary wood smoke, which captures more of the chicken's rich flavor. You can choose from wings, tenders, smoked chicken, pulled chicken, smoked or crispy tender sandwiches, salads, power bowls, and 10 homemade sauces. There are more than the usual fries and onion ring options on the sides menu. You can also choose from mac and cheese, mashed potatoes, coleslaw, smoked white beans, turnip greens, and deviled egg potato salad. You can even order seasonings, sauces, and almond wood from the restaurant.
Sobek's Chicken Shack
Michigan's largest chicken chain, Sobeck's Chicken Shack, is planning to expand further into Michigan and beyond. For the time being, all the Chicken Shack locations are in Michigan, with the original opening in Royal Oak in 1956. However, The Detroit News reports the restaurant has plans to spread its wings nationwide, so keep on the lookout for it.
Customers loved the food at Chicken Shack so much when it first opened that the restaurant had to order new equipment to handle all of the business for its Broasted chicken. Broasted chicken fries under pressure, which allows it to cook in its own juices for a more flavorful piece of chicken (via Genuine Broaster Chicken). As time went on, Chicken Shack owner John Sobeck developed a variety of secret recipes for menu items that have become fan favorites. Not only does Sobeck's Chicken Shack sell fried bone-in chicken and chicken tenders, but they sell seafood, fall-off-the-bone pork ribs, and sandwiches. Sides include shack potatoes, french fries, onion rings, shack mushrooms, coleslaw, corn, green beans, and dinner rolls. You can also buy Chicken Shack's BBQ or Hot N Spicy sauce on the side or by the bottle.
Crisp & Green
While the majority of midwest restaurant exports are for fast foods like burgers, chicken, pizza, and burritos, Minnesota is in the process of bringing healthier options our way. Crisp & Green opened its first fast-casual restaurant in 2016 along the shore of Lake Minnetonka in Wayzata, Minnesota. Within three years, there were seven Crisp & Greens across Minnesota. As of now, there are also Crisp & Green restaurants in Colorado, Florida, Nebraska, North Dakota, South Dakota, Texas, and Utah. Further locations will be opening soon within the current states as well as in Arizona, Arkansas, Illinois, Iowa, Kansas, Missouri, Montana, New York, North Carolina, Tennessee, and Wisconsin.
Crisp & Green is among the best fast food salad chains in the U.S. right now. Its claim to fame is that it offers fresh, inexpensive, made-from-scratch menu items that are healthy and convenient. You can choose from fresh salads, savory bowls, acai bowls, and smoothies. Savory salads and bowls contain bases like greens, brown rice, quinoa, or wild rice. Toppings include healthy ingredients like roasted chicken, tofu, beans, mushrooms, cheeses, eggs, avocado, kalamata olives, fresh or roasted veggies, fruit, hummus, raisins, seeds, nuts, and fresh herbs. They even have healthy kids bowls and salads that are sure to please.
Perkins
Perkins Restaurant & Bakery has found its way beyond its original Cincinnati, Ohio location where it first opened as a pancake house in 1958. Perkins has evolved through the years. It still serves pancakes, but it has plenty more to offer. In the 1980s, it started up an in-store bakery for its famous pies and other desserts. You can get breakfast at Perkins all day. Lunch and dinner menus include fried appetizers, burgers, sandwiches, soups, salads, and classic entrees like country fried steak and grilled pork chops.
Throughout the 1980s and '90s, Perkins focused on opening up new restaurants along the I-95 corridor along the East Coast (via Funding Universe). Perkins first moved to Canada in 1988. Now, there are nearly 300 Perkins locations in 32 states, reaching as far west as Arizona, with plans to keep expanding.
Perkins was struggling to stay open and ended up filing bankruptcy in 2019 (via Reuters). Part of the problem seems to be that they failed to innovate to keep from being branded as "old person food" (via Reddit). After all, the menu isn't very friendly for the health-conscious, vegetarian, or gluten-free restaurant-goer. However, according to FSR Magazine, the company is modernizing the look of its restaurants, installing mobile credit card readers, and trying to appeal to more people with online ordering to stay relevant. It's also incorporating the MrBeast Burger brand into its menu.
Buffalo Wings and Rings
The first Buffalo Wings and Rings opened in Cincinnati, Ohio, in 1984, serving six flavors of wings and homemade bleu cheese. Ten years later, in 1994, it left the bounds of Cincinnati to open in other states. While most locations are still in the midwest states of Illinois, Indiana, Kansas, Nebraska, North Dakota, Ohio, and South Dakota, you can find a few Wings and Rings restaurants in California, Florida, Kentucky, and Texas as well.
Wings and Rings' Chief Development Officer, Philip Schram, told the Fremont Tribune that the restaurant has been most successful in cities with a population of 25,000 to 40,000. The company also doesn't see cities with a Buffalo Wild Wings presence as being an issue since Buffalo Wings and Rings has an elevated modern menu and family-friendly atmosphere. Wings and Rings' menu features seasoned onion rings, shareable starters, four types of wings (including cauliflower wings) with 17 sauce options, salads, sandwiches, burgers, fried tenders and seafood baskets, sides, desserts, and both alcoholic and non-alcoholic beverages. The options appeal to a variety of dietary needs including vegan, vegetarian, low-gluten, and gluten-free. So xeveryone has plenty of options here.
Freddy's Frozen Custard & Steakburgers
Two brothers and their friend started Freddy's Frozen Custard and Steakburgers in Witchita, Kansas, in 2002, and named it after their war-hero father, Freddy. While Freddy's started with just one restaurant, it has expanded to 460 locations in 37 states and 348 cities across the U.S. Today, Texas has more Freddy's restaurants than any other state (via ScrapeHero). And now the chain is set to expand into nine Canadian provinces (via Chain Storeage).
With so many hamburger chains out there, it can be difficult to stand out. However, Freddy's makes it mark with steakburgers, which are pressed super thin to create crisp edges. It also serves thin, shoestring fries. And both are seasoned with Freddy's Famous Steakburger and Fry Seasoning. Other offerings on the menu include grilled or fried chicken sandwiches, hotdogs, veggie burgers, chicken tenders, onion rings, cheese curds, and (of course) frozen custard treats. Freddy's famous fry sauce and seasoning are also available for sale in take-home sizes.