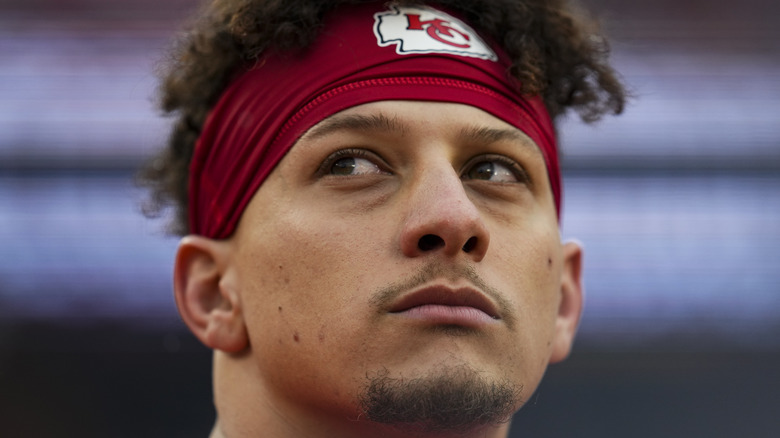 The son of a former professional baseball player, Patrick Mahomes was literally born to play sports. While briefly flirting with following in his father's footsteps (more on this below), Mahomes chose football. And since being drafted by the Kansas City Chiefs in 2017, the young quarterback has set the league on fire with his spectacular play. In just his first year as the full-time starter in 2018, Mahomes had a season for the ages. He tore through NFL defenses with 5,097 yards and 50 touchdowns en route to winning the NFL's Most Valuable Player award at just 23 years old, with the trophy presented by lifelong Chiefs fan Paul Rudd. Hollywood couldn't come up with a better story than that.
But wait, there's more. In just his second season, Mahomes successfully led his team to the Super Bowl to battle the San Francisco 49ers and emerged victorious. While the Chiefs' next Super Bowl outing against Tom Brady and the Tampa Bay Buccaneers failed the nab the coveted Vince Lombardi Trophy in 2021, resulting in a crushing 31-9 loss — Mahomes and the Chiefs were not to be counted out in subsequent seasons. The team would return to football's biggest game for the third time in four seasons in February 2023, taking on the Philadelphia Eagles.
Will this star QB's fairy tale career continue? We'll have to wait and see, but in the meantime, let's huddle up and find out 22 facts about Patrick Mahomes.
Patrick Mahomes survived a potential brush with death
During Patrick Mahomes' rookie year in 2017, he was second on the depth chart behind starting quarterback Alex Smith, so he didn't see much action on the field. Off the field was an entirely different story. Per ESPN, on May 12, Mahomes and four of his friends were robbed at gunpoint in Tyler, Texas after attending a baseball game.
"After the baseball game was over, he and his friends returned to one of the residences. They had pulled into the driveway and were exiting the vehicle when a suspect pulled in behind them and blocked them in," Sgt. Darrell Coslin said. "He exited his vehicle and approached them on foot, acting as if he was armed with a handgun." According to Coslin, it "was a completely random act" as the perpetrator "had no idea who he was robbing." No one was injured, but after police arrived at the scene to obtain the suspect's vehicle information and description, the vehicle was found nearby.
Two men were arrested for the crime, one of them confessed, and the stolen property was recovered. "The team is thankful Patrick and everyone involved are safe because that's what's most important," the Chiefs said in a statement to NFL.com. In October 2017, the man who confessed to the crime was sentenced to 12 years in prison (via CBS Sports).
Have you tried the Kansas City Chiefs QB's cereal?
In the mood for some Mahomes Magic Crunch? If so, you'll unfortunately have to battle it out with other novelty sports merch collectors online, per Sportscasting. But back in 2019, all you had to do was visit the Midwest and go shopping at Hy-Vee, a chain of 265 supermarkets. Retailing at $3.99 a box, it was initially believed that the cereal would sell around 50,000 boxes, according to Hy-Vee spokesperson Tina Potthoff (via Forbes). But much like Patrick Mahomes himself, his namesake breakfast staple outperformed expectations and sold 300,000 boxes.
"The excitement Hy-Vee's Mahomes Magic Crunch cereal has created for Kansas City Chiefs fans is truly unmatched in our company's history," said the supermarket's CEO, Randy Edeker. Proceeds of each sale were donated to Mahome's charity for underprivileged children in and around Kansas City, called 15 and the Mahomies Foundation (more on this organization's work below). Potthoff claimed that, as of January 2020, "More than $88,000 has been donated to the foundation." The cereal's production would ultimately end that same year, but it was a big deal at the time for Chiefs fans.
Praising the quarterback, Edeker continued, "Patrick Mahomes is a true MVP both on and off the field. His generosity and mission to help so many children in Kansas City is inspiring, and we're proud to partner with him to support that mission because Hy-Vee has a rich history in Kansas City as well." Now we're craving some cereal.
Patrick Mahomes' old tweets raised some eyebrows
A good rule of thumb: never tweet. If you're on the fence about firing off a hot take, don't. Especially if you're famous. Patrick Mahomes learned that lesson the hard way when users discovered the NFL superstar's tweets from 2011 and 2013, where he seemingly defended police brutality and George Zimmerman, the man who fatally shot teenager Trayvon Martin in 2012.
In 2011, per the Miami Herald, Mahomes responded to a tweet about police brutality with, "Stop resisting or assaulting a cop #realcops." Later replying to a tweet that called Martin's death "an absolute tragedy," Mahomes wrote, "No one knows what actually happens which is why he is not guilty but a crime could have occurred." Twitter users pounced on the unearthed tweets, labeling him a Zimmerman supporter. "Patrick Mahomes supports George Zimmerman in case you were deciding who to root for in the super bowl," one user tweeted.
However, when Zimmerman was found not guilty in 2013, a then 18-year-old Mahomes tweeted the following: "Knew this was going to happen at least you know Zimmerman will never be able to go in public again." Well, since Zimmerman has made a slew of negative headlines since that acquittal, it would seem that tweet also aged badly.
Does the NFL star have a photographic memory?
During a 2019 game against the Denver Broncos, Patrick Mahomes wore a microphone for the NFL's "Mic'd Up" series. The video quickly went viral after Mahomes successfully called a play the Broncos defense ran … 13 games prior. "Yeah, they went to saw zero," he said in the clip. "They've ran it one time this year against Indy, like Week 7."
Does he have a photographic memory? "My dad has told me I have. But at the same time, I don't really know what that is," Mahomes told The Kansas City Star. "I just know that if I see stuff I can usually go back and tell you exactly what I see. And I think that's the same with Coach Reid. That is why we are (together) on such a great page during the games."
His former coach at Texas Tech, Kliff Kingsbury, agrees with Mahomes' dad. "He's very very smart, he's got a photographic memory," he told Fox34 in 2019. "The first time we'd teach stuff he'd walk it through and nail it. It's just about the work ethic and preparation and making that a lifestyle. It sounds like he's doing that. He loves when the lights come on, that's him at his best and he's got some good stuff going for him."
His wife, Brittany Matthews, draws the ire of opposing fans
Patrick Mahomes met Brittany Matthews in high school, and they have been dating ever since. An athlete herself, Matthews played soccer at the University of Texas before playing professionally in Iceland. Now a fitness coach, Matthews attends every Kansas City Chiefs game to support her high school sweetheart. Some opposing fans don't always appreciate that.
During an away game against the New England Patriots at the Gillette Stadium in December 2019, Matthews claimed security had to escort her and Mahomes' brother to "a safe place" after Patriots fans allegedly harassed them. "As soon as we sit down, drunk dude 'hey everyone this is Patrick Mahomes girl and brother, let's give them s**t' This shall be fun," she wrote on Twitter. Matthews tweeted more about the incident more until providing an update on Instagram. "Gillette security cane [sic] and got us said we have cameras everywhere and we have seen you getting harassed so we are gonna move you to a safe section!" she wrote.
And due to her status as an Instagram influencer, some believe she might be out of touch. Exhibit A: the responses to this tweet. "Today my normal UPS driver was out sick, I had a package that I had to have before an event tonight, called UPS they said it will not be there till 8 pm Called my normal UPS drive and he went out and got the package on his own and hand-delivered it to me!" Go ahead and fire up the popcorn GIFs before diving into those replies.
Patrick Mahomes is in the history books
After his breakout 2018 season, in which he dropped 50 touchdowns (FIFTY!), Patrick Mahomes was awarded the coveted NFL Most Valuable Player award in only his second season in the league, as previously mentioned. And while it's not unusual for a quarterback to win this award, Mahomes is only the fourth Black quarterback to take home this trophy in the league's 100-plus-year history — and only the second to win it outright before Lamar Jackson received the honor in 2019.
The significance of Mahomes' accomplishment wasn't lost on the Black quarterbacks who came before him. Doug Williams, the first Black quarterback to win a Super Bowl, and Warren Moon, the first Black quarterback to enter the Pro Football Hall of Fame, heaped praise on the young star (via The Undefeated), calling him "incredible" and "amazing," respectively. And fellow players took notice of the young star, as well, voting him into the fourth spot on the NFL's Top 100 Players of 2019.
Mahomes was just as surprised as anyone after winning the MVP honor. "Man this is crazy! God is amazing! Thank you to everyone who has supported me and helped me get here! #ChiefsKindgom thank you for your passion but this is just the beginning!" he tweeted.
His bank book has broken records too
Talk about a bargain. In three short years, Patrick Mahomes won the NFL MVP award and led his team to a Super Bowl. While his accomplishments were piling up on the field, the dollars weren't exactly piling up in his bank account. The average NFL salary for a top quarterback was $15 million a year at the time (with Seattle Seahawks' Russell Wilson making a whopping $35 million annually), but Mahomes was still on his rookie deal, earning a comparatively paltry $16.42 million over four years.
According to Business Insider, Mahomes' contract extension was expected to be "be unlike anything the NFL has ever seen." ESPN's Adam Schefter reported that Mahomes could be the NFL's first $200 million dollar man, resetting the market for elite quarterbacks for years to come. Luckily, the Kansas City Chiefs had seen this day coming for a while, as general manager Brett Veach reflected on their longtime belief in Mahomes to The Ringer in 2019.
On July 6, 2020, however, those estimates were blown out of the water when Mahomes signed a historical 10-year, $503 million contract extension with $477 million in guaranteed money, per NFL.com. When the ink dried, Mahomes instantly became the highest-paid athlete in sports history. However, there are other players on the team, and NFL franchises are bound by a salary cap. So the following year, the Kansas City Chiefs and Mahomes agreed to restructure his contract. The restructuring saved the team $17 million in cap space (via ESPN).
What's up with Patrick Mahomes' bracelets?
Patrick Mahomes wears bracelets for every game, but they aren't just a fashion statement. Go ahead and grab the Kleenex for this one. According to Fox 4, Mahomes wears one for Team Luke Hope For Minds, a foundation that helps "families who are affected by severe brain injuries." The foundation was created by Tim Siegel after his son, Luke, suffered a brain injury during a golf cart accident.
Not only does Mahomes actively raise money for the foundation, but he also has a relationship with the family. "The very first time, I noticed that he was wearing it in a game was when they show before the handoff," Siegel said, "and I got text messages, and then I sent a message to him and said, 'Hey, I didn't realize you wear it,' he goes, 'I never take it off.'"
Another bracelet was given to him in 2019 by Whitney Wells, a 10-year-old girl who was diagnosed with a rare brain tumor. She met Mahomes during the Chiefs' summer camp and gave him the bracelets that include her name and her "You Got This" mantra. "Mahomes wearing her bracelet has made her feel very special, especially on tough days," Wells' mother told Fox 4. "He's given her happiness. He's given her the feeling that she really is a special girl, and he gives her hope." Sadly, Wells passed away in December 2019.
Patrick Mahomes wasn't supposed to be a star
Known as a gunslinger coming out of Texas Tech and playing on an offense that was designed to put up gaudy numbers, many NFL decision-makers feared Patrick Mahomes was a system quarterback who wouldn't translate to the pros. Combine that with the fact that Texas Tech compiled a pedestrian 16-21 record during Mahomes' three years as a starter, and the narrative before the 2017 NFL Draft was set.
"The question seemed to be: Who had come out of that [Air Raid] offense and been successful?" former NFL general manager and NFL Network analyst Charley Casserly said (via the New York Post). "He was certainly a gunslinger who left the pocket too soon and threw the ball all over the place. You saw raw talent, you didn't see discipline. And he hadn't won."
However, as Lady Gaga says, it only takes one person to believe in you. For Mahomes, that was Kansas City Chiefs general manager Brett Veach. According to Pro Football Talk, the moment he knew the QB was something special came while watching Mahomes' Texas Tech team suffer a brutal 66-10 loss to Iowa State in 2016. What sold him was Mahomes returning to the game after suffering a shoulder injury in what was becoming a meaningless game (they were trailing 45-3 at halftime). After Veach secretly pursued Mahomes to pretend they had no interest to ward off other teams, the Chiefs traded up and took Mahomes with the 10th overall pick.
Meet Patrick Mahomes' brother Jackson
There's another star in the Mahomes' family — Patrick's younger brother, Jackson Mahomes. But Jackson doesn't make his living on the gridiron, he makes it on social media. An outstanding former high school basketball player, the 6'6" "little brother" was already quickly rising to fame back in 2020 by being BFFs with Mahomes' future wife, Brittany Matthews, and his newfound TikTok stardom.
His social media presence has remained strong, having amassed over 247,000 Instagram followers, and over 1 million fans to his verified jacksonmahomes5 TikTok channel by February 2023. However, being the son of a former major league baseball player and the brother of a star NFL player has its downsides. "It's hard at times because everybody's asking for something," Jackson told ETSN in 2018. "You've got to act better and be respectful. Your name is out there. Everybody knows who you are and what your family is."
According to the publication, the siblings used to fight so regularly that they broke an oven. "What kid breaks an oven?" their mother, Randi Mahomes, said. "I mean, shatters an oven. I never would buy new stuff before Patrick moved out because I was like, 'They're gonna break it.'" Good news for mom: the famous siblings like each other now, as Patrick quipped, "He's not as annoying anymore now that he's grown up a little bit."
Yes, Patrick Mahomes' teammates realize he's famous
Patrick Mahomes shot to fame so quickly, his teammates were still grappling with the fact that he was a celebrity ahead of his first Super Bowl outing in February 2020. "It's kind of funny; I think what a lot of guys on the team don't realize is how much of a celebrity he is," Austin Reiter, then the starting center for the Chiefs, told USA Today Sports. The realization came for Reiter when the two were discussing newly released movies. "I asked him recently, 'Hey, you seen this movie yet?' He's like, 'Nah, I can't. I gotta wait for it to come out (for home viewing),'" Reiter said. "That was when it hit me: The guy can't go to the movie theater — even with a hoodie to hide his hair."
We can assume Mahomes gets recognized on the street by rabid fans. Why? His was the second best-selling jersey in 2019 on NFL Shop. The first? Tom Brady. While both were later usurped by Buffalo Bills quarterback Josh Allen in the 2022-2023 season, Mahomes remained in the No. 3 spot. However, the relatively recent fame hasn't gone to this celeb's head. "He's just a really funny, cool dude. Honestly, like laid-back. I feel like people expect to hear a lot of different things about him, but he's really just chill," defensive end and former teammate Tanoh Kpassagnon said. "One of the guys for sure."
Patrick Mahomes was selected by the MLB Draft in 2014
In an alternate universe, Patrick Mahomes would be playing on a baseball diamond instead of a football field. Once a standout pitcher and outfielder for Texas' Whitehouse High School, Mahomes was drafted in the 2014 MLB Draft's 37th round by the Detroit Tigers (via FanNation's Fastball). However, he ultimately focused on playing football at Texas Tech instead and the rest, as they say, is history.
You would figure that baseball would be in his blood as his father, Pat Mahomes, Sr., enjoyed an 11-year career in the major leagues, where his son got a front row seat to future greats. "[Alex Rodriguez] would take him down after shagging balls and stuff, he'd take him down to the cages and get him on a tee and soft toss to him and then he would break it down with him, take him into the film room and show him what he was doing wrong and show him what he was doing right, and he loved that," the elder Mahomes told the New York Post.
Even though the younger Mahomes chose football over baseball, the love of the game never left him. So in 2020, Patrick Mahomes became a minority owner of the Kansas City Royals. "I'm honored," the quarterback said in the team's official press release, adding, "I love this city and the people of this great town. This opportunity allows me to deepen my roots in this community, which is something I'm excited to do."
He started his own foundation called 15 and the Mahomies
Established in 2019, Patrick Mahomes' foundation's mission statement is simple and to the point: "15 and the Mahomies is dedicated to improving the lives of children. The Foundation supports initiatives that focus on health, wellness, communities in need of resources and other charitable causes." With programs like Read for 15 ("to encourage children to develop a love for reading") and Volunteer for 15 ("a [partnership] between 15 and the Mahomies and The Youth Volunteer Corps to encourage youth ages 11-18 to make a pledge to volunteer 15 hours this summer"), the foundation's mission statement backs up their promise.
15 and the Mahomies also supports a number of local charities, such as the Boys & Girls Club of Greater Kansas City, the Kansas City Public Schools Education Foundation, and the KC Pet Project. Furthermore, in 2022, Mahomes' foundation handed out in excess of $400,000 in charitable grants at its 3rd annual gala.
"Those kids are the ones that train harder than me by a 100 times every single day," Mahomes released in a statement a year prior (via KNBC News). "And I want to make sure I can give back to them in any shape and any way, in order to get them the resources that they need to have an amazing life."
Post Malone has a tattoo of Patrick Mahomes' signature
In a 2020 profile in GQ Sports, Patrick Mahomes detailed how a chance game of beer pong led to rapper Post Malone getting a tattoo on his forearm of him and fellow Kansas City Chiefs teammate Travis Kelce. Long story short, the Chiefs were celebrating their Super Bowl win while Malone was in town for his tour. They guys met up at the show and were invited backstage afterward — at which time, Malone (who's known for his love of Bud Light) quickly challenged the duo to a game of beer pong.
"I guess he loves beer pong," Mahomes said. "That's, like, his thing." Apparently, Kelce couldn't miss that night. "I don't know if I've been that hot on the pong table ever in my life," Kelce said. Malone then raised the stakes and asked them to write their signatures on a piece of paper, and if he lost, the heavily inked musician would put those signatures permanently on his body. "He has a tattoo artist literally in the room," Mahomes explained. "I'm like, 'Dude, you do not actually have to get a tattoo of our autographs.'"
Malone lost and kept his word — and the tattoo was done immediately after the game. We've seen worse.
He would help make history in Super Bowl LVII
With Patrick Mahomes of the Kansas City Chiefs and Jalen Hurts of the Philadelphia Eagles advancing to Super Bowl LVII, the February 2023 game would mark the first in the NFL's 104-year history that two Black starting quarterbacks take the field during the big game. Both of these players fully understood the magnitude of this moment in time.
"To be on the world stage and have two Black quarterbacks start in the Super Bowl, I think it's special, and I've learned more and more about the history of the Black quarterback since I've been in this league," Mahomes said (via ESPN). "The guys that came before me and Jalen set the stage for this, and now, I'm just glad that we can kind of set the stage for guys that are kids that are coming up now."
Hurts also took time to honor those who inspired him when he was growing up. "I think anyone like Mike Vick, Cam [Newton], Randall Cunningham, McNabb, all those type of guys are guys that a lot of young kids looked up to, a lot of young Black kids as well, Steve McNair, all of those guys," he said.
Patrick Mahomes has a sizable real estate portfolio
Being the highest-paid athlete in history certainly has its perks. With that kind of wealth, Patrick Mahomes has done what millions have done before him — invest in real estate. Per the New York Post, Mahomes started building his real estate empire in 2017 with a purchase of a condo in Kansas City valued at $475,000, though he managed to snag the property for $125,000 less than the asking price.
Next came a nearby three-bedroom, four-bathroom mansion worth a cool $1.8 million in 2019. But why stop at one mansion when you can have two? In 2020, Mahomes dropped $3.37 million on his off-season home — a four-bedroom, seven-bathroom mansion located in Westlake, Texas. Once again, Mahomes was able to close the deal way under the initial asking price of $4.26 million. But you can't call yourself a real estate mogul without gobbling up vacant land, so Mahomes scratched that off his list with eight acres in Belton, Missouri purchased for an estimated $400,000. And he's got big plans for this lot, telling the "Dan Patrick Show" that he intends to build a decked-out house there for his growing family to put down roots. "I'm going to have a half football field so I can get some work in with some guys out there," Mahomes explained, in addition to a basketball court and golf range.
All in all, Mahomes has a real estate portfolio worth in excess of $8 million, as of this writing. We wonder what his Ring security camera budget was.
This NFL star is an avid golfer
While football and baseball are Patrick Mahomes' first loves, golf has quickly become an obsession. "Golf has become a huge part of everything," he told Golf in 2021. "When I plan trips, when I set up my off-season, I have to figure out places to play when I'm there. I've got this love for golf because I have to get better, and I compete, but it's also somewhere I can relax and have an awesome time."
All this practice has paid off, because he can hit a 347-yard drive with relative ease. The NFL star also reportedly has a 7.7 handicap. So what makes him most excited about the game? "Making putts," he said. "Driving is cool, but you make a nice putt, 15 or 20 feet? There's no better feeling in the entire world."
Mahomes has also brought his love of golf to his charity with the Patrick Mahomes 15 and the Mahomies Foundation Aloha Golf Classic, celebrating its third year in June 2023. If you have $8,750 lying around, you can buy a ticket to participate. Not bad. Potentially cheaper than a Beyoncé concert ticket, and you get some exercise while helping a charity.
Patrick Mahomes' faith is important to him
Before each game, you can spot Patrick Mahomes somewhere on the field praying. He openly expressed his faith during the Super Bowl's Opening Night in 2023. "My Christian plays a role in everything I do. I always ask God to lead me in the right direction," Mahomes said (via KMBC News). "He has a role in everything I do," he continued. "I want to make sure I glorify him while I do it."
Mahomes previously explained in a 2020 video for Fellowship of Christian Athletes that his strong relationship with God began as a child while attending church with his parents, and he's maintained this bond as an adult. "Faith is huge for me," the NFL star explained, noting that he also attends chapel the night prior to each NFL outing. "Before every game, I walk the field and I just do a prayer at the goalpost," he added. "… The biggest thing that I pray for is that whatever happens, win or lose, success or failure, that I'm glorifying Him."
Mahomes even thanked God for helping with an ankle injury that threatened his Super Bowl matchup against the Philadelphia Eagles in February 2023. "He healed my body this week and gave me the strength," the quarterback expressed during the AFC Championship post-game interview (via CBN News).
The Kansas City Chiefs quarterback is a family man
In September 2020, Patrick Mahomes proposed to his girlfriend of eight years, Brittany Matthews, with "an estimated 8- to 10-carat emerald-cut diamond" ring, as expert Kathryn Money explained to Page Six. Two years later, the Super Bowl MVP and fitness trainer were married in Hawaii. During an Instagram Q&A (via People), Matthews explained of the couple's decision to marry in Maui, "The weather and views are just perfection there! I wanted somewhere where people couldn't just pull up to lol." Honestly? We understand.
Mahomes and Matthews also share two children. Sterling Skye, born in 2021, instantly had Mahomes worried about any new dad's greatest fear: How will he fare with his daughter's hair? "I've tried to work with Brittany's hair before and I'm not the best at it," he admitted to People. "But I'll definitely do whatever I can as a dad … to learn how to do at least a couple things so if I'm ever put in a position where I'm the one taking care of her hair, I know a couple of tricks."
They welcomed baby No. 2, Patrick "Bronze" Lavon Mahomes III, in 2022. Mahomes' younger brother, Jackson, actually came up with the name. "Whenever we were trying to find something that was a little unique and different, he said, 'What about Bronze?' It fits perfectly with Sterling," Mahomes said (via ESPN). "… He can have his own thing now where he is not Patrick, he's Bronze, even though he is Patrick and then Sterling and Bronze can have that connection moving forward."
Patrick Mahomes owes another woman for saving his 2023 season
Although he's a happily married man, Patrick Mahomes owes his chance to play in Super Bowl LVII to another special woman in his life: Kansas City Chiefs assistant athletic trainer Julie Frymyer. A week before securing yet another Super Bowl berth by defeating the Cincinnati Bengals in late January 2023, Mahomes suffered a nasty high ankle sprain during the Chiefs' divisional round win against the Jacksonville Jaguars.
This injury usually requires weeks of rehab and obviously threatened the Chiefs' chances to make a run at another title. That's when Frymyer stepped in. Put in charge of Mahomes' recovery, Frymyer had the quarterback ready to play the following week. "If you loved the way Patrick played then love this person, Julie [Frymyer]. She designed and executed the rehab," the team's vice president of sports medicine and performance, Rick Burkholder, tweeted. Mahomes quote-tweeted the lovefest, adding: "Julie WAS the reason i was the guy i was on the field today! It takes everyone but she lead the charge all week!!! Now let's get Super Bowl ready!!"
Although Mahomes had a noticeable limp while dealing with some pain during the AFC Championship, he was his usual electric self, making play after play with his legs. According to The Wall Street Journal, Frymyer holds three degrees, including a doctorate in physical therapy. In a Chiefs YouTube video released that January, Burkholder stated, "[Frymyer's] got more education than probably anybody in the building. … She's the single-best clinician I've ever been around and that includes 36 years of athletic training."
He's a two-time NFL MVP
Four days before he took the field for Super Bowl LVII, Patrick Mahomes won his second Associated Press 2022 NFL Most Valuable Player award at just 27 years old, becoming the 10th player in NFL history to win the prestigious honor more than once.
This was a no-brainer for the voting body as Mahomes rewrote the history books in 2022, setting the record for most yards in a season (5,570), surpassing New Orleans Saints legend Drew Brees for the top spot. He also threw for 41 touchdowns and averaged an eye-popping 308.8 yards per game.
Mahomes was unable to attend the NFL Honors ceremony as he had a prior commitment (you know, just preparing for yet another Super Bowl appearance), but he did have a pre-taped speech prepared. "To the Chiefs organization, Clark Hunt, Brett Veach, Andy Reid, the staff and most of all, my teammates, I would never be standing here today without y'all," he said (via ESPN). "Every day giving everything that we have together to go for the ultimate goal, the Super Bowl. Let's continue to go for that dream this weekend."
Patrick Mahomes is quickly entering the GOAT conversation
Following the Kansas Chiefs' 38-35 victory over the Philadelphia Eagles in Super Bowl LVII, Patrick Mahomes won his second Super Bowl MVP award. At just 27 years old, Mahomes becomes the 6th player in NFL history to win this award more than once. "Pat is a one-in-a-generation, (once-in-a-) lifetime type of player," Chiefs defensive tackle Chris Jones said (via Kansas City's KSHB). "Sometimes, he does things so special it becomes normal for him."
Mahomes is quickly entering the conversation as one who could be considered the all-time great sometime in the future. His coach, Andy Reid, had nothing but effusive praise for his star. "He wants to be the greatest player ever," he said (via CNN). "That's what he wants to do and that's the way he goes about his business and he does it humbly. I mean, there's no bragging. He could stand up here and give you these stats that are incredible that he's had but he's never gonna do that. That's just not him."