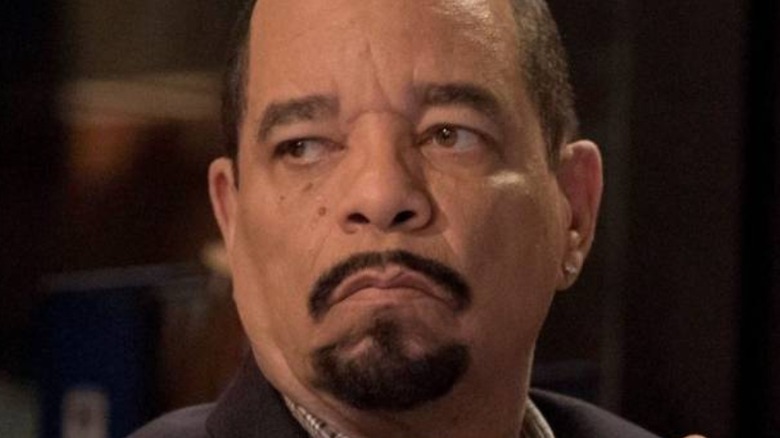 "Law & Order: Special Victims Unit," colloquially known as "Law & Order: SVU" or simply "SVU," is creator Dick Wolf's best entry in the franchise. It's the de facto show to watch while doing laundry and washing dishes. It carries such an episodic verve that fans can happily sit and watch an episode they've seen dozens of times before, simply because it's on (and it's on a lot). It's also, as of 2021, the longest-running primetime live-action show in history, with the show airing its 500th episode during its 23rd season.
Over the course of its history, "SVU" has been packed to the brim with guest stars, including an Emmy-winning Ann-Margaret and Cynthia Nixon. Meanwhile, star Mariska Hargitay was the first regular "Law & Order" cast member, from any series, to win an Emmy award when she was awarded the statue for her portrayal of Oliva Benson in 2006. While the original "Law & Order" has its fair share of memorable faces, it's "SVU" that has endured on account of just how stacked its rotating cast of characters is. Here, we'll be reviewing the best of the best, revisiting 15 of the greatest characters "SVU" has seen during its record-breaking (and still ongoing) run.
15. Court Clerk (Erica Bradshaw)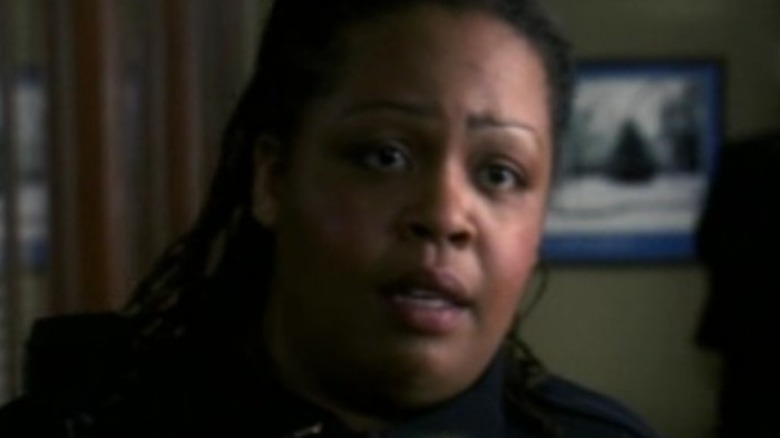 This might seem like an odd entry, but the pivotal court scenes in "SVU" simply wouldn't be the same without Erica Bradshaw. While Bradshaw's court clerk isn't the only one in the series, she is the most consistent, appearing in 20 episodes between the show's 7th and 12th seasons. Whether she's announcing the episode's defendant or using her distinct lilt to read a list of charges — manslaughter, murder, and assault! — her voice is immediately recognizable to fans.
It's a small thing, but the consistency is profoundly meaningful. While most shows would cycle clerks in and out depending on which guest actors were available that day, Bradshaw was repeatedly invited back to uphold the tenets of justice and assist the Special Victims Unit in nailing the bad guy. She's the unsung gem of the series, a character no less exhilarating to see than some central judges and officers. Without Bradshaw's court clerk, a double-homicide trial wouldn't be quite so exciting.
14. Kathy Stabler (Isabel Gillies)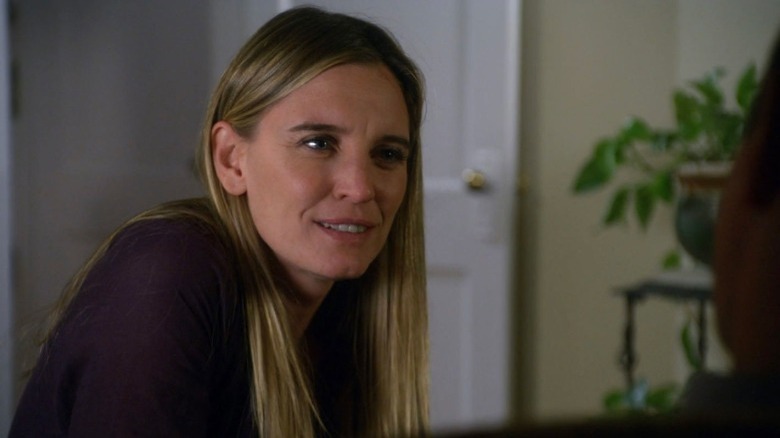 Actress Isabel Gillies, who plays Kathy Stabler, the wife of early "SVU" detective Elliot Stabler (Christopher Meloni), recently penned a poignant letter on her blog. Her character was killed in a crossover with Meloni's new series, "Law & Order: Organized Crime." In her post, Gillies laments the fans' reaction, detailing how upset she was with how vicious fans could be about her character and the joy they took in her death.
It's troubling stuff, indicative of how toxic fandom is rarely, if ever, limited to distinct media properties. Every franchise has its bad apples, and "SVU" is no different. It's also unwarranted since, for the most part, Kathy Stabler is an exceptional character. Gillies' work consistently elevated Stabler's characterization while remaining nuanced enough to craft a narrative of her own. Neither Kathy nor Elliot simply existed on account of the other. Both were dimensional, well-rounded characters whose strengths and weaknesses augmented the other's. Were it not for Kathy, Stabler wouldn't be the man fans still love.
13. Dominick Carisi, Jr. (Peter Scanavino)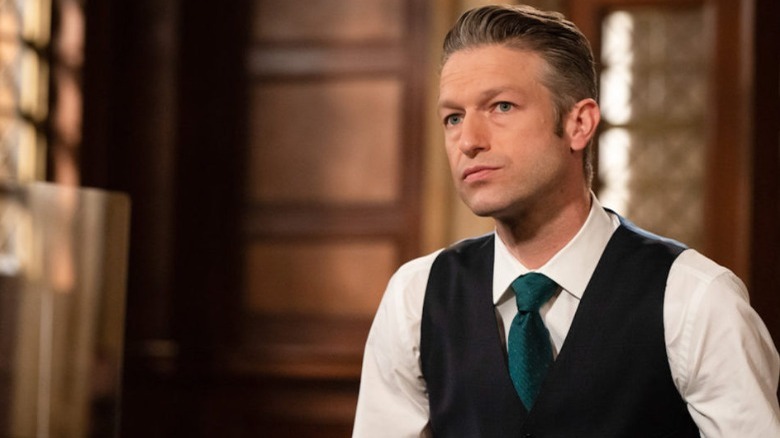 When Elliot Stabler left the series after its 12th season, fans were worried. A huge component of the show's popularity had been the dynamic between Benson and Stabler, and viewers feared that the show didn't have enough else going on to sustain it over the long term. Luckily, as history shows, "SVU" has done just fine, and the credit belongs to the ongoing addition of worthwhile supporting players. Peter Scanavino's Carisi is one of the newest, but he feels right at home in the "SVU" universe.
Originally a detective brought on after Nick Amaro (Danny Pino) was temporarily demoted, Carisi is now an Assistant District Attorney for the Special Victims Unit. An Italian-American Catholic, his characterization is fresh and fun, thanks mostly to Scanavino's effortless performance. He is fiercely loyal and wickedly smart, and his growth remains one of the best parts of later-season "SVU."
12. Judge Mary Clark (Marlo Thomas)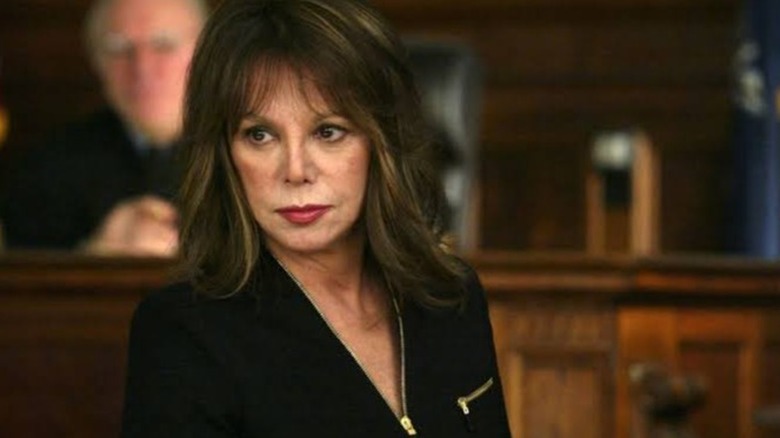 Marlo Thomas could appear on any show, as any character, for any length of time, and arguably deserve a spot on a "best of" list. She is that good. Mary Clark is the de facto mentor of ADA Casey Novak (Diane Neal), the woman who Novak turns to when she's in an especially bad bind. While she switched to private practice to make more money on account of her deadbeat ex, she is still always available when Novak needs her.
Clark's best showing is in the season 5 episode "Poison," in which Novak and company try to remove a judge from the bench after Novak challenges his biases in open court. Clark takes the case of one Rosalin Silvo, firmly believing that Judge Taft (Tom Skerritt) is biased against minorities. It's incredible to watch those two acting giants square off, and even better to see Clark uphold justice so profoundly. It's a shame that her time on the show was so short-lived, but she remains a highlight of the long-running series.
11. Rafael Barba (Raúl Esparza)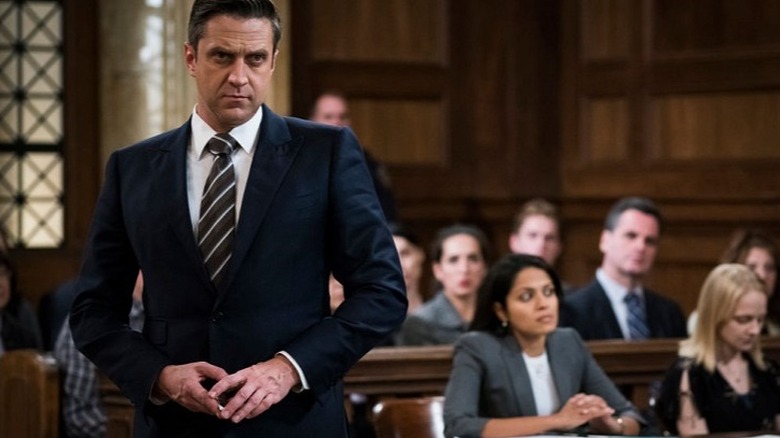 Rafael Barba joined "SVU" in its 14th season, a replacement for a long line of ADAs as the show went through some major growing pains. Facing a revolving door of cast members and severe uncertainty, the "SVU" creators knew that they needed an ADA of considerable might to hold the entire enterprise together. Enter Barba.
A strong-willed, exceptionally intelligent, and no-nonsense ADA, Barba was a fantastic foil for the squad, especially following a series of ADAs who often let the SVU detectives run roughshod over their trials. Barba has done it all, including choking himself out in court to compel a defendant to incriminate himself. He also has style to spare — check out those truly dazzling suspenders — and actor Raúl Esparza is an accomplished Broadway actor in his own right. Both in the squad and out, he is truly a force to be reckoned with.
10. John Munch (Richard Belzer)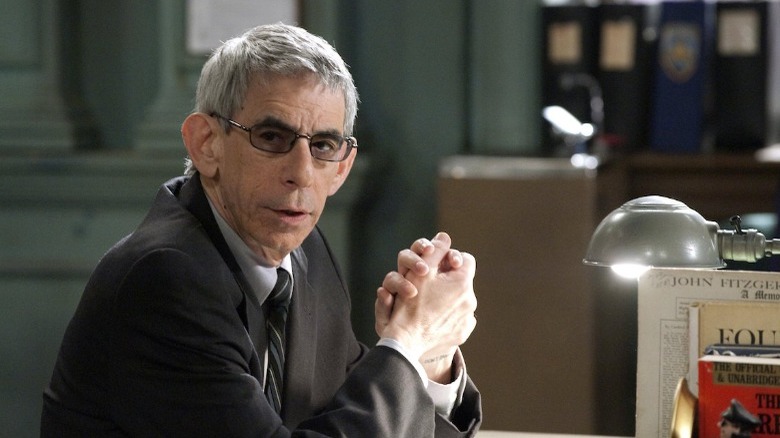 John Munch is one of the Special Victims Unit's OGs. A deeply cryptic yet effective detective, little is known about him during his appearance throughout 17 seasons of "SVU." He's deeply distrustful and conspiratorial, though those elements are considerably neutered after the first few seasons (because, well, some of what he believed was a little out there). Still, he was the squad's de facto source of comic relief, and his interplay with his partner, Odafin Tutuola (Ice-T), cannot be overstated.
Munch, like so many others, has done and seen it all, though his experience never compromised his integrity or his commitment to justice. In addition, he's something of a television mainstay, having first appeared on "Homicide: Life on the Streets" in 1993. His sendoff was poignant, largely on account of just how big of an impact the character has had. The early seasons of "SVU" wouldn't be the perennial gifts in syndication that they are without Munch and his eccentricities.
9. Amanda Rollins (Kelli Giddish)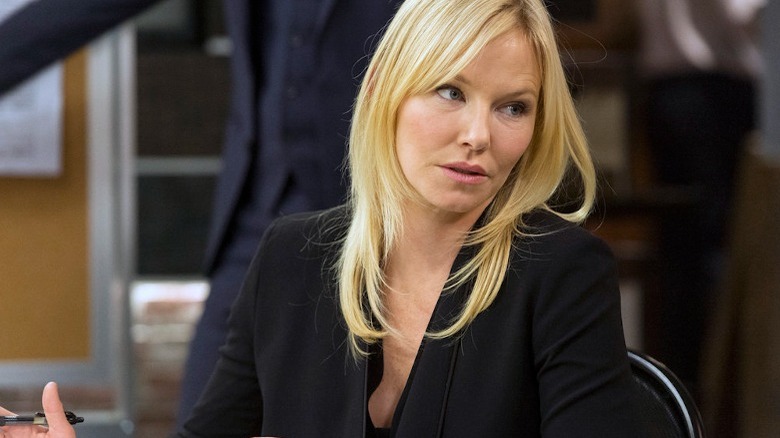 Amanda Rollins is nothing short of amazing. Granted, no one can quite match the sheer power of Olivia Benson, but Amanda Rollins comes pretty damn close. At times, her characterization suffers because the creators insist on making her an agent of chaos (she gambles, has a reckless family life, and frequently skirts the law) but it doesn't matter when she's so dang confident.
Rollins was introduced in season 13, making her the longest-running new character in the series. In recent seasons, she's had an on-again, off-again relationship with Carisi — they're currently on right now, although that's unlikely to last. Give all the praise to Kelli Giddish's performance. She never succumbs to the pitfalls of procedural primetime television, matching Hargitay in terms of sheer intensity, commitment, and vulnerability. She's consistently engaging, and when the show allows, really freaking good at her job. Now, if she could only stop gambling.
8. Judge Elizabeth Donnelly (Judith Light)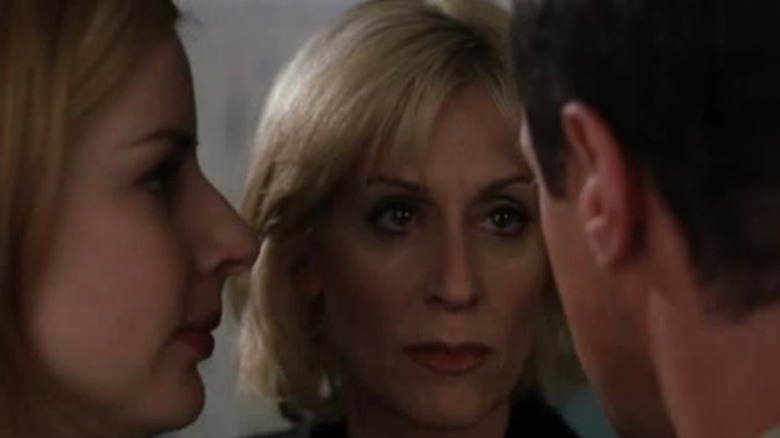 It's Judith Light. Like Marlo Thomas, the actor herself is enough to make the character memorable. Seriously, it's the esteemed Judith Light sitting on the bench. It rarely, if ever, gets better than that. Light's Donnelly appeared intermittently between the show's 3rd and 12th seasons, always popping up when the SVU needed a little boost and morale.
Though she started as an ADA, Donnelly became a judge in the show's 7th season, overseeing some of the squad's most sensitive cases. That season also contains her best outing. Having just become a judge, Donnelly's office is bugged in the middle of a missing persons case (it's basically Natalie Holloway, done "SVU" style). Donnelly is naturally incensed and assists the Special Victims Unit in tracking down the culprit. She's steely, fiery, and generally amazing. She is, without a doubt, the best judge on the series.
7. Odafin Tutuola (Ice-T)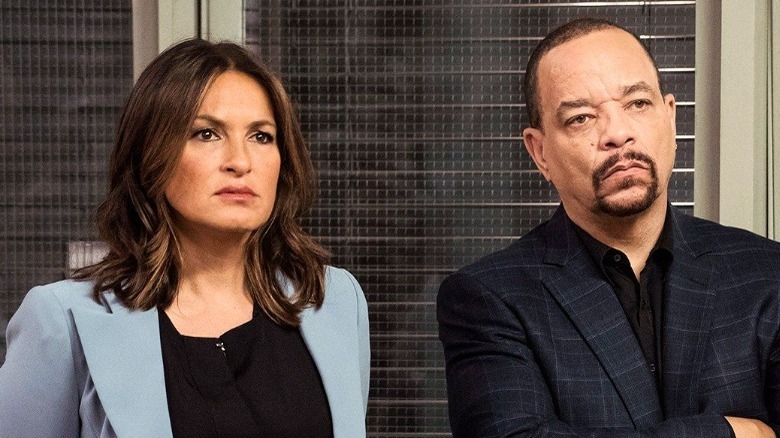 So many of these entries come down to the actors playing the characters. Odafin Tutuola is played by Ice-T. That alone is argument enough for his place on this list. In all seriousness, though, Tutuola is incredible. Though his incredulousness throughout the series has become both a standout John Mulaney bit and a series of Twitter memes, he remains consistently good on the show.
Having moved to the Special Victims Unit from narcotics in the 2nd season, Tutuola immediately fit right in, most often pairing up with Munch to track down bad guys and nail them while dispatching quips and one-liners (presuming he knows what's going on). The de facto comic relief alongside Munch, Tutuola can still bring the drama, including during a poignant arc involving his relationship with his gay son. Better still, Fin is the longest-running cast member next to Olivia Benson herself. In other words, he's an SVU legacy.
6. Dr. George Huang (BD Wong)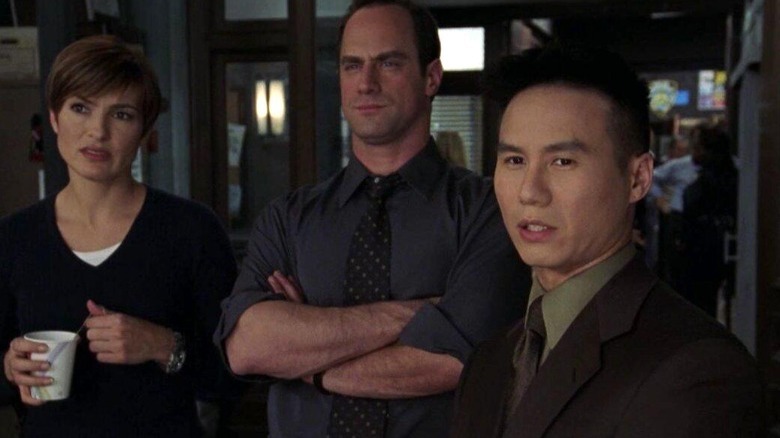 It's Dr. Huang, yo. The Special Victims Unit could always rely on Dr. Huang to spout some psycho-babble when they were having a hard time analyzing a victim or a perpetrator. Picquerism? Dr. Huang can tell you all about it. Prader-Willi Syndrome? Dr. Huang can spot it a mile away. Munchausen syndrome? He knows it — and he hates it.
Dr. Huang joined "SVU" in its 2nd season, becoming the squad's resident psychologist. The show gave him a considerable amount of character development, too, including several cases of personal importance, and never allowed him to devolve into a simple expository machine. Part of that, of course, is due to BD Wong himself. The same undeniable talent that he brings to the "Jurassic Park" franchise is also apparent here, immediately carving out an identity for Huang among an already stacked cast. Early "Special Victims Unit" wouldn't be what it is without Dr. Huang's helping hand (and his limitless mind).
5. Elliot Stabler (Christopher Meloni)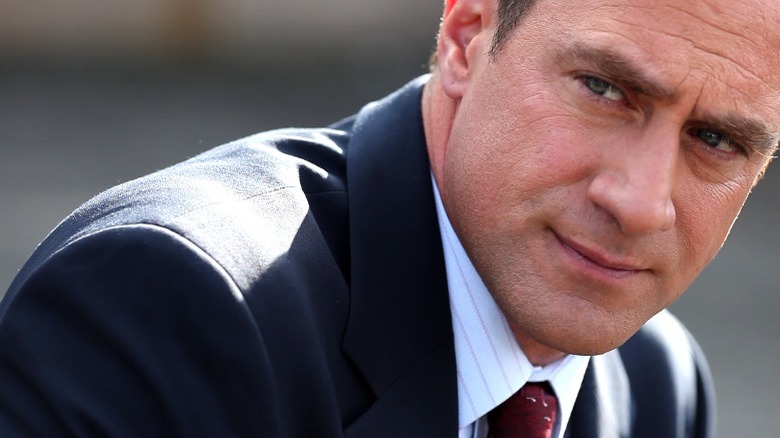 A lot of people love Elliot Stabler. Make no mistake, I do too. The problem is that, in recent years, his characterization has soured to a certain degree. Once the brutal heart of the Special Victims Unit, a swelling cultural reappraisal of problematic policing has sullied his legacy. Admittedly, Stabler only crossed the line with the worst of the worst — pedophiles, serial rapists, and killers — but there's something unsettling about watching him assault suspects time and time again, only to get away with it without learning a single thing.
Despite that, Meloni's immense talents do a lot to shield him from contempt. A family man and Olivia Benson's original partner, the first decade of "SVU" was really the decade of Benson and Stabler. Their partnership, quasi-sexual tension, and sheer dynamism made the show both what it was and what it currently is. Police procedurals rely on the police as much as the crimes – if either aren't interesting, the show simply doesn't work. Thankfully, Stabler's partnership with Benson has endured long past his exit from the series.
4. Alexandra Cabot (Stephanie March)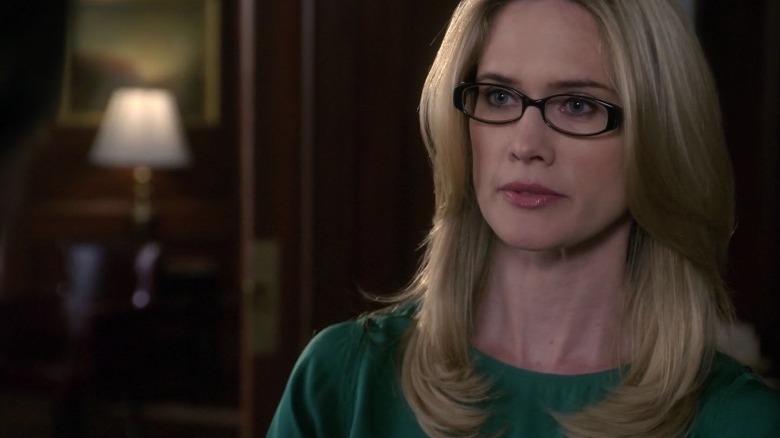 ADA Cabot quite literally came back from the dead. In the season 5 episode "Loss," Cabot is targeted and ostensibly killed by a drug cartel, only to return in season 6 when she needs to testify against the man who "murdered" her. It's a sensational twist and a major tribute to her status as the SVU's longest-running ADA.
The series frequently comments on Cabot's high conviction rate and her commitment to justice. She fights for women, children, and everyone in between. Better still, she started as a series regular, was demoted to a recurring character, and was then promoted back to series regular. Her impact on the SVU cannot be overstated, even if she's never given the credit she deserves. More often than not, the SVU compromises her trials and leaves it up to her to fix their problems. And she does it, because that's the kind of person Cabot is. Inimitable, fierce, and really good at her job, New York was a safer city with her in it.
3. Dr. Melinda Warner (Tamara Tunie)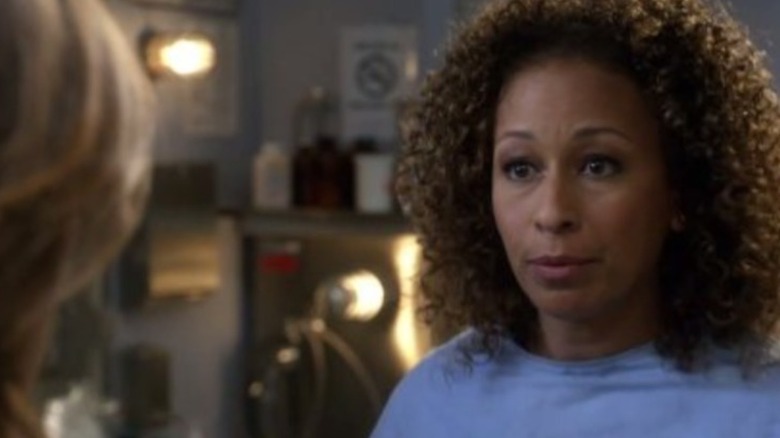 Tamara Tunie is incredibly talented and hasn't quite gotten a fair shake — anyone who's seen Robert Zemeckis' "Flight" knows what I'm talking about. At times, her role on "SVU" is to simply appear in the first act and recite some of the foulest dialogue you'll find on primetime TV. I'm talking contusions, bruises, bodily fluids, and that sort of thing, delivered with an austere clinical lilt that comes across as cold and desensitized.
However, while it feels that way, it frequently isn't. As the squad's chief medical examiner, Dr. Warner is responsible for all the physical evidence, and she never lets her co-workers down. She's caring, compassionate, and, like so many others listed here, phenomenally competent. Just ask her the time of a victim's death. She'll tell you.
As "SVU" progressed, Warner's role expanded. She popped up on the stand to deliver expert testimony, and even followed the SVU into the field to track down perps. She's a sensational character, and deservedly remains the only "Law & Order" medical examiner to appear in their respective show's opening credits.
2. Casey Novak (Diane Neal)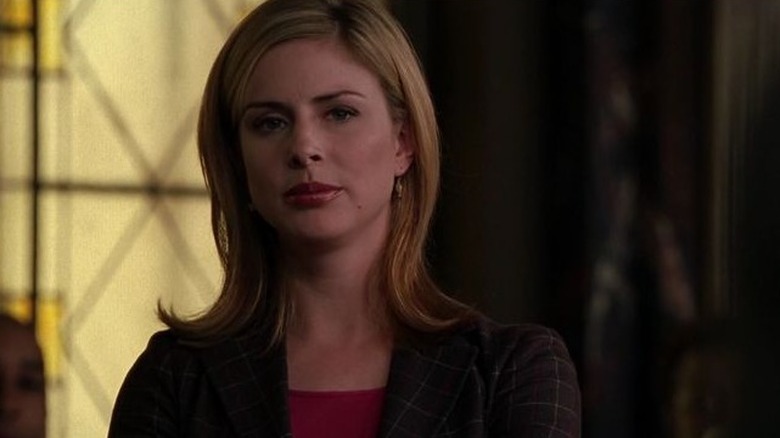 Casey Novak is the best ADA on "Law & Order: Special Victims Unit," full stop. Yes, Alexandra Cabot comes close — very close, on some occasions — but it's Novak who remains the most impactful ADA the show has ever seen. Vulnerable, human, and ruthlessly talented, Novak added a much-needed humanity to the ADA position, something that Cabot, her near immediate predecessor, never fully got to explore.
Novak's past relationships, including a tragic ex-boyfriend, are common points of concern on "SVU," and they often inform not just her strategy, but also her ethics. A deeply empathetic prosecutor, Novak upholds the ideals of justice better than anyone. What she lacks in Cabot's success or Barba's style she more than makes up for with moxie. It's telling that, during Novak's run, it was her scenes, not those featuring either Benson or Stabler, that made the most profound impacts.
1. Olivia Benson (Mariska Hargitay)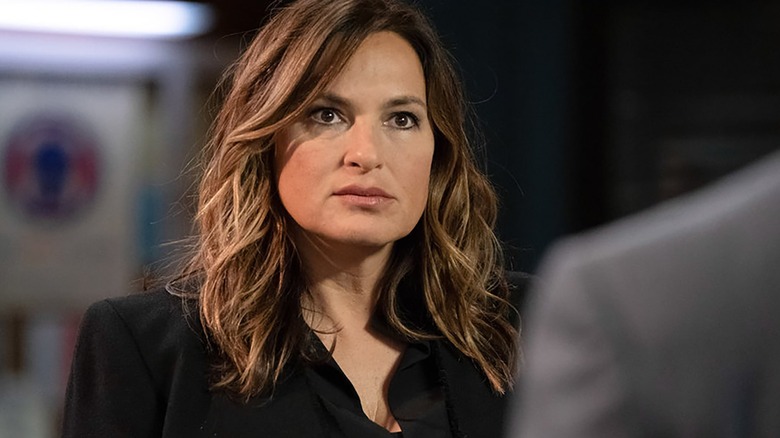 Mariska Hargitay is "Law & Order: Special Victims Unit." She's been with the show from the beginning, moving from detective to the squad sergeant, taking over after the departure of Dann Florek's Captain Donald Cragan. There would have been riots had we not listed her at number one, and they would have been well-deserved. Without Olivia Benson, there is no "SVU." It's as simple as that.
While Benson's characterization isn't perfect — she frequently skirts the law, especially when partnered with Stabler — her sheer humanity always shines through. Anyone who has seen Hargitay's Emmy-winning performance in Season 7's "9-1-1" knows what I'm talking about. Benson is committed not just to justice, but to the victims themselves. She understands their pain, and frequently uses it to begin the healing process and enact real change. There is no other way to put it. The legacy of "Law & Order: Special Victims Unit" is the legacy of Olivia Benson.