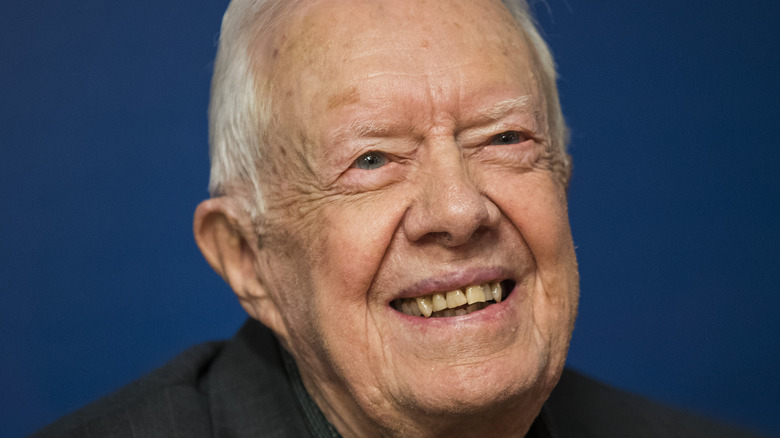 Even as he approached his 100th birthday in just a few short years, former President Jimmy Carter was still hard at work with Habitat for Humanity in 2019, per CNN. Not only is Carter the oldest former living president, but he and his wife, Rosalynn, are also the longest-married presidential couple. Raised on a Georgian peanut farm, Carter is all too familiar with the hard work families all over the country endure just to make a living, experiences he detailed in his memoir, "An Hour Before Daylight." From salt of the earth farm boy to president, Carter is an inspiring part of the fabric of America.
But his career is only part of his life's story – he isn't always President Carter everywhere he goes. He came from a dedicated family, so it only makes sense that he had one of his own. Just like how he's still giving time to building family homes, he's spent a long time building up his own family life. And that family? Well, they've built him up too.
Jimmy and Rosalynn Carter were childhood neighbors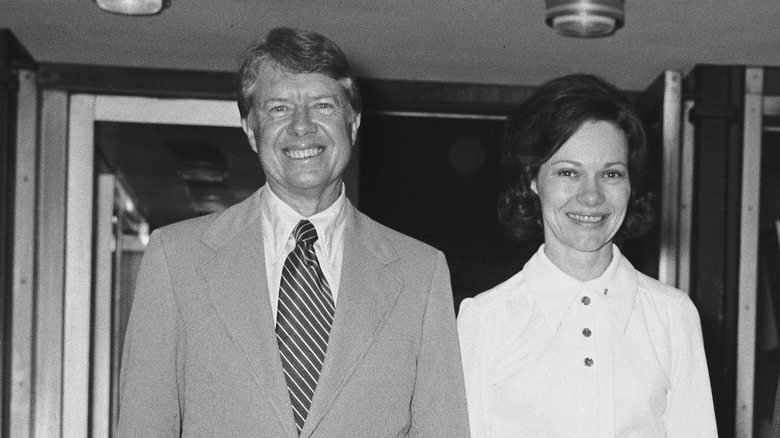 A marriage of over 75 years is impressive enough, but leave it to Jimmy and Rosalynn Carter to go above and beyond in their lifelong relationship. Even though Rosalynn was "best friends" with Jimmy's little sister Ruth, that didn't stop her from falling for the Carter boy all the same. For the book "What Makes a Marriage Last," she told authors Marlo Thomas and Phil Donahue that she "fell in love with" the photo of Jimmy on Ruth's bedroom wall. She added that her mother said the infatuation "must have been his white uniform" (Jimmy was in the Navy).
While Jimmy was home from school in the summer of 1945, he impulsively asked his sister's friend on a date after another date didn't pan out. That friend (Rosalynn, obviously) said yes, the two went to the movies and had their first kiss. After just that very first date, Jimmy knew Rosalynn was the woman he was going to marry and told his mother so, per Biography.
Funnily enough, Rosalynn actually said no when Jimmy proposed for the first time because she wanted to finish college first; before her father died, she'd made a promise to him that she would graduate, according to Good Morning America. Eventually, Jimmy got the answer he was looking for, and the two were married on July 7, 1946. Jimmy has said that marrying Rosalynn was the "most important thing in my life."
The longest-presidential couple is still going strong
Both Jimmy and Rosalynn Carter are in their 90s, going on eight decades of marriage, and they still manage to make it seem easy. They've also learned a lot in their lives together, not just about one another, but about relationships in general. Looking back on their 75 years together, Jimmy told Good Morning America, "We've survived this long together because first of all, we give each other plenty of space to do our own thing." The former president also mentioned that the ups and downs he and Rosalynn had been through together were exciting.
The couple shares a great deal of personal history, but their relationship has grown just as much as they have. "Over the years, we became not only friends and lovers, but partners," Rosalynn said during Jimmy's 90th birthday party, per The Washington Post. "He has always thought I could do anything, and because of that, I/we have had some wonderful adventures and challenges." In fact, making your partner in love also your partner in life is one of the rules Jimmy has for a long marriage, per Inc.
Besides trusting your person as your partner, Jimmy said to not "go to bed angry" and to enjoy one another's company. Given that this former first couple has spent nearly their entire lifetimes together, Jimmy's marriage advice is probably pretty solid. (We know, given his house-building hobby, that he knows a good foundation when he sees one.)
Eldest son Jack Carter followed his father into politics
Despite avoiding the political limelight for his entire life, Jimmy Carter's oldest son, Jack, ran for the U.S. Senate in Nevada in 2006. Jack was finally ready to hit the campaign trail after getting fed up with the Republican Party (his opponent in the election, John Ensign, was a Republican incumbent.) "There's a difference between the Republicans that I grew up with, as an example, and the ones that we have today," he told NPR ahead of the election. "They wanted to be fiscally sound, but these guys here, in my opinion, have run [our] country off the road, and we've got to go put it back up on the tracks."
NPR noted that Jack's background was in business, which he believed made him a fine candidate. According to the Tahoe Daily Tribune, he had to be hospitalized for colitis during his campaign, and his dad stepped in for him at a few speaking engagements. Jack didn't win the election.
Jack has two children, Jason and Sarah, with his first wife, Judy. Jack and Judy Langford married in 1971, though the two eventually divorced. He later remarried to Elizabeth Brasfield in 1992. The couple lived in Bermuda for a while before moving to Las Vegas in 2003. Jack has two stepchildren with Elizabeth, "director John Chuldenko and painter Sarah Reynolds," per Country Living.
Even Jimmy Carter's grandkids are political
Jason Carter, a grandson to Jimmy Carter, was a member of the Georgia State Senate from 2010 to 2015. Though he knew his family name would help his political chances, he also wanted to earn it himself. "My family opened the doors, but ultimately I think people decided on me for my merit and not my family," Carter told the Atlanta Journal-Constitution after winning his election. "But, of course, my family helped. It's part of me." Jason was also Georgia's Democratic gubernatorial candidate in 2014, but he lost the general election. He opted not to run again in 2018 to instead focus on his children, per the Atlanta Journal-Constitution.
Although she isn't a politician, Sarah Carter is also invested in politics. She was a contributor to the Daily Kos, a liberal blog and forum, and even volunteered for Barack Obama's presidential campaign. In fact, in her reflection on Obama's campaign, she revealed that his work helped her realize the importance of being politically active. "Barack Obama made me realize that my political opinions were important and that I had a responsibility to participate," she wrote.
James Earl III 'Chip' Carter is a private man
James Earl III "Chip" Carter works on political campaigns but isn't the star of them. According to "First Dads: Parenting and Politics from George Washington to Barack Obama," Chip has "spearheaded various humanitarian missions for the Carter Center." He even apparently helped keep a civil war at bay in Liberia by monitoring their elections. He has worked with the Democratic National Committee, been part of the Plains City Council, and even acted as president of Friendship Force, an international exchange program that his mom and dad founded. Despite his very public-facing work, he's a pretty lowkey man. There isn't a lot known about him outside of his broad work.
He has a son, James Earl IV, with his first wife, Caron Griffin. After a divorce in 1980, Chip married Ginger Hodges, and they had a daughter, Margaret Alicia, together. He now lives in Decatur with his third wife Becky Payne. Also, apparently, Chip smoked pot on the White House rooftop with Willie Nelson in 1977, per the Los Angeles Times. So even if we don't know a lot about the guy, that's a pretty fun fact.
Grandson James Earl Carter IV leaked that famous Mitt Romney video
Remember that video that surfaced in 2012 where then-presidential candidate Mitt Romney said 47% of Americans were entitled freeloaders? It turns out the video was discovered by Jimmy Carter's grandson James Earl Carter IV. According to Intelligencer, James found the video and did a lot of digging to discover who recorded it, which was monumental in Mother Jones gaining the right to release it into the world.
He wasn't shy about his leanings as a Democrat when talking with NBC News about the leak at the time and even added that there was a personal reason he felt compelled to share the video. He said he was motivated to do it because Romney kept attacking his grandfather's presidency. "It gets under my skin — mostly the weakness on the foreign policy stuff," Carter told the outlet. 'I just think it's ridiculous. I don't like criticism of my family.'"
James received a personal thanks from President Obama for uncovering the Romney video in 2013. He told CNN (via CBS News) that Obama thanked him "several times" upon seeing him in an event in Atlanta. Former President Carter, who was also there, told the outlet that Obama "ran across the room and thanked [James] profusely."
Son Donnel Jeffrey 'Jeff' Carter is a computer guy
The third Carter child to Jimmy and Rosalynn is Donnel Jeffrey "Jeff" Carter, who co-founded Computer Mapping Consultants, per Insider. The company worked in computer mapping and became a consultancy for the World Bank in 1980. Jeff graduated from George Washington University in 1978 with a geography degree and a specialty "in computer cartography," per The Bryan Times. He and his wife, Annette Jene Davis, had three children together: Joshua, Jeremy, and James. Their son Jeremy died suddenly at the age of 28 in 2015, per The Atlanta Journal-Constitution.
Annette died in September 2021 at the age of 68. Joshua wrote her obituary. In the obituary, he outlined how his mother and father helped during his grandfather's presidential campaign. "As part of the presidential family, Jeff and Annette's first house together was the White House," Josh wrote. "While living in the White House, Jeff and Annette helped host everybody from Bob Dylan to Pope John Paul II. In some of Annette's favorite White House memories, she greeted the cast of 'Star Wars' after the release of 'A New Hope' and John Travolta after he starred in 'Saturday Night Fever' and 'Grease.' These experiences were quite extraordinary for Jeff and Annette's first few years of marriage."
The Carters' only daughter illustrated a book her dad wrote
When Jimmy Carter became president, his daughter Amy was only 9 years old. She became "the first child to live in the White House since" the Kennedy family resided there, per The U.S. Sun. Perhaps that's the reason Amy became active in activism, particularly in the 1980s and 90s. As reported by the Los Angeles Times, she was even arrested (one of a few times) in 1986 along with dozens of other Brown University students after a sit-in protest against on-campus CIA recruitment. When asked about her parents' thoughts on her being arrested, which she didn't yet know because they weren't in the country at the time, she said: "[My father] encourages me to speak up for what I believe is right. I think he probably wouldn't mind."
Amy illustrated a book written by her father, which they published in 1995, entitled "The Little Baby Snoogle-Fleejer." The book was aimed at children with a story about a little boy named Jeremy making friends with a sea monster. It was Jimmy's first children's book, though not his first book, as he's quite a published poet.
In 1996, Amy married James Wentzel at the Carter family estate in Georgia. They welcomed a son, Hugo James Wentzel, in 1999. A year earlier, Amy became a board member of the Carter Center but has otherwise maintained a low profile since the late '90s.
The Carter family is huge now
In 2015, former president Jimmy Carter said his family has gotten pretty big in an interview with CNN's Jake Tapper. "We have 22 grandchildren and great-grandchildren, 38 of us in all. So we try to hold our family together and just enjoy the family life," he said. That number has grown to 43 as of 2021, per Jimmy's interview with the Atlanta Journal-Constitution. Even with that many people in his family, he still takes all of them on what must be a massive family vacation during the winter holiday season, per the book "First Dads." He also told Tapper that his wife Rosalynn and his family were "the foundation for my entire enjoyment of life."
When Jimmy and Rosalynn celebrated their 75th wedding anniversary with their loved ones in 2021, their grandson Jason reflected on what 75 years together really means. "Let that sink in — 75 years," he said via the Atlanta Journal-Constitution. "That number alone reflects so many blessings in their life. They have had their health and their partnership for so long. It's a wonderful story." The Carter family really is built to last.