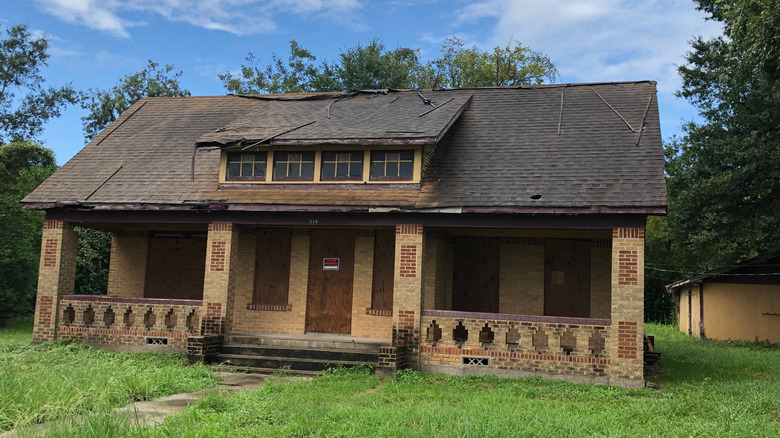 Since it launched on HGTV in 1999, "House Hunters" has been engaging audiences as it follows buyers searching for their potential forever home. Leslie Remy, a Texas-based realtor with McKinney Homes appeared on the show and explained the reason so many people tune in. "Showcasing three homes makes it easier for our audience to 'play along' and guess which one the family will select. It's part of the joy of the "House Hunters" viewing experience. Through the lens of television, we can offer a uniquely satisfying and fun viewing experience that fulfills a universal need to occasionally step into someone else's shoes," (via People.)
While it's entertaining to see all of the beautiful options buyers can go for, there's also a slew of unappealing homes that have been featured on the show. Michael Corbett, real estate expert and author of "Before You Buy!: The Homebuyer's Handbook for Today's Market" tells Forbes, "When people are house shopping, they have a picture of what the house needs to look like, but if everything doesn't line up with that picture, it can cause them to walk away from a gem of a home." Here are some of the ugliest homes that have been featured on "House Hunters" through the years.
Dated home in Scottsdale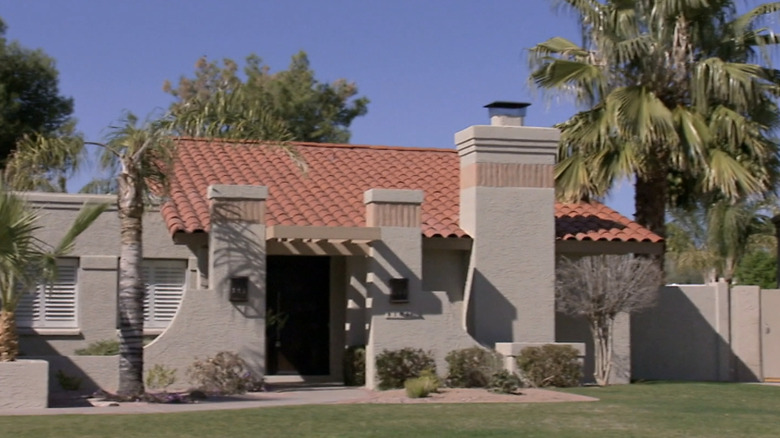 While the exterior of this 2400-square-foot, four-bedroom home, from Season 62, Episode 2, isn't too shabby, the interior needs loads of work. Upon arrival, the realtor let the couple know that this was an older home and to "keep an open mind." As soon as they walked through the doors, though, they were taken aback by the dated white tiles seen throughout the living area. The kitchen was another sore spot in serious need of an extreme makeover since it's stuck in the 80s.
A San Franciscan disaster
Partners Andrew and Phil were looking for a place to call home closer to San Francisco in Season 62, Episode 7. But, the potential buyers were unimpressed with this three-bedroom home in the Ingleside Heights area. First, the facade was extremely dated with a heinous pink exterior, plus, it was close to the noisy freeway. Other issues were old carpeting, paint, wood paneling, and a small walk-in closet. The property rang in at $550k, and one commented, "If this is what we are actually qualified for here in San Francisco, take me back to the Midwest!"
A 70s home in Denver
During Season 42, Episode 7, a husband and wife planned to move their family from California to Denver and look for a new home. One Denver home they toured had some potential but definitely some unappealing decor, like the popcorn ceilings and paneling in the family room, and a massive painted outline of a woman in purple taking over an entire wall just above the bathtub. While looking at another bedroom, the wife walked in and said, "I didn't know whether to laugh or cry at those wall treatments."
A red brick eyesore in Oklahoma
During Season 82, Episode 2, a couple goes head to head to see if they should renovate or start fresh with a new-build in Durant, Oklahoma. They envisioned a modern home with rustic accents but put the dream home on hold because of the husband's job at a nearby hospital. While one of the homes was well under their $500K budget, they detested the dining room's red brick, Venetian plastered walls, and the fact that the kitchen didn't open up to the family room.
The bland brick home in Beaver, Pennsylvania
In "Does Daughter Know Best," Season 104, Episode 4, a woman is looking for a brand new start after her divorce. She takes her picky 21-year-old daughter along to look at homes in Beaver, Pennsylvania, just outside Pittsburgh. The first home they toured featured a bland brick color which the daughter called gross. The kitchen was another eyesore with outdated wood cabinets and rusty hardware. As for the bedrooms, the daughter wasn't impressed and thought it was "the smallest she's ever been in, in her life."
Too much work in Detroit
A Detroit couple was on the hunt for an affordable abode with the right price in Season 102, Episode 6. This home, just under 1,500 square feet, was under budget but had a slew of issues inside the house, including floor tiles in the sunroom that were loose, white appliances in the kitchen (much to the girlfriend's dismay because she wanted stainless steel), and a bathroom with double pedestal sinks and no viable counter space. The main issue with this home is it needed too much work.
A mid-century home on river in Florida
A couple looking for an immaculate waterfront home in Melbourne during Season 142, was shown a disastrous three-bedroom, 2,220-square-foot mid-century home. As soon as they walked in, the husband wanted to redo everything from the walls to the ceiling, ripping out the wooden bars and the ceiling fan. The husband quipped about the closed-off kitchen, 'I don't think there's anything we could possibly save." Additionally, the backyard was an epic disaster with unruly landscaping that led out to the river, the only good thing about this property.
An unappealing Cape Cod-style home
Another ugly home was unveiled during Season 142, Episode 6, dubbed the "Doctor's Dilemma." These married doctors wanted to leave NYC but couldn't agree on a suitable investment property in Westchester. One of the unsightly homes they visited was a six-bedroom, white Cape Cod-style home with green shutters. Some issues of this rundown house were how dated the overall rooms were and with the low ceilings, the entire place had a claustrophobic feeling.
An Ohio home is stuck in 1959
At first glance, this 1,800-square-foot home doesn't look so bad, but once you step inside, it's clear that it's stuck in a time warp — 1959 to be exact. This three-bedroom, 2 ½ bath, $360,000 home in Ohio needs a full upgrade. Above the marble fireplace is unique brass shelving and mirror. The dining room has hideous wallpaper that the boys in the family thought was scratchy. For a home that was at the top of the buyer's budget, it ended up being too much of a time capsule to call home.
A red box in St. Louis
A couple in St. Louis checked out this 2-story all-brick home built in 1880 during Season 122, Episode 1. The house has two bedrooms, two full baths, and another half bath, but as expected has some quirks. For one, the laundry room was placed in one of the bathrooms. The kitchen had an odd mix of mismatched materials, and even though it was upgraded, the lava lamp lighting, busy backsplash, and granite countertops didn't cut it. Another oddity, there aren't very many windows in the home overall, so it lacks natural light.
An old home with design flaws
During Season 182, Episode 11, a couple with opposite tastes was looking for a home in Portland. The wife loves a rustic style, while the husband prefers modern designs. He laughed, saying, "I honestly don't really like anything that I'm seeing right off the bat." The first home they saw was a 1,888-square-foot 1925 bungalow with a cute exterior, but the nearly 100-year-old home had some heinous design choices, like the Kitchen's ultra-bright blue cabinets, along with the hideous countertops that were wrapped in a vinyl material that was peeling in several spots.