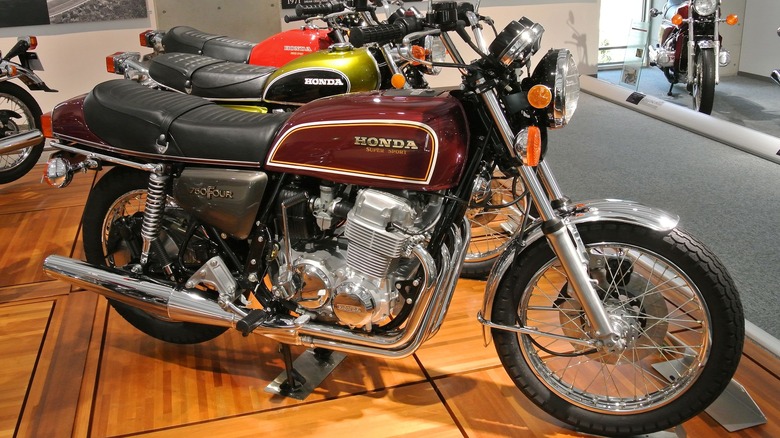 To say that Honda is a remarkable automotive company is an understatement. This firm almost single-handedly mobilized Asia with its affordable small-capacity motorcycles, including the record-breaking Super Cub scooter, which has sold over 100 million units worldwide since 1958. It has a thriving car division selling hatchbacks, saloons, and SUVs, but for long-time fans, it is usually Honda's motorbikes that spring to mind.
The Honda Powersports division is responsible for some of the most common two-wheelers in existence, with many models having been sold in various versions for decades. These range from adventure bikes, such as the Africa Twin, to luxury touring bikes such as the market-leading Gold Wing, to sports bikes including the CBR series. There are also street bikes including the diverse CB series and off-road bikes, which include the CRF and XR lines of motorcycles.
While Honda's classic bikes are iconic and sought-after, most Honda motorcycles offer excellent value for the money when bought second-hand. Spares are usually easy to come by, and the brand is renowned for its vehicles' excellent reliability. Here we look at the classic Honda bikes throughout history. These fun and aspirational vehicles can be snapped up for a bargain, with most available for less than $5,000 in today's second-hand markets.
[Featured image by Rainmaker47 via Wikimedia Commons | Cropped and scaled | CC BY-SA 3.0]
1993 Honda CBR600F2
The Honda CBR was created to satisfy a section of the market inhabited by those who wanted a racing bike experience on the open road and liked the aggressive riding position, fully-fared lines, and highly tuned, high-revving engines offered by sports bikes. CBR stood for "City Bike Racing," and in 1993, after 10 years of CBR models, came the much-admired Honda CBR600F2.
Also known in the U.S. as the Hurricane, this 4-cylinder sports bike has become part of biking folklore thanks to its excellent balance and handling, dashing good looks, and class-leading performance. At the time of its release, the original Hurricane was the most powerful mid-weight bike in existence, and Honda maintained its high specifications with subsequent releases. The CBR600F2 had a top speed of 147 miles per hour, accelerated from 0-60 mph in 3.3 seconds, and completed a standing quarter mile in just over 11 seconds, impressive for a bike with a 598 cc engine. Other features included a six-speed transmission, a fully adjustable front and rear suspension, and a lightweight, rectangular box-steel frame, but in the main, this was a bike with few frills, optimized for performance.
You can buy a mint-condition 1993 F2 for as little as $3,500 today. This is reasonable for such versatility and performance, whether you are cruising the highway, throwing it through the twisties, commuting to work, or enjoying a day at the track.
[Featured image by Galant via Wikimedia Commons | Cropped and scaled | CC BY-SA 3.0]
2001 Honda GL1800 Gold Wing
The Gold Wing is the market-leading large tourer still in production today, after undergoing many facelifts and redesigns over the years. By its fifth generation in 2001, Honda had already nailed the blueprint for the Gold Wing, and it remains impressive on paper, even by today's standards. While the original 1974 version had a four-cylinder engine with a 999cc capacity, the 2001 Honda GL1800 Gold Wing featured a sizeable 1,832cc six-cylinder powerplant, which is still one of the largest displacement production motorcycles ever built.
The 2001 Honda GL1800 came equipped with many luxury features, including 147 liters of built-in luggage space, an integrated CD stereo system with onboard speakers, electronic preload adjustment with memory presets, heated hand grips, and a trip computer. It even had a reverse gear to help maneuver the bike out of parking spaces, a handy feature considering its 362-kilogram dry weight. Pillion passengers were treated to a comfortable, highly supportive padded throne and large footplates, while the driving seat was wide, deep, and luxurious.
The 2001 GL1800 was so advanced that Honda didn't need to update it for seven years. While later models have updated features, such as rider assists, a large TFT display, onboard navigation, and smartphone integration, 2001 models can be snapped up for a bargain at an average of $4,685 while retaining many of the high-end specs and qualities.
[Featured image by order_242 from Chile via Wikimedia Commons | Cropped and scaled | CC BY-SA 2.0]
1982 Honda VF750C Magna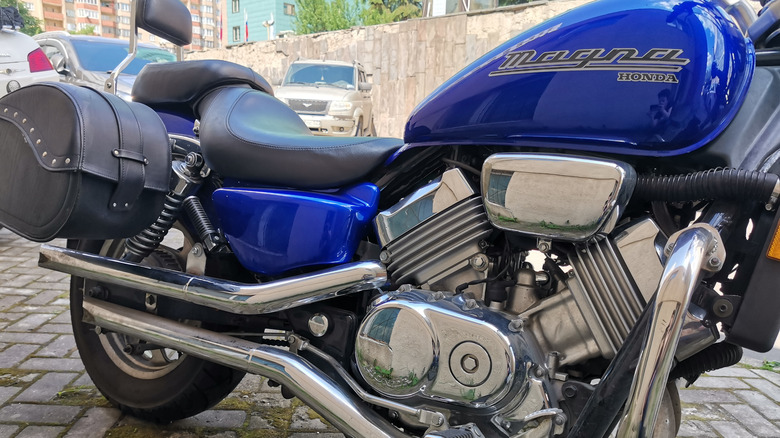 1982 saw the first generation of what was to be the Japanese marque's answer to Harley-Davidson's American street cruisers with the introduction of the Honda VF750C Magna. This mid-sized cruiser was the perfect compromise for those who liked classic good looks but preferred Japanese reliability and value, and the Magna, while not exactly traditional, had many features that Harley owners might have appreciated on their own rides.
These included a six-speed gearbox, a reserve fuel tank, adjustable anti-dive front forks, and a hydraulic clutch. Another notable difference between the Magna and its Milwaukee-based competitors was the V4 engine, with its four cylinders arranged at a 90-degree angle as opposed to Harley's 45-degree setup, yet it could still be mistaken for an American classic when passing on the freeway. Honda looked to latch onto the preferred relaxed riding position of cruiser riders by mounting the bike's footpegs far forward and raising the handlebars until the Magna looked convincing enough to fit in. However, it remained a very Japanese bike at heart.
Honda seemed to hit the jackpot with its copycat cruiser, and the Magna's mixed heritage was embraced by bikers worldwide. It proved so popular that the model came out of retirement in 1994 and had a second production run lasting nearly 10 years, with older examples selling in very good condition for under $3,000.
1998 Honda VTR1000F Super Hawk
The late-1990s were remembered as being a post-Cold War, pre-9/11 comfort zone notable for many things, including great guitar bands, globalization and the explosion of the internet, and a proliferation of awesome sports bikes — one of the most highly-regarded of these being the V-twin Honda VTR1000F Super Hawk.
The Super Hawk, as it was generally known, was very advanced for its time. Honda knew that it faced stiff competition in the twin-cylinder segment, with the Suzuki TL1000 and Ducati 916 models making great waves in the industry by this point. The company's answer was the VTR1000F, which was a close relative of the smaller Hawk 650 and a prototype V-twin, the VR-980.
The 996cc Super Hawk's stand-out features included its stressed-member frame with an attached swingarm and the largest carburetors of any bike before it. Unlike "race replica" motorcycles that were commonplace at the time, the VTR1000F was explicitly designed with its half-faring and integrated headlamps. While it's by no means a practical bike, the Honda VTR1000F is certainly accessible with average used prices of between $2,000 and $3,000.
[Featured image by Daniel Boutin via Wikimedia Commons | Cropped and scaled | Public Domain]
1994 Honda VFR750F-RJ
Having been around for almost a decade by 1994, the Honda VFR750F was already one of America's favorite sports bikes. Its predecessor, the VF750F, was somewhat outdated by the time of its discontinuation in 1985, and the brand needed a new lightweight machine to offset its 535-pound VF1000R. The result was the lighter and more streamlined VR750F-RJ, which was far more accessible to the everyday rider, with its raised handlebars offering a more relaxed riding position. 1994 saw several upgrades to this already successful model, making this new generation, the VFR750F-RJ, among the most impressive bikes to date. Its improvements were so great that Motorcycle News described it as "one of the best bikes ever built." High praise indeed.
You'd be forgiven for thinking that such a celebrated and revered motorcycle would come at a considerable cost, even when buying second-hand. However, you can pick up a good-condition Honda VFR750F-RJ road racer for a very reasonable $3,000 today.
[Featured image by Rainmaker47 via Wikimedia Commons | Cropped and scaled | CC BY-SA 3.0]
1993 Honda CBR900RR
If the VR750F was Honda's greatest mid-weight sports bike, then the Honda CBR900RR was its best heavy hitter. A relic of the segment's heyday, the Fireblade, as it is more commonly known, was one of Honda's most competitive bikes, both in performance terms and by sales volume.
If the moniker "Fireblade" sounds ridiculously far-fetched, the CBR900RR had the charisma to back it up. As far as its power-to-weight ratio was concerned, this bike was groundbreaking, with a maximum of 122 horsepower and weighing in at just 408 pounds, similar to a machine with a capacity of 600-700cc. It had a top speed of 164 miles per hour, went from 0 to 60 miles per hour in 3.5 seconds, and could travel a standing quarter mile in just 10.3 seconds. It instantly became the yardstick to which other superbikes were compared and set a new standard for superbike handling, performance, and power. True to Honda's form, the CBR900RR was also far more affordable than its competition in the race replica (hence the "RR" in the name) segment.
Still in demand today, the Honda CBR900RR remains a head-turner. It is by no means practical for the touring biker, but for those few adrenaline junkies capable of taming such a beast, a Fireblade of this era that's in good condition can be purchased for between $4,000 and $8,000.
[Featured image by PekePON via Wikimedia Commons | Cropped and scaled | CC BY-SA 3.0]
1988 Honda Hawk NT650 GT
Naked bikes, or "Streetfighters" as they're also known, came into existence more out of practicality than necessity. In the late 1980s, as the trend for high-performance sports bikes took flight, people started to remove their damaged faring after wiping out on the track, leaving their bikes with a stripped-down aesthetic, similar to the café-racers of the 1960s. Thus, the naked bike was born, and as one of the first naked production motorcycles, the Honda Hawk NT650 GT, had timeless good looks and performance to match.
Created to satisfy American market trends, the NT650 GT was notable for its single-sided swingarm (rare to Hondas at the time), lightweight aluminum frame, and 647cc V-twin engine, which was more reminiscent of American vehicles of the day. While its top speed was a modest 107 miles per hour, it could reach 60 miles per hour in a respectable four seconds and performed a standing quarter mile in under 14.
What made the Honda Hawk NT650 GT so appealing was that, unlike its fully-fared brethren, it was practical. It had raised bars and low footpegs that rendered it suitable for long trips in comfort, with an upright riding position that gave a commanding view of the road and oncoming traffic. It was light, nimble, and suited to commuting. For this reason, the Hawk is still very much in demand, yet affordable, at around $3,000.
[Featured image by CanyonChaser via Wikimedia Commons | Cropped and scaled | CC BY-SA 3.0]
1989 Honda GB500 TT
Honda isn't well-known for cafe racers, but the Honda GB500 TT, with its short production run between 1989 and 1991, is a real beauty. Inspired by the notorious Isle of Man TT (Tourist Trophy) road race, it took its styling from classic British brands like Triumph and Norton with their racing saddles, conical tailpipes, and clip-on handlebars and gave it a touch of Honda flair. The result was an appealing, traditional motorcycle with modern reliability and handling.
While it turned heads at bike meetings, the performance of the GB500 wasn't exactly inspiring. Its modest 38 horsepower, 498cc engine, and five-speed gearbox set it aside from its contemporaries in the Honda paddock at a time when plastic faring and high performance were all the rage. Yet the Honda GB500 TT was a different animal, and it would have certainly gained traction in today's café racer market, where the Royal Enfield Continental GT and Triumph Thruxton reign supreme.
This classic bike, while rare, can still be purchased at an affordable price. If you are more into Sunday rides to the farmers market in the next town over or like to have something in your garage to tinker with, a second-hand Honda GB500 could be the right bike. However, it's worth noting that their value has risen a little due to the current café racer renaissance, as they now sell around the $5,000 mark.
[Featured image by Ulf Potschien via Wikimedia Commons | Cropped and scaled | CC BY-SA 3.0]
1979 Honda CBX1000
The CBX1000 was the flagship liter-class motorcycle built by Honda from 1979 to 1982. As one of the earliest superbikes, this monster was formidable in both its looks and its muscle, boasting a 1,049cc, six-cylinder engine that borrowed its technology from Honda's GP racing machines. Since these cylinders were aligned horizontally across the bike, it looked intimidatingly wide, with its two three-into-one exhausts splayed out on either side.
The bike's wet weight of 600 pounds necessitated dual disc brakes up front, but beyond its powerful engine, the CBX1000 wasn't remarkable as far as features were concerned. However, the rider experience was exceptional, as the smooth-revving power plant would glide through the gears with hair-raising acceleration to a top speed of 136 miles per hour. At the time of its release, the CBX1000 was the fastest production motorcycle of all time, hitting a standing quarter mile in 11.9 seconds, yet it was dogged by a weak front suspension, and there were complaints that it would acquire an unnerving speed wobble when pushed.
The Honda CBX1000 had a later incarnation as a sports tourer from 1981 onwards, but it is the original 1970s model that is most sought after in second-hand markets where you can pick one up for a mere $4,500 if you're lucky, with nicely restored examples fetching as much as $50,000 at auction.
[Featured image by Mike Schinkel via Wikimedia Commons | Cropped and scaled | CC BY-SA 2.0]
1975 Honda CB750
Motorcycles with inline-four engines had been around for a while by the time the first Honda CB750 rolled off the production line in 1969. Yet this remarkable machine soon became the gold standard by which mid-weight production motorcycles were judged and had a successful run of over 30 years, concluding with the CB750 Nighthawk in 2003.
The original CB750 was well-built, handled well, and was surprisingly quick in its day, with a top speed of over 123 miles per hour. While its features are commonplace today, the five-speed transmission, front disc brake, two sets of upswept twin exhausts, and beefy inline-four engine must have set hearts pounding at its unveiling in 1968. Once American racing's governing committee standardized 750cc engines, Honda was quick to react with the CR750, based on the CB, which had great success in competition during the early 1970s, so there is racing heritage in the humble CB750.
Those Honda CB750s produced up to 1978 had single overhead cams and came to be known as the Sandcast CB750s due to the manufacturing process used for their engine cases. In good condition, these are highly rated due to their scarcity and collectability, yet a mid-seventies model can be snapped up for under $5,000, making this piece of motorcycling history the ideal project bike, classic weekend runaround, or investment purchase.
[Featured image by Maysy via Wikimedia Commons | Cropped and scaled | CC BY-SA 3.0]