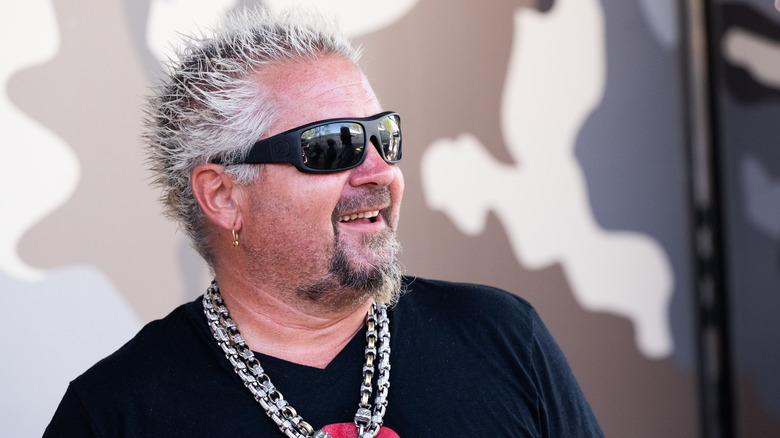 Guy Fieri: the man, the myth, the legend. What can we say about the human embodiment of a puppy dog — one that just finished chugging a case of full-sugar Red Bulls — that hasn't already been said? The fact that he often looks like a time-traveler from 2005 (the frosted tips, the Oakley-style sunglasses, the emo-esque arm bands) has been discussed ad nauseam, as has his unique zest for all things food-related.
Despite some hoity-toity folks who've cast aspersions on the chef since he burst onto the scene in the mid-2000s, the Mayor of Flavortown continues chugging along. After all, his less-than-fine-dining approach to the culinary arts may turn off some … but it's the entire reason for his widespread popularity in the first place. The man who rolled into a parking lot on the premiere of "Diners, Drive-ins and Dives" back in 2006 — in the famous red Camaro – hasn't changed his appearance through the years.
But the same can't be said for his life.
Frankly, it's true Guy Fieri was never the same after "Diners, Drive-ins and Dives" — but of course he wasn't. After all, how could anyone remain static after finding the level of fame and fortune that he's found in the years that followed Triple D's debut? So prepare to head out of bounds and get it on like Donkey Kong as we unveil the ways Guy Fieri and his life have changed since the premiere of his signature series.
He's become one of the richest chefs in the world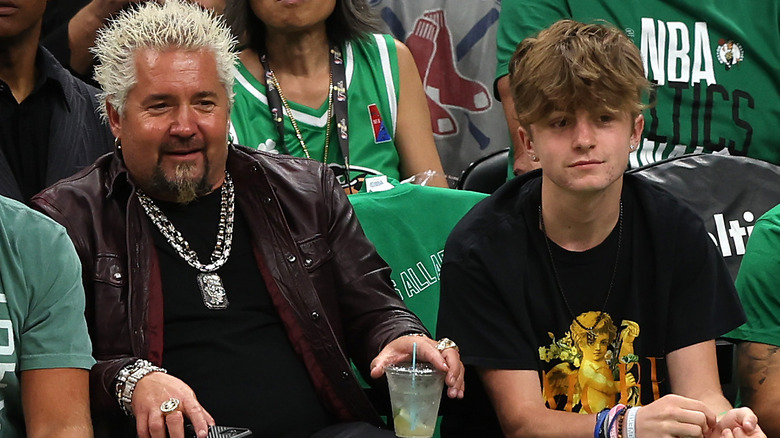 The concept of possessing a "screw you" amount of money is nothing new. But that doesn't mean the idea — that one can become so wealthy they're essentially free to do whatever they please, with little to no concern of repercussions — has become irrelevant. Frankly, there's something inspiring about an everyman (or woman) going from rags to super-riches, especially when the social climber is so contrary to what you'd expect — as is the case with the now rich and famous Guy Fieri.
While it's difficult to pin down the celebrity chef's exact net worth in 2022, there's no doubt he's earning substantially more than he made on his first show, "Guy's Big Bite" — for which he was paid less than $1,000 per episode, according to The Hollywood Reporter. Additionally, while there appears to be some reluctance by Food Network's parent company, Discovery Networks, to pay a premium for its on-air talent, any hesitation was thrown out the window during recent contract negotiations with Fieri.
The extension, signed by Fieri in 2021, didn't just guarantee the bleach blonde-goateed chef $80 million dollars over three years — it also made him the highest-paid Food Network on-air personality (via Forbes). Considering the data analytics firm, Kantar, estimated the ad revenue generated from "Diners, Drive-ins, and Dives" alone was over $230 million in 2020 (via The Press Democrat), it seems like a fair deal for both parties.
His friends are now celebrities across different industries
It's a tale as old as time, it seems. A person attains a certain amount of wealth and celebrity, then, without fail, slowly loses the ability to trust the intentions of the people around them. Frankly, it wouldn't be a surprise if most rich and famous individuals have inquired, as The Who once did, "how many friends have I really got?" But that concern likely helps explain why Guy Fieri is now close personal friends with a number of celebrities from all areas of the show business world.
It's not just culinary celebrities that Fieri can count as true pals, like Alex Guarnaschelli or Richard Blais — though they, too, like a number of other celebrity chefs, appear to be genuine friends with the Triple D host. He's been seen sitting courtside with Barstool Sports founder, Dave Portnoy, at the 2022 NBA Finals — with better seats than NBA Hall-of-Famer, Bill Walton — and has co-founded a tequila brand with friend and former Van Halen lead singer Sammy Hagar (via The Washington Post).
Of course, Guy Fieri doesn't just have celebrity friends across the spectrum, at this point — he's a bonafide capital-C celebrity himself. So while it may marvel us casual nobodies to see Fieri hobnobbing with super-duper stars like Matthew McConaughey, who even spoke at the spiky-haired chef's Hollywood Walk of Fame ceremony in 2019 (via The Press Democrat), for a famous fellow like Fieri? It's just another day.
He's become a kingmaker for the restaurants he visits
Look, there's no denying the entertainment value offered by Guy Fieri all on his own. But with "Diners, Drive-ins and Dives" still airing new episodes as of 2022 (16 years after the show's debut), it's only logical to assume there's some genuine, tangible value that drives businesses' desire to be visited by the show — beyond the chance to meet the man himself, that is.
As it turns out, appearing on the long-running series doesn't just boost a restaurant's profile. According to the owner of Pies 'n' Thighs, Sarah Senneh, which was featured in the episode "Decadent Dishes" (Season 16, Episode 8), "it changes your life immediately" (via Thrillist). Others have found the experience similar. For instance, one year after appearing on the episode "Rib-Stickers" (Season 33, Episode 8), the Sioux Falls, South Dakota eatery, Daily Clean Food & Drink, was "selling a heck of a lot more than … before the show," as co-owner, Shaley Bolks, told SiouxFalls.Business in 2021.
Clearly, a visit from Guy Fieri and the Triple D crew provides some legitimate, lasting value to the restaurants featured, which makes sense. After all, why would businesses continue to covet a spot on Triple D if the series didn't deliver the goods?
His trademark look is now indelibly linked to him
It's not uncommon for a person to find themselves sticking to a particular style over time, whether or not the look remains fashionable. But unlike your dad's friend who's continuously rocked a mullet since Billy Ray Cyrus' "Achy Breaky Heart" was a hit – a public figure who clings to a specific style does so under a big, bright spotlight. Such is the case with the instantly-iconic look worn by Guy Fieri — who conjures a very specific image by uttering nothing more than his name.
Not that the man has carefully crafted a look or character in order to boost his chances for success. In fact, in 2016, he insisted to CBS News that his trademark style is authentically how he likes to look, and he hasn't tried to design a style to endear himself to viewers.
Naturally, though, the brilliant businessman recognizes the appeal and power of his brand and image and is hesitant to change his look anytime soon. He even chose to use an illustrated version of his face for the logo of his Flavortown Kitchen, a chain of "virtual dining concept" restaurants he launched in 2021.
Some of his restaurants are aboard cruise ships
A kindred spirit with the Energizer bunny, Guy Fieri's determination is perfectly exemplified by a five-year career plan he once created … and then "blew through … in, like, three" years, as his longtime agent, Jason Hodes, told The Hollywood Reporter in 2021. In other words, if you're under the impression a personality as enormous as Guy Fieri's could be constrained to the land, you've clearly underestimated the man's unrivaled drive, which led him to open a new line of restaurants onboard Carnival cruise ships in 2011 (via Cruise Critic).
The incorporation of Guy's Burger Joint as a dining option for Carnival guests was just the beginning of the decade-plus-long partnership between the man and the cruise company. Five years after the successful launch of his first restaurant concept, Fieri spearheaded a second restaurant venture with Carnival, the Pig & Anchor Smokehouse (via CBS News).
While he was concerned that "you can't put a smoker on a ship" when opening Pig & Anchor, as he told CBS News in 2016, the dedication from both parties ensured the concept was seen through to completion. And, as of 2022, both restaurants remain active aboard Carnival cruise lines.
SNL has immortalized him with several playful parodies
Every so often, a celebrity lampooned by "Saturday Night Live" lacks the sense of humor to appreciate the joke. It's also true that the show its capable of a swing-and-a-miss here and there. But we're not talking about the occasional mean-spirited pot shot, or those instances when a satirical take falls flat. We're talking about those impersonations that are impossible to resist — such as the pitch-perfect portrayal of Guy Fieri and his schtick by the long-running sketch comedy show during the 2010s.
Of course, it helps when the parody performance in question is unimpeachably good, as was the case with the Fieri impression done by (severely underrated) former cast member, Bobby Moynihan. In fact, Moynihan was so fantastic — memorably playing the flaming-shirted chef offering suggestions for a Super Bowl party and a Thanksgiving dinner, among others — that the man himself actually enjoyed the impersonation.
Unfortunately, perhaps the greatest sketch featuring the Guy Fieri character, where he allegedly reacts to the infamously vicious New York Times review of his Times Square restaurant in 2012, didn't make it on the live broadcast. Luckily for viewers in 2022, though, the sketch — in which Moynihan-as-Fieri says at one point he looks like he's "playing the sun in a school play" — is available to watch on YouTube.
He's written multiple best-selling cookbooks
The rise of multi-hyphenates in recent years has pressured anybody and everybody to wear multiple professional hats in order to be successful. In that vein, it makes sense that Guy Fieri — who was already multitasking before appearing on television as a chef-entrepreneur — would have taken on additional roles beyond television host after the monumental success he found on "Diners, Drive-ins and Dives." And indeed, the man has kept busy, authoring multiple cookbooks through the years.
But Fieri hasn't just gone through the motions and offered a token product no one was interested in purchasing. As a man who doesn't attempt anything in life less than full-throttle, it may have been inevitable that four of the book's he's written ended up on The New York Times bestseller list, according to his publisher, Harper Collins.
It's virtually impossible for an artist or celebrity to be one singular thing in this day and age. But when the person in question, like Guy Fieri, has an unparalleled passion — and "more energy than anybody," according to his son, Hunter (via The Hollywood Reporter) — there's clearly no limit to the potential ventures at their disposal.
His shows have received numerous Emmy nominations
Guy Fieri has been on television a lot since he first appeared on "The Next Food Network Star" back in 2006, having hosted or starred in no less than eight television shows on Food Network since that time. Obviously, the charismatic man is immensely popular throughout the U.S., given the insatiable demand for all things Guy-related from the Discovery Networks subsidiary. But while some widely beloved TV programs go years without any critical recognition, the same can't be said for Guy Fieri, who's been nominated for several Emmy Awards during his 15-plus years on television.
For some reason, it's tough to determine if the man has ever actually won an Emmy. There appears to be conflicting information floating on the world wide web (shocking, we know) regarding that fact. While the actual Emmys note Fieri has received five nominations without a win, the biography from his own website states fairly definitively that he's an "Emmy Award-winning TV host."
We're not inclined to call Guy Fieri a liar, of course, but it is odd how little firm information exists regarding the win. But maybe, if IMDb is to be believed, the man did win an Emmy in 2013 — except it was a Daytime Emmy, not a more-coveted Primetime award.
Food Network and Guy Fieri have become synonymous
When Guy Fieri re-upped his contract with Food Network in 2021 — to the tune of $80 million dollars over three years — it wasn't unexpected. The wildly popular wild man of the celebrity chef world has developed a sensational symbiosis with the television network since the premiere of "Guy's Big Bite" in 2006, after all.
But while he told The Hollywood Reporter in 2021 that he's "been offered and enticed" by other networks, he's loyal to the place that gave him his big break. "I'm treated pretty well" by Food Network, Fieri stated, concluding he recognizes, and appreciates, the channel that offered him "a chance of a lifetime."
And the feeling is mutual, according to Food Network president, Courtney White. After agreeing to his latest contract extension in 2021, White told The Hollywood Reporter she not only "can't imagine Food Network without Guy" — she "can't even … try to imagine it." Of course, with at least five shows being hosted by Fieri on Food Network as of 2022, it doesn't seem like she, or anyone else, will have to worry about a Guy-less channel anytime soon.
He's opened countless restaurants across the globe
Maybe he's just a big believer in the scientific concept of inertia, but Guy Fieri doesn't seem capable of slowing down or easing back on his ambitions. The man's like the Tasmanian Devil (the Looney Tunes character, not the actual animal): a whirling dervish of a human who's constantly looking to innovate and expand his culinary empire. Perhaps that's what's led the man to spearhead the opening of dozens of restaurants around the world over the past few decades.
Aside from his original restaurants in Northern California, Fieri has developed fun and casual eateries in cities such as Las Vegas, Boston, and Atlantic City, to name a few. But he hasn't just invested in or opened businesses following the traditional food service model. Fieri has opened restaurants over the sea — as in, he co-owns a pair of restaurant concepts aboard various Carnival cruise lines (via CBS News) — and, in 2021, launched the "virtual dining concept" restaurant, Guy's Flavortown Kitchen (via Washington Post). The ghost kitchens, which are only available through delivery, have thrived since opening, with more than 100 locations across the U.S. as of 2022.
Given it's on literal display for the world to witness, no one's in the dark about Fieri's on-camera ambition. But if you're a fan of the man, and haven't been paying attention to him off-screen, you may want to consider getting busy living — rather than staying busy simply watching television.
He's helped raise millions of dollars for food service workers
Nobody's perfect, as they say, and being prone to poor decisions or selfish choices is almost human nature. So while we're not implying Guy Fieri is a saint by any stretch, it's hard to deny the content of the man's character — particularly considering his response to the devastating impact of the COVID-19 pandemic on food service workers. Noting to The Hollywood Reporter in 2021 that he was upset at the start of the pandemic, he made it his mission to aggressively solicit donations from wealthy donors, hoping to help some of the thousands of suddenly unemployed restaurant workers.
While few were spared from the wrath of the coronavirus, the restaurant and food service industries were drastically impacted. Since "so many people work in the restaurant industry in multiple jobs," as he noted to CBS News in 2021, he couldn't help but decide "we got to do something to get some money to these folks." Partnering with the Restaurant Employee Relief Fund, Fieri has helped raise more than $21.5 million dollars from thousands of donors since 2020, which has been given to 43,000 food service workers in need.
It may be impossible to accurately quantify the totality of negative outcomes caused by the (still-lingering in 2022) pandemic. But with people like Guy Fieri dedicating their time to making a difference during an unprecedented occurrence, at least some folks were able to stave off financial and personal ruin.
His investments have grown beyond the restaurant industry
Let's set aside the rather-disturbing fact that, in the picture accompanying this slide, Guy Fieri and Sammy Hagar look remarkably similar. Seriously, if someone showed you that picture and told you they were brothers … would you doubt them for even a second? Maybe it's kismet, then, that these two polarizing celebrities (David Lee Roth forever!) became friends and, eventually, partners in the tequila business — just one area outside of the restaurant industry Fieri has invested in since "Diners, Drive-ins, and Dives" first aired.
Investing in a new tequila brand with "the Godfather" of the liquor (as Fieri described Hagar to Mashed in 2021) was an easy decision. But Santo Tequila isn't the only area outside the restaurant biz that Fieri has invested in. According to the Los Angeles Times, in 2011, he also created an off-the-chain line of jewelry — that, in fact, included items distinctly on chains, such as necklaces and bracelets.
Clearly, obtaining international fame opened doors and opportunities that Guy Fieri never would have had if he'd simply remained a Santa Rosa, California-based chef. But knowing the man as well as we do in 2022, it's no wonder he's become a sort of modern-day Alexander Hamilton: a man "who will never be satisfied."