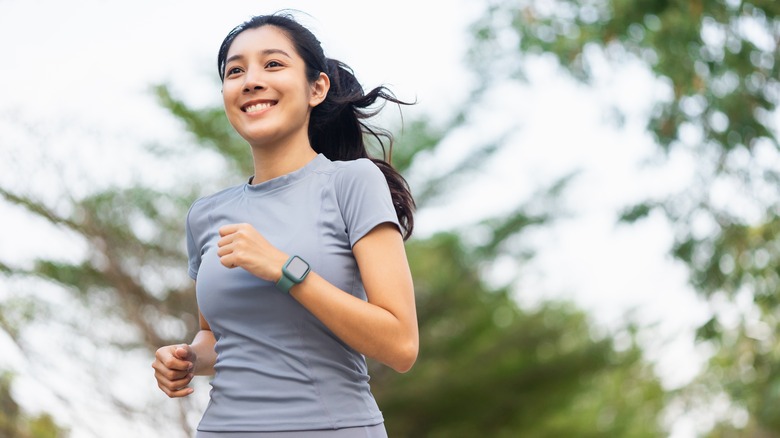 We may receive a commission on purchases made from links.
It's essential to wear a sports bra when working out, as the specially designed shape will help keep your breasts secure during any activity no matter how intense. Without a sports bra, you could be causing irreversible damage to your Cooper's ligaments, i.e. the connective tissue that lifts your breasts. Though these ligaments offer support naturally, exercising regularly without the additional support of a sports bra will cause them to be worn out faster.
This can lead to accelerated sagging, as well as pain from your breasts not being supported enough. These side effects are also more likely with larger busts, which require extra support. Though a sports bra for a bigger chest is not necessarily the same as a sports bra for plus sizes, there can be some crossover. Either way, the main aim of a sports bra is to support you during your workout so you're free from pain.
A bigger bust requires more specialist support than a smaller one, which is why sports bras for larger chests often have features like wider straps. From high, medium, and low-impact sports bras to those ideal for nursing mothers, you're guaranteed to find your new fave sports bra below.
You don't need to rule out high impact activity
Looking for something to support you on your high-impact workout days? The Wacoal Simone Sport Underwire Bra has you covered. Available in band sizes 32 to 42 and cup sizes C to I, it has the same shape as a traditional bra but with all the support of a sports one. The Simone features a cushioned outer underwire with a mesh back and is made from moisture-wicking material to prevent overheating. You can find it in 11 colors too, including classic black and bright pink.
This bra for running has a wide range of prints and sizes
If you're a fan of running, you'll need a bra that's extra supportive to stop any pain from occurring before, during, or after the run itself. The Panache Ultimate High Impact Bra promises to do just that. Available in 13 colors and prints and in band sizes 28 to 40, this bra has the advantage of looking cute while offering up to 83% bounce reduction during even the most high-intensity activities. Plus, you can wear it in a racerback or traditional bra style. It's also made from mesh and moisture-wicking stretch microfiber.
This bra is budget-friendly but still just as supportive
If you're on a budget, the Champion Spot Comfort Bra is a perfect choice. Priced at just under $50, it has a mesh panel at the front for better breathability and gel-padded straps for comfort. The sizes start from 34C and go all the way up to a 42DDD. Though it isn't the most inclusive in terms of smaller band sizes, this bra will offer support for most types of workouts due to the hook-and-eye closure and full cups.
This stylish sports bra offers style and comfort in one
If yoga is more your thing, bear in mind that you still need proper support. It may seem like a low-impact activity, but wearing the correct sports bra when doing yoga is still important so your body is correctly maintained from pose to pose. The Wild Thing Bra from Alo Yoga comes in XS (sizes 2-4) to XL (sizes 16-18), in four staple colors as well as five limited edition ones. Designed to offer light to medium support, it's perfect for those lower-impact days. The cute ruching at the front is another bonus and will give you the extra motivation to get up and go to that yoga class.
This longline style will give you a bit more coverage
Available in sizes XXXS to 6XL, the Charlie Straight Neck Bra from Girlfriend Collective is ideal if you prefer a more longline silhouette. A longline bra can also double up as a top or a vest layer, which is super useful for those busy days when you're running between different places. Alongside offering support for medium-impact activities, this bra has a subtle compressive effect and wide straps for secure support. Plus, it's made from 79% recycled plastic bottles and 21% spandex, so you can get a good workout in and do your bit for the planet in the process.
You'll get a runners' high with this high impact bra
Another great option, if your main form of exercise is running, is the Run Times Bra from Lululemon, which offers the highest level of support possible. This cute sports bra comes in an impressive array of sizes, ranging from 32B to 42DDD (and including up to G cups in between these band sizes). The perforated paneling in the center will save you from getting too hot and therefore distracted during your runs, whereas the padded straps and brushed under-band will provide additional comfort. There are seven colors to choose from, too, so you can really show off your style.
Simple but effective, this bra is for those with a higher budget
If you have more of a budget to play around with, the chic Knix Catalyst Bra is available in band sizes 28-42 and cup sizes A to F. Featuring an understated yet effortlessly fashionable design, it has encapsulated cups designed to reduce movement by up to 76% and an advanced ventilation system to keep your breasts cool. The back straps are adjustable but just bear in mind that it's supposed to fit slightly snugly at first — this is what allows the bra to adjust to your body over time.
This bra will offer support and comfort if you're pregnant or nursing
When you're pregnant or nursing, you'll need even more support from a sports bra, and the Seraphine Maternity & Nursing Sports Bra will give you exactly that. Though the sizing is not super inclusive, ranging from an XS to an XL, the design makes nursing a whole lot easier. Moreover, it's specially formulated for medium-impact workouts, meaning anything from yoga to aerobics is good to go. Finally, the cute keyhole cutout at the back may even give you some extra confidence in your (gorgeous) post-pregnancy body.