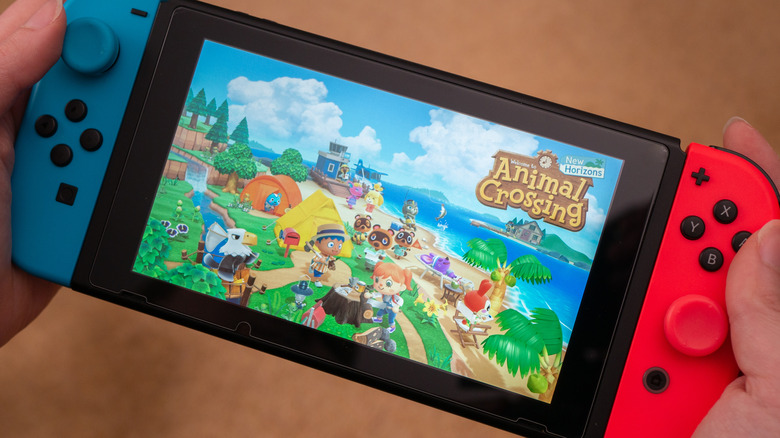 Farming sims are in the midst of a renaissance, with plenty of options available for the Nintendo Switch. It's one of the most popular consoles of all time, and for good reason. There are a ton of different games on it that appeal to any type of gamer. The console is especially appealing to relaxed gamers who are looking for a staid experience. Farming sims are the perfect example of this, as they are usually low stress and designed to be wholesome and positive.
Don't let the name fool you, though. Farming sims are far from realistic agriculture simulators (well, for the most part). Many of them are fantasy games that have a more idealized view of farming. Many of them also involve additional activities like fishing and cooking. If you're looking for a new farming sim or wanting to try the genre out, here are the best farming sims you can get on the Nintendo Switch right now.
Stardew Valley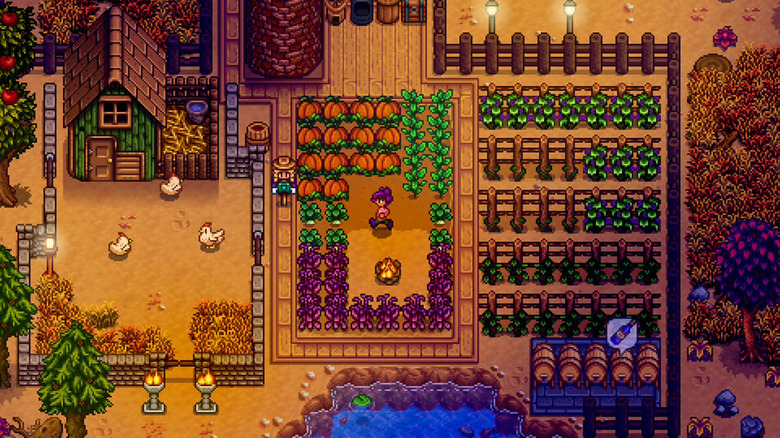 Stardew Valley is arguably the game that kicked off this new generation of farming sims. Made by a single developer, it takes the legacy of Harvest Moon (now called Story of Seasons) and updates it for a modern audience. However, Stardew Valley isn't just a straight riff of its inspiration, as it adds a lot of new features and a unique personality to the game. Players can farm crops, make friends, get married, and attend community events just like in Harvest Moon. But they can also fight monsters, craft items to make farming more efficient, and even play cooperatively.
Players inherit a farm next to Pelican Town and are tasked with restoring it to its former glory, and that simple concept delivers a wealth of content. The developer has also updated the game and added new features through the years, so there is an absolute ton to explore in this game.
When it comes to farming sims, Stardew Valley ($15) is the gold standard.
Story of Seasons: Friends of Mineral Town
Harvest Moon was the farming sim back in the day, and many adults today have fond memories of tending their crops as a kid. Harvest Moon: Friends of Mineral Town was among the most popular entries in the franchise. Story of Seasons: Friends of Mineral Town is a remake of this classic game, complete with updated graphics for the Nintendo Switch.
Players inherit a farm in Mineral Town, and from there they can raise crops, tend to livestock, cook, and fall in love. Players can also mine ore to level up their equipment and attend festivals with the locals. If that all sounds similar to Stardew Valley, it should! This is one of the foundational games of the farming sim genre. Whether you are playing it for the first time or looking for some nostalgia, Story of Seasons: Friends of Mineral Town ($40) is an essential game for fans of the genre.
Rune Factory 5
The Rune Factory series offers a unique blend of JRPG action and farming simulation. In Rune Factory 5, players are the newest recruit of SEED, a team tasked with protecting the town of Rigbarth. Players must farm to help the town flourish, but they must also protect the town from monsters and unravel the threat that is besieging the land.
The mix of RPG action and farming helps keep the gameplay fresh, and players still have tons of other side activities to enjoy like cooking, crafting, and finding someone to marry. The balance between these two genres sometimes stumbles, as the harrowing plot just seems like another activity as opposed to a serious threat.
However, if you're a fan of both JRPGs and farming sims, Rune Factory 5 ($50) can scratch both itches simultaneously, and is more than worth your time thanks to the huge array of unique activities.
Harvestella
Like Rune Factory, Harvestella is a JRPG with farming sim mechanics. In this game, players must prepare for the Quietus, a destructive event that happens at the end of each season. In order to prevent total loss during this cataclysmic event, players must farm and stockpile food. They are also encouraged to battle monsters and explore the larger world. Harvestella better blends its JRPG elements with its farming mechanics, as the plot directly connects the two.
While most farming sims are developed by indie houses or smaller publishers, Harvestella was created by Square Enix (best known for the Final Fantasy series, among others). That means Harvestella gets AAA experience, along with a AAA budget. That shows through in its impressive art direction and sweeping world. It's the developer's first foray into farming sims, but Square Enix brings its years of refined JRPG experience to the forefront and delivers a title that's well worth playing. If you're a fan of the Rune Factory series, Harvestalla ($60) should definitely be your next play.
Doraemon: Story of Seasons
Doraemon is a massively popular manga/anime mascot in Japan, and now the adorable cat has its own Story of Seasons game. In this game, players take on the role of a characted named Noby as he, Doraemon, and other friends help out around the town of Natura. Players develop friendships with townsfolk and eventually take part in the larger story.
The game is unique because of its classic anime-inspired art style, which is a major departure from the series' stylized cartoon aesthetic. However, the game looks great, and it plays in exactly the way you would expect. Doraemon: Story of Seasons doesn't bring anything new to the table mechanically, but rather relies on a tried and true formula with a stunning new art design.
Doraemon: Story of Seasons ($50) is a great intro into the farming sim genre, but it can also be fun for veterans who want more of the same with a new aesthetic.
Farm Together
Most farming sims are single-player affairs with multiplayer tacked on occasionally. Farm Together, on the other hand, puts multiplayer front and center. There are no villagers to befriend or marry, and there are no monsters to fight or mines to explore. There is only the farm and the work you put into it. As the name implies, you build this farm with others, either friends you invite or with anyone willing to join.
Players can customize everything on their farm with a number of buildings and crops, and there are plenty of tools to use to aid you on your journey to build a fully functioning farm. Time passes in real time too, so there's always work to be done when you hop back on. There are also side activities in your house like cooking and crafting.
If you're looking for a farming sim to play with friends, Farm Together ($20) is without a doubt your best option.
Graveyard Keeper
Graveyard Keeper isn't technically a farming sim, but there is farming in it, so it kind of counts. In this game, the player's character is hit by a car and wakes up the next day in medieval Europe. As the new graveyard keeper, you must build up the dilapidated church (and accompanying graveyard), find out what magic brought you here, and return home to your beloved.
To do that, you will have to raise crops, craft, and tend to corpses to keep the money flowing … by any means necessary. Though obviously bleak, Graveyard Keeper can be morbidly funny at times.
The game also wastes no time letting you jump right into play. Little is explained to you about the various mechanics of the game, and there is a real satisfaction to learning new skills and developing a thriving grave-keeper business.
If you love farming sims but want something a little fresh, Graveyard Keeper ($20) is a must try game.
My Time at Portia
My Time at Portia is an indie hit and was very popular upon release for PC. Now, you can enjoy the game anywhere with your Switch. The port does have some technical issues, but they are few and far between and don't detract from the overall enjoyment of the game.
My Time at Portia isn't directly a farming sim, but it is adjacent and does have some farming elements. You play as a young boy in the titular town of Portia. Armed with nothing but your father's notebook, you set out to rebuild his workshop and have the best business in all the town. You'll have to craft a lot of items, farm crops, and cultivate friendships to do it, but that's where all the fun is.
If you enjoy the crafting side of farming sims, My Time at Portia ($30) may be a great pick for you.
Sakuna: Of Rice and Ruin
Despite being a genre centered around farming, there isn't a lot of realism to be found in these games. Sakuna: Of Rice and Ruin seeks to change that. Okay, so Sakuna isn't realistic, since it's about a harvest goddess working temp jobs, but the rice farming is legitimate.
In Sakuna, the only thing you grow is rice, but the fun is in learning how to do it right. The farming in this game is quite meticulous and requires a lot of trial and error to get the perfect crop.
When players aren't farming rice, though, they are slaying demons in the side-scrolling action platforming sections of the game. Sakuna: Of Rice and Ruin also has an adorable chibi art style.
If you're looking for a cute game with some fun action sections and actually challenging farm work, Sakuna: Of Rice and Ruin ($30) stands out among its peers.
Littlewood
Littlewood instantly stands out because of its simplistic pixel art design, but that's not the only thing that makes this game unique among farming sims. The game is set after the player's character has defeated the Dark Wizard and saved the world of Solemn. However, all of your memories of those events were wiped out when you defeated them.
Now in order to get your memories back, you must rebuild your village and the world at large. The closer your relationships grow, the more memories you will unlock about your time before defeating the Dark Wizard. It's a game that really rewards you for investing in the relationships with NPCs, which makes the world of Solemn feel more alive and helps keep you invested in the game.
Littlewood also has all the usual affair for farming sims, including raising crops and crafting. However, if your favorite part of these games is building relationships with payoff, then Littlewood ($15) is well worth your time.
Farming Simlulator 20
If you're looking for the real deal, there's nothing better than Farming Simulator 20 on the Nintendo Switch. In this game, players pilot farming equipment rendered after actual equipment from the largest agricultural manufacturers, including John Deere and International Harvester. Players can acquire over 100 different farming vehicles to help them farm various crops like oats and wheat.
However, it's not just about the crops in Farming Simulator 20. Players can also tend to livestock like sheep, cows, and chickens. You can even ride a horse around your farm.
Part of the experience is lost in translation in this port, though. Part of the appeal of this brand of simulation games is the realism, and that is simply missing because of the limited processing power on the Switch. However, if you're a fan of the games and are looking to play anywhere, this is your best bet unless you're looking to shell out for a Steam Deck.
For a farming sim that emphasizes realism, Farming Simulator 20 ($45) is the logical choice on the Nintendo Switch.
Disney Dreamlight Valley
This is an excellent option for young kids jumping into the genre or anyone looking for a bit of nostalgia. Disney Dreamlight Valley has everything you would want in a farming sim, including the crops, village building, and relationships. Except instead of making friends with locals, you are befriending your favorite Disney characters.
In the game, players must restore Dreamlight Valley to its former glory and help Disney characters recover their memories after The Forgetting. Players do this by going on quests, exploring, and improving the area around Dreamlight Valley. Players can grow crops, go on adventures with their favorite Disney characters, and build and customize their home.
If you're a fan of the Disney IPs, this is the game for you, and there are plenty of ways to express your creativity with your favorite characters, including customizing your outfits and home with decorations. Dreamlight Valley ($30) is a perfect life sim for new and old players alike.