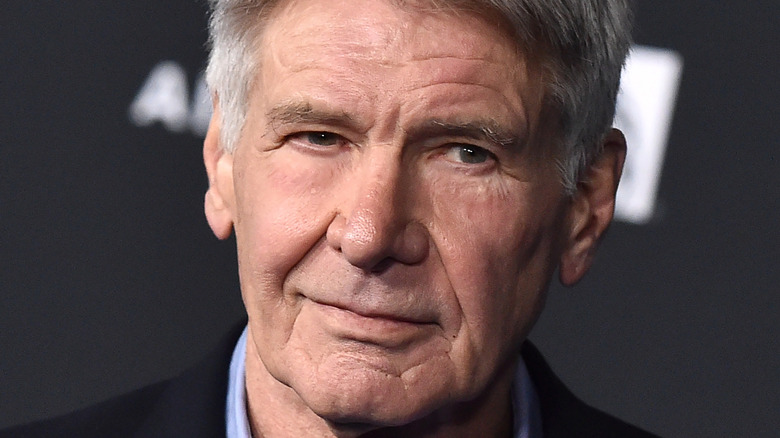 Harrison Ford is a legend, plain and simple. He is Indiana Jones! He is Han Solo! He is also happily married, a father of five, and a grandpa of four, his career still flourishing at the ripe age of 80. With his rugged good looks and tough guy demeanor, it's hard to imagine Harrison Ford facing challenges he couldn't immediately overcome through sheer force of will.
But the actor has indeed experienced quite a few setbacks and heartbreaks throughout the course of his long life and enviable career. From a nightmare divorce to family health problems to a slew of injuries while making his iconic films, Ford has gone through it for sure. Still, he is nothing if not resilient. In fact, he might not have had an acting career at all if he hadn't been utterly determined to succeed.
From "American Graffiti" to "Blade Runner," we truly can't imagine any other actor embodying the roles Ford is known for. Let's deepen our appreciation for Harrison Ford even further by taking a look at the five saddest things about his life.
His divorce was one of the most expensive in Hollywood history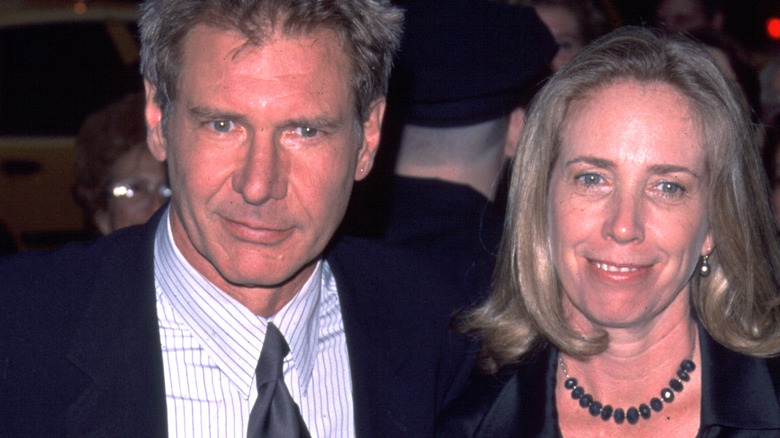 Long before Harrison Ford began dating his current wife, "Ally McBeal" star Calista Flockhart, he was married to Oscar-nominated screenwriter Melissa Mathison. Ford and Mathison met on the set of "Apocalypse Now" in 1976 and eventually wed in a small courthouse ceremony in 1983. "It wasn't just the look of her. It was the way she behaved, the intellectual connection we made," Ford said of Mathison during happier times (via People). The couple had two children together, Malcolm and Georgia, and stayed together for 18 years.
By the time the marriage ended, Ford was one of the highest-paid actors in Hollywood, having made his mark in the "Indiana Jones" and "Star Wars" franchises as well as blockbuster hits such as "Blade Runner," "Patriot Games," and "Air Force One." Because Ford and Mathison never had a prenuptial agreement, the divorce ended up being one of the most costly in Hollywood history. According to Forbes, the estimated settlement was a staggering $85 million, with Mathison having negotiated a share of Ford's future earnings from DVD sales of films he made while the two were married.
Mathison, who wrote the script for Steven Spielberg's iconic film "E.T The Extra-Terrestrial," passed away in 2015 after battling neuroendocrine cancer. Ford did not make a public statement following his ex-wife's death.
Supporting his daughter in her battle with epilepsy
Harrison Ford has five children from his three marriages, all boys, with the exception of his daughter, Georgia. In 2016, Ford opened up about Georgia's battle with epilepsy, her difficulty getting a proper diagnosis, and his admiration of her strength. "When you have a loved one who suffers from this disease, it can be devastating. You know how it affects their lives, their future, their opportunities, and you want desperately to find mitigation," the actor said (via NY Daily News). "You want to find a way that they can live a comfortable and effective life."
According to Ford, Georgia had her first seizure as a child and was subsequently prescribed medication for migraines. After several other episodes throughout her young life, Ford's daughter was finally diagnosed with epilepsy. Ford was emotional when recounting the relief at finding the right doctor who prescribed Georgia the correct medication. "I admire her perseverance … She's my hero. I love her," Ford said at an event for NYU Langone Medical Center's Find a Cure for Epilepsy and Seizures. He added, "She has not had a seizure in eight years."
It was not the first time Ford spoke publicly about the disease. During an interview at the premiere of his 2010 film "Morning Glory," the actor said, "There's a history of epilepsy in my family, and I'm really aware of what a devastating affliction it can be. It not only affects the person who suffers from epilepsy, but it affects their entire family" (via People).
The injuries he sustained filming his iconic roles
At age 80, Harrison Ford's career is still thriving, proving that acting is not just a young man's game. The fact that Ford is still a working actor is all the more impressive, considering the number of injuries he's suffered throughout his long career.
According to Newsweek, Ford bruised his ribcage and tore his ACL while performing his own stunts for 1981's "Raiders of the Lost Ark." He also got hurt while making 1984's "Indiana Jones and the Temple of Doom," suffering from a herniated disk. Fans of 1993's "The Fugitive" will have noticed that Ford's character ran with a limp because the actor had torn ligaments while filming. However, he opted not to have surgery until the movie was finished, hence Richard Kimble's limping.
In 2014 Harrison Ford broke his leg while filming "Star Wars: Episode VII." The actor recounted the injury in during an interview with Jimmy Fallon, explaining, "They closed the f**king door on me." He went on to jokingly (at least, we think jokingly) blame director JJ Abrams for the injury, using a Han Solo action figure to demonstrate what happened. But the incident was no laughing matter, of course. Surgery was required, and the production firm behind the film was fined $2 million for violating health and safety codes (via The Guardian).
In 2021, the actor, who was 78 years old at the time, sustained an injury to his shoulder while rehearsing a fight scene for "Indiana Jones 5," according to Deadline. Filming continued while Ford took a brief hiatus, and the actor bounced back once again.
The death of his co-star and former lover Carrie Fisher
Fans of the original "Star Wars" film cannot deny the chemistry between Han Solo and Princess Leia, played by Harrison Ford and Carrie Fisher, respectively. In her 2016 memoir "The Princess Diarist," Fisher finally spilled the details of her and Ford's affair that began while they were filming the 1977 classic film. "It was Han and Leia during the week, and Carrie and Harrison during the weekend," Fisher shared with People. "It was so intense."
Tragically, Fisher passed away unexpectedly in December of 2016, and Ford was among her many colleagues and fans mourning the loss. Ford's public statement feels even more poignant knowing what we know about his and Fisher's past. "Carrie was one-of-a-kind … brilliant, original. Funny and emotionally fearless. She lived her life bravely … My thoughts are with her daughter Billie, her Mother Debbie, her brother Todd, and her many friends. We will all miss her," the actor said (via Harper's Bazaar).
His frustrating late start as an actor
While Harrison Ford is nothing short of a legend in the entertainment industry, there was a time when it seemed he would never make it big at all. While his resume dates back to the mid-1960s, Ford mostly had small roles, some uncredited, before his career got the boost it needed.
The actor recalled one of his first acting jobs wherein a higher-up at Columbia Pictures gave him some discouraging feedback. "There was a guy in charge of what they called the new talent program, and he called me into his office, and he said … you're never gonna make it in this business," Ford told Conan O'Brien.
Ford was resourceful and became a successful carpenter in order to supplement his income while he was trying to make it in the cutthroat world of show business. "Through carpentry, I fed my family and began to pick and choose from among the roles offered," Ford said. "I never gave up my ambition to be an actor. I was frustrated but never felt defeated by my frustration" (via Yahoo Entertainment).
As fate would have it, it was his work as a carpenter that would set him on his path to stardom. Ford was doing carpentry work for the casting director of the George Lucas film "American Graffiti," and he arranged for Ford to audition. Ford landed the part, and several years later, Lucas chose him to play what would become the iconic role of Han Solo in "Star Wars." Ford was 35 years old at the time, but better late than never!