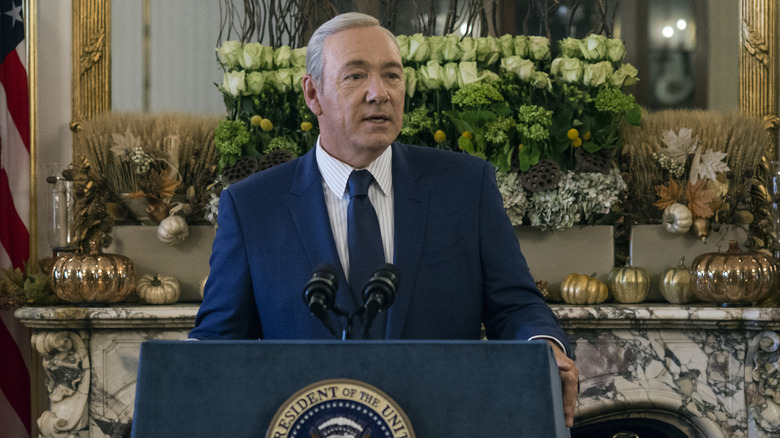 The following article includes allegations of domestic abuse and sexual assault.
Being a famous actor doesn't necessarily mean you can't get fired. In the past, an actor's public persona was carefully curated by publicists and journalists, and we didn't really know much about movie stars' opinions and attitudes about politics or pop culture. Social media has given us insight into stars' personalities and opened them up to more criticism and conflict with fans and other celebrities.
An actor's behavior can easily reflect poorly on a television series or film they are cast in, depreciating the monetary value of the project if audiences choose to stop watching a series or film because of the actions of an actor cast in the project. Production studios and television networks are learning how to navigate casting in the information age and recognizing that the personal is political, and sometimes they are forced to choose the viability of an asset over the job of an actor. While some stars get fired for bad on-set behavior, others might get fired for antics in their personal lives, or more seriously for legal troubles that affect production. Keep reading to learn about actors who got fired for crossing the line.
Roseanne Barr was fired from the Roseanne revival
Roseanne Barr has always been a controversial figure, but in May 2018, she crossed a line and couldn't take her words back. Barr's "Roseanne" reboot was canceled in response to Barr's racist tweets directed at Valerie Jarrett, a Black woman who is a former advisor to President Barack Obama. Barr apologized for the tweet, saying it was a distasteful joke, but the network responded when ABC Entertainment President Channing Dungey announced, "Roseanne's Twitter statement is abhorrent, repugnant and inconsistent with our values, and we have decided to cancel her show."
Barr's talent agency, ICM Partners, followed suit, with a statement published in Variety: "What she wrote is antithetical to our core values, both as individuals and as an agency." The agency announced that it had severed ties with Barr immediately and that she had been informed of the separation. In August 2018, Dungey spoke with Deadline about the cancellation, saying, "This tweet crossed the line that cannot be crossed, but it was for us a sense of enough is enough and something had to be done."
Dungey told The Hollywood Reporter that "Roseanne" would continue after all — the cast was brought back, barring Barr, for "The Conners." "That was my one disappointment that day — thinking about the innocent people who were affected by the decision," Dungey said. "The fact that we're now able to move forward with 'The Conners' feels good." Sequel series "The Conners" follows Roseanne's remaining family after the matriarch's unexpected death.
Gina Carano was fired from The Mandalorian
Mixed martial artist-turned-actress Gina Carano developed a reputation for making comments on social media that some "Star Wars" fans found offensive, and these fans started an online campaign to have her fired from the Disney+ series. In February 2021, Carano was fired from "The Mandalorian" for making tone-deaf comments, including promoting transphobia and loosely comparing being a Republican in modern America to being Jewish in Germany during the Holocaust.
After firing the star, LucasFilm released the statement, "Gina Carano is not currently employed by Lucasfilm and there are no plans for her to be in the future" calling her social media posts "abhorrent and unacceptable." Her agency, UTA, dropped Carano in the controversy's wake. Some fans counter-petitioned for Carano to be rehired by Lucasfilm and Disney. A spinoff series that would have potentially focused on Carano's character, Cara Dune, titled "Rangers of the New Republic," soon after halted development at Disney+.
Carano never apologized for her controversial statements. Instead, Carano used the media attention and her increased Instagram following to rally for support and against the fans and executives who contributed to her ousting: "I am sending out a direct message of hope to everyone living in fear of cancellation by the totalitarian mob," she said in a statement, according to The Hollywood Reporter. "I have only just begun using my voice which is now freer than ever before, and I hope it inspires others to do the same."
Shannen Doherty was fired from Beverly Hills 90210
Shannen Doherty was known for being difficult on-set and was fired from "Beverly Hills 90210" for behind-the-scenes drama. Rumors of a physical altercation on-set between Doherty and Jennie Garth that was broken up by co-stars were confirmed in Garth's memoir, where Garth admitted their personalities were like "gasoline and a match." Despite the on-set animosity, in her memoir, Garth said Doherty is still one of her close friends.
Drama followed Doherty to the "Charmed" set, so Doherty left the WB series after Season 3, telling Entertainment Tonight, "There was too much drama on the set and not enough passion for the work. […] I don't have time for drama in my life anymore." In 2021, Alyssa Milano told People she feels guilt over her part in the tension on set, saying, "I think a lot of our struggle came from feeling that I was in competition rather than it being that sisterhood that the show was so much about."
Tori Spelling admitted on the TV special "Tori Spelling: Celebrity Lie Detector" that she asked her father, Aaron Spelling to fire Doherty, saying regretfully, "I felt like I was a part of something, a movement, that cost someone their livelihood. … Was she a horrible person? No. She was one of the best friends I ever had." Doherty said the two biggest reasons she reprised the role of Brenda Walsh on the 2019 reboot "BH90210" were to honor Luke Perry and to work through her Stage IV breast cancer diagnosis.
Megan Fox was fired from Transformers: Dark of the Moon
Despite her central role in the first two "Transformers" movies, Megan Fox was conspicuously absent from "Transformers: Dark of the Moon." Fox was fired from the sci-fi franchise because of an interview with Wonderland Magazine where she made disparaging remarks, equating director Michael Bay with Napoleon Bonaparte and Adolf Hitler, saying, "He's a nightmare to work for. […] He's vulnerable and fragile in real life and then on set he's a tyrant."
Bay told GQ that "Transformers" executive producer Steven Spielberg told him to fire Fox for her comments. Bay also inferred that Fox didn't have the best work ethic in Hollywood, saying, "She was in a different world, on her BlackBerry. You gotta stay focused." Despite axing Fox from the third film in the series, Bay wasn't holding any grudges, saying, "I wasn't hurt, because I know that's just Megan. Megan loves to get a response."
Years later, in 2017, Fox talked to Cosmopolitan UK about getting sacked from the franchise that made her famous, admitting, "That was absolutely the low point of my career." She continued, "Once I realized I [had] brought it on myself, it was an invaluable learning experience, looking back on it." Isn't it refreshing when people admit they crossed a line when they were younger and learned from the consequences of their actions?
Judy Garland was fired from Valley of the Dolls
When Judy Garland was cast in the film adaptation of Jacqueline Susann's bestselling novel "Valley of the Dolls," it was quite the hubbub in Hollywood. Many believed the characters were based on Hollywood personalities, and Garland herself inspired Neely O'Hara, played in the film by Patty Duke. Garland was cast as seasoned actress Helen Lawson in the cult classic but was fired after one month of filming.
Fox claimed she left the project for "personal reasons," but Garland refuted their claim, admitting she was fired but was still willing to take the role and wanting to work. Duke said she believed the director's treatment of Garland was unforgivable, but she said she also thought Garland's struggles with addiction played a part in her dismissal. Duke said that Garland was drinking on the set, surrounded by enablers. This wasn't the first time Garland was fired because of addiction. Garland was also let go from MGM's "Annie Get Your Gun" for erratic behavior, drunkenness, and problems the studio had with her body image. Sadly, Garland died of an accidental overdose in 1969.
If you or anyone you know is struggling with addiction issues, help is available. Visit the Substance Abuse and Mental Health Services Administration website or contact SAMHSA's National Helpline at 1-800-662-HELP (4357).
Thomas Gibson was fired from Criminal Minds
Since Aaron "Hotch" Hotchner spent so many seasons in the spotlight of his procedural drama, viewers probably wondered about the reason Thomas Gibson left "Criminal Minds." His character, Hotch, was written out of the series after going into witness protection. Gibson was suspended from "Criminal Minds" for an on-set altercation with a writer-producer whom Gibson allegedly kicked during the filming of an episode Gibson was directing. After the suspension, Gibson released a statement, saying, "There were creative differences on the set and a disagreement. I regret that it occurred."
Later that week it was announced Gibson had been fired over the incident. Apparently, this hadn't been the first on-set altercation Gibson was involved in, contributing to the network's decision. In 2010, Gibson was involved in another on-set altercation where he pushed assistant director Ian Woolf, who was working on the episode. After the first incident, Gibson was required to attend anger management classes.
After being fired, Gibson released a statement saying, "I love 'Criminal Minds' and have put my heart and soul into it for the last twelve years. I had hoped to see it through to the end, but that won't be possible now." He thanked the cast, crew, writers, directors, and fans of the series for his time playing Hotch. Gibson later told People, "I feel like it took years to make a good reputation and a minute to damage it," adding, "My pride and reputation are hurt."
James Remar was fired from Aliens
James Remar has graced the big and small screen and is probably best known for playing bad guys, but you will also recognize him from the role of Officer Harry Morgan, who adopts a troubled young boy from a crime scene on "Dexter." Remar had a central role in one of the biggest sci-fi movies ever but never made it to the screen. After a week or two spent filming in London for James Cameron's "Aliens," Remar was fired after being arrested for illegal drug possession. Although, at the time, "creative differences" were the reason cited.
At the time, Remar said he had to leave for personal reasons, but years later Remar came clean on a podcast, saying, "I had a terrible drug problem, but I got through it. … I had a great career and personal life, and messed it up with a terrible drug habit. … I was initially cast as Corporal Hicks, and I was fired after a couple of weeks of filming because I got busted for possession of drugs, and Michael Biehn replaced me."
If you or anyone you know is struggling with addiction issues, help is available. Visit the Substance Abuse and Mental Health Services Administration website or contact SAMHSA's National Helpline at 1-800-662-HELP (4357).
Charlie Sheen was fired from Two and a Half Men
There was a time Charlie Sheen was the highest-paid actor on television and "Two and a Half Men" was CBS' most-watched series. In 2011, this winning streak came to an explosive end when production of the series was halted. Sheen was later fired from "Two and a Half Men" for inflammatory comments and erratic behavior. The network issued a statement, saying, "After careful consideration, Warner Bros. Television has terminated Charlie Sheen's services on 'Two and a Half Men' effective immediately," to which Sheen retorted with a bizarre tirade.
Warner Bros. resorted to a multipage letter explaining why Sheen had been fired from the series, imploring those who represent and care for him to help get him into another treatment program because he had refused efforts from the network. The network then hired Ashton Kutcher to replace Sheen as a new character on the popular series.
Ten years later, Sheen told Yahoo Entertainment he regretted his actions, saying that if he could do it over, he would have done things differently, gotten on the Warner Bros. plane, and gone to rehab. Sheen admitted he needed help, calling his behavior "desperately juvenile" and saying he was having "a very public display of a mental health moment."
If you or anyone you know is struggling with addiction issues, help is available. Visit the Substance Abuse and Mental Health Services Administration website or contact SAMHSA's National Helpline at 1-800-662-HELP (4357).
Columbus Short was fired from Scandal
In March 2014, Columbus Short was arrested for felony battery after allegedly knocking a man out and breaking his nose at a restaurant in Los Angeles. Not a month later, Short's wife, Tuere Tanee Short, filed for divorce and applied for a domestic violence restraining order after the actor allegedly attacked her while drunk and threatened her life with a knife. After these domestic abuse allegations surfaced, Short was fired from his role in Shonda Rhimes' hit series, "Scandal."
After getting fired, Short released a statement to Us Weekly in April 2014, saying, "At this time I must confirm my exit from a show I've called home for 3 years." Later that year, in December 2014, Short admitted to The Hollywood Reporter that the death of a friend precipitated his breakdown, saying, "I was doing cocaine and drinking a lot, and trying to balance a 16-hour work schedule a day, and a family, and I just lost myself back then." Short had another domestic violence arrest in 2022.
If you or someone you know is dealing with domestic abuse, you can call the National Domestic Violence Hotline at 1−800−799−7233. You can also find more information, resources, and support at their website.
Jussie Smollett was fired from Empire
On Jan. 29, 2019, Jussie Smollett reported to the Chicago police saying he was the victim of a hate crime. After initial public support, the tide turned when Smollett refused to hand over his phone to the police and supplied redacted records from his phone. After several suspects were arrested, interviewed, and released by Chicago police, the police charged Smollett with giving a false statement.
After charges were filed, the producers of "Empire" released a statement: "While these allegations are very disturbing, we are placing our trust in the legal system as the process plays out." The Fox production team said it had removed Smollett's role from the last two episodes of the season. By March 26, the charges had been dropped, but the Chicago police ordered Smollett to pay $130,000 for the time police spent investigating his case. After Smollett refused to pay, the city sued.
On June 4, show creator Lee Daniels tweeted, "Jussie will NOT be returning to Empire," and he told Vulture, "I'm beyond embarrassed," explaining he cut off contact despite being unsure if Smollett staged the attack or was a victim. By February 2020, Smollett was brought up on six new charges for falsifying his statement. Although Smollett has maintained his innocence, he was convicted in 2021, sentenced to 150 days in jail, and fined $145,000.
If you or a loved one has experienced a hate crime, contact the VictimConnect Hotline by phone at 1-855-4-VICTIM or by chat for more information or assistance in locating services to help. If you or a loved one are in immediate danger, call 911.
Suzanne Somers was fired from Three's Company
Some actors get fired for crossing an obvious line, making controversial comments, breaking laws, and behaving poorly, while others have been fired for pushing against the glass ceiling. Crossing the line is subjective, but the producers of ABC's hit sitcom "Three's Company" felt Suzanne Somers crossed a line when she had the guts to request a raise so her pay would be equal to that of her male co-star John Ritter.
In 1980, Somers asked for $150,000 an episode and was fired from the comedy series she helped make popular. Alan Hamel, Somers' husband and manager, told The Hollywood Reporter that he got a call from a friend with connections at ABC warning him, "They're going to hang a nun in the marketplace and the nun is Suzanne." Hamel said network executives were unhappy about the successful contract negotiations of the stars of "Laverne & Shirley" and wanted to put the kibosh on higher-paying contracts for actresses.
Looking back on the painful experience, Somers said, "Getting fired for asking for a raise wasn't fair, but I landed on my feet and I've done OK." Somers told People, "Life is a roller coaster. […] When it's high, everything is groovy and everything is great, and we've had so many highs. The lows aren't as much fun, but that's when you learn." And Somers learned to reinvent herself.
Kevin Spacey was fired from House of Cards
Actor Anthony Rapp alleged that Kevin Spacey tried to engage intimately with Rapp after a party at Spacey's home, when Rapp was 14 and Spacey was 26. Spacey said on Twitter that he didn't recall the incident, saying, "If I did behave then as he describes, I owe him the sincerest apology for what would have been deeply inappropriate drunken behavior." Spacey also said he's bisexual and chooses to live as a gay man.
Netflix announced Season 6 would be the last season of "House of Cards." Two days after the allegations surfaced, Netflix made the statement they had suspended production. In November 2017, Spacey was fired from his lead role in "House of Cards" — his co-star, Robin Gayle Wright, headlined the final season — and Netflix announced it would not release the Gore Vidal biopic "Gore" starring Spacey, either.
Thirty people came forward with allegations against Spacey, including sexual assault and harassment, spanning decades. Spacey's character was killed off, and Wright told Today, "I think we were all surprised, of course, and ultimately saddened. We forged ahead, and we were so thankful that we were able to complete the series as planned." Spacey was later court-ordered to pay Netflix $31 million dollars for the money they lost after firing him from the hit series.
If you or anyone you know has been a victim of sexual assault, help is available. Visit the Rape, Abuse & Incest National Network website or contact RAINN's National Helpline at 1-800-656-HOPE (4673).
Sylvester Stallone was fired from Beverly Hills Cop
Sylvester Stallone might be best known for his early "Rocky" and "Rambo" roles, but he has also become well known as a scriptwriter and was even nominated for an Oscar for the script of "Rocky." When Stallone was cast as Alex Foley in "Beverly Hills Cop," he rewrote the entire script into something he conceived as a dark drama. The studio didn't appreciate the direction Stallone went with the script and fired him from the project, hiring Eddie Murphy in his place.
Stallone later told The Hollywood Reporter, "[My agent] told me, 'Don't change it,' but I took the script and rewrote it as a kind of compromise, where the guy was action-oriented but he also had a wry sense of humor." The agent, Ron Meyer, said no one at the studio was interested in Stallone's darker version of the film, and he said he begged Stallone to do the comedy version. Stallone said, "I didn't think I could pull it off. Then that ship sailed."
Isaiah Washington was fired from Grey's Anatomy
Isaiah Washington was fired from "Grey's Anatomy" for using a homophobic slur on set during an altercation with co-star Patrick Dempsey. In the book "How to Save a Life: The Inside Story of Grey's Anatomy," Mark Wilding said there was tension between the two actors because someone was late to set: "Then it sort of exploded. They got into an arguing match, and then before you know it they were physically fighting."
Washington told Entertainment Weekly, "[Shonda Rhimes] called me [June 7] and told me that I would not be returning to the show. Just like she personally called me and invited me to the show. It was full circle." After the altercation, Washington told People, he wasn't directing the slur at anyone, saying, "I am not homophobic — in no way, shape or form." In the tell-all book "How to Save a Life," Washington reflected on the incident, saying, "We learned that we [had] to watch what we say. We [had] to make sure we [were] more accountable."
In 2014, Washington briefly reprised his role in a later season of the series, to help facilitate the storyline of how Christina (Sandra Oh) leaves the hospital. This decision was controversial with fans, but Rhimes defended the decision to Entertainment Weekly, saying, "My first decision and my first responsibility is to the story […] regardless of whatever outside factors are involved."