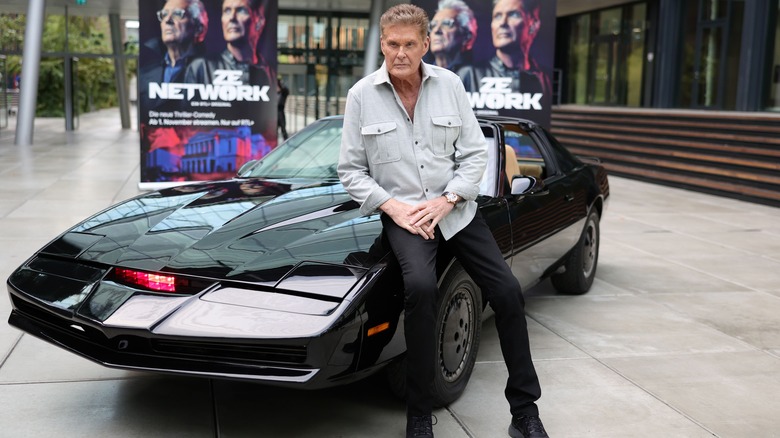 David Hasselhoff (aka "the Hoff") has never been one to shy away from a gig — acting or otherwise. He played a doctor named "Snapper" on a daytime soap opera, a secret agent man who fought crime from behind the wheel of a talking Trans Am and splashed through waves, usually shirtless and in slow motion, as a lifeguard. Oh, and he's wildly famous in Germany for his singing.
Hoff's pop icon status has led to appearances in dozens of television shows and films over the years, a lot of time playing himself, and he still holds the Guinness World Record as the most watched man on television. Now 70, Hasselhoff said in an interview with Motor Trend that he learned to drive in a Ford Falcon with the gear shifter for the three-speed manual transmission mounted on the steering column (aka three on the tree).
He has bought and sold more than a few cars over the years, including a 1965 Mustang and a Harley Davidson. Even though he used to lease a lot of Mercedes, he's now a self-proclaimed "BWM guy." Hasselhoff admits that he doesn't drink or party, but his one vice is driving fast. In fact, he loves speed so much that he's done the infamous Gumball Rally at least half a dozen times, having most recently raced in the 22nd annual event in May 2022.
1961 Mercedes-Benz 190 SL
From 1975 to 1982, Hasselhoff starred in "The Young and the Restless," appearing in 850 episodes of the daytime soap that's been running since 1973. His six years on the show shaped him into the actor he would eventually become, giving him a steady paycheck.
Hasselhoff says he didn't buy the red 1961 Mercedes-Benz 190 SL roadster for himself but for his dad. After receiving a tax refund check for $3,500, he went to his next-door neighbor and offered the whole sum for his Mercedes, which was basically just rotting away in the yard. The neighbor agreed, Hoff restored it, and his dad drove it for years.
In 2017 he said he was getting it "re-re-re-restored," not because it was particularly fast or powerful, but because it held a lot of memories. The Hoff's right, the 190SL roadster had a naturally-aspirated 1.9-liter, 116 CID, inline 4-cylinder engine that only kicked out 105hp, 114 ft-lbs of torque, and had a paltry top speed of around 107 mph. Despite the somewhat lackluster specs, the former soap heartthrob says, "The Mercedes is just a fun car."
However, in January 2021, the actor auctioned off the 190 SL for $60,000. The listing said it was mechanically sound, but based on the photos, it looked like it still needed significant cosmetic work.
1986 Porsche 928 S
If the Mercedes was a "gift" to his dad, the Porsche 928 was a gift to himself. "Knight Rider" first aired in September of 1982, and by '86, the show had become a hit. With that fame and a much heftier salary, Hasselhoff walked into his local Porsche dealer, wrote a check for $54,000, and drove away in the 928.
One source claims Hasselhoff had a standard 928 model, while another the S2 model, but that was only available in Europe. However, the "S" model was first released in the United States in 1983 and came with front and rear spoilers, which Hoff's Porsche had. The '85 and '86 S had a 5.0-liter 288hp 32-valve engine equipped with a Bosch LH-Jetronic injection and EZF ignition, with a top speed of 155 mph.
Whatever model he drove, his was black and gold. The 928 is the Porsche that Tom Cruise made famous in the 1983 film, "Risky Business," and is considered by many to be the most underrated Porsche of all time. At first, Hasselhoff admits he was scared to drive it, but the dealership convinced him to go crazy, and a 10-year love affair commenced.
Many may not know how much charitable work The Hoff is involved with. He first encountered a Make-A-Wish child on the set of that first episode of "Knight Rider." The experience left such an impression that he began visiting sick children in hospitals worldwide and soon started his own charity called "Race for Life," which adorns his 928's license plate.
2017 Cadillac Escalade
Hasselhoff has two daughters, both of whom followed in their father's footsteps as entertainers. As such, he became a taxi for his kids. The Escalade was "a great family car" to get them from place to place (according to Motor Trend) because it could seat everyone's entourage and tons of gear and provide as much as 94 cubic feet of cargo space behind the first row of seats.
His Caddy, with a license place that reads "Hoff It," is strapped with a 6.2-liter V8 producing 420hp and 460 lb.-ft. of torque mated to a Hydra-Matic eight-speed automatic. Surprisingly, the big sports utility vehicle can get from zero to 60 mph in less than 6 seconds, so when Hoff says, "it's a handful," he isn't lying.
For a man who once drove the high tech bedazzled K.I.T.T. car, saying the electronics in the Escalade are "phenomenal" and better than anything else he's seen, including his beloved Beemers … well, that is a huge compliment. It has an eight-inch color touchscreen radio, OnStar 4G LTE with Wi-Fi hotspot, and a Bose Centerpoint audio system with a total of 16 speakers that were fine-tuned specifically to the Escalade's interior.
2016 BMW Alpina B6 Gran Coupe
After sitting behind the wheel of the Knight Industries Two Thousand for four seasons, Hasselhoff knows a thing or two about cruising around in one-of-a-kind cars. His gold metallic 2016 BMW Alpina B6 Gran Coupe wasn't just a BMW you could drive off the lot from at your nearest dealer. The vehicle that Edmunds called a "Bavarian rocket sled" was made for BMW connoisseurs because it was a limited-production, made-to-order car with a base MSRP of $123,195.
While it may have started as a factory BMW 6 Series, by the time Alpina got done adding an exclusive body kit, wheels, upholstery, and an assortment of tweaks to the transmission, suspension, and engine — this was absolutely not your daddy's Beemer.
Under the hood was a turbocharged 4.4-liter V8, mated to an 8-speed shiftable automatic. But the B6 is up-tuned from the M6's standard 552 hp and 502 lb-ft. The Alpina instead kicks out 600 hp and 590 lb-ft of torque, allowing it to blast from zero to sixty in 3.6 seconds (the M6 does it in 4.1 seconds). Its top speed is electronically limited to 200 mph.
The one drawback to all that "insane" speed and power is fuel consumption. Hasselhoff loves the car's exclusivity, but says he "can go through almost a tank of gas in a day."
1982 Pontiac Firebird Trans Am
Last but certainly not least, we must include the car that made The Hoff a household name in the 80s. The original Knight Industries Two Thousand (KITT) was a black 1982 Pontiac Firebird Trans Am, obviously heavily modified for the show.
One of the more ironic things about one of the most iconic cars in television history is just how prescient it turned out to be. Most cars on the road today can talk to us, and many can drive themselves — if not wholly, at least in certain situations (i.e., parking). But back in the 80s, those features were futuristically mind-bending.
Hollywood hobbyists and car enthusiasts worldwide are constantly building KITT conversions, as does Hasselhoff. In fact, its become one of his life's passions. The knight rider is known to stop people on the road when he sees a Trans Am that he can convert into a KITT car and offers to buy it on the spot. He installs gull-wing doors, and a better engine, and sells them.
Proceeds from the sale of the cars end up at charities like Global Mobility, a nonprofit company that provides wheelchairs to the disabled. Thus all the confusion from sources who seem baffled by the fact that he sold his "personal" KITT car … or didn't. It's because he's always selling them.