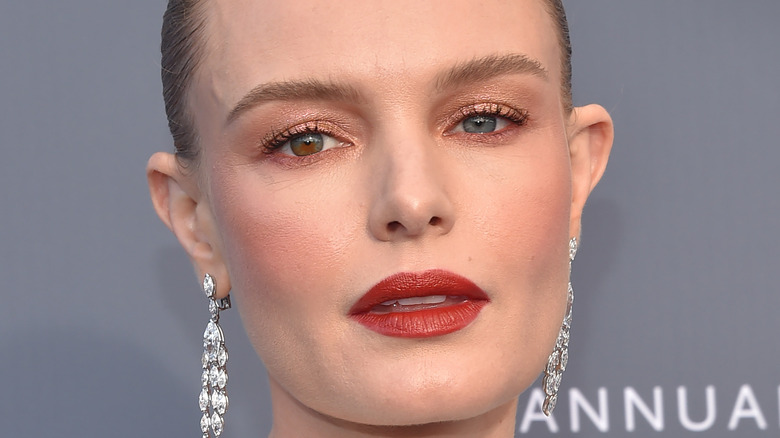 "Blue Crush" actor Kate Bosworth has kept her love life relatively lowkey. She dated Orlando Bloom briefly in 2002 before he found massive fame in "The Lord of the Rings" trilogy and "Pirates of the Caribbean." After that relationship, Bosworth swore never to date another actor again. In 2020, she appeared on "Watch What Happens Live with Andy Cohen," where she shared that dating actors were "too much of the same thing." Bosworth went on to marry director Michael Polish in 2013. However, the pair separated after eight years of marriage.
Bosworth didn't keep her promise about never dating actors. In fact, she ended up falling head over heels for her "House of Darkness" co-star, Justin Long, who is known for his work in "Jeepers Creepers" and "Accepted." Though they appeared to be on friendly terms during filming in the spring of 2021, they were spotted on multiple outings together that year. It wasn't until 2022 that one of the two stars let the cat out of the bag that they were exclusive.
Bosworth and Long managed to keep the early stages of their romance under the radar, but after making things official, their social media is nothing but sweet tributes to one another. So let's take a closer look at their romance.
Kate Bosworth gushes over Justin Long after wrapping up their movie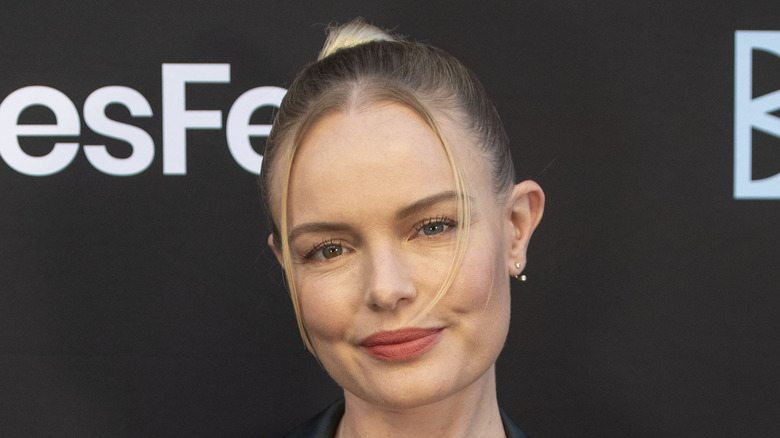 In May 2021, the Fayetteville Flyer, a local news publication from Arkansas, shared with its residents that actors Justin Long and Kate Bosworth were in the city to film an upcoming project. Bosworth and Long were spotted in the city's downtown area, including hanging out at a coffeehouse and a local bar named Hugo's. Fans later learned that the two were filming their thriller, "House of Darkness," which was released in September 2022.
That same month, Bosworth shared a touching post on Instagram, shouting out her co-star, Long, in a series of photos while thanking the city of Fayetteville. "There are some movie experiences when you learn a lot about another person. Well, we just wrapped one of those — all night shoots, working 6-day weeks. The exhaustion & insanity was off the grid. Holy moly @justinlong you are truly a spectacular/fun/funny/kind/rare/thoughtful/totally. fckn. rad human being," Bosworth wrote.
At the time of filming, Bosworth was married to movie director Michael Polish. However, that soon changed when Bosworth announced her separation from the director three months later.
Bosworth and Michael Polish separate in August 2021
In August 2021, it came as a shock when Kate Bosworth announced that she and her husband, Michael Polish, were separating after eight years of marriage. On Instagram, Bosworth shared a black-and-white photo of herself kissing Polish and told fans that the decision to split was mutual and made with love. "Our hearts are full, as we have never been so enamored and deeply grateful for one another as we do in this decision to separate. Together, over the last ten years, Michael and I have chosen love, every time," the actor wrote, adding, "In the process of letting go, we have come to acknowledge that our love will never end. The connection does not simply disappear. The love deepens, the heart expands."
The pair first met in 2011, when Bosworth starred in Polish's film "Big Sur." They began dating that same year and tied the knot in August 2013 in Montana. Though they never had children, Bosworth became a step-mom to Polish's daughter Jasper, who he shares with his ex-wife, celebrity makeup artist Jo Strettell.
Showcasing that exes can be friends, in May 2022, Bosworth and Polish were spotted together at SeriesFest for Polish's 10-episode television series, "Bring on the Dancing Horses." Bosworth stars as an assassin in the modern-day Western series.
Justin Long admits he's in a relationship on his podcast
Kate Bosworth and Justin Long's relationship was kept under the radar until the "Jeepers Creepers" actor revealed on his podcast in December 2021 that he was no longer single. While interviewing comedian Fortune Feimster on his "Life is Short with Justin Long" podcast, the actor shared that he was in a relationship when talking about pizza toppings. When stating that his "girlfriend" loves pineapple on pizza, he added, "I've never been with anyone who likes pineapple on pizza." It was reportedly the first time either of the stars made mention of being in a relationship. However, by March 2022, Bosworth and Long fueled more romance rumors when People reported that they were photographed driving in Los Angeles together.
Before his relationship with Bosworth, Long had dated quite a few Hollywood stars. He was linked to his former "Accepted" co-star Kaitlin Doubleday from 2005 to 2007. The same year of his split from Doubleday, Long began a relationship with Drew Barrymore, whom he would have an on-and-off again relationship with until 2010. In 2012, reports alleged that Long was dating actor Kate Mara. And, from 2013 to 2015, he dated "Mamma Mia!" star Amanda Seyfried.
The two actors are spotted in Hawaii
In April 2022, Kate Bosworth and Justin Long seemingly confirmed their romance when photographers captured them on a beach in Kauai, Hawaii. People reported that the pair were photographed holding hands and kissing while lying on the sand. Bosworth and Long were in Hawaii celebrating former InStyle editor-in-chief Laura Brown's wedding. The "Superman Returns" actor shared a photo with Brown on her special day on Instagram, captioning it, "My beautiful mate, we are so grateful to be here, basking in your glow. Congrats!"
In May, Bosworth shared photos of Brown's wedding day while also sharing a few snaps with Long. One photo showed Bosworth smiling while sitting on Long's lap. That same month, People reported that the duo was spotted with their arms wrapped around one another as they casually walked around New York City. Bosworth and Long still had yet to confirm they were official to the public, but it was clear that they were more than co-stars.
Long admits he's in love with Bosworth
Now an expert at keeping their romance lowkey, Justin Long joined Nick Viall on "The Viall Files" podcast in April 2022 and shared insights on his new love interest, even going as far as sharing that he found "the one." However, the "Live Free or Die Hard" actor chose to keep his partner's name a secret.
"I had gotten to a place where I was comfortable with myself. I didn't know it at the time, but I was ready for the one," Long shared, adding, "And the one I met. I found. I want to [talk about it], but I also want to be protective. I want to scream it from the rooftops, but I also want to be protective. It's sacred."
It wasn't too long before Long proudly revealed what everyone had speculated for quite some time. In May, while chatting with Chelsea Handler on her "Dear Chelsea" podcast, Long allowed Handler to disclose Bosworth as his significant other while admitting that he was in love. Though Long shared that he still wanted to keep his romance with Bosworth private, he shared, "I've never had anything like this before; I've never experienced this. So it's something I want to protect and keep, you know?"
Long and Bosworth become Instagram official
With Justin Long proclaiming his love for Kate Bosworth while speaking to Chelsea Handler in May 2022, it was only a matter of time before the pair decided to make things official. Long was the first of the two to go Instagram official that same month. He shared photos of the two together in Ireland. In their selfies, the pair were both sporting foam mustaches after drinking beer. Long captioned his pictures with a green heart emoji and the Irish flag emoji. Bosworth commented on the post with, "I'm the luckiest."
Bosworth shared a heartfelt and lengthy post the following month, celebrating Long's birthday. Her first photo in her carousel featured the two kissing while both stars wore red outfits. It told fans all they needed to know about their romance. "You were born today, and the world lit up brighter than it had known, and years later, you met a girl whose life was disassembled/rearranged, but you were patient, and with time she fell in love; now she has a glow (one that was forgotten long ago) she is so grateful more than you'll ever know," Bosworth touchingly shared. Long commented on her post: "Loving you is easily the best gift I've ever received."
Can we all agree that Bosworth and Long really know how to tug at our heartstrings?
After almost a year of separation, Bosworth filed for divorce from Polish
Kate Bosworth filed for divorce from her husband, Michael Polish, in July 2022, making it almost a year since the actor announced on Instagram that she and Polish were separating. Bosworth and her new beau, Justin Long, were already official by then, with both stars having posted photos of one another on their social media accounts. The month before filing, Bosworth posted a selfie with Long from their trip to Ireland on Instagram. She captioned the photo with a simple four-leaf clover emoji, a symbol of good luck, and a yellow heart.
Thankfully, Bosworth and Long could focus on the first trailer of their horror movie, "House of Darkness," which dropped the same month as her divorce filing. In the clip, the pair arrive at a mansion in the woods, where they get cozy near a fireplace. Soon, strange figures reveal themselves throughout the house before a sinister-looking Bosworth states, "Let's play a game." When Long's character wants to go home, Bosworth devilishly replies, "No, you're not." The rated-R film was released in September. Viewers can watch the movie on Hulu.
On Halloween, Bosworth shared a series of photos on the set of their horror flick on Instagram. With both stars covered in fake blood, she captioned the post, "I love your guts." Long replied in the comments, "My guts love you." Long shared similar photos on his social media, even giving the pair nicknames, "Happy Halloween! From The Losworths … The Bongs?"
Long mentions Bosworth while talking to his ex
For the Season 3 debut of "The Drew Barrymore Show" in September 2022, Barrymore brought out Justin Long. As previously mentioned, the two had an on-and-off relationship from 2007 to 2010. Despite their breakup, there was no love lost between the former couple as they discussed their romantic past, with Barrymore even shedding a tear when Long shared, "I love that we've maintained our love because I know from my end it'll never go anywhere. I'll love you always." Additionally, the reunited pair took a trip down memory lane, sharing fond memories of when they first met to their funny nicknames.
However, Barrymore also touched upon Long's newfound relationship with Bosworth. People reported that the "Charlie's Angels" star told her ex she was rooting for his romance. "All I want in life is your success and happiness. I'm just so happy because you deserve to be happy. I'm thrilled for you," Barrymore shared. "And she adores you," Long added about Bosworth. "She is the most supportive, most wonderful. You would love hanging out with her." Supporting exes? We are all here for it.
Long and Bosworth are each other's biggest supporters
Kate Bosworth and Justin Long have shown massive support for one another's individual movie projects since publicly coming out with their romance. Besides working together in "House of Darkness," Long had been promoting his horror movie "Barbarian" on Instagram. In June 2022, he shared a movie poster for the film. Bosworth was excited about his upcoming movie by commenting, "TOP HORROR/THRILLER I'VE EVER SEEN. And I LOVE this genre. And you. So it's a perfect combo."
Upon the movie's release in September, Bosworth shared her own Instagram post to promote her boyfriend's film. She wrote, "The best horror film I've seen in ages opens TODAY." Bosworth also congratulated Long, along with the movie's lead actor Georgina Campbell. Meanwhile, for her August 2022 film release for "The Immaculate Room," in which she co-starred with Emilie Hirsch, Bosworth posted the trailer for the movie with Long commenting on Instagram, "I want to watch this on a big immaculate screen!!"
In September 2022, Long gave a touching shoutout to Bosworth on Instagram for helping him prepare for "Barbarian." In a series of photos that showed Long hugging Bosworth from behind, he thanked his "favorite acting coach + scene partner who ran lines with me and helped me feel so prepared for such a fun but demanding role."
Long celebrated Bosworth's 40th birthday with a touching social media post
In January 2023, Justin Long helped celebrate Kate Bosworth's 40th birthday with an extremely romantic social media post that has made fans swoon over their newfound love. The post included photos of the pair taking selfies while on a car ride and watching the sunset on a dock. Calling Bosworth "the most beautiful human being I've ever seen," Long shared, "She is 40! She is also the best part of my day, every day — even when we're not together. She laughs with abandon. She makes me laugh the same — all the time. She sees beauty everywhere and in everyone. She thanks everyone — even when she's suffering, she's kind." Long ended his touching post with, "She is my joy. She is my best friend. Happy Birthday HANSAAAY."
In her own Instagram post, Bosworth thanked Long for celebrating her milestone birthday. The actor shared photos of the two on their many outings, with loads of kisses included. "You are my love and my light, my peace, and my thrill. Thank you for holding my hand when we sleep. Thank you for tying my shoelaces when you notice they are undone," Bosworth wrote, ending it with, "Thank you for showing me what love is and for making this the best birthday ever."
Bosworth calls Long her 'crush'
One of Kate Bosworth's most notable roles was starring as the ultimate surfer girl in 2002's "Blue Crush." So fans became more obsessed with her relationship with Justin Long when she posted a photo of her beau holding up a surfboard, calling him her "Crush, all day, every day" on Instagram in February. The post included a series of pictures of the pair on a beach vacation.
Of course, the post would only be complete without Long chiming in. He commented, "My TRUE crush! You make EVERY day a made-up romantic holiday. p.s. thank you for not posting a photo of me ACTUALLY surfing." Bosworth replied, "@justinlong that young surfer girl was just waiting to share her life with you and celebrate each and every day xo." Meanwhile, the love for Bosworth continued onto Long's Instagram. During the same time, which happened to be around Valentine's Day, the actor shared two photos holding Bosworth in his arms.
Okay, it's official — Bosworth and Long are the ultimate couple goals. But there's definitely more to come, and we think that includes a bunch more Instagram posts with this A-list couple!