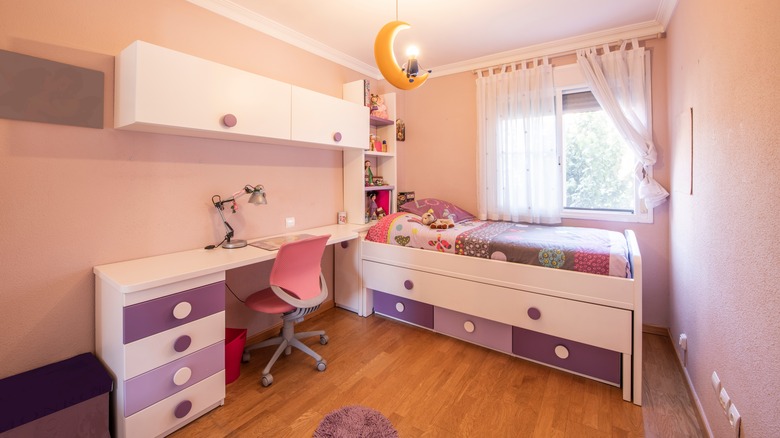 We may receive a commission on purchases made from links.
While trundle beds can be used in any bedroom, they're especially great for children's rooms. First, kids are the most likely to have friends stay the night, and these bed frames are the perfect solution for frequent sleepovers. Second, kids who share their room with a sibling may desire more available square footage, and trundles can be a great space-saving solution. Third, these beds are often twin-sized (though some can be larger), which is the ideal size for most children. Finally, if your child needs more storage space, the bottom portion of the bed frame could be used to hold toys, clothes, or other items when the extra mattress isn't occupied.
If you're wondering what a trundle is, it's basically any bed with a stored mattress underneath, which can be pulled out to provide a second place to sleep. The following options are great for kids' bedrooms, but the prices do not include mattresses, which would have to be purchased separately.
1. Fun design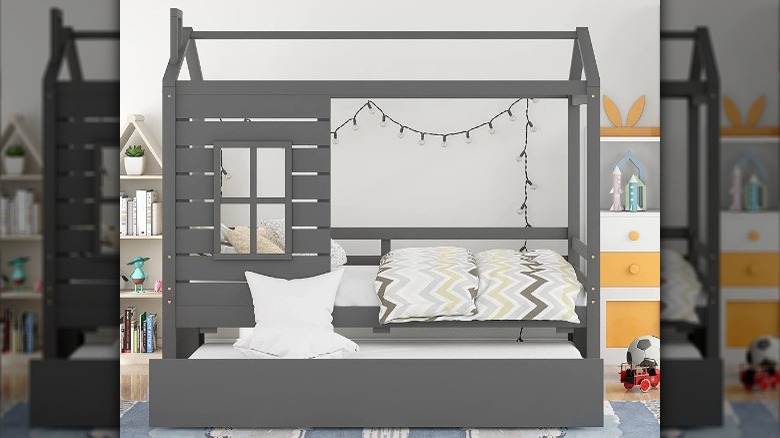 Those who want to provide their children with a unique bed frame can choose this option, which showcases a house design with a window. It also has safety bars to keep your kids from rolling off at night. This specific color and style choice retails on Amazon for $313.99.
2. Symmetrical tent
Another fun option is this tent-like bed frame, which is a version of the above product and can come with either a trundle bed or storage drawers. Also sold on Amazon, this bed frame costs $260.99.
3. Whimsical tent
This interesting asymmetrical piece from Wayfair comes in three colors and offers a full-size model. The above offers a natural wood tone and Scandinavian vibe for $309.99.
4. Slat headboard
This simple, slatted headboard trundle currently costs $399.99 at Max and Lily. However, if you're not a fan of white furniture, it comes in eight other colors. You can also add a memory foam mattress for $199 more.
5. Slat footboard
Currently available for just $179.89, the above bed frame comes in either gray or white and is sold at Walmart. It sports a headboard and footboard, giving it a more put-together appearance.
6. Traditional look
With an old-school feel and warm wood tone, this traditional bed frame costs $1,249.99 at Havertys Furniture for a twin size but also comes in a full-sized option. If desired, you can opt for a model with storage drawers instead of a second mattress.
7. Rounded posts
Sold separately from the bed itself, this trundle costs $399 on the Pottery Barn Kids website. If you wanted the matching twin bed frame, it would cost you $499 (for a total of $898). It's called the Catalina Bed and has rounded details on top of its posts that give it a delicate and welcoming feel.
8. Risen trundle
Check out this adjustable option if you'd rather not have the trundle bed near the floor. While this may look like two twin beds next to one another, the bed frame with wheels folds down and slides underneath the other. This piece sells for $299.99 on Amazon.
9. Trundle on wheels
Another metal piece with wheels, this choice is similar to the above option, but the trundle bed doesn't offer adjustable height. It's also a daybed, which would work great in a guest room that caters to children. It sells for $225 on Amazon.
10. Full size
If you're looking for a full-sized bed frame, this trundle bed on Wayfair might be a great choice. The white option is currently on sale for $589.99, but it comes in three other colors.
11. Mid-century modern
For $1,145, you can purchase the above Mid-Century Bed from Pottery Barn Kids in either an acorn wood tone or classic white. This piece comes in a full-sized option as well.
12. Rounded headboard
A rounded headboard will give your kid's bedroom a soft and relaxed feel. This trundle bed from Wayfair currently costs $479.99 and comes in four colors.
13. Farmhouse style
To provide your child's room with a farmhouse feel, opt for the above piece, which has shiplap panels on the headboard and a rustic design. It comes in either white or gray and currently retails for $459.49 at Max and Lily.
14. Unique details
This bed from American Signature comes in two color options and offers unique details and clean lines for $849.99. The full-size version of this product is an appealing option for overnight adult guests.
15. Simple design
Those who appreciate a pop of color and minimalist design may love this navy frame with a trundle from JCPenney, which currently retails for $615.56.
16. Storage drawer
While most options above have a trundle or storage space under the bed frame, this choice would provide both benefits in one package. The white version can currently be purchased for $279.90 on Amazon, although the gray and dark wood models are slightly less expensive.
17. Rustic look
Those with a rustic interior can choose this trundle bed from Walmart, which comes in five colors and offers storage drawers underneath. The dark piece above retails for $399.98, while the other colors may have different price tags.
18. Wooden daybed
Daybeds provide a more casual appearance and are great for guest rooms and kid's rooms. On Amazon, this simple piece is sold for $335. There's also a Scandinavian oak model that's made with lighter wood and is slightly cheaper.
19. Nailhead trim daybed
For a textured appearance, an elegantly curved daybed with nailhead trim is always a great choice, and this one fits the bill. The blue version retails for $320 at Wayfair, but the gray model costs even less.
20. Princess chic
By far the most expensive choice at $2,099, this princess-style tufted daybed from Pottery Barn Kids is made to order and comes in 21 colors and three fabric options.
21. Industrial appeal
For an antique or industrial look, check out this metal daybed from Ashley Furniture. It costs $195.99 and offers homeowners unique details to add visual interest to a room.
22. L-shaped trundle
While a unique choice, you could try out an L-shaped frame with a trundle if you need to fit three children's beds into a small room. The white option retails for $350 at Walmart, but there are also two other colors, and one is slightly cheaper.
23. Built-in desk
24. Trundle bunk bed
Some designs offer a trundle bed underneath a bunk bed. This piece has a ladder staircase, twin and full-sized sections, and a protective bar on the top level. Currently sold for $829.49, this product comes in seven colors and is available at Max and Lily.
25. Full staircase
Here's another unique trundle option that adds a twist to a classic bunk bed design. Coming in either white or brown, this choice is currently on sale for $1,029.99 at Max and Lily. In addition, it offers a staircase, which is safer for kids to ascend and descend compared to a ladder.