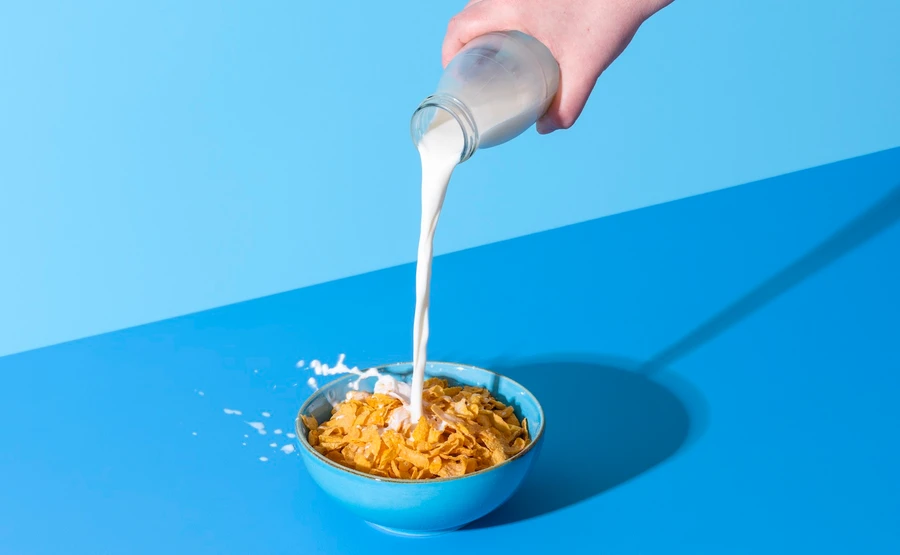 Plus, the cereals, yogurts, and other products that wouldn't be considered "healthy" under the new rules.
If you're trying to fill your home with nutritious foods and your method is to simply only buy items labeled "healthy," your cart might be looking a little empty soon. A new proposal from the Food and Drug Administration is trying to limit which products can claim to be "healthy." It may be a win for shoppers looking to make better choices or just frustrated by how loosely the descriptor is used nowadays (there's no way that granola bar with excessive amounts of artificial sweetener is "good for you"), but many of America's favorite cereal and snack companies are not happy. Here's what the agency's proposing and which brands are pushing back.
How would the FDA define "healthy"?
Back in September, the FDA revealed its proposal for its new "healthy" standard. To be advertised as "healthy," the agency said a product must meet two requirements. It has to contain "a certain amount of a food group like fruits, vegetables, grains, proteins, and dairy." And it can't have too much saturated fat, sodium, or added sugars. The agency is also exploring whether to brand these products with a label, to help consumers easily find a nutritious option.
Nutrition experts have largely applauded the proposal, which does set quite a high bar. To qualify as "healthy," a 6-ounce serving of yogurt, for example, can't have more than 2 grams of saturated fat, 230 milligrams of sodium, and 2.5 grams of added sugar. For reference, Yoplait's low-fat strawberry option has 13 grams of added sugar.
Under these guidelines, almost all of the sugary cereals marketed to children — and many classic brands loved by adults, like Raisin Bran and Special K — would no longer be able to call themselves "healthy," "healthier," or "healthiest." White bread, some sweetened yogurts, and an array of frozen meals (including, ironically, some Healthy Choice dishes) would also be disqualified. But avocados, nuts and seeds, and some fatty fish like salmon, which currently don't meet the agency's threshold, would be able to use the label.
The agency typically seeks commentary from the public before enacting a new regulation — a process which could take a year or more, the New York Times reports.
What's the backlash about?
The real sticking point seems to be the move to cap added sugar. The FDA's old standard, which hasn't been updated since the 1990s, doesn't place a limit on the substance, so our food is still packed with the stuff even though it's become clear how bad it really is for us.
SNAC International, which includes Frito-Lay and Utz, has complained that the rules are too strict, STAT reports. Healthy Choice told the health publication that it wouldn't be able to meet the standard "without alienating consumers."
"If the food does not taste good, people will not buy it, and Healthy Choice — and the health benefits it has conferred for over 30 years — may disappear from the market," the parent company behind the brand told STAT. Chobani, the yogurt company, made a similar claim.
The National Pasta Association is also making the case that noodles should be labeled healthy because pasta dishes often include nutritious ingredients like tomatoes and veggies.
Meanwhile, the Consumer Brands Association, which represents General Mills, Hostess, Pepsi, and other culinary behemoths, has attacked the FDA's very definition of "healthy" and has implied that it may sue, according to STAT. "Manufacturers have the right to label foods that are objectively 'healthy' as such, based on a definition of 'healthy' that is truthful, factual, and non-controversial," the trade group wrote in a response to the proposal.
For now, the agency seems to be sticking to its guns. And higher-ups in health, like Health and Human Services Secretary Xavier Becerra, have supported the proposal, saying it'll ultimately "improve health outcomes, tackle health disparities, and save lives."
Want more great content?
Sign up here to jumpstart your mornings with Katie's dynamic daily newsletter, Wake-Up Call.