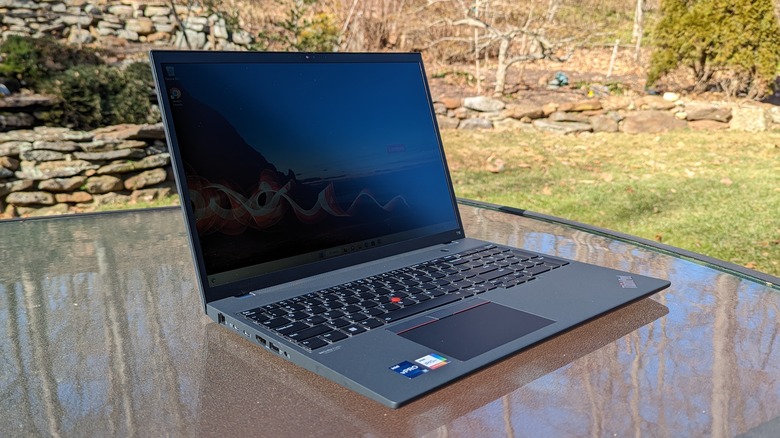 The ThinkPad line by Lenovo is known in the professional world for its durability and dependability. The ThinkPad T16 Gen 1 was built for those that need to get their work done, regardless of the environment in which that work must be done. To ensure its reliability, Lenovo tested this laptop to meet the MIL-STD 810G specifications used by the United States military. But reliability is only half the battle; the other half is overall performance and day-to-day usage.
Lenovo makes a variety of different types of ThinkPads including the T series (as seen here), the X series, and the P series. Each series serves a different purpose, with the T series being its flagship series. The X series is for those that need an ultraportable laptop, and the P series is for those who need extra performance.
The ThinkPad T16 Gen 1 is a highly configurable laptop with a variety of options to suit your needs. It also features some solid privacy features that will help keep your work private while in the field. We know the T16 Gen 1 will carry a level of reliability that is synonymous with the ThinkPad line, the real question did Lenovo build a laptop that is suitable for your needs? Let's dive in and see if Lenovo continues the ThinkPad's workhorse legacy.
Lenovo sent us this notebook computer for the purpose of this review.
Hardware Design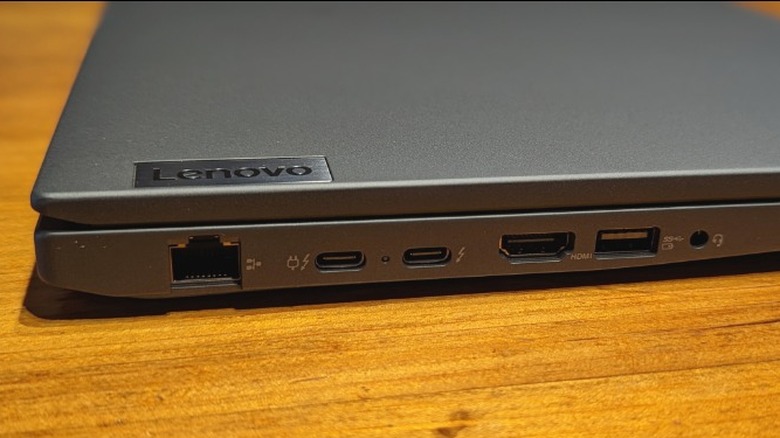 Lenovo built this laptop for those who need power, and cooling efficiency, and aren't overly concerned about the physical size of the machine. The ThinkPad T16 Gen 1 measures in at 14.25 x 10.06 x 0.81 inches (361.9 x 255.5 x 20.5 mm) and weighs 3.9 pounds (1.77 kg).
It is available in storm grey, and thunder black. The grey version has an aluminum top cover and plastic bottom (Polyphenylene sulfide). The black version has the same plastic bottom cover with a top cover consisting of a blend of polycarbonate, carbon fiber, and glass fiber. My review unit was thunder black and the blend of materials used in the top cover feels premium to the touch and seems like it can withstand some abuse. It does rapidly collect fingerprints and oil from your fingers, so make sure you have a cleaning cloth stashed away to keep it looking pristine.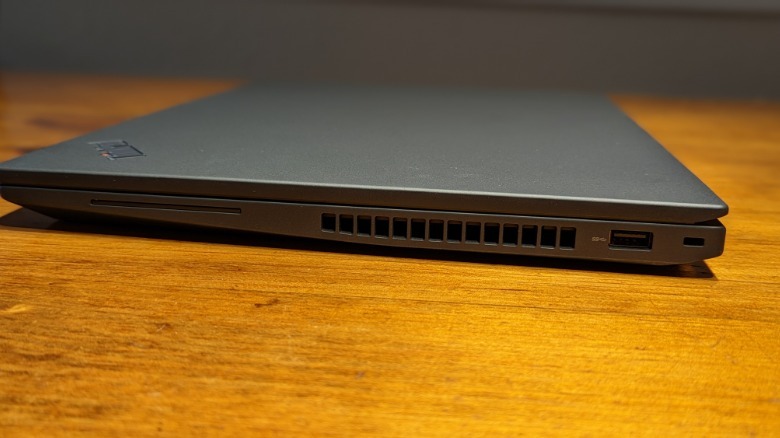 There is a wide range of ports built into this laptop that, in one way or another, should be able to handle just about anything you need. The left side of the device houses an ethernet jack, two Thunderbolt 4 ports, an HDMI port, an always-on USB 3.2 Gen 1 port, and a headphone jack. On the right side is where you will find a Kensington Nano security slot, a USB 3.2 Gen 1 port, the fan exhaust, and an optional smart card reader. The back is where you can find an optional nano-SIM card slot if you've opted for mobile data connectivity.
Keyboard and trackpad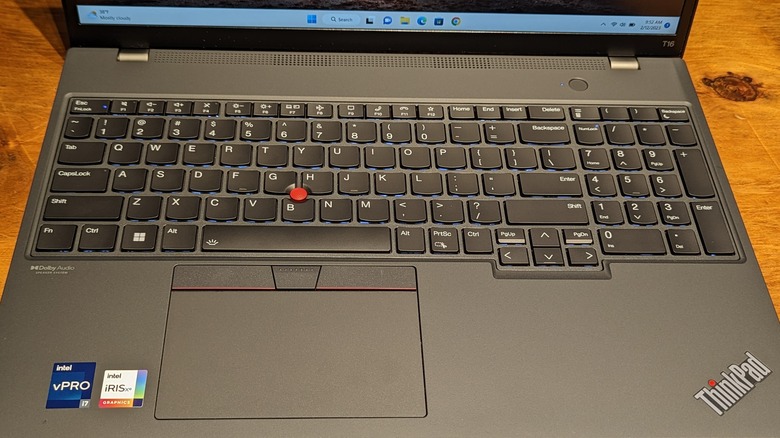 Lifting the lid reveals a classic ThinkPad-style keyboard. It has a full-sized, island-style keyboard with a red nub nestled in between the, G, H, and B keys. That red nub is a mainstay in the ThinkPad line and acts as a mouse. The keyboard also features a numeric keypad as well as backlit keys. Lenovo's engineers built the keyboard to pull air between the keys to increase its cooling efficiency.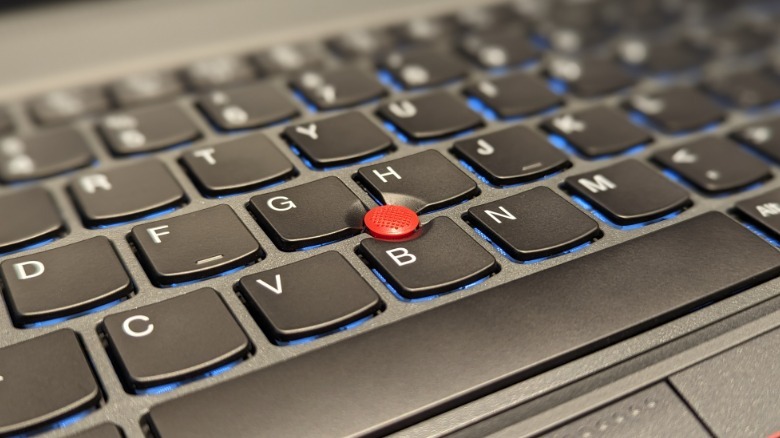 The T16 Gen 1 has a 4.53-inch (115 mm) wide trackpad with three physical mouse buttons located at the top of the trackpad. I would have preferred the mouse buttons to be at the bottom of the trackpad, but it felt wide enough and was very responsive. The keyboard was also fantastic to use and the keys themselves offer nice feedback. They don't bottom out and never felt mushy. I would have preferred Lenovo to swap the CTRL and fn keys, only because my muscle memory would frequently cause me to hit the wrong one.
Privacy and security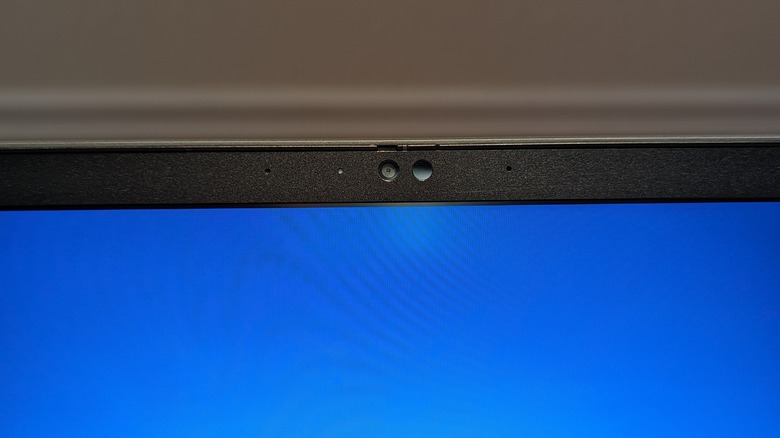 Above the notebook's display is a privacy camera switch for manually covering the 720p (configurable with a 1080p) front-facing camera. The power button also contains an optional match-on-chip fingerprint reader. A match-on-chip fingerprint reader stores your fingerprint enrollment on a separate chip for added security.
Lenovo designed this laptop with a self-healing BIOS. If you were unfortunate enough to be a victim of malware or a botched BIOS update, the ThinkPad can automatically revert to an older BIOS version, letting you safely get back to work.
You can protect your device with a few different types of passwords. You can enable a BIOS security password, a supervisor password, a system management password, and an NVMe password. It also has USB FIDO device integration. You can even get a ThinkPad Privacy Guard-enabled display, reducing the visibility of the display at side angles.
Display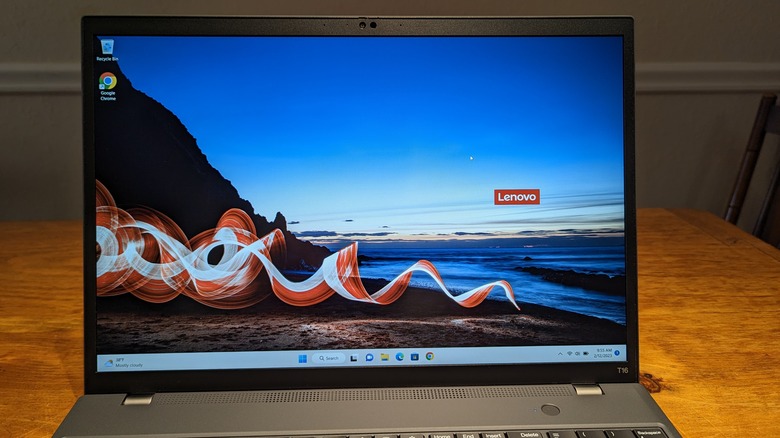 The Lenovo ThinkPad T16 Gen 1 has a 16-inch, 16:10 display. My review unit was equipped with the base non-touch 16-inch display with a resolution of 1920 x 1200 and 300 nits of brightness. The display was serviceable, but not extraordinary. The colors looked accurate, and the viewing angles were pretty good. It was anti-glare, so I didn't have to deal with any lights reflecting off the screen.
My biggest gripe with the display was the 300 nits of brightness. I had the brightness turned up to near max while inside. Moving outdoors, the screen just didn't have the nits to combat the bright sunlight. For a device that looks to be used in the field, I would have loved to see the ThinkPad come with a brighter screen as the default option.
Luckily there are a variety of displays that can be equipped on this model. You can get the base display with multi-touch for those that need it. A 400-nit version with 100% sRGB is available as well as a 500-nit version that comes with the ThinkPad Privacy Guard. The display tops out with a 400 nit 2560 x 1600 display option for those that want a higher resolution.
Hardware and Audio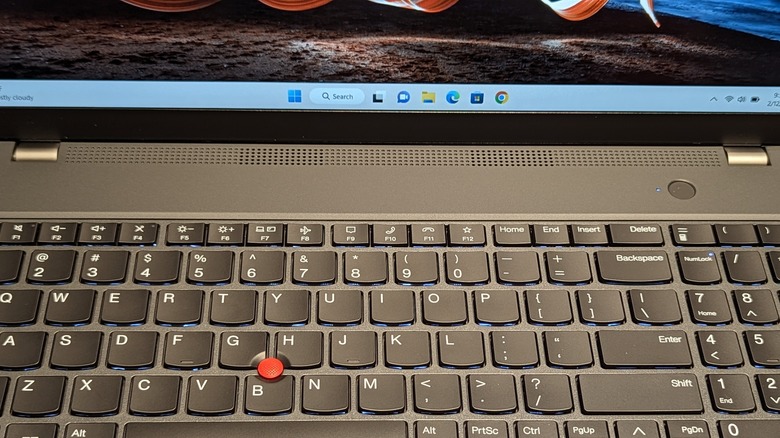 In addition to having a variety of display options, Lenovo gives you a variety of options in gear under the hood. You can choose between an Intel i5 1235U, i5 1245U, i7 1260P, or an i7 1270P processor. The ThinkPad uses a combination of both soldered and user-replaceable RAM. It can be equipped with up to 16GB of soldered and a 32GB RAM module for a total of 48GB of DDR4-3200 memory, while a single M.2 2280 SSD slot can roll with up to 2TB of data storage.
The ThinkPad T16 Gen 1 uses Intel's Iris XE graphics but can be equipped with an NVIDIA GeForce MX550 GPU. Keep in mind the NVIDIA GPU is only available with the i7 1260P processor. It also has Wi-Fi 6E and Bluetooth 5.1 onboard.
Lenovo outfitted this laptop with two, 2-watt stereo speakers. These top-firing speakers get very loud and you will have no issue hearing them in just about any environment. They sound crisp and clear, and I heard no distortion, even when the volume was set to the max.
Performance and battery life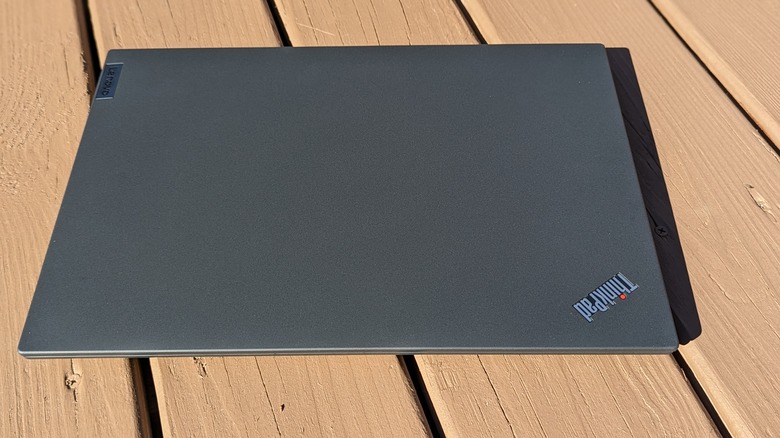 My review unit was equipped with an Intel i7 1270P CPU, 16GB of RAM, a 512GB NVMe SSD hard drive, and Intel Iris Xe graphics. The i7 1270P CPU has 4 performance cores and 8 efficiency cores for 12 cores and 16 total threads. The performance was astounding and absolutely blew through anything I could throw at it, except for graphics-intensive games, but that is to be expected with onboard graphics. 16GB of RAM is what I consider the sweet spot for most users and will allow you to get your work done without running into slowdowns caused by a lack of memory.
Lenovo did a remarkable job on the cooling system and even during benchmarking, the ThinkPad stayed quiet and largely devoid of heat. This build works with an 86Wh battery pack that allowed up-time through a standard workday and then some. I was routinely getting up to 12 hours of use before I went looking for a charger. Given the power this notebook works with, the battery life was fantastic.
The included 135W power brick easily kept up with the power and supports rapid charging — our tests showed that about an hour of charging time resulted in around an 80% recharge.