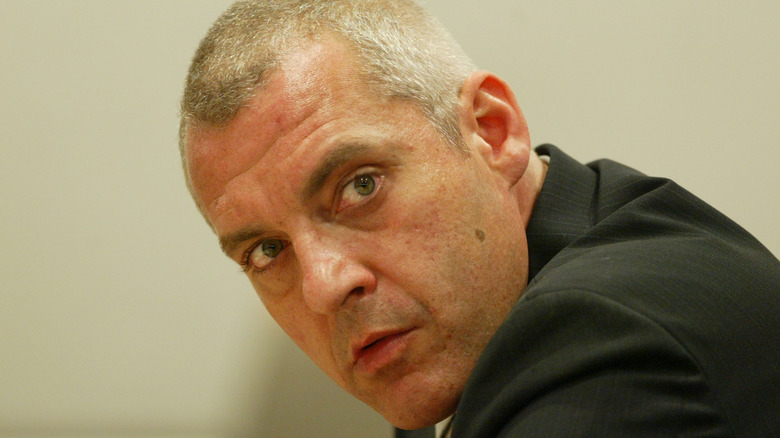 We may receive a commission on purchases made from links.
Veteran actor Tom Sizemore has had one of the most complicated, controversial, and strange careers in modern Hollywood, one that has taken him from the heights of fame to the lowest rung as a cultural pariah. In the 1990's, Sizemore became a go-to name in the entertainment industry, something of a modern-day Ernest Borgnine-type, bringing blue collar supporting grit to films like "Heat," Natural Born Killers" and "Saving Private Ryan." By the turn of the century, however, significant demons began to threaten his career, if not his life.
Sizemore's shortcomings proved to be darker than most, as he fell into unending cycles of tabloid fodder (involving one of the most notorious women of the era), arrests, drug use and professional disappointments (including the infamous "Zyzzyx Road"). By the mid 2000's, he could be only be found (if at all) working in little-seen, straight-to-VOD movies and short-lived shows like "Dr. Vegas."
With recent news about Sizemore's deteriorating health, perhaps it's time to recall what a powerhouse Sizemore once was, arguably the premiere supporting actor for a brief window, and someone whose difficult life infused his scenes with a hardscrabble authenticity beyond the script. Read on to learn more about the man behind the man who simultaneously defined some of the best art the '90s had to offer, and some of its most crippling impulses.
Born and raised in Detroit
Sizemore was born and raised in Detroit, Michigan, in 1961; his father was a lawyer and his mother an ombudsman for the city of Detroit. Sizemore's youth was clouded by misbehaviors and criminal activity. "Although my mother and father were both completely legit,' he said in 2013, looking back, "it was all around me, this crime and licentiousness."
Sizemore chose a path of higher education as his escape, briefly attending Michigan State University for a year before switching to Wayne State University. It was there that he developed an interest in the performing arts, eventually securing a bachelor's degree in theater. Sizemore then moved on to Temple University, earning his master's in 1986. Following his graduation, Sizemore moved to New York City, determined to pursue a career in acting full-time.
First big break in Born on the Fourth of July
While his early days on the NYC acting scene weren't easy, Sizemore ascended relatively quickly into a steady stream of credits on the big and small screens, albeit playing small characters with names like "2nd mugger" and wool cap." In 1989, he could be seen in the Cheech Marin vehicle "Rude Awakening," the Sylvester Stallone film "Lock Up," and the long-forgotten feature film debut of two of the hottest new magicians at the time, "Penn & Teller Get Killed."
Sizemore's big break came that year, as he shone with a small but notable role in Oliver Stone's 1989 anti-war film "Born on the Fourth of July." He played a wheelchair-bound Vietnam vet alongside the film's star, Tom Cruise, helping tell the true-life story of Ron Kovic, a former soldier-turned-anti-war activist.
Co-starring top talents like Willem Dafoe and Kyra Sedgwick, "Born" finished in the top 20 highest-grossing films of the year, and was nominated for multiple Oscars. Suddenly, Sizemore was on his way to becoming a recognizable face to audiences, and he had begun laying the groundwork for the gruff, tough, and tortured characters which would soon become his trademark.
Landed big supporting roles in movies like Heat
Sizemore became an in-demand choice for several of Hollywood's most acclaimed filmmakers, establishing himself as an actor who could portray a very specific type of character. According to his biography on Turner Classic Movies, his "spontaneity and robust humor allowed him to develop an intense, fast-talking persona for many of his characters — typically cops or cons on the fringe." It's no surprise, then, that folks like Stone, Michael Mann, Steven Spielberg, Carl Franklin, Martin Scorsese and Ridley Scott were eager to put him on screen.
Following in the wake of "Born on the Fourth of July," Sizemore peppered acclaimed series like "China Beach" with films like the Mickey Rourke vehicle "Harley Davidson and the Marlboro Man," Wesley Snipes' "Passenger 57," and the Bruce Willis film "Striking Distance." By the early '90s he was landing featured roles in films like the Robert Downey Jr.-starring "Heart and Souls" (Sizemore earned a Saturn Award nomination for best supporting actor), and endearing himself to the emerging Quentin Tarantino crowd with standout work in early QT scripts "True Romance" and "Natural Born Killers."
The crown jewel of this era for Sizemore, however, was his performance as career bank robber Michael Cheritto in Mann's 1995 crime classic "Heat." Working alongside legends like Robert De Niro, Val Kilmer, and Al Pacino, Sizemore very much held his own, minting an unforgettable character.
Robert DeNiro and Robert Downey Jr. both tried to intervene
As quickly as Sizemore's star seemed to emerge, so too did his drug addiction. In 2010, on an episode of "Celebrity Rehab with Dr. Drew," Sizemore explained that he has been using and/or dealing since he was 15 years old. As tends to happens with fame and success, his Hollywood career had only exacerbated the issue. Sizemore later told Larry King in a 2010 CNN interview that he had been addicted to cocaine, meth and heroin, and separately admitted that he was so high in 2010 that he didn't even know his "Rehab" appearance was being filmed.
"When I first went in there, I was such a wreck, I didn't even really realize the cameras were there. … Now I kind of like the fact that I was on the show," he said. "I just wanted to get clean."
Things began getting real bad around the time of 1995's "Heat," and that's when friends and co-stars began trying to get him help.
"I walked in to see my shrink and I walked in and there were all these people there," Sizemore would later recount in his 2016 memoir "By Some Miracle I Made it Out of There," discussing an intervention that included DeNiro. "I sit down and Bob came in and goes, 'OK. OK, now we can talk… Now you listen to me, I'm no psychiatrist… but you're either going to go to rehab or go to prison — and in walks a cop."
But Sizemore's difficulties continued; for 2002's "Swindle" he had to have meth delivered to the set if "I wanted to be able to function at all." By the time of 2003's Stephen King-adapted "Dreamcatcher" (the last major studio film of his career), Sizemore was claiming to have stayed sober for the shoot, but interviews for the film were problematic. Questions from reporters about the movie were met with poetry recitations, incoherence and rambling professions of love for Fleiss. As Sizemore's difficulties continued, "Heart and Souls" and "Natural Born Killers" co-star Robert Downey Jr. became a trusted friend, particularly since he had successfully overcome similar demons.
"Robert told me this was inevitable: you really want your career back, then you get it back, and you're like, 'Whoa.' You think you might get f***ed up again because you have access to things again. And you worry you may disappear," Sizemore would recall in 2011, claiming at the time to be two years sober himself, thanks in part to a live-in sobriety companion, hired at the urging of Downey. "Robert says that you are thinking about using drugs even if you don't think you are. He told me I should [hire him]. He said, 'In the whole scheme of things, it's not a lot of money compared to what you'll make if you stay clean. If this guy helps you not use one time, he's worth every dollar.'"
If you or anyone you know needs help with addiction issues, help is available. Visit the Substance Abuse and Mental Health Services Administration website or contact SAMHSA's National Helpline at 1-800-662-HELP (4357).
He had some high-profile romances
At the height of Sizemore's career, he became involved with other celebrities, some famous and others infamous.
Sizemore dated Edie Falco before moving to Los Angeles in 1991. He wrote in "By Some Miracle I Made it Out of There" that on the set of "Passenger 57," he began a fling with co-star Elizabeth Hurley that concluded when she returned to longtime beau Hugh Grant. He also claims to have been sleeping with the "biggest star in the world at the time" for three years. Sizemore further claims to have had an affair with Juliette Lewis on the set of "Natural Born Killers" when he was 32 and she was 19.
His most high-profile romance, however, was undoubtedly with so-called "Hollywood Madam" Heidi Fleiss, who was convicted of running a prostitution ring in 1994. After three years in prison, she began a headline-grabbing relationship with Sizemore; by 2003, their story had become one of harassment and physical abuse. Sizemore was convicted on multiple counts, serving seven months in jail and a subsequent four months in drug treatment after repeated failed drug tests while on probation.
Previous to Fleiss, Sizemore had been married to "The Bold and the Beautiful" actress Maeve Quinlan from 1996 to 1999. Sizemore's drug problems and violent temperament played a significant role in their eventual split. "I am finally ready to say this and make it public, that I am a survivor of domestic abuse," Quinlan said in 2019. "That's something I intend to bring awareness to in my fifties."
Sizemore would later have twin children with partner Janelle McIntire.
Sizemore scored big with Saving Private Ryan
The most notable role in Sizemore's career would come in 1998, with the actor playing jaded technical sergeant Mike Horvath in Steven Spielberg's award-winning blockbuster "Saving Private Ryan."
Playing a loyal-to-the-end solider under Tom Hanks, alongside the likes of up-and-comers like Vin Diesel, Matt Damon and Giovanni Ribisi, the now-classic film told a tragic story of war, loss, brotherhood, and sacrifice for a group of soldiers sent on a rescue mission during the thick of World War II.
Spielberg was meticulous in his casting for the film, and had become convinced that Sizemore was ideal for capturing the older, rugged style of 1940s veterans.
"The people in World War II actually looked different than people look today," he explained on 1998. "A lot of the people I cast in this picture, I was looking at their faces, to match the faces I saw on the newsreels."
With a face for the battlefield, Sizemore had been originally slated to appear in another high-profile war film at the time, but when he got the call from Spielberg he departed the star-studded cast of Terrence Malick's "The Thin Red Line."
"He came right out and said, 'Do you want to go to Australia with Terry Malick or do you want to come to Great Britain and Ireland with me and Tom Hanks?'" Sizemore recalled Spielberg asking him. "And I told him I wanted to go to Great Britain and Ireland."
He had a VH1 show about his history with drugs
While Sizemore's struggles with substance abuse were hardly a secret, they ended up becoming a fundamental part of his public persona in the later years of his acting career. Scandal after scandal made the actor hard for audiences to accept without some sort of openness about his pitfalls, which is why Sizemore ended up airing his dirty laundry on television.
Alongside frequent appearances on reality television shows like "Celebrity Rehab with Dr. Drew" and "Dr. Phil" where Sizemore openly discussed his drug problems, he also did something wholly unique by having a documentary series produced about his road to sobriety. In 2007, VH1 released a six-episode reality documentary series titled "Shooting Sizemore" which chronicled the trials and tribulations of the actor's fight through substance abuse. The series was marketed as a sort of cathartic project for Tom Sizemore to deal with his personal demons while redeeming himself in the eyes of the public. Ultimately, however, the series did little to help.
Had a leaked sex tape scandal
Another in a long series of scandals for Tom Sizemore was his leaked sex tape in 2005, released by porn purveyors Vivid Entertainment. While Sizemore was no stranger to tabloids by the mid-2000s, this was an entirely different kind of scandal for the once prestigious actor.
His tape, released under the name "The Tom Sizemore Sex Scandal," was a 70-minute long pornographic film that featured Sizemore in compromising situations with multiple women at once. During an interview with the Sydney Morning Herald in 2005, Sizemore commented on the bad fortune of having the tape leaked and distributed. He said, "This is the maraschino cherry on the banana split of bad luck I have been having."
Career resurgence on television with Twin Peaks
It was hard to find a more eagerly anticipated — or star studded — TV series in 2017 than "Twin Peaks: The Return," a long-awaited third season from David Lynch and Mark Frost of what is often considered one of the greatest series of all time. When it began airing on Showtime, viewers were bombarded with one surprise after another — including the gritty, greasy charm of Sizemore, unexperienced by most pop culture viewers in nearly a decade-and-a-half.
And what a performance it needed to be. Sizemore played a key part in the "Dougie" Jones storyline, which had series star Kyle MacLachlan playing a naive, dim-witted "tulpa" of FBI agent Dale Cooper. The character walked and occasionally spoke but was essentially a blank slate, requiring scene partners like Sizemore (who played a corrupt office mate), James Belushi and Naomi Watts to do much of the heavy lifting — at least, exposition-wise.
Sizemore did an admirable job, and when coupled with small roles on "It's Always Sunny in Philadelphia" (he was a trucker propositioning Charlie and Dennis for motel room sex), "Hawaii Five-0," "Law & Order: Special Victims Unit" and "Lucifer," as well as 6 episodes of the series "Shooter," seemed like he could be on the cusp of a Mickey Rourke-type reemergence. But, it wasn't to be.
He was accused of serious sexual abuse allegations
Although prior Sizemore controversies may have included drugs, physical abuse and other offenses, things took an even more disturbing turn soon after his attempted "Twin Peaks" comeback.
In late 2017, The Hollywood Reporter published a piece detailing the actor's repellent behavior during the 2003 filming of a crime drama released as "Born Killers." It was reported that Sizemore had been forced to leave the Utah-based film set after being accused of sexually molesting an 11-year-old actress working on the production. He later ended up returning for re-shoots on the film, and the story had never leaked to the press.
Sizemore categorically denied the charges. "I never, nor would I ever, sexually touch a child," he said in a statement posted to his Twitter account, then later deleted. "I have done many things I deeply regret, however, I did not do this." (via KSL). In follow-up messages to his followers, he posted messages like "It didn't happen, bro."
The victim in question did eventually press charges against Sizemore in 2020; ultimately, a Utah-based judge dismissed the case without any details on the legal reasoning for doing so, according to USA Today. Regarding the verdict, Sizemore commented by saying, "while I feel nothing but sympathy for my accuser… I remain dismayed by her allegations."
If you or anyone you know has been a victim of sexual assault, help is available. Visit the Rape, Abuse & Incest National Network website or contact RAINN's National Helpline at 1-800-656-HOPE (4673).
He suffered a brain aneurysm
After a lifetime of acting highs and personal lows, Sizemore is dealing with another hurdle in his complicated life. Around 2 am on February 18, 2023, the actor suffered a traumatic brain aneurysm at his home; he was moved to a local Los Angeles hospital and listed in critical condition. The aneurysm came less than a month after Sizemore appeared in Beverly Hills at the premiere of "Bermuda Island" (pictured above), a deserted island horror movie starring Sizemore and John Wells ("Arena Wars") and released in January of 2023.
According to CNN, Sizemore's manager and spokesperson Charles Lago described the actor on February 19th as being in a "wait and see situation," adding "his family is aware and waiting for updates."