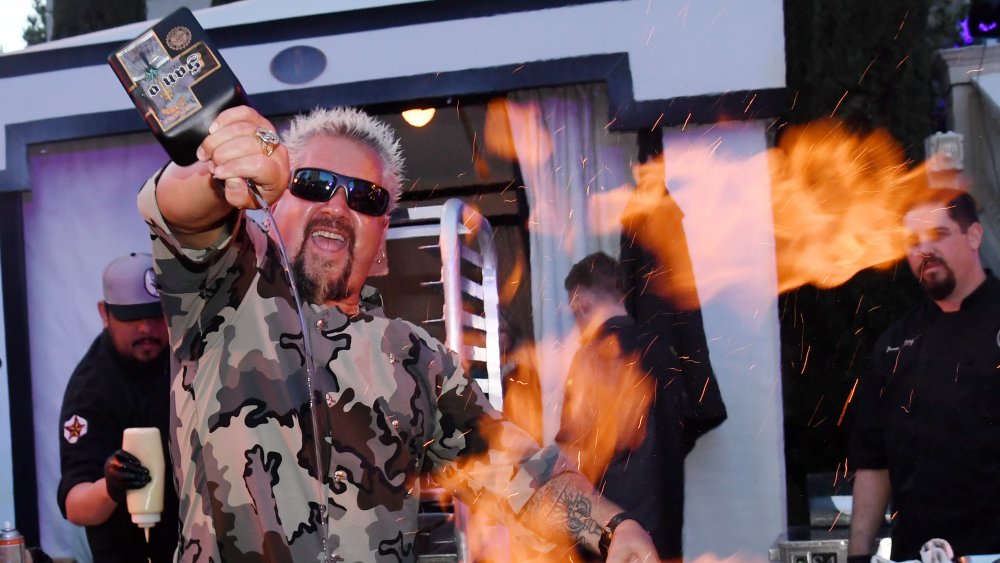 Guy Fieri is easily one of the most recognizable faces in food entertainment. The blonde, spiky-haired face of the Food Network has cemented his place among celebrity chefs with his extravagant personality, genuine enthusiasm, and general Guy-ness that's truly one of a kind. Whether you love him or see his "put it on a flip flop" catchphrases as more meme than entertainment, it's impossible to ignore Fieri's success and longevity. And that's a testament to what's made his genuine approach so endearing to his fans. Beyond that, he also has a hand in 70 plus restaurants nationwide under 14 different brands.
It's no secret that Fieri's been a huge feature of the Food Network's all-star show line up, hosting the immensely popular Diners, Drive-Ins and Dives. But you might not remember that Fieri had another short-lived Food Network show that was canceled over a decade ago called Guy Off the Hook. What was this show and why is it now a relic of Food Network's past? It's time to investigate why Off the Hook is now off the air.
It was modeled after live cooking shows like Paula's Party and Emeril Live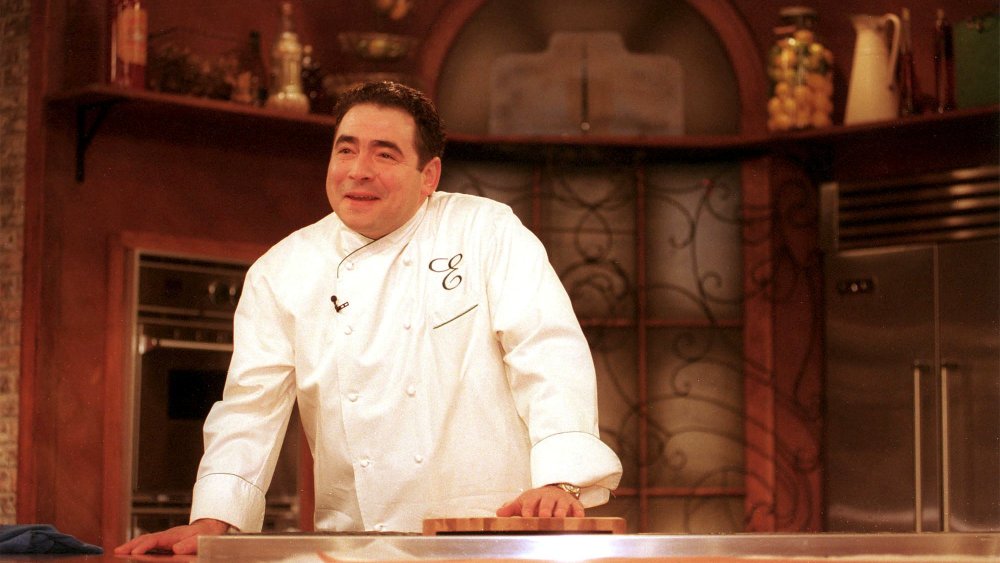 Live cooking shows have always held a special place in pop culture, dating all the way back to Julia Child on The French Chef throughout the 1960s and 1970s. The genre has certainly evolved over time, but the general formula mostly remains the same: a talented chef and/or television personality cooks a meal step-by-step, explaining the process in an entertaining way.
In Kathleen Collins' Watching What We Eat: The Evolution of Television Cooking Shows, the author breaks down why cooking shows have remained so timeless and popular. She explains that in the early part of the 21st-century, cooking shows transitioned more to a focus on meals that were both healthy and affordable, "easy to prepare yet sophisticated food." Most people don't have the time to buy every single ingredient for gourmet meals, nor the cash for some of the high-end appliances used by cooking show hosts. However, these shows remain popular because everyone loves good food and a lot of people can relate to cooking.
From that perspective, the idea for Guy Off the Hook as the "edgy" cooking show for a new generation makes sense. Putting Fieri in front of a live studio audience feels like a perfect fit given his outgoing personality, and his over-the-top approach would presumably flip the genre on its head.
The show only aired six episodes in 2008
As good as it looked on paper, unfortunately Guy Off the Hook never made it beyond a six-episode run in 2008. The food offerings on the show ring true to the Fieri brand, and are similar to some of the California cuisine seen on his other Food Network shows like Guy's Big Bite and Diners, Drive-Ins and Dives. Perhaps as a bit of foreshadowing, there was even an episode titled "Downhome Diner" that gave some insight into some of Fieri's favorite spins on diner classics like pretzel-crusted chicken tenders, mac 'n cheese layered with bacon, and a boozy Tennessee Lemonade.
Other episodes included Fieri's take on classic Mexican dishes, New Orleans-style Sloshed Shrimp, and of course the "Guystro Pub" where we got a taste of what Fieri would do with classic pub grub. But while the world was deprived of potential future recipes, staging a set and live audience can incur a ton of extra fees on a studio. And if ratings aren't getting the bump to justify the costs, it's not surprising to see the show get the ax.
But it wasn't a total waste. The set was used again for a live Thanksgiving special called Guy's Family Feast. The one-hour holiday extravaganza gave us a recipe for "Wicked Pork" and in true Fieri fashion, featured a live DJ. Would it really be a Fieri Family party otherwise?
It premiered as the Food Network was moving away from 'dump and stir' cooking shows
Barely a year before Guy Off the Hook premiered, the Food Network's previous top live cooking show had already been canceled. The massively successful Emeril Live with chef Emeril Lagasse ran a decade prior, reinvigorating the Food Network and live cooking entertainment in general. Like Fieri, the chef-catchphrases were a huge part of pop culture (who hasn't said "bam!" in the kitchen?), and his big personality drew thousands of fans with every episode.
But entertainment trends were moving in a different direction. In an excerpt from his book, From Scratch: Inside the Food Network, Allen Salkin explored how changes in leadership and television production in general shaped the future of the network. After hiring outside consultants, the network found that many viewers were growing less interested in "dump and stir" cooking shows in favor of the more reality, on-the-road location focused premises networks like TLC and the Travel Channel were exploring.
With that in mind, it's surprising something like Guy Off the Hook was ever greenlit in the first place. But it also opened the doorway for new faces to step in and make a name for themselves on the network, and for a show like Diners, Drive-ins, and Dives to thrive.
Fieri didn't have the same star power at the time
Fieri wasn't always the mayor of Flavortown. It's important to remember that at the time of Guy Off the Hook's 2008 premiere, Fieri was only two years removed from his winning season on The Next Food Network Star. He simply didn't have the same star power he has now. It seems at that time, the Food Network was trying a lot of different styles of shows and seemingly plugged Fieri into a few different hosting roles for the chef to find his TV star rhythm.
Fieri was also well into his career as a chef and business owner before getting into TV. He's talked about how joining entertainment a little later in life allowed him to stay true to himself. "Getting the opportunity to do television, I thought, 'you know what, I don't know how long this is going to last, I'm going to appreciate every moment and take it responsibly and respectfully, while staying grounded to my family and true to what I want and believe in,'" he told Business Insider. "I was already at that age that I could handle it. Being accomplished in what I wanted to do already, and being a little older, allowed me to be more balanced."
However, Guy Off the Hook premiered on the heels of the success of Guy's Big Bite inaugural run in 2006. So it's just as likely that the live studio audience set-up just wasn't working.
The show never saw the same success as his other shows
It's hard to feel sorry about Guy Off the Hook's cancellation for too long given the absolutely insane run Fieri has had on the Food Network. Between Diners, Drive-ins and Dives – which is approaching 15 years on the air – and Guy's Big Bite, Fieri has more than cemented his place in America's food culture. Even GQ can't ignore the simple pleasures of watching Fieri on Triple D crisscross the country in his vintage Camaro as he highlights local eateries and bold dishes.
And he's also hosted close to a dozen other spinoffs and limited series. There are a few shows that pit Fieri and Rachel Ray against each other, where both chefs coach teams of celebrities and children in competition-based cooking. Other competition-style shows show Fieri searching for the next great culinary host in Guy's Big Project, putting popular chefs through a bracket-based tournament in Tournament of Champions, and combining cooking with extreme games in Guy's Grocery Games. Even for Fieri, that's a lot of content!
Despite cancelling Guy Off the Hook, Fieri still participates in other live cooking shows
Just because the classic cooking show format isn't exactly what it once was, doesn't mean there isn't any room for some innovation or a little splash of Flavortown. Outside of live event appearances, there's Guy's Ranch Kitchen, where Fieri definitely dips into "dump and stir" territory, but without the live studio audience. Instead, he meets up with other celebrity chef friends as they just kind of hang out and try to out-cook each other. It actually helped revive Fieri's career a bit in the early 2010s, when a bad review of one of his restaurants and some public ribbing from fellow chef and traveler (though definitely at the opposite end of the spectrum) Anthony Bourdain went viral. Now Guy's Ranch Kitchen has already aired three seasons since 2017.
Fieri even participated in a live cooking competition that aired on Facebook in May 2020. Fieri and his son, Hunter, faced off against Bill Murray and his restaurateur son, Homer for bragging rights of the best signature nacho recipe. The "Nacho Average Showdown" was judged by Shaquille O'Neal and Terry Crews (because yeah!) and helped raise $11,000 for the Restaurant Employee Relief Fund. Of course, the Fieris emerged as the big winners –- clearly in more ways than one.