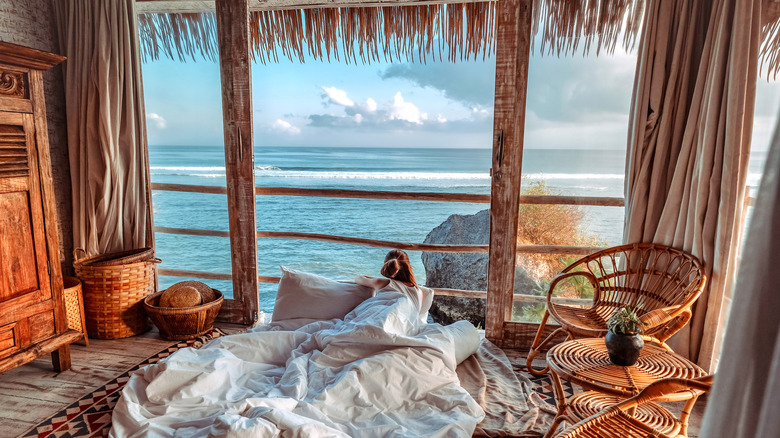 Looking for paradise? You don't have to go very far to find concord and bliss within a Balinese-style home. A centuries-old design, the concept of a Bali house focuses on a visceral connection to nature while reflecting the history and culture of the Balinese people. As an Indonesian Island province, Bali itself is situated in a tropical setting amidst the Lesser Sunda Islands of the Indian Ocean (Java Sea).
Residents can easily grasp nirvana within the tranquil, nonrestrictive living spaces of a solid post and beam structured home, which is highly influenced by Hindu architecture. Often built with natural, organic materials, the serene, resort-like villa is part of a complex that may consist of several other thatched-roof houses within a protective partition.
What does a Balinese-style home convey? Many traditional homes resemble a relaxed, Zen atmosphere with the inclusion of airy fabrics, bales (low beds), varied plant life, water sources like pools and ponds, and decorative stone and wood elements. The ultimate open concept, many Balinese interiors may have a great room, with additional adjoining areas that promote social engagement, including open-air windows and entryways that lead to an immense courtyard. With so many places to entertain, meditate, or simply take a nap, Balinese-style homes offer an array of fulfilling opportunities not too distant from paradise.
Airy bedroom with canopy tulle
Nothing says tranquility and seclusion like a delicate tulle or sheen hanging over the bed. With a rustic, wood frame, the bed appears warm and inviting within an alfresco-style bedroom. With a similar curtain material, the window is free of glass or a screen, which allows the breeze to blow in blissfully.
Luxury, open-air suite
Modern and natural, this open-air room features a private bed without the need for a fourth wall. With tropical palms and branches within reach, the simple, yet luxurious enclave blends together the natural elements with a contemporary motif, finished with floor-to-ceiling wood cabinetry and headboard.
Pool-centered complex
A main water source should attract you and your guests in a Bali-style house when entering the backyard, patio, or garden. This quaint, inviting swimming pool is where it's at with multiple wood-beamed houses, a pagoda, and plants that offer a revitalizing welcome.
Outdoor living spaces
A Balinese-style home may not be complete without various outdoor living and entertaining spaces. This pagoda-like home features a roomy upper terrace with an optimal lower poolside option, including multiple tables, chairs, and chaise lounges to choose from around the pool.
Poolside meditation bench
Meditation is an essential part of daily life for the Balinese. Here is a decorative wood bench with a canopy situated overlooking a placid little pool. The elements of brick are also represented on the wall while the water and green plant life provide a balance of energy and purification.
Lush backyard landscape
This aerial image shows a sizeable island house with luscious landscaping and an eye-shaped pool. With a simple wood frame and deck, the villa features open entryways and multiple structures with various green spaces to explore.
Traditional villa with pool
This vast property incorporates a classic Balinese-style home with pagoda structures, thatched roofs, sizeable garden statues, and a pristine, azure swimming pool. The landscaping also extends beyond the back of the house with various tropical vegetation to venture through.
Outdoor kitchen
Bring the dream of cooking outside with this full, modern kitchen that comes equipped with an elongated island. The setup is displayed in a galley fashion along with a convenient eating area located at the opposite end. The home features rich brown wood wall panels and beams while the view looks out to the pool and well-manicured garden.
Tropical paradise entryway
Tropical plants and stone pavers create a jungle path that leads to the doorsteps of this authentic Balinese house. The bright teal blue color on the door and frame represent the ocean water as it contrasts the earthy components of brown and gray within the wood house structure and stone steps.
Cozy, tropical book nook
aprilante/Shutterstock
Sometimes you need a moment to yourself while in paradise, especially with a good book in a cozy nook. This image features a strategically placed large rattan chair filled with the comfy additions of pillows, plants, and a rug for a warm, tropical vibe.
Neutral-toned great room
A place without complication, this living room encompasses peace and relaxation with neutral tones throughout. The woven bamboo pendant lights and chair along with the organic fibers of the sofa and throw blankets appear natural and fresh for a low-key escape.
Private outdoor bathtub
A personal oasis, this free-standing bathtub offers serenity and charm as it sits upon calming rocks and wooden planks. The neutral color palette is also visibly soothing with a gray wall, white elements, and brown wooden pieces, while the green from the plants offers a pop of rejuvenation.
Abundant external greenery
By embracing the existing tropical environment, you might often see lush green gardens and tropical plants throughout the exterior of a Balinese home. The sliding glass doors of this modern cottage are dressed in cascading vines while palm trees inhabit the grounds for a lively, uplifting aura.
Ambient stone garden
This patio garden is the place to find your Zen. From the fascinating statues to the soft-lit lanterns and lights, harmony can be achieved. The gray stonework is a highlight throughout the pathways and pillars, while the green areas enliven the serene space.
Tranquil garden waterfall
Water in Bali signifies many purifying aspects, including fertility, sanctification, and our overall well-being. Here pictured is a trio of waterfalls incorporated along a privacy wall. The motion of the water represents the constant flow of life amidst the garden palms, as it falls into the pond.
Alfresco dining room
Typical Balinese homes provide various areas to gather while in covered yet open spaces. This dining room is welcoming and airy amidst the plants and nearby garden, blending with the wooden beams and furniture. The area is unified as it flows onto another sitting area and hallway as well.
Relaxation lounge with wooden ceiling
This spacious living room is made for maximum leisure and socializing with various seating arrangements, plants, and a Buddha statue. The detail of the bamboo wood beams also draws the eyes toward the beautiful ceiling.
Infinity pool hut
This modern villa features an enticing infinity pool with a primary lounge area as its focal point. The layout is centered around a significant lounge hut and two daybeds. The serene home also offers cozy seating arrangements inside and out, including a low, built-in seating area next to the pool.
Tiny jungle escape
This private residence features function and flow from the inside out through the sliding glass doors. The custom, hourglass-shaped pool features green Sukabumi tiles — a natural, water-resistant stone that's both healing and purifying. There's also a small pad to hang out and dip your feet while gazing at the layered jungle-like plant life.
Tropical spa retreat
Like a rejuvenating spa, this open-air bathroom features an indoor/outdoor aesthetic while remaining secretive. The stone shower wall conceals the room yet has no ceiling. The cool, earth tones in the sink and vanity offer a minimal vibe while serene tropical plants can be seen in the mirrored reflection.
Vaulted living room
With a focus on comfort and refuge, this authentic Balinese villa features a large, open living room with a high-pitched roof. With one wall on the left side, the remaining area is completely open, allowing for natural light, air, and movement.
Garden courtyard pathways
Many Balinese properties offer room to roam with a courtyard or pool area at its center. The trails and pathways allow you to take a meditative stroll through green gardens and corridors that might include symbolic statues and figurines like these pictured.
Mystical ancient fortress
An alluring destination, this Balinese home features a blue, handmade door set in a clandestine stone partition wall. Tucked within tropical palm trees and plants, the entrance is both enlightening and intriguing by its intricate detailing.
Spiritual bathing pool
Cleanse your senses in this uplifting bathing pool. Here pictured is a stone temple situated within the center of the pond with some Koi fish swimming by. Submerge your soul for a soothing bath amidst the sumptuous green plant life.
Treehouse hut by the ocean
The ultimate escape must include a direct view of the ocean. this picturesque home has a ladder that leads to a traditional treehouse hut while overlooking the coastline and cliffs. A place like this offers seclusion, fresh air, and a view that won't stop.