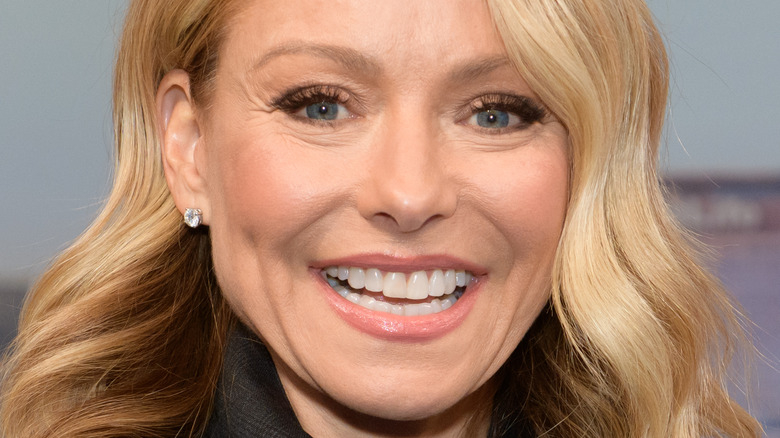 A steady gig in show business isn't easy to come by, but Kelly Ripa's been living large on "Live" for over two decades. While it may seem like a dream come true to many, this former soap opera star never imagined she would end up on the set of a talk show. In fact, she never even properly auditioned for her position. "It's been a series of accidents that I wound up with this job," she explained to Variety. "Which has been such a blessing."
One could say it was truly meant to be. When ABC called Ripa to fill in at the last minute alongside the late Regis Philbin, her relatability was what earned her an unexpected job offer. "Usually that kind of easy conversational spark is innate only in a special breed of broadcaster types," Philbin even admitted in his autobiography (via The Washington Post). All these years later, we can't even imagine what "Live" would be like without her.
From daytime soap star to daytime talk show host, this is the transformation of Kelly Ripa.
The showbiz bug bit Kelly Ripa at an early age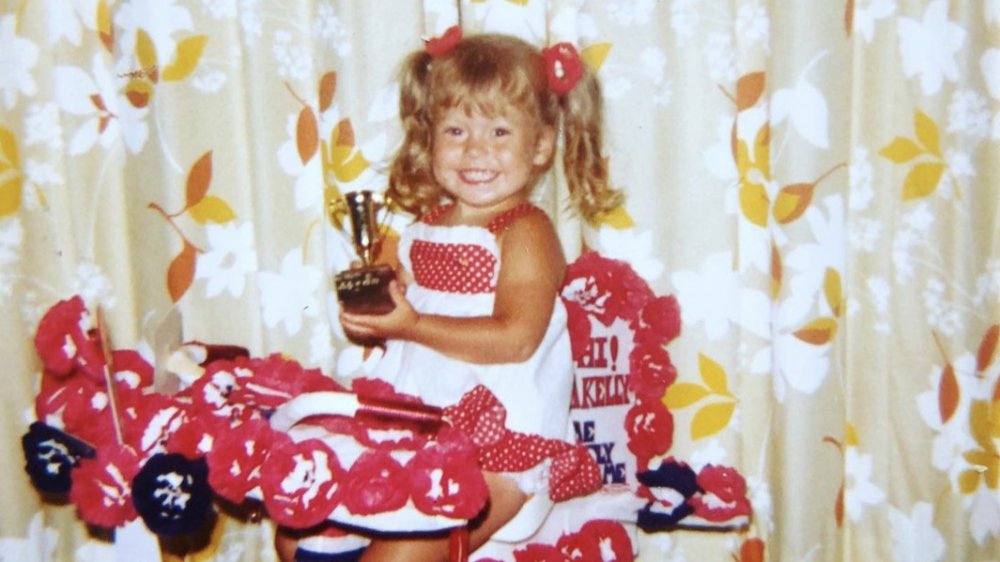 Kelly Ripa was born to perform. Ever since her birth in 1970, she sang, she danced, and she entertained her parents. "There was always a love of love and laughter in the house, and tons of fun," she recalled to SJ Mag. Ripa was enrolled in dance lessons, the high school cheer squad, and local theater productions. It quickly became obvious that she enjoyed anything that had to do with entertainment.
While she grew up in a pretty normal New Jersey family — she's the daughter of a bus driver and a stay-at-home mom — Ripa had some pretty extraordinary dreams. She wanted to act in the Big Apple. However, these aspirations stressed her mother out. "She worried that I'd either get my heart broken or live under a bridge," Ripa admitted to Elle.
It all started with an innocent audition for the middle school play. Ripa told SJ Mag that "No sixth grader had ever been cast in a musical," but they took a chance on her. It was then that Ripa realized she really could make it big. At first, it wasn't so easy. After her big move to New York at only 19 years old, she worked at a toy store in Manhattan doing demonstrations for Nerf footballs. Her roommate at the time was doing the same for Mattel toys. However, Ripa's big break came quicker than expected.
A passion for dance launched Kelly Ripa's career
Though Kelly Ripa is now known as a talk show host, it was her dancing days that got her a start into stardom. Moving on from a demo girl to dancer in 1986, she joined the television show Dance Party USA. Viewers could catch Ripa movin' and shakin' every night — and she was talented at it, too. A passion for pirouettes was something Ripa picked up when she was just a kid. "I was a ballet dancer for 13 years," she revealed to Dance Magazine. "And have the feet to prove it."
Luckily, she got to use a lot of her other talents on television too. During quite a few episodes, Ripa was able to interview some of the biggest stars of the '80s — including musician Rick Astley and the members of the band the Jets. "We always hear about and read the new work of the Jets," Ripa gushed to the group. "And I was wondering, what's in the future for you guys?"
Speaking of the future, who knew hers would involve interviewing famous people — not dancing with them — on daytime television?
Kelly Ripa stumbled into soap stardom
The acting bug was still overtaking Kelly Ripa, so after a couple of years of dancing and swaying across our screens, she walked around New York City looking for her next gig. One afternoon, she happened to stop by the soap opera All My Children. "I went there looking for extra work, just dropping off headshots," she explained to CNN. "I was brand new to the business, I didn't really understand a lot about it." It's a good thing she did. As soon as a casting assistant saw her, she asked Ripa to take a screen test.
It was six months before the aspiring actor heard anything at all. "You're so green. You have no experience," is what Ripa was told, but, surprisingly, they opted to give the young actor a second shot. It turns out that two times a charm. In 1990, she booked her first big role as party girl Hayley Vaughan.
For the next twelve years, Ripa dedicated herself to the dramatic role. As she told CNN, "I really spent my young years there." However, it was still just the start of her time in the spotlight.
Kelly Ripa knew Mark Consuelos was the one right away
Barry King/Getty Images
Five years into her new gig, Kelly Ripa's casting director was looking for her new co-star. They searched far and wide for who would play her love interest Mateo, and they found it in actor Mark Consuelos. When Ripa was shown his headshot, she knew he was the one she was going to marry. "I saw my entire future with him," Ripa revealed on "Lunch with Bruce", adding, "I don't believe in any of that, and now I do." Their characters had great chemistry, and these actors had it off-screen, too.
The two quickly knew they needed to be together. In 1996, they decided to make it official and eloped in Las Vegas. "We were signing our marriage certificate, and the lady at the counter said, 'Here you go, honey. Here's an audio cassette just in case he tries to deny it in the morning,'" Ripa laughed as she recapped their special day on her show.
The young soap star never thought she'd even get married; Ripa was so focused on becoming an actor that it had never even crossed her mind until she met Consuelos. The soap opera seemed to be setting her up for success in all aspects of her life. "It's been a gift that's just kept on giving all these years," she told CNN.
All of Kelly Ripa's children
Barry King/Getty Images
One year after she eloped with Mark Consuelos, Kelly Ripa was expecting her first child. She was still starring in the soap opera "All My Children," but because her character wasn't pregnant, the crew had to get creative. Ripa carried around plants and was told to suck in her stomach to hide her growing baby bump. "Eventually, they buried me alive in a cave up to my eyes," she explained in a reunion video (via People). "Because I was so pregnant that the only part of that did not look pregnant was my eyeballs." Her baby boy, Michael, was born in 1997.
Sneaking a baby bump around the set didn't seem to faze her. She then became pregnant with her daughter Lola. "I think children are like pancakes: You sort of ruin the first one, and you get better at it the second time around," Ripa has famously joked, per WebMD. After Lola, she had her third child, Joaquin.
Though Ripa stays busy on our screens, she makes time for her role as mother. She's even shared lessons she's learned from her own mom in a book called "I Love You, Mom!". However, it may not be exactly what you expect. "My mom didn't teach me normal stuff, like how to do laundry or cook," Ripa told Good Housekeeping. "She thought it would be better for us to have ballet lessons than do chores around the house." Hey, those dance classes sure paid off.
An unexpected call changed Kelly Ripa's career trajectory
As a soap opera star, Kelly Ripa was the last person anyone would expect to host a talk show. "It came from, frankly, such an unexpected source — I mean, a young soap opera actress?" the late Regis Philbin wrote in his autobiography (via The Washington Post). However, he immediately saw something in Ripa.
"I wasn't even supposed to be here," Ripa admitted to her audience. Back in 2000, she was in hair and makeup for a day of shooting 'All My Children' when 'Live' called over to the soap's set. Philbin was searching for a new co-host to replace Kathie Lee Gifford, and the day's guest host was suddenly no longer able to come in. The morning chat show needed someone to step into the role right away, so they reached out to "All My Children" and asked if anyone was camera ready. "And I just happened to be the one standing there," Ripa recalled during an episode of "On Air With Ryan Seacrest."
And just when Ripa thought the day couldn't be more eventful, one of the "Live" guests was a psychic. And that psychic announced Ripa's top-secret pregnancy news on the air. It was an incredible moment, and the young actor's reaction got her a job offer. Two years later, she left the soap opera to tackle the talk show world full-time. Funnily enough, her "All My Children" character also left for a talk show.
Kelly Ripa still had Hope & Faith in her acting
Bruce Glikas/Getty Images
When Kelly Ripa took a gig on a talk show, members of her inner circle warned against it. "A lot of my friends said, 'You're not a talk-show host, you're an actor — if you go on talk shows that will be the end of your acting career,'" Ripa admitted to Redbook. But hey, she trusted her gut, and it clearly worked out for her. "After I took the talk show, I was offered the sitcom ['Hope & Faith']," she added.
In 2003, Ripa became busy taking over a talk show during the day and continuing to act on a television series at night. However busy she may have been, moving from a soap opera to a sitcom was important to the dynamic star. "I was always the victim on 'All My Children': I was shot, stabbed, kidnapped, poisoned, gassed, blown up, and raped," Ripa told Today. "There were very few laughs for me."
The comedic series couldn't have been a better fit for Ripa: her "Hope & Faith" character was a soap star that disappeared from daytime television. Unfortunately, the sitcom was canceled three years later. However, this development was actually a blessing in disguise for this busy co-host, who reportedly later said that she "never wanted to work that hard again" (via Wonderwall).
There are never too many irons in the fire for Kelly Ripa
Andrew H. Walker/Getty Images
After "Hope & Faith" ended, the world wasn't seeing much of Kelly Ripa's acting. However, even though she wasn't starring any other series, she still needed some extra excitement in her life. "My morning show is literally an hour of work," she told Today. She wanted something else to do and still aspired to share more stories with the world.
In 2007, she and her husband Mark Consuelos partnered up to start a production company. Milojo Productions, named after the first two letters of each of her kids' names, creates everything from scripted series to reality shows. Interestingly enough, one of the projects she produced was a reality show for E! about soap opera actors called "Dirty Soap."
While she may know the soap opera world best, her company's first Emmy nomination came after creating a documentary called "The Streak" for ESPN. Now, Ripa was ready for a new challenge. "I also enjoy writing, but will it lead to anything? I don't know," she later told Elle. "I'm probably not very good, but lack of talent hasn't stopped me before."
The great 'Live with Kelly' co-host search began
Rob Kim/Getty Images
In 2011, Regis Philbin's last episode of "Live" aired, and Kelly Ripa found herself alone at the helm of the successful series. "When Regis left it was so scary," Ripa told People. They had starred alongside each other for 11 years, and his retirement news had rocked her world. "It makes you terrified," she added. "Like can I do this without Regis being here?" Suffice it to say, Philbin left behind big shoes to fill, and as WQAD 8 noted, Ripa didn't rush the process of finding a replacement. According to People, she was apparently pulling for Anderson Cooper, but that didn't work out. "He was busy launching his own talk show," a source told the outlet.
In 2012, the new co-host had finally been chosen, but Ripa decided to keep the decision under wraps. She even shut down her social media leading up to the newest episodes of "Live" to build the suspense. However, the name was leaked prior to the premiere, and before the show could share the news, the world found out NFL star Michael Strahan ultimately got the job.
"Oh, my gosh, am I done with these surprise announcements and these shocking, thrilling reveals," Ripa joked backstage after the episode. "I can't stand it!" Little did she know, this was just the beginning of another aggravating reveal.
Michael Strahan's exit 'blindsided' Kelly Ripa
In 2016, the search for a new co-host was on again. Michael Strahan announced that he would be leaving "Live" for "Good Morning America." However, Kelly Ripa was filled in on the news only moments beforehand, and apparently didn't see it coming. Ripa was a no-show for the rest of the week — it suddenly seemed as though Strahan's co-host was the one who was done with "Live."
But she was not done. The week after Strahan let the world know he was headed to another morning show, Ripa returned to "Live" to explain her absence. "I needed a couple of days to gather my thoughts," she said. "After 26 years with this company, I earned the right." She went on to share that ABC let her know that the show was still a priority before telling her soon-to-be-former co-host that she was happy for him. "I just want to say one thing," she added. "My dad, who was a bus driver for 30 years, thinks we're all crazy."
Strahan said he was happy Ripa returned to her post. "This show has been transforming for me," he admitted to her. "And I know this show lives on because you are the queen of morning television." With that, the audience applauded, and it seemed they were ready to entertain once again. A year later, Ripa found her new co-host in Ryan Seacrest.
Kelly Ripa is back in the studio but six feet apart
When a worldwide pandemic hit in early 2020, many shows were taken off air. "Live," however, decided to improvise. In March, both Kelly Ripa and Ryan Seacrest made the decision to co-host from their own homes. After all, the series had been on the air for nearly 32 years, and the show must go on!
While the lighting may not have been so great, the laughs were still there, and the ratings were through the roof (via Broadway World). Ripa still couldn't wait to get back to her seat in the studio, though — but she did have one stipulation. "I'm not coming back if I have to wear pants or bottoms of any kind," she joked to People. Hey, those of us who are still working from home can relate.
After 180 days, the infamous duo finally returned to their studio in New York City in September. Things were slightly different, though. Not are they without an audience, but Ripa and Seacrest were seated six feet apart. To create the illusion that the two "Live" hosts were sitting together like old times, the producers used split screen magic.
While Ripa seemed excited to be back on set, co-hosting from a computer screen is something she seems to secretly miss. "I love low [definition]," she quipped on an episode of "Live with Kelly & Ryan." "I couldn't believe how gorgeous I was." The very relatable Ripa had officially returned — and in high definition, no less.
Kelly Ripa became an empty nester … sort of
After balancing a busy schedule, a successful talk show, and a bustling household of five, things began to slow down whenever Kelly Ripa walked through the doors of her home in 2021. It was that year that her youngest son Joaquin moved out, leaving Ripa and her husband to be labeled officially as empty nesters. "It's scary, thrilling, liberating, shocking," Ripa told People. "And quiet."
With all of this newfound free time, the talk show host focused on spending more of it with her husband. It wasn't until they were enjoying some romantic time at the beach together — their first time alone at one since their honeymoon — that they realized how much things had really changed over the years. "These other parents were running around us with small kids," Ripa reminisced. "I realized I had never noticed the sunset because I was making sure our kids didn't run into the water when I wasn't looking."
However, the Ripa-Consuelos household didn't remain bare for long. "We were kind of empty nesters. And then my mom had heart surgery, so now we're living with my parents," Ripa explained in late 2022 on "Late Night with Seth Meyers."
Kelly Ripa wrote her first book
While Mark Consuelos was working on "Riverdale" in Canada, Kelly Ripa had a lot of time to herself. However, being the busybody she always has been, she decided to use this time constructively to write her own memoir.
The talk show host started by diving deep into some of her old journals, using them for the outline of her life story. She spent two years putting the finishing touches on her manuscript — so long that she even had to replace her own desk chair. Then, in September 2022, Ripa released her first book titled "Live Wire: Long-Winded Short Stories."
Though Ripa has become accustomed to sharing all the details of her life for two decades on "Live," releasing a book about her life for anyone to read was something completely new. "I'm terrified if I'm being perfectly honest," she shared on an episode of "Live with Kelly & Ryan." However, the response was quite similar to the success of her morning show. Within a week, Ripa's memoir was named a New York Times Best Seller and she was already at work writing a second one.
Kelly Ripa announced her husband would help co-host Live
In February 2023, a major change made its way into Kelly Ripa's life. On an episode of "Live with Kelly & Ryan," her long-time co-host Ryan Seacrest announced he would be leaving the show after six years. Yet, there was even more surprising news in store — Ripa's husband Mark Consuelos would be joining as her permanent co-host. "[It's] what Ryan and I are calling the nation's weirdest social experiment," she joked during the episode.
As Consuelos shared during a guest interview on the show, he and his wife have been accustomed to working together. At the start of their careers, they had spent 12 hours each day filming "All My Children," so he had no doubts that they could manage a few hours working together each morning. In fact, he quite relished the idea. However, as Seacrest noted, on occasion the two might need to cover field pieces that could result in 12-hour working days. "But, we've done it," he reassuringly responded. "I'm not nervous."
Over the years, the set of "Live" has become home for Ripa, so it only makes sense to have her husband sit beside her as she drinks her morning coffee with America. "Welcome home," she wrote to him on Instagram. "Or to the contractual obligation phase of our relationship."