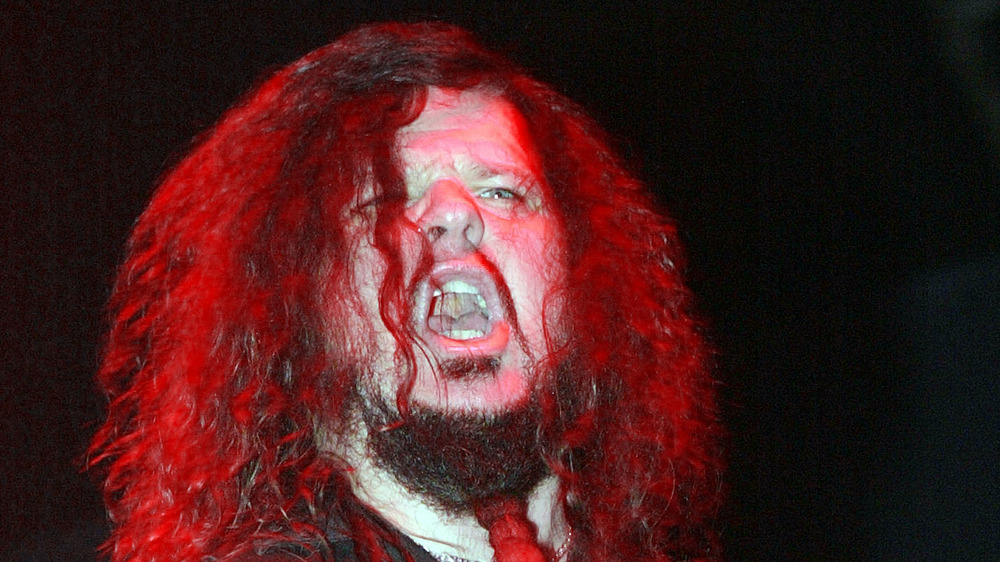 It's almost a blessing to do as the old saying goes and "die doing what you love." Well, sure, that's all well and good, to get to enjoy the things that make you happy up until the bitter end, except for the fact that you're dead at the end. And if it's a musician, actor, or television performer, they die in front of a whole bunch of witnesses who could be traumatized forever. Here are some famous folks who literally worked until the end, dying while on stage or on live television.
'Dimebag' Darrell Abbott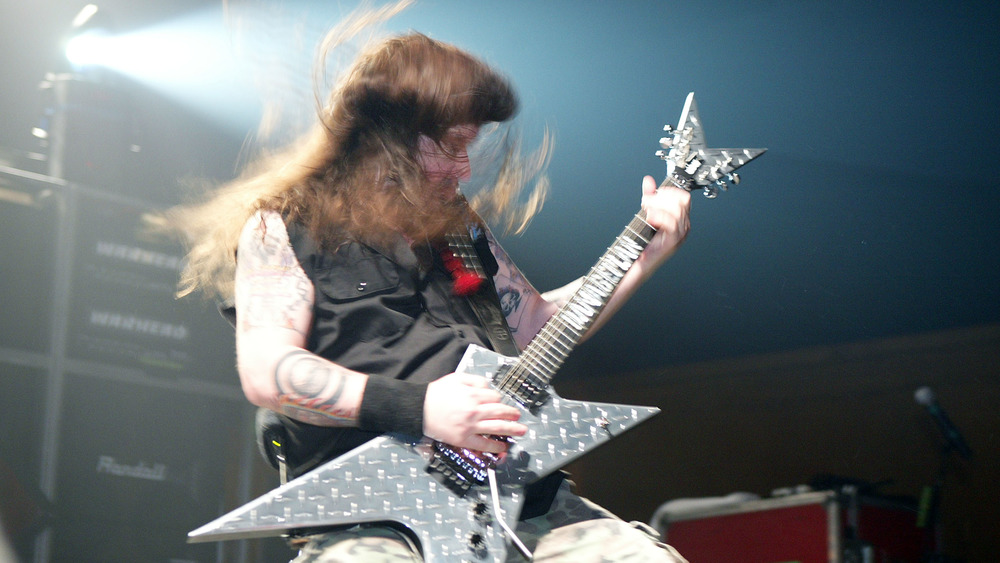 Part of what makes a concert, particularly one in a small club or venue, so exciting is the intimacy between band and audience. Nothing separates the musicians from the crowd. The downside? Sometimes, there's less emphasis on security. On December 8, 2004, the rock band Damageplan — formed after the breakup of the popular metal band Pantera by Pantera's guitarist, "Dimebag" Darrell Abbott — took the stage at Alrosa Villa, a club in Columbus, Ohio.
A 25-year-old ex-Marine named Nathan Gale sneaked into the club with a gun and made his way onto the stage, opening fire on Abbott just 90 seconds into Damageplan's set. Abbott, 38, died that night, and so did three other people: concert-goer Nathan Bray, band crew member Jeff Thompson, and Alrosa Villa employee Erin Halk. Gale, whose mother said he was discharged from the military due to mental health issues, also died, shot and killed by a police officer. Though several theories about Gale's motivations were floated, none of them could be conclusively proven.
Richard Versalle
How'd we get this far without mentioning an opera? In January 1996, opera singer Richard Versalle was performing in The Makropulos Case. The tenor sang the role of Vitek, an old man who works in a law firm. In the opera's opening scene, Versalle stood perched high atop a library-style ladder to put away a case file. Versalle sang the line, "Too bad you can only live so long" and then, inadvertently proving his point, the 63-year-old singer fell off the ladder. Versalle reportedly suffered a heart attack that caused him to fall.
Nick Menza
There's nothing more metal than dying on stage while playing metal. Nick Menza was so metal that he was once a member of Megadeth. He was behind the kit for the major metal band throughout the '90s, playing on highly regarded albums like Rust in Peace and Countdown to Extinction. Apart from Megadeth, Menza played with several bands, including Chodle's Trunk, Fear Assembly, Orphaned to Hatred, and OHM. It was during a gig with OHM in May 2016 that Menza's heart gave out. The 51-year-old collapsed onstage during the third song of the band's set at a show in Studio City, California, and he was pronounced dead upon arrival at a nearby hospital.
Sib Hashian
As an original member of Boston, drummer Sib Hashian played on two of the best-selling rock albums of the '70s: Boston (17 million copies sold) and Don't Look Back (7 million moved). But that was then and this is now, and Boston wasn't as in-demand as it once was. In recent years, Hashian joined the classic rock nostalgia circuit and the Legends of Rock Cruise. Music fans on board were entertained by bands that included various and assorted members of Foreigner, Kansas, the Beach Boys, Boston (obviously), and more of your dad's favorite bands. While performing at sea in March 2017, Hashian collapsed behind the drums. Hashian was 67.
Jerome Rodale
In the mid-20th century, Jerome Rodale (also known as J.I. Rodale) advocated some health habits considered pretty out-there at the time but which are totally normal now: eating foods that weren't loaded with antibiotics or eating local. Rodale wrote and spoke for years about how those and other healthy practices would extend his life span. On a taping of ABC's The Dick Cavett Show on June 7, 1971, for example, the 72-year-old longevity guru claimed that he "never felt better" and that he'd "live to a hundred." Unfortunately, Rodale didn't quite make it to 100 — he died a few minutes after making that statement. Rodale stayed on stage while Cavett interviewed another guest, staying quiet until he let out some kind of ghastly, guttural noise. He'd gone pale and his mouth hung open, and yeah … Rodale died right there on the set of The Dick Cavett Show in front of a live studio audience.
Col. Bruce Hampton
Getty Images
Whether you love or hate jam bands like the Grateful Dead, Phish, and the String Cheese Incident or their crunchy, 45-minute-long guitar noodlings, you've got Col. Bruce Hampton to thank. Known as the "grandfather of the jam band scene," Hampton tirelessly played with lots of bands, including the Quark Alliance, the Late Bronze Age, and the Hampton Grease Band. His many friends, collaborators, and fans converged on Atlanta's historic Fox Theatre in May 2017 for "Hampton 70: A Celebration of Col. Bruce Hampton."
Staged the day after Hampton turned 70, the all-star jam session celebrated the man and his music. As a teenage guitar wizard named Taz Niederauer showed off some tasty licks, Hampton fell to his knees, resting his arm on a speaker on stage. Niederauer and members of Blues Traveler and Widespread Panic played "Turn on Your Love Light" while totally unaware that Hampton's light had just gone out. As banjo player and concert participant Rev. Jeff Mosier said in a Facebook post, he thought Hampton had initially fallen to his knees to do a "we're not worthy" to Niederauer. Nor was he taking a little break. Hampton had collapsed, and he died that night in an Atlanta hospital.
Dick Shawn
Comedian Dick Shawn put together a full evening of entertainment for the audience of 500 or so people that paid to see him perform at UC San Diego in April 1987. First, he did a sketch where he played a disembodied head on a dinner table, then he comically danced out of time to some music. Next, Shawn launched into a routine about the end of the world, during which he lay down on the stage and stayed completely still. The audience thought it was part of the bit, that Shawn was pretending to be dead. The end of the world is about people being dead, after all.
Tom Wartelle, a guy in that audience, told the LA Times, "There were comments from the audience like, 'Take his wallet'" and that "it all blended in very well" with Shawn's act. But then, after five minutes of Shawn not moving, the heckles and laughter pretty much stopped. A doctor rushed onto the stage, tried to find a pulse, and then flipped Shawn onto his back. The audience was ordered out while Shawn received CPR. An ambulance arrived in short order and took Shawn to the closest hospital. Less than two hours after Shawn first took the stage, he was pronounced dead at age 57.
Tommy Cooper
In April 1984, Welsh prop comedian and magician Tommy Cooper appeared on the variety show Live from Her Majesty's, which was broadcast live to viewers throughout the U.K. from Her Majesty's Theatre in London. Cooper did his famous magic cloak skit, in which he wore a huge gown, stood in front of a curtain, and had an assistant pass him increasingly larger objects that he'd "magically" pull out from under his gown. Cooper's assistant that night was Live from Her Majesty's host Jimmy Tarbuck, who told Wales Online that the bit was supposed to end with Tarbuck emerging from the curtain with a stepladder and handing it to Cooper because it was too big to fit under the dress. (Cooper's act was a little corny.)
But then Cooper did a bit of what Tarbuck thought was some improvised physical comedy — a Cooper habit. After a "lovely assistant" came onto the stage, Cooper suddenly fell hard onto his rear-end. The in-house audience laughed, but this wasn't comedy — it was tragedy. Cooper, 63 had suffered a heart attack on live TV. The director sent the show to an unscheduled commercial break so home viewers wouldn't see Cooper's lifeless body getting pulled through the curtain. He was taken to a hospital and pronounced dead upon arrival.
Owen Hart
YouTube
Owen Hart was among the most popular and dynamic wrestlers in the WWE in the 1990s (and, alongside his brother, Bret "The Hitman" Hart, part of a wrestling legacy). He was a major draw at the May 1999 "Over the Edge" pay-per-view event, set to appear as an obnoxious superhero character, under the guise of which he'd be lowered from the rafters into the ring via an elaborate wire system. But the rigging tragically malfunctioned, sending the "Blue Blazer" plunging 78 feet. He fell onto the top rope, and then into the ring.
The 16,000 strong in Kansas City's Kemper Arena went quiet, and announcer Jim Ross horrifyingly had to tell the crowd that Hart's fall was not scripted, a stunt, or fake in any way. (Those watching the event on TV didn't see the fall — the broadcast was showing highlights of Hart's past matches to build up drama before his big entrance.) Hart was pronounced dead at a local hospital. He had recently celebrated his 34th birthday.
Irma Bule
YouTube
Remember when Britney Spears danced with a giant snake draped around her neck during the 2001 MTV Video Music Awards? Now, imagine if that cobra had not been properly handled and bit Spears and killed her. Sadly, this is actually what happened to an Indonesian singer named Irma Bule. While performing in Karawang, Indonesia, in 2016, the 29-year-old was handling a live cobra "stage prop" she'd used for years.
During just her second song, the snake bit Bule on the thigh. She didn't think much of it, assuming that someone had defanged or de-venomed the cobra. No one had. Around 45 minutes later, Bule was still doing her show when she started vomited and seizing. She was pronounced dead at a local hospital.
Tiny Tim
Getty Images
Tiny Tim was one of the most unique performers to ever score a hit record. A tall (hence the ironic stage name), stringy-haired man with a high, vibrating, lilting voice, his version of an old standard called "Tip-Toe Thru' the Tulips with Me" hit No. 17 on the Billboard pop chart in 1968. (Adding to the bizarro, Tiny Tim accompanied himself on the ukulele.) A year later, the unlikely celebrity married a 17-year-old fan, Vicki, on The Tonight Show, a moment seen by 21.4 million households, then a ratings record for Johnny Carson.
Tiny Tim was a memorable guy and he died as he lived: entertaining others. On November 30, 1996, Tiny Tim played a benefit show for the Women's Club of Minneapolis. While singing "Tip-Toe Thru' the Tulips with Me," Tiny Tim abruptly stopped playing, then told his wife (Susan Khaury; he and Vicki had divorced years earlier) he didn't feel well. Then the 64-year-old performer collapsed, dying a few hours later at a Minneapolis hospital, likely of cardiac arrest.
Barbara Weldens
French singer Weldens was a star on the rise — only to have her career (and life) end because of a freak stage accident. In 2017, the 35-year-old singer had just released her first album, Le grand H de l'homme and was a big draw to the Léo Ferré Festival, performing at a church in the village of Goudron, France. According to eyewitnesses, Weldens put on a terrific show and earned a standing ovation. She was soaking it all in when she suddenly lurched forward and fell lifeless to the ground. While early reports of what happened could only provide speculation, "electrical malfunctions" were likely to blame for why Weldens' heart stopped. As to how she was electrocuted in the first place, it's notable that Weldens performed barefoot.
Hijo del Perro Aguayo
In March 2015, two of the biggest stars of the AAA, the Mexican wrestling federation equivalent to the WWE, met in the ring: Hijo del Perro Aguayo (Pedro Aguayo Ramirez) vs. Rey Mysterio Jr. (Oscar Gutiérrez). During the match, the legendary Mysterio delivered a powerful flying kick that sent Aguayo careening into the ropes. The wrestler's head hit the ropes, and he appeared to have suffered snapped vertebrae. After he lay in the ring unresponsive, Mysterio and the referee sensed something had gone very wrong and summoned help. The on-call doctor took an agonizingly long 80 seconds to reach and treat Aguayo, but it was all too late. According to the Tijuana Wrestling Commission, the cause of death was a heart attack, triggered by a cervical stroke, which occurred when the wrestler's neck broke.
Aguayo was arguably the most well-known rudo, or villain, in the AAA. He was 35 years old.
Les Harvey
There are all kinds of potential dangers on stage. A light could fall and hit a performer, or a musician could slip and fall off the stage, to name two possibilities. There's also a lot of electricity going on to power all those electric guitars and amps. That's what killed Les Harvey, guitarist for the up-and-coming Scottish blues-rock band Stone the Crows. Prior to the start of a concert in Swansea, Wales, on May 3, 1972, Harvey was tuning up his instrument in front of about 1,200 fans and made the fatal mistake of grabbing a microphone. It hadn't been properly grounded, and a volatile, fatal jolt of electricity shot through his body. He died at the hospital, and, like so many other tragically lost stars, Harvey was just 27 years old.
Sam Patch
When a professional daredevil dies in front of an audience, it's just as horrifying and sad as when an actor or singer dies, but perhaps not as surprising. In 1827, Sam Patch became one of the first famous daredevils, regularly jumping off a ledge over Passaic Falls in New Jersey into the water below. As time went on, his jumps became ever more ambitious, so he attracted larger and larger crowds. In 1829, Patch and his team announced the entertainer's "last jump": On Friday, November 13, he would hurl himself 125 feet off a platform overlooking the High Falls of the Genesee River in Rochester, New York.
Now, "last jump" was supposed to mean it was Patch's final attempt of the season. But fate or the universe or something took that word far too literally. According to a report of the jump from the New York Evening Post, in mid-descent, Patch's body "began to droop, his arms were extended, and his legs separated." In other words, his form was way off … and then he hit the water wrong. He never emerged. Four months later and 6 miles downriver, Patch's body finally surfaced in a block of ice. An autopsy concluded that Patch had suffered a ruptured blood vessel mid-fall due to the sudden shock of the cold November air.
Jane Little
Dying while living out one's lifelong passion is actually kind of beautiful. It's sad and shocking for witnesses, but it's also very romantic. Such is the case with musician Jane Little. The double-bass player joined the Atlanta Symphony Orchestra in 1945 at the age of 16 and stayed with the group for more than seven decades. In February 2016, Guinness World Records recognized Little for a big achievement — 71 years with the ASO, a record for orchestral musicians. Just a few months later, in May 2016, Little was playing in a symphony pops concert called "Broadway's Golden Age," a collection of show tunes. According to the Washington Post, near the end of "There's No Business Like Show Business," Little, 87, collapsed while playing her bass. She was carried backstage and passed away.
Onie Wheeler
Back in the '50s and '60s, Wheeler was one of the great country music sidemen, back when they still called it "country and Western music." While he recorded lots of solo material, the guitarist and harmonica player backed Johnny Cash, Ray Acuff, and George Jones, among others, and the legendary Lefty Frizzell had a huge hit with a song Wheeler wrote called "Run 'Em Off." In the '70s and '80s, Wheeler lived in Nashville and performed regularly at the city's iconic Grand Ole Opry. There's probably no better way for a true-blue country music lifer to go out than while performing at the Opry, which is what Wheeler did. While recording the Rev. Jimmie Snow's radio show Grand Ole Gospel Time in 1984, Wheeler suffered a fatal heart attack.
Mike Scaccia
Mike Scaccia and his guitar stood at the forefront of two innovative sub-genres of hard rock that exploded in the 1980s: thrash metal and industrial metal. As far as the former goes, he founded the band Rigor Mortis in 1983, and for the latter, he joined Ministry in 1989, invited by band leader Al Jourgensen after the band moved from synth-pop to a hard-charging, guitar-heavy electronic-influenced style. As Ministry's main guitarist, he appeared on the band's best-selling album, Psalm 69: The Way to Succeed and the Way to Suck Eggs (1992) and its two best known songs: "Jesus Built My Hotrod" and "N.W.O."
Scaccia never forgot Rigor Mortis, however, and on December 22, 2012, he played at the Rail Club in Fort Worth, Texas, as part of a 50th birthday party for the band's singer, Bruce Corbitt. While Scaccia was performing, he suddenly collapsed. He was rushed to a hospital, where he was pronounced dead. According to a medical examiner's report, the 47-year-old guitarist died of a sudden heart attack triggered by heart disease.
Yu Zhao Gu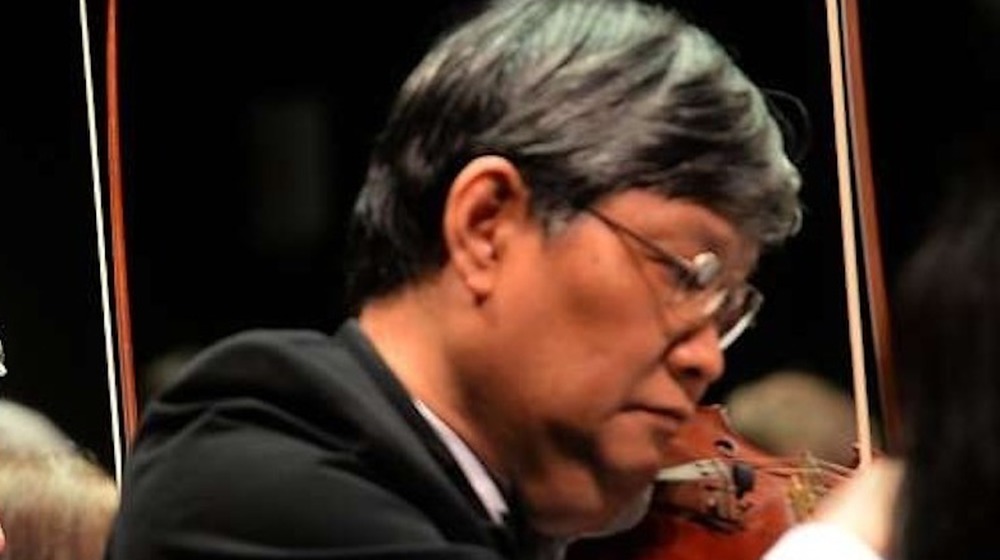 China-born husband-and-wife violinists Yu Zhao Gu and Ying Zhao moved to the Houston area and, among other professional orchestras, joined the Symphony of Southeast Texas in the mid-1990s. That became their "home orchestra," and they were regular contributors to the string section over the years. The two were also stand partners, and so Zhao was right there when, during the symphony's final performance of the season at a theater in Beaumont Texas, on April 6, 2019, her husband suddenly slumped out of his chair and slid to the floor. The musicians immediately stopped playing, and several doctors in the audience rushed to the stage to help, as did a cardiologist in the orchestra. CPR was administered as paramedics made their way to the concert hall. The violinist was rushed to a nearby hospital, but it was too late. Yu Zhao Gu was pronounced dead at the age of 60.
Mark Sandman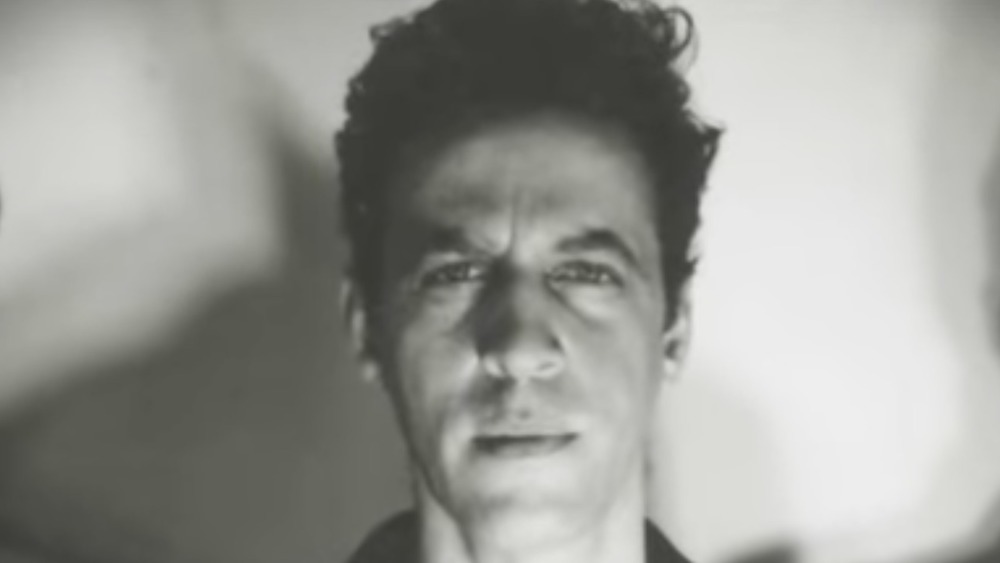 Morphine was one of the most unique alternative rock bands of the '90s, which is to say their music was challenging and unsettling. That's due in large part to singer and bass player Mark Sandman, who pioneered a slow, droning playing style, which added a spooky and unnerving element to Morphine's tunes. Also spooky and unnerving: he suffered a deadly heart attack onstage. Morphine was performing in the Giardini del Principe festival outside Rome in 1999 when the 46-year-old suddenly stopped playing and fell to the ground, as reported by MTV. A few minutes later while in an ambulance en route to a hospital, he was pronounced dead.
Louis Vierne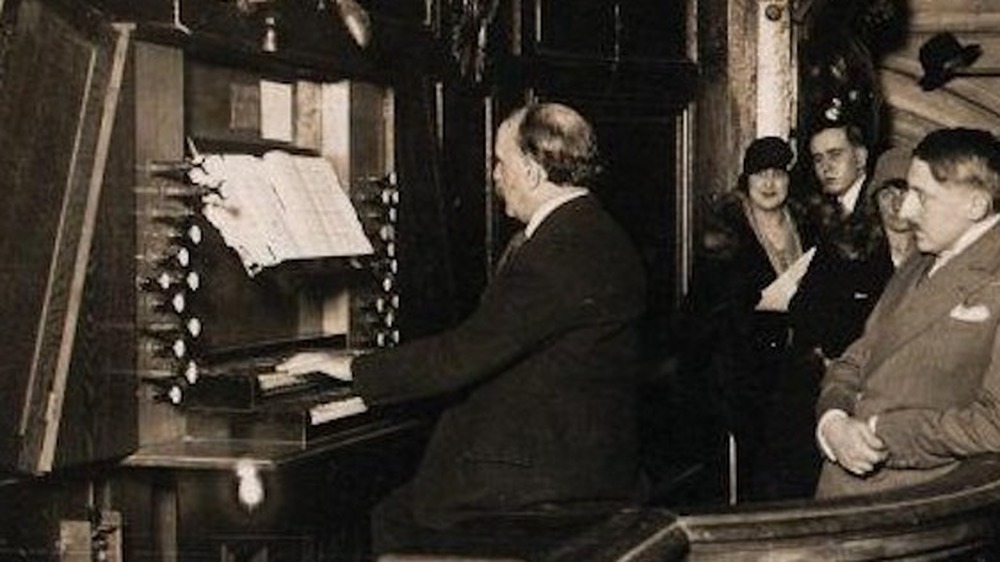 In the early 20th century, Louis Vierne held the most prestigious job possible for a professional church organist: resident organist at the legendary Notre-Dame Cathedral in Paris. Despite drawing crowds that wanted to hear Vierne's otherworldly organ work, particularly on his own compositions (he wrote six symphonies), the Catholic Church clergy that ran Notre-Dame decided in 1937 to discontinue all organ recitals. They at least let Vierne play for the people one final time, on June 2, 1937.
Vierne was the Elvis Presley of early 20th-century organists. While Presley struggled with drugs, nutrition, and health problems, Vierne had experienced a string of tragically bad luck. His wife cheated on him, one of his sons died from tuberculosis, and the other died fighting in World War I. A fall so shattered his leg and ankle that he had to relearn his organ pedaling technique, and the stress of it all made him a three-packs-a-day smoker who also relied on heart pills, tranquilizers, and sleeping pills.
About 3,000 people amassed for Vierne's last concert at Notre-Dame … which turned out to be his last concert ever. After playing an original piece, he said to his assistant standing nearby, "I'm going to be ill." He then played one low, continuous note … and didn't stop. He'd died of a heart attack sitting in his favorite seat.
Edith Webster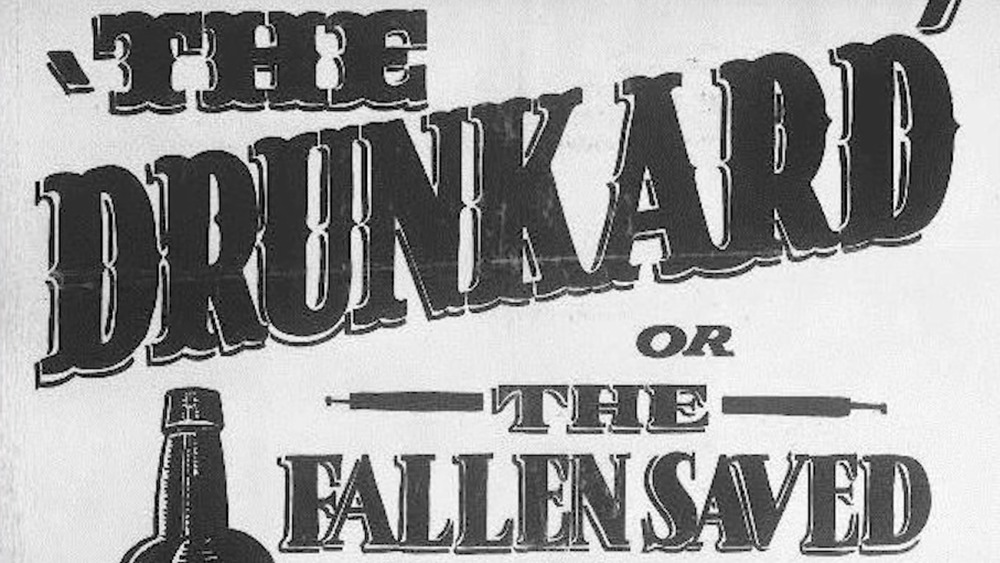 Webster was a star of the suburban Baltimore theater scene. At the Towson Moose Lodge in November 1986, she performed a role she'd done more than half a dozen times before — the grandmother-in-law of the titular drunkard in a musical melodrama called The Drunkard. The character dies at the end Act One, right after singing a ballad called "Please Don't Talk About Me When I'm Gone." Webster finished the song, clutched at her heart, and her character died as the stage lights blacked out. Unfortunately, so did Webster. (And here we are, talking about her.) It was a poignant moment to perish. The play's director Richard Byrd told United Press International that the last thing Webster heard was "tremendous applause. Hearing that, she died."
Leonard Warren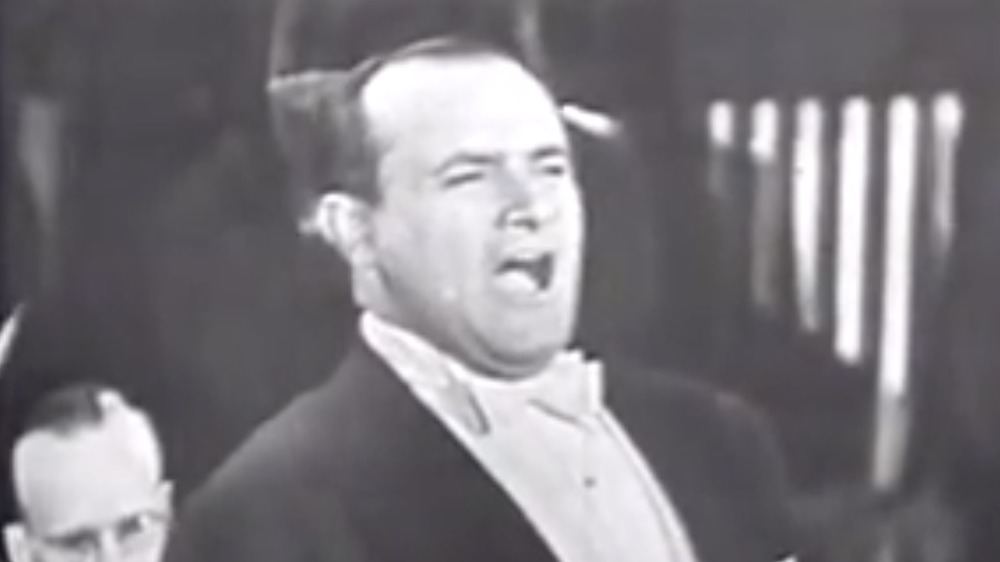 Operas are full of sad, dramatic, even tragic moments — that's kind of opera's whole thing. Baritone Leonard Warren, one of the most famous American opera singers of all time, added to opera's inherent darkness, not to mention its lore, by dying on stage. In March 1960, Warren was singing the role of Don Carlo in the opera La Forza del Destino by the Italian composer Giuseppe Verdi. At about 10 p.m., Warren's voice and body gave out. He fell to the stage floor of the Metropolitan Opera House in New York City immediately after finishing the aria "Urna fatale del mio destino," which translates appropriately to "fatal urn of my destiny." Less than half an hour later, the singer was pronounced dead. Cause of death: a heart attack, according to the Washington Post.
Alan Marshal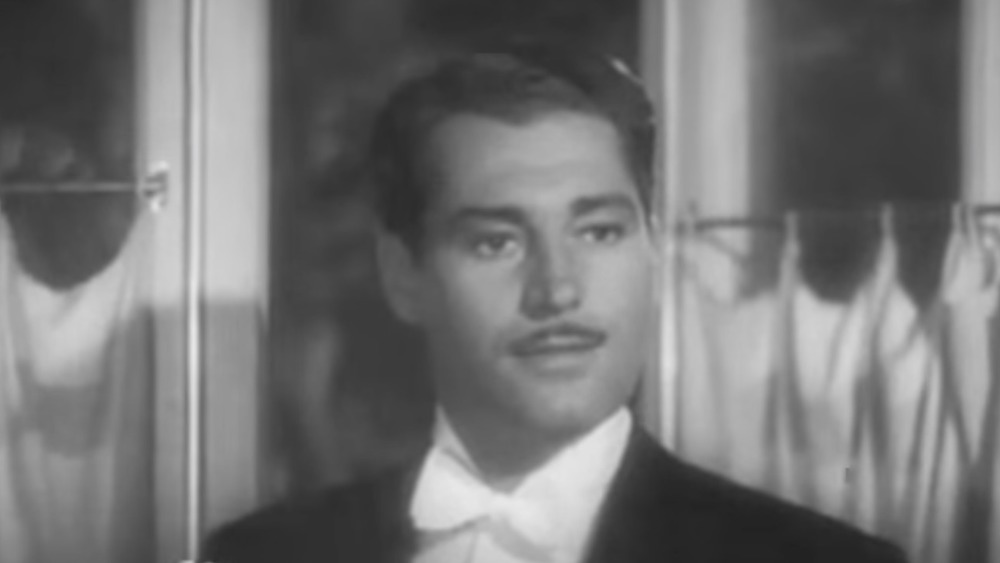 Marshal, a theatrically trained actor from Australia, put together a solid career in the 1930s and '40s as a character actor and supporting player. He specialized in playing villains, soldiers, and the not-quite-right-for-her-guy that the main female character is with at the beginning of the movie before leaving him to be with her true love. Marshal stayed true to his theatrical roots, performing in plays throughout his career. In fact, his final role would be on stage. Marshal co-starred in Sextette, a sexy farce written by and starring silver screen sexpot Mae West. The 52-year-old actor was delighting an audience in Chicago up to the moment where he keeled over from a heart attack.
Simon Barere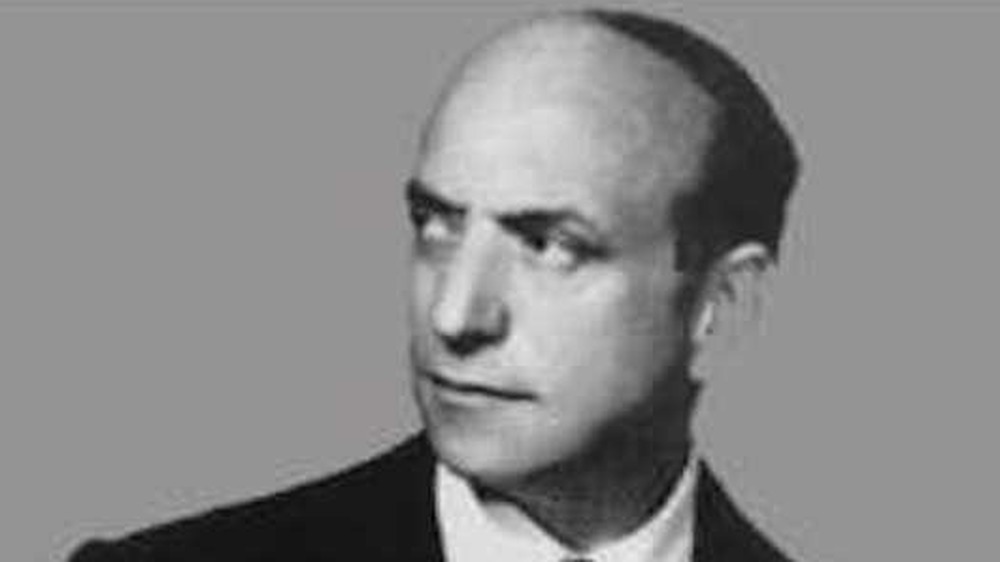 In 1951, famed pianist Simon Barere sat in front of his instrument before a huge audience at Carnegie Hall. (How did he get there? Practice.) Barere was a featured musician performing for the first time with the Philadelphia Orchestra. His playing was masterful, as usual, for the first two minutes and change of the concerto. That's when audience members noticed Barere's tempo growing inconsistent, which is to say nothing of the sour notes. Barere's missteps subsided when he stopped playing entirely and slumped forward, his head crashing into the keyboard before he rolled off the bench and hit the floor. A doctor was, in fact, in the house, and he ran up and helped carry Barere backstage. After half an hour of revival attempts, Barere, 54, was pronounced dead, evidently from a stroke.
Country Dick Montana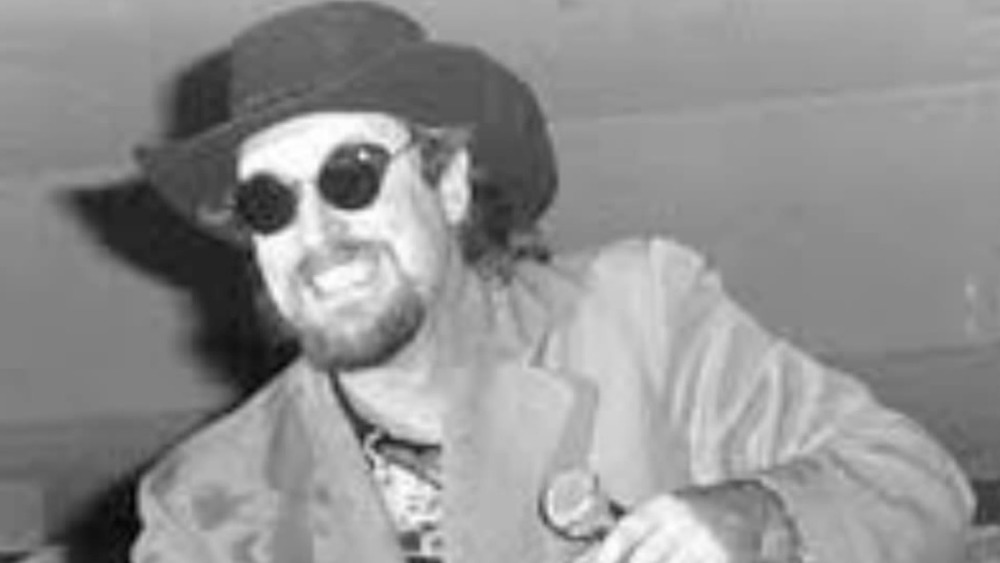 While they recorded a slew of well-received albums on major labels, the Beat Farmers were regarded as one of the best bar bands in the world, performing at whatever intimate venue would take them. They were "honky-tonk anarchists" (as Paste described them), and a definitive band of the 1980s "cowpunk" scene, combining countrified roots rock with a punk attitude. Country Dick Montana, who usually sat behind the drum kit, formed the band in 1983 after playing with some other bands and running a San Diego record store. Cowboy Dick was an imposing presence in a cowboy hat and a duster, and he'd usually take the mic for at least one song per show — often a quirky novelty song about the delights of drinking.
On November 8, 1995, Montana and the Beat Farmers played in front of a packed house at the Longhorn Saloon in Whistler, British Columbia. At the end of the song "The Girl I Almost Married," Montana collapsed onto the drums. The other band members moved into the next song but stopped when they noticed Montana was silent. Road manager Tom Ames ran onto the stage and helped Montana to the ground. By the time paramedics arrived a few minutes later, 40-year-old Country Dick was dead from what was later ruled to be an acute aneurysm.
Johnny Guitar Watson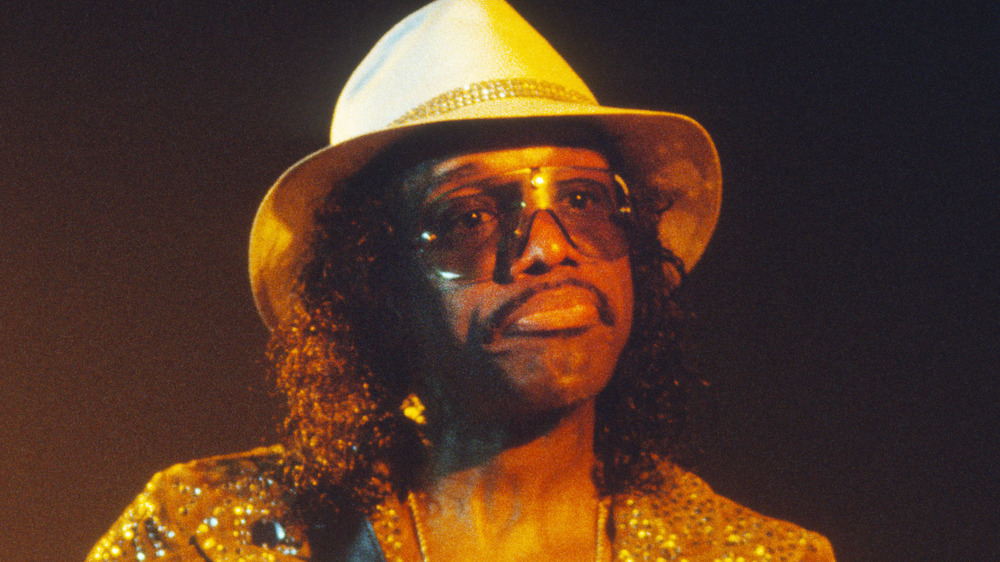 Johnny Watson was so skilled at playing his instrument — and in so many different ways — that his nickname was literally "Guitar." After testing out the blues scene as a teenage piano player in Houston, he switched to guitar in the 1950s and started grinding out influential electric blues classics and climbed the R&B charts with hits like "Those Lonely, Lonely Nights," "Mercy, Mercy, Mercy," and "Cuttin' In." Watson reinvented himself in the 1970s as one of the best and earliest purveyors of the genre of music that would be known as funk. Also a '70s style icon, with his wide-brimmed hats, flashy jewelry, and giant sunglasses, Watson brought funk to the masses with groovy, soulful, guitar-powered tunes like "Superman Lover," "A Real Mother for Ya," "Lover Jones," and "Ain't That a B****." Always an innovator, Watson's 1980 single "Telephone Bill" is among the first-ever rap songs.
Watson, who'd slowed down his career pace since the early '80s, toured in 1996, and on May 17 of that year, played a gig in Yokohama, Japan. Shortly after taking the stage and delivering some stage chatter in Japanese (which he claimed to speak in "Ain't That a B****"), Watson collapsed and died from what was later determined to be a heart attack. He was 61.