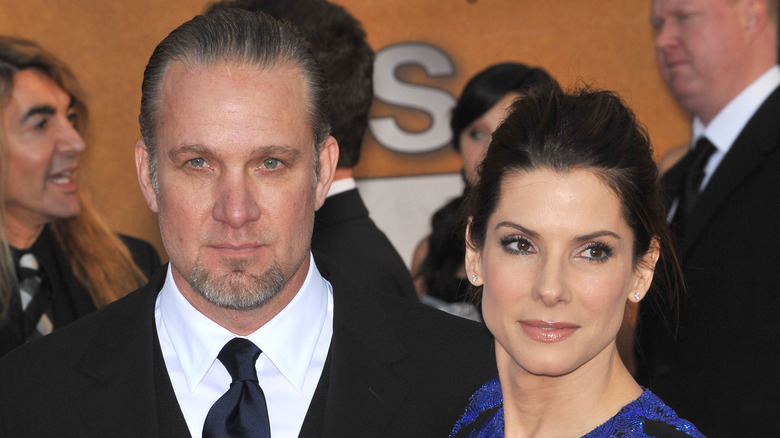 Love is no walk in the park for anyone, and celebrities are proof. Though it's hard to empathize with celebrities over much, we can when it comes to heartache, especially when there's another person involved. No one, not even a celebrity, is immune to a love triangle. If you're unfamiliar with the term, a love triangle refers to two people vying after the same person. They're confusing and strange, and they usually have an element of infidelity, making matters all the more heartbreaking.
Dozens of celebrities have been involved in love triangles over the years. From Old Hollywood romances to dalliances across the pond, these torrid affairs are a tale as old as time (or at least as old as Tinsel Town), and as long as there are actors in Los Angeles, there are going to be love triangles. But before we report on the latest, let's take a look back at some of the lesser-known love triangles Hollywood has seen:
Debbie Reynolds, Eddie Fisher, Elizabeth Taylor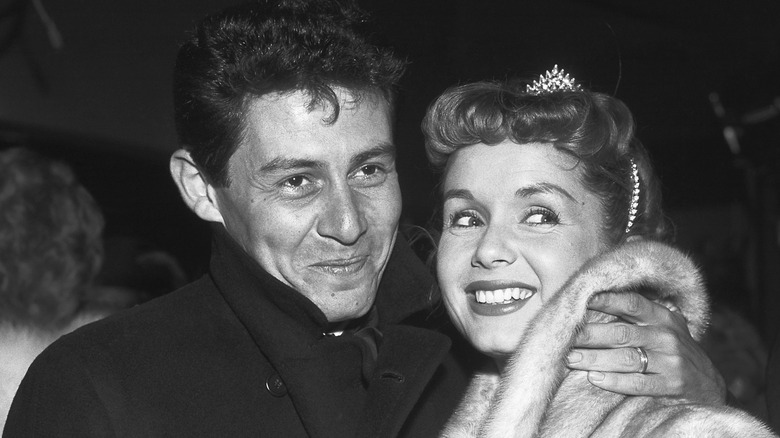 If you know anything about Elizabeth Taylor, it's very likely the fact that she was married to eight different men over the course of her life. One of those men was Eddie Fisher, a singer who famously had five different wives, one of them being Debbie Reynolds. Fisher and Reynolds had two children together, director Todd Fisher and actor Carrie Fisher, and while the two Fisher children were young, Eddie left Reynolds for Taylor, ending their marriage and causing a rift between Reynolds and Taylor who had been friends for years. When reflecting upon the end of her marriage, Reynolds said her husband strayed due to her disinterest in sex. "What chance did I have against Elizabeth Taylor, a woman of great womanly experience when I had no experience at all?" she said to Express.
Reynolds did get married again, though, as did Taylor after she and Eddie divorced. And after one of the most scandalous love triangles at the time, the two powerhouse actors let bygones be bygones and rekindled their friendship. "We got on the same boat to go to Europe […] I sent a note to her and she sent a note to me in passing, and then we had dinner together. She was married to Richard Burton by then. I had been remarried at that point. And we just said, 'Let's call it a day.' And we got smashed. And we had a great evening, and stayed friends since then," Reynolds said, as reported by Vogue.
James Packer, Mariah Carey, Bryan Tanaka
The elusive chanteuse herself has been in her fair share of relationships over the years. Notably, she was married to her manager, Tommy Mottola, shocking the world with her decision to wear her old wedding dress in her music video for her top hit "We Belong Together." Carey was also married to Nick Cannon for a short while, having two children with the singer who is now best known for his own plethora of children. But a lesser-known tidbit in Carey's relationship history is her relationship with billionaire James Packer. Packer and Carey started dating in 2015 and shortly after became engaged. Although their relationship was short-lived, there was plenty of drama to make up for it.
Trouble came for the singer and her wealthy husband soon into their wedded bliss, and as rumors begin to swirl surrounding their relationship status, so did rumors about Carey leaving Packer for Bryan Tanaka, one of her backup dancers. Per reports, Carey's relationship with Tanaka didn't sit well with Packer, and just a year after their relationship began, Packer and Carey had called off their engagement. Despite rumors, neither Carey nor Packer ever confirmed the alleged infidelity. "James has not been in a mentally healthy place. His behavior was not a desirable situation for Mariah so she unfortunately had to leave him," a source said of their breakup. Not long after, Carey began dating Tanaka, whom she is still with today.
Rebecca Broussard, Jack Nicholson, Anjelica Huston
Although Jack Nicholson is best known for his acting roles, portions of his personal life have been just as dramatic as the stories he's depicted on screen. Back in the '70s and '80s when Nicholson was at the height of his fame, the movie star was in a relationship with Anjelica Huston, the actor best known for her portrayal of Morticia Addams in the 1990s film remakes of "The Addams Family." Though the two never married, Huston and Nicholson were together for 17 years, and by all accounts were a Hollywood royalty couple. After their nearly two-decades-long relationship, Nicholson had affair with a younger woman, Rebecca Brossard, prompting Huston to leave. "There's only room for one of us women in the picture, and I am going to retire from it," Huston said in her memoir "Watch Me," as reported by The New York Post.
The scandal left Hollywood reeling and Huston a single woman. Nicholson and Brossard went on to marry and have two children together, but, making a very good case for what goes around comes around, Brossard left Nicholson abruptly after 15 years of marriage. Despite that, as he told Vanity Fair, Nicholson still loves Brossard. "I trusted her too much. I'd trust again too much tomorrow night because I like her. She's great," he said.
Kurt Cobain, Courtney Love, Billy Corgan
Although she is a talented singer, even listed as one of Rolling Stones's 200 Greatest Singers of All Time, Courtney Love has always been better known for her relationships than her musical abilities. And while most people know that Love was married to Kurt Cobain, fewer people know that the beginning of their relationship was a love triangle as Love was with Billy Corgan when she met Cobain. Love was seeing both men simultaneously, and she ultimately ended up marrying Cobain and having child with him. Tragically, though, Cobain died by suicide in 1994 leaving Love a widow and a single mother. Love allegedly dated Corgan again after Cobain's death, but neither has ever confirmed the story.
There seems to be some bad blood between the two, though. In an interview with Paper, Love shared that she'd repaired her relationships with several people she'd fought with in the past, but noted that she's still on bad terms with Corgan. "I just wish he'd mellow out. That's all. We're older. Get over it," she said. This came a few years after Corgan tweeted at Love, "My face is my face, my heart is my heart, my money is my money. Oh, and my songs are MY songs. If you can't write your own songs maybe you should just be happy that you fooled someone into doing your work for you," as reported by The Guardian.
Olivia Rodrigo, Joshua Bassett, Sabrina Carpenter
Unless you were living under a rock in 2020, you undoubtedly heard the hit song "drivers license" by Olivia Rodrigo. The song was a hit on TikTok and debuted at number one on the Billboard Hot 100 chart, making it popular with all ages – not just Gen Z. The song is an epic letter to an ex, and fans of the song were full of conspiracy theories about who inspired Rodrigo to write it, the general consensus being that it was Joshua Bassett, Rodrigo's "High School Musical: The Musical: The Series" costar whom she also reportedly dated for a brief time.
But fans didn't stop there – they also had to know who the lyrics "And you're probably with that blonde girl who always made me doubt" were about. Per fan theories, said blonde girl is Sabrina Carpenter, another Disney star who also dated Bassett. Although Carpenter, Bassett, and Rodrigo have never confirmed any of the allegations, the evidence is pretty compelling. We'll let you be the judge.
Nancy Sinatra, Frank Sinatra, Ava Gardner
It's easy to romanticize old Hollywood, but there was just as much iniquity then in Tinseltown in the middle of the 20th century as there is today. Take Frank Sinatra. Though he's known for his unbelievable musical talents, he's got just as many amoral anecdotes as he has hits. Frank and his ex-wife Nancy Sinatra were married for 12 years and had three children when Frank began an affair with Ava Gardner. Soon after finding out about the affair, Nancy filed for divorce. She never remarried.
Frank, however, went on to marry his mistress. He and Gardner were married for about six years, their married relationship just as dramatic as the one they maintained while Sinatra was with his first wife. There was another person involved in this, though. Gardner was married, too, when she and Frank began their affair. Her ex-husband, Mickey Rooney, went on to marry six more women, while Gardner never married again after she and Frank divorced. Frank married twice more before dying in 1998.
Dennis Quaid, Meg Ryan, Russell Crowe
Featureflash Photo Agency/Shutterstock
We would like for someone to notify Meg Ryan that she does not actually live inside a Nora Ephron movie. The "When Harry Met Sally" star was married to Dennis Quaid for 10 years in the 1990s, and the two were a Hollywood power couple. Both at the top of their acting game, they made the perfect pair, giving everyone quite a shock when they found out that Ryan had left Quaid for another Hollywood hunk, Russell Crowe. While filming their movie "Proof of Life," Crowe and Ryan began an affair. A year later, she and Quaid were divorced. Ryan maintains that her relationship with Crowe was independent of the demise of her marriage. "Russell didn't break up the marriage. He was definitely there at the end, but it wasn't his fault. I was a mess," Ryan said in an interview, per Today.
Despite how it ended, Quaid looks back on his relationship with Ryan fondly. The actor took to Megyn Kelly's bygone show to discuss his former marriage, telling the host, "[It was] my most successful relationship," as reported by Us Weekly. Quaid went on to marry twice more after divorcing Ryan while Ryan never married again.
Mary-Louise Parker, Billy Crudup, Claire Danes
Times may change, but people really don't. Back in 2004, Hollywood was astir thanks to a juicy love triangle involving actors Mary-Louise Parker, her then-boyfriend Billy Crudup, and Claire Danes. Parker and Crudup had been dating for several years when she became pregnant with their son. At the time, though, Crudup was filming "Stage Beauty," which he starred in alongside Danes. The two struck up a relationship, and Crudup left Parker, his pregnant girlfriend.
All three involved are notoriously private, and amid the scandal, no party made any public statements. It wasn't until two years later when Danes was interviewed for The New York Times that Crudup addressed his actions. "First and foremost it is personal, painful and involves an infant, and does not deserve to be exploited to sate the appetites of circulation counters and bored readers," Crudup said in an email to the reporter requesting that the paper not print anything regarding his relationship with Parker.
Parker waited even longer to share her perspective on the infidelity. In her memoir full of letters, as printed by Jezebel, one was addressed to a cab driver whom she yelled at just after Crudup had left her. "I'm trying to get through it but I'm by myself every night and every morning and no one, nothing helps," she recalled. Danes addressed the triangle years later, too, telling Howard Stern of the situation, "I didn't quite know what those consequences would be," per Us Weekly.
Brandi Glanville, Eddie Cibrian, LeAnn Rimes
Had this love triangle happened in 2023 and not 2009, there would've certainly been Bravo fans on Twitter quote-tweeting articles saying, "I need Andy and a camera." Before she was on "The Real Housewives of Beverly Hills," Brandi Glanville was married to actor Eddie Cibrian. The two had two children together, and thanks to their model-good looks were seemingly the perfect couple. However, in the late 2010s, Cibrian stepped out on his wife with country singer LeAnn Rimes, which eventually led to the end of their marriage. Before their divorce, though, Glanville told Us Weekly, "LeAnn is a stalker. She refuses to leave us alone — it is shameful and scary. People are going to say it takes two to tango and I get that, but at some point LeAnn needs to stop asking him to dance."
Eventually, the wife accepted her ex-husband's new relationship. She shared her feelings on the situation with The Sun, noting, "These days, I love LeAnn, who married Eddie in 2011. She's great and we all hang out together. I've forgiven her. We're going to be around each other for ever because of the kids, so why not make the best of it?"
Cazzie David, Pete Davidson, Ariana Grande
Featureflash Photo Agency/Shutterstock
Because Pete Davidson has dated essentially everyone in Hollywood, it should come as no surprise that he was involved in a love triangle. What is a little surprising, though, is that it's not more widely publicized, considering it involves his most famous relationship. While Davidson was still a relatively unknown comedian, doing the Lord's work on "Saturday Night Live," he was dating Cazzie David, the daughter of comedy royalty Larry David. As she detailed in her memoir, Cazzie broke up with Davidson in 2018, but days later she called asking to get back together. Two days after getting back together, Davidson texted Cazzie to break up with her. The next day, Cazzie learned Davidson had begun dating Ariana Grande, as told by the Los Angeles Times. "It was a really pivotal moment in my life […] There's nothing that's gonna be worse than what I already experienced with that," Cazzie said.
There was some poetic justice for Cazzie, though, as Grande left Davidson shortly after the two got engaged. Now, however, Cazzie and Davidson are on great terms, and Cazzie even wrote in her book, "Pete. I love you. Your bravery inspires me and your friendship means the world to me."
Bella Hadid, The Weeknd, Selena Gomez
In 2016, Bella Hadid and The Weeknd were one of Hollywood's hottest couples. Hadid was garnering massive attention thanks to her modeling career, and The Weeknd was writing the soundtrack to American life. The couple dated off and on for a few years before things ended, and just after the relationship's demise, The Weeknd reportedly moved on to one of Hadid's sister's friends, Selena Gomez. Per TMZ, Hadid didn't take the news well, feeling especially upset that Gomez didn't tell Hadid's sister.
Gomez and The Weeknd went on to date for 10 months, and Gomez was the only one to comment directly on their relationship (it's suspected The Weeknd referenced their relationship several times in his EP "My Dear Melancholy,"). "Something that I'm really proud of is that there's such a true friendship [between me and The Weeknd]. I truly have never experienced anything like that in my life. We ended it as best friends, and it was genuinely about encouraging and caring [for each other], and that was pretty remarkable for me," Gomez told Billboard about their breakup. To make the love triangle even more intriguing, after his breakup with Gomez, The Weeknd and Hadid got back together and dated for a couple more years before calling it quits for good in 2019.
Iggy Azalea, Nick Young, Keonna Green
2016 was full of cheating scandals. After a clandestinely recorded tape went viral, everyone on the internet knew that Nick Young had been cheating on his almost bride-to-be, Iggy Azalea. Despite the presence of this video, it seems that Azalea ended the relationship because of a different recording. "I broke up with Nick because I found out he had brought other women into our home while I was away and caught them on the security footage," Azalea said in a since-deleted Tweet, per Bleacher Report. As it turns out, one of the women Young had been cheating with was Keonna Green, the mother of the child he had prior to his relationship with Azalea. Amid Young's engagement to Azalea, Green became pregnant with her second child with the basketball player.
After Young and Azalea split, Green told Us Weekly, "I wish [Azalea] a lifetime of success. I'm definitely not going to apologize for being in love with a man who I have a lot of history with. I do wish her that kind of success and hope that she can get through this difficult time and she and Nick can move forward from this." Green and Young got engaged in 2019, about three years after the cheating scandal, and have been engaged since, though they haven't gotten married.
Mia Farrow, Woody Allen, Soon-Yi Previn
Famed filmmaker Woody Allen was in a relationship with Mia Farrow for 12 years, starting in 1980, before things went very far south. Farrow entered her relationship with Allen with several children of her own, including Soon-Yi Previn, whom she adopted. During their relationship, Allen and Farrow had children of their own – both adopted and biological – but never lived in the same household. In 1992, Farrow and Allen ended their 12-year relationship, but in 1991, Allen and Previn began their relationship. "To the best of my memory I came in from college on some holiday and he showed me a Bergman movie […] We chatted about it, and I must have been impressive because he kissed me and I think that started it. We were like two magnets, very attracted to each other," Previn told Vulture about the beginning of their relationship.
Allen and Previn's relationship has long been criticized, as has Allen's relationship with several other females, including his adopted daughter Dylan Farrow, whom he's been accused of abusing. Mia opened up about her relationship with Allen, as well as her children, in the HBO documentary "Allen v. Farrow," and said, per People, of her daughter, "I love Soon-Yi. It took me six years to throw away the Christmas stocking I knitted for her thinking she would come back, but she didn't." Previn and Allen have been married since 1997.
Jennifer Garner, Ben Affleck, Christine Ouzounian
s_bukley/Shutterstock
Some say couple tattoos are the kiss of death, but if you ask us, it's a relationship nickname. In 2015, Ben Affleck, one-half of the bygone Bennifer, was accused of cheating on his ex-wife, Jennifer Garner, with the former couple's nanny, Christine Ouzounian. "The story is complete garbage and full of lies," someone in Affleck's camp told People of the report. "This was not one of the reasons for the breakup. There was no affair during or after [their marriage]. Ben and Jen have been separated for months," another source told People. Whatever the reasons, Affleck and Garner separated in 2015 and officially divorced in 2018 after over a decade of marriage.
A year after their separation, Garner spoke to Vanity Fair about her split with Affleck. Although she did confirm Ouzounian didn't cause the chasm, she did seemingly confirm Affleck and their nanny had a relationship. "We had been separated for months before I ever heard about the nanny. She had nothing to do with our decision to divorce. She was not a part of the equation," Garner said.
Several years after his divorce from Garner, Affleck made headlines again when he entered a relationship with another Jennifer. Nearly 20 years after ending their first engagement, Affleck and Jennifer Lopez began dating again, and eventually got engaged and married. No word on his former nanny's current relationship status.
Sandra Bullock, Jesse James, Michelle McGee
It's hard to fathom that women like Sandra Bullock can be cheated on, yet it happens. The Oscar winner was married to Jesse James for nearly five years. The two were seemingly in it for the long haul, but in 2010, news broke Bullock had filed for divorce after learning that James had been having an affair with multiple women. The news came just after Bullock had adopted her first child, and the actor told CBS her main priority amid the scandal was protecting her son. "How do you process grief and not hurt your child in the process? It's a newborn. They take on everything that you're feeling. So my obligation was to him and not tainting the first year of his life with my grief," Bullock said.
Far before Bullock opened up about the scandal, one of her ex's mistresses, Michelle McGee, came forward to the public explaining why she was a willing participant in this love triangle when she knew James was married at the time. Per Us Weekly, McGee told Howard Stern her relationship with James continued because she was bored. "Had nothing better to do," she said. "It was a sexual thing. I also wished it was a relationship – but I wasn't in love with him," she added.
Louise Treadwell, Spencer Tracy, Katharine Hepburn
The internet has drastically changed the world in several ways, but the most important change to us is that of celebrity culture. Before the chronically online were speculating that Machine Gun Kelly cheated on Megan Fox or canceling Chrissy Teigen for bullying, certain indiscretions in Hollywood were glossed over, like Spencer Tracy and Katharine Hepburn's years-long affair. Tracy, who was married to Louise Treadwell for most of his life, cheated on his wife with Hepburn for over 20 years.
Because Tracy and Hepburn starred alongside each other in nine separate movies over the course of their relationship, Tinsel Town was well aware of their hidden romance. Because Tracy was a devout Catholic, he never divorced his wife and instead maintained relationships with two women until he died. "It was a unique feeling I had for [Tracy]. I loved [him]. … I would have done anything for him," Hepburn said of her lover in her memoir, as reported by Biography. Despite their long relationship, Hepburn wasn't Tracy's only mistress. Per the Daily Mail, Tracy cheated on his wife with multiple women during their marriage. Tracy's love shape seemed to be more of a web than a triangle.
Chanel Iman, A$AP Rocky, Rihanna
Rabbani And Solimene Photography/Getty Images
After her legendary performance at the Super Bowl Halftime Show, Rihanna revealed that she and boyfriend A$AP Rocky are having a second child together. But long before the couple was making a splash across the pages of British Vogue, rumors of a romantic relationship between the two were swirling while A$AP was dating model Chanel Iman. The rumors began after the two performed together and gave the crowd their money's worth after A$AP kissed Rihanna and grabbed her butt. "Yeah, I expected people to say that me and Rihanna were sleeping around. We're just cool […] I aint hittin' it either. I'm just cool with her. I don't even look at her like that. She's sexy, but I'm good," A$AP said in a radio interview, per MTV.
Not long after, A$AP and Iman split ways, which, as A$AP would later share, sent him into a depression. "I got really depressed because I knew that–she deserves better than me," he said, per Vibe. Two years later, however, when asked again about the nature of his relationship with Rihanna, A$AP said, "It never happened. If it happened, then it would have happened. We didn't do that." Fast forward a few more years and things did happen between Rihanna and A$AP. The two confirmed their relationship in 2020, and Rihanna gave birth to their first child together in 2022.
January Jones, Bobby Flay, Stephanie March
s_bukley/Shutterstock
Some love triangles are documented in tabloids. Others are documented in court proceedings. In 2015, allegations that Bobby Flay had cheated on his ex-wife, Stephanie March, with January Jones became public record when March "[claimed] in court papers that Bobby committed adultery with January several times during the early months of 2010. She says they had sex many times and in different places, including the London hotel in Los Angeles," a source told InTouch. The allegations were seemingly corroborated by sources who saw Jones and Flay together after Jones had been in a car accident back in 2010, though, per the magazine, Flay denied the allegations and claimed he was unsure why Jones had asked him for help.
March and Flay have both moved on since their divorce and are both in relationships today. March married Dan Benton, an investor, in 2017, two years after her divorce from Flay, and Flay is in a years-long relationship with writer Christina Perez.
John Mayer, Giada De Laurentiis, Todd Thompson
John Mayer has been involved in hundreds of love triangles. Okay, obviously that's an extreme exaggeration, but the chokehold Mayer has on the women of Hollywood should be studied by psychologists. The singer has been at the center of more than his fair share of tabloid reports about his affairs, and one in 2014 was particularly damning. That year, per the Daily News, chef Giada De Laurentiis posted this message to her website: "After an amicable separation since July, Todd and I have decided to end our marriage." The announcement reignited past rumors of an affair with Mayer that the cook had refuted. De Laurentiis and Todd Thompson were married for 11 years before parting ways, though it remains unclear whether Mayer was a factor in the couple's decision to divorce.
Almost a decade later, De Laurentiis announced another divorce of sorts – hers with Food Network. The cook was with the channel for 21 years, and in 2023 it was shared that De Laurentiis would no longer be featured on Food Network as she will instead be working with Amazon. "Food Network will always be proud of the beautiful content we have created together, and our table will always have an open seat for Giada," a rep for the network said (via People).
Michelle Trachtenberg, Pete Wentz, Ashlee Simpson
The aughts were a time in history unlike any other. From the fashion and the music to the rom-coms and celebrity drama, we didn't appreciate just how unique the decade was. Thankfully we can always reminisce, and scandals like Michelle Trachtenberg, Pete Wentz, and Ashlee Simpson's love triangle are instances we're more than happy to remember. Though this love triangle effectively flew under the radar, it's plenty juicy.
Trachtenberg and Wentz dated in the mid-2000s. The romance was short-lived, and in 2008, Wentz and Simpson married. The following year, while at a party in Los Angeles, Simpson confronted her then-husband's ex. According to Perez Hilton, Simpson revealed the trio's love triangle by telling Trachtenberg, "​​I hope you know, the whole time you were dating Pete, I was [bleep]ing him!" as reported by Page Six. The drama must have been more short-lived than Trachtenberg and Wentz's relationship, though. Simpson's camp addressed the situation by saying, "It was just a misunderstanding. Ashlee has since apologized to Michelle and they remain on good terms."
Wentz and Simpson weren't together too much longer. By 2011 the two had split, and outlets speculated whether Wentz and Trachtenberg were dating again when photos surfaced of the two out together in Los Angeles. The meet-up was seemingly casual, though, as Wentz soon after began dating his longtime partner Meagan Camper.
Adam Levine, Jessica Simpson, Nick Lachey
In 2003, Jessica Simpson and Nick Lachey were the most famous newlyweds on the planet. The two entertained fans for three seasons of their reality show "Newlyweds: Nick and Jessica," and surprised, well, no one when they announced they were divorcing in 2006. Prior to that announcement, it was alleged that Simpson had stepped out on her husband with another singer – Maroon 5 frontman Adam Levine – in 2004, just two years into her marriage. Neither Levine nor Simpson has ever publicly commented on these allegations.
Simpson has publicly commented on her relationship with Lachey, though. While discussing her 2021 memoir "Open Book," Simpson explained to ET part of the reason she and Lachey broke up. "With Nick, I was 22 years old when we got married … Once I started to get endorsement deals that were separate from him, there was a little bit of tension," she said. "[The press] put us as a trophy couple that we actually weren't," she said. Simpson added how glad she is for her ex-husband today, saying, "We both were at fault in a lot of things, but I'm happy for him now. He's married with three beautiful children." Still no word on how she feels about Adam Levine.
Olivia Munn, Justin Timberlake, Jessica Biel
Featureflash Photo Agency/Shutterstock
Justin Timberlake has been married to Jessica Biel since 2012, but just a couple of years prior there was alleged trouble in paradise. Per Us Weekly, sources claimed that Timberlake was cheating on his then-girlfriend with actor Olivia Munn. Per the report, Timberlake "[had] been telling people it's over with Jessica, even though the reality is he's just doing it behind her back." Timberlake's camp refuted the reports, and he and Biel are still together.
Timberlake and Biel have weathered other cheating scandals, though. In 2019, Timberlake was caught cuddling up to a co-star of his, leading onlookers to speculate he was having an extramarital affair. The singer took to Instagram to address the rumors. "A few weeks ago I displayed a strong lapse in judgement [sic] – but let me be clear – nothing happened between me and my costar. I drank way too much that night and I regret my behavior. I should have known better," he said. Munn, meanwhile, began dating comedian John Mulaney in 2021 after he divorced his wife Anna Marie Tendler. Shortly after they were rumored to be dating, Mulaney confirmed their relationship and shared that Munn was expecting their first child together, whom she gave birth to later that year.
Jay Z, Aaliyah, Dame Dash
It's hard to imagine Jay Z with anyone but Beyonce (or Becky with the good hair), but according to Dame Dash, the rap mogul once had his eyes set on Aaliyah. Dash and Aaliyah dated from 2000 until she tragically died in 2001, and as he told Page Six, several people – Jay Z included – were trying to pursue the singer at the same time. "I did not know Jay was trying to holler at her, but then it just happened like that. He was trying, I was trying. Everybody was trying – he was going hard," Dash said.
Jay Z, of course, went on to date and marry Beyonce, and Dash married designer Rachel Roy, the two of whom split after less than five years of marriage. Years later, Jay Z and Beyonce made headlines after Jay Z was accused of cheating, and in 2016, Beyonce addressed the affair in songs in her album "Lemonade," particularly the track "Sorry" in which she referenced "Becky with the good hair." The name is obviously a pseudonym, but fans have theorized that "Becky" is actually Roy, Dash's ex-wife. Oh, the tangled webs we weave.