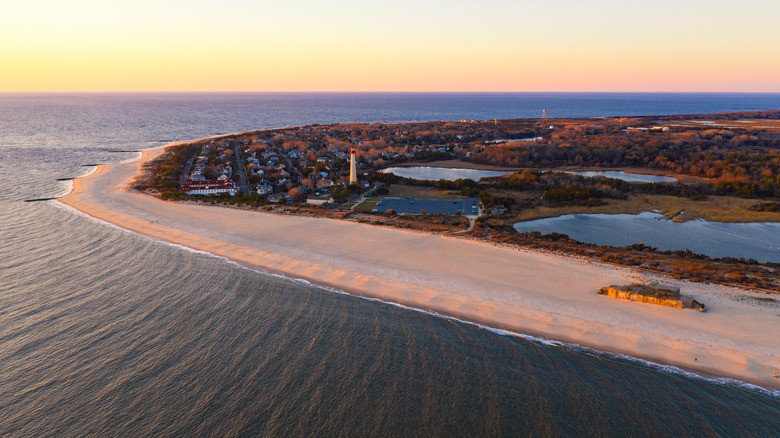 Cape May has been a favorite vacation spot on the New Jersey shore since the 18th century. Of course, as the City of Cape May points out, people have been living on the peninsula off the coast for centuries, starting with the Lenni-Lenape people. European colonists began putting down roots there in the mid-17th century, but Cape May really got going by the late 1700s, when tourists started visiting for the fresh air, picturesque ocean views, and bountiful seafood dinners. Some maintain that this early popularity makes Cape May the first real resort town in American history.
As the years progressed, hotel after hotel sprang up to host the growing crowds of tourists. A massive 1878 conflagration that obliterated 35 acres of town pushed residents to rebuild and present the city as family-friendly competition to racier resorts like Atlantic City or more budget-busting ones like the Hamptons.
Even if the folksy attractions of Cape May aren't quite your style, they've certainly suited many beachgoers. In fact, if the tales told on popular nighttime trolley tours are to be believed, some people never left. After a while, it may seem as if every building and landmark has a ghostly story attached to it. If you ask local psychic Craig McManus, who's made something of a one-man cottage industry out of collecting and sharing ghostly tales, Cape May is especially haunted (via Craig McManus). After a visit to this seaside town, you might also be convinced that Cape May is haunted.
The Emlen Physick Estate may host phantom residents
Though it's now a museum and headquarters for the Mid-Atlantic Center for the Arts & Humanities (MAC), the Emlen Physick Estate was originally a family home. Architect Frank Furness designed a grand, 18-room mansion for Dr. Emlen Physick and his family. According to the Cape May Times, it was finished in 1879. Dr. Physick was a lifelong bachelor who lived with his widowed mother, Frances Ralston, and his unmarried aunt Emilie. CapeMay.com reports that another aunt, Isabelle, was part of the group. Though he had a medical degree, Dr. Physick never did any doctoring, instead living a life of well-funded leisure.
According to CapeMay.com, Dr. Physick died in 1916, while aunt Emilie stayed on until 1935. It then passed through a series of private owners, some of whom had already begun to report spooky goings-on like disembodied footsteps. After visiting the home, local psychic medium Craig McManus claims to have encountered two female spirits, one happy and the other decidedly not so. He also claimed to sense the spirits of multiple dogs, which is in line with the reported Physick family affection for canine companions. Perhaps you can take a tour of the historic estate and, while admiring the fine details of this well-maintained home, you might encounter the good doctor — or at least one of his dogs — yourself.
The Cherry House could be playing tricks on its owners
While many purportedly haunted buildings in Cape May are open to the public, the Cherry House is a private residence. That hasn't done much to keep the ghost stories down. Much of the rumors of spirit activity are linked to the house's previous inhabitants, who took up residence there after the home was built in 1849, as per Cape May Magazine (via CapeMay.com). One of the most well-known was James McCrey, who bought the house in 1854 and went through the deaths of three successive wives while living there.
Current owners Beth and Frank Acker admit that both they and contractors working on the place have had eerie trouble with the doors, which open of their own accord even after being deadbolted. Others have experienced more blatant paranormal phenomena. An electrician reportedly entered a bedroom, experienced a sudden drop in temperature, and saw the form of an elderly woman emerge from a wall. Unsurprisingly, the man was frightened by the sudden appearance of an apparition right in front of him. Beth Acker says that he screamed, ran from the home, and refused to return. She suspects that the old woman was none other than Lois Kulp, who bought the Cherry House in 1969 and fell in love with the historic structure. It could be that, with all of the work going on in her previous home, Mrs. Kulp wanted to keep a watchful eye on things from the other side.