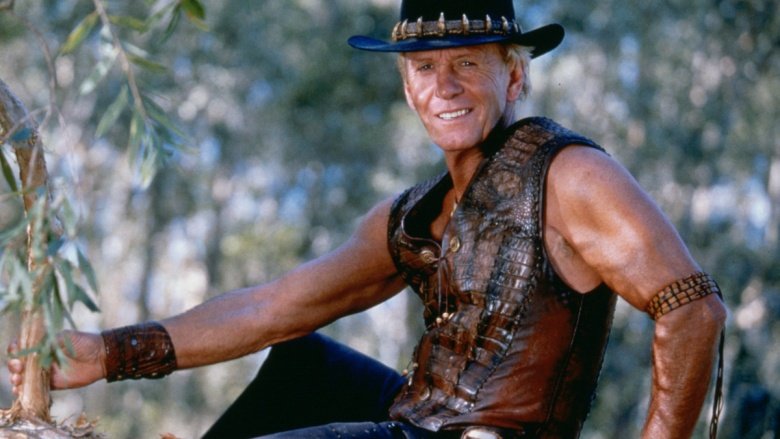 Australian tough guy/survivalist Mick "Crocodile" Dundee charmed filmgoers with his hilarious fish-out-of-water adventures in the extremely popular 1986 comedy "Crocodile" Dundee, starring and written by actor, comedian, and commercial pitchman Paul Hogan, who won a Golden Globe for the role and earned an Oscar nomination for his work on the screenplay. The movie earned $328 million worldwide and 1988's Crocodile Dundee II brought in another $239 million, making Hogan one of the biggest stars of the '80s. (He even hosted the Oscars in 1987.) But he never quite made a name for himself internationally outside of playing Mick. Here's what he's been up to for the past 25-odd years.
He was married, got divorced, married his co-star, got divorced again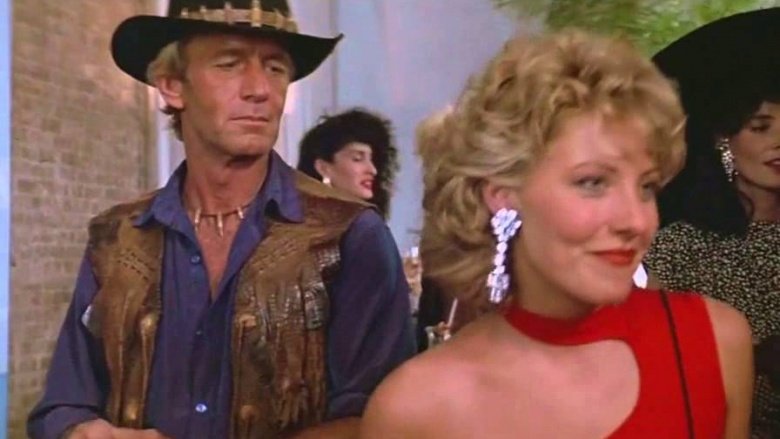 Hogan was married to his first wife Noelene for nearly 30 years. They wed in 1958, long before Hogan's career as an actor took off; he had his first taste of success on Australian TV in the 1970s with his sketch comedy program, The Paul Hogan Show. After Hogan made Crocodile Dundee, he fell in love with his onscreen romantic interest, American actress Linda Kozlowski, and divorced Noelene. They married in 1990 and had a son together, expanding a brood that already included Hogan's five children with his first wife. Despite the very Hollywood circumstances of its origin, Hogan and Kozlowski's marriage lasted for well over 20 years, although it eventually reached its own sad end. Kozlowski filed for divorce in 2013, in part because she was tired of forever living in her husband's shadow, but also because "they grew apart."
He declined potentially huge movies to do his own thing
Hogan has only ever made the movies that he really wanted to make. Dating back to his early days as a writer and star of his own TV shows (as well as Crocodile Dundee, a movie and character he created), Hogan liked to have creative control, and he rejected a number of projects that could have advanced his career. For example, Hogan turned down the title role in Ghost to make his own movie about a ghost, the comedy Almost an Angel. Ghost, which ultimately cast Patrick Swayze, was a smash hit and earned an Oscar nomination for Best Picture. Almost an Angel flopped hard.
He started a publicly-traded company to finance his films
Hogan created a novel way to raise money for a film while also controlling its budget and profits: he created the first-ever film trust in 1993 to fund his cowboy comedy Lightning Jack and placed it on the Australian Stock Exchange. The trust raised $35 million (in Australian money), and investors were to see a payout after seven years: half of the proceeds went to them, and half would go to Hogan. However, there probably weren't too many profits to go around: Lightning Jack was a box office bomb, earning just $16 million, or half of the money it had raised from investors. As scheduled, the Lightning Jack Film Trust was delisted from the Australian Stock Exchange in 2001.
He actually starred in a third Crocodile Dundee movie
Long after the character's popularity peaked in the late '80s, Hogan brought back Crocodile Dundee one more time for 2001's Crocodile Dundee in Los Angeles. (Unlike the first Crocodile Dundee movie, in which Mick experiences culture clashes in New York, this time they're in…Los Angeles.) It earned just $25 million in the U.S., and more surprisingly, only $7 million in Hogan's native Australia. Critics hated it, and it later earned a Razzie Award nomination for Worst Remake or Sequel.
In 2013, Matthew Berry, one of Crocodile Dundee in Los Angeles's credited screenwriters, offered a peek behind the scenes of the sequel during an appearance on the bad movies podcast How Did This Get Made?. According to Berry, he and writing partner Eric Abrams pitched their idea for a third Dundee film to Hogan. He approved it, and gave them three months to go off and write a screenplay—which he then proceeded to edit beyond recognition, changing everything from character names to jokes. Hogan claimed he'd changed so much that he should be the only credited screenwriter (and also, subsequently, the only writer who would receive residuals). The Writer's Guild wound up ruling in favor of Berry and Abrams; Hogan protested the decision while doing press for the film.
He never did work much
For a guy with Oscar nominations, a major movie franchise, and an Oscar hosting stint under his belt, Hogan has shockingly few credits to his name. Apart from the Crocodile Dundee films, he's starred in just five feature films: Almost an Angel, Lightning Jack, Flipper, Strange Bedfellows, and Charlie & Boots. The last two weren't even commercially released in the United States.
He got into some serious tax trouble
Hogan battled the Australian government over millions in allegedly unpaid taxes after his name came up in a 2005 government investigation into offshore tax havens. A closer look at the actor found evidence that he hadn't paid taxes on more than $37 million earned, dating back to 1986—a byproduct of the fact that although Hogan lived in the U.S. and paid American taxes during much of that time, he was still considered an Australian resident. In 2010, Hogan left his home in the U.S. to attend his mother's funeral in Sydney, Australia, where tax officials served him with papers temporarily preventing him from leaving the country until his case could be resolved. The matter was settled in May 2012 after mediation. The terms remain confidential, but neither side had to admit wrongdoing.
He took his show on the road
In 2013, Hogan returned to performing and writing with a comical, biographical one-man show in which he talked about his colorful life. An Evening With Hoges (also called Hoges Live) was a huge success, selling out dates around Australia. He revived the tour for another string of performances in 2015.
He's retired
By the time Hogan found international success with Crocodile Dundee in 1986, he was 47 years old—a late bloomer to say the least. He'd been working in entertainment for well over a decade at that point. He's since joked that he works less because he's instituted a "self-imposed exile." Whatever he wants to call it, Hogan is now pushing 80 years old—a perfectly reasonable time to slow down a bit.
He's helping his ex-wife care for their son
According to the Australian tabloid New Idea, Hogan and his ex-wife Noelene set aside their differences in February of 2017 to help their son, Scott, recover from a stroke. "When it comes to their son, Paul and Noelene are a united front and he'll do anything to help," a family source told the tab (via The Daily Mail).
Woman's Day also reported the reunion, additionally claiming that Scott was already making great progress and even planning his wedding to fiancée Nola Santuccione-Langdon. Hogan was also said to be spending more time in Australia as a result of the wedding plans, even hoping to eventually return to his home country as soon as his youngest son, Chase, 18, was more comfortable with the idea.
He became a real estate investor
Throughout his success with the Crocodile Dundee franchise, Hogan invested his money in real estate, amassing an impressive list of homes and commercial properties throughout his Aussie homeland. According to The Sydney Morning Herald, Hogan consistently traded up in his land deals, going from a humble $45,000 property in the Mosman suburb to the development of a multi-million dollar "office block" in the Sydney suburb of Parramatta.
After the sale of the Parramatta property, Hogan reportedly had no more real estate holdings down under until it was announced that in August of 2017 he was an investor in a syndicate set to purchase Brisbane's Queen's Arms Hotel for $21 million.
He received Australia's highest film honor
Though he hasn't had a movie credit in nearly a decade as of this writing, Hogan is still considered a hero in the Australian film industry—and was awarded its top honor in 2016 during The 6th AACTA Awards. SBS reported that Hogan received the Longford Lyell Award for outstanding contributions to the Australian screen. Speaking to the press, the characteristically humorous Hogan said, "I only play one character. I'm a huge one-hit wonder. Crocodile Dundee started out as a sketch. It was going to be Hoges in New York and it just sort of grew from there, a fluke."
Fluke or no fluke, Hogan and Crocodile Dundee weren't just a success for Australian films. According to Travel+Leisure, the film effectively made Hogan "the face of Australia" as well as inadvertently "filmed the best destination advertisement ever created." Perhaps most importantly, the travel mag also credits Hogan with having "introduced the indigenous Australian culture into the U.S.," a feat which in itself is award-worthy.
The real-life Crocodile Dundee didn't fare so well
This is a bit of bonus trivia here, as it doesn't specifically apply to Paul Hogan, but rather the man who inspired his star-making character. Rod Ansell was the real life Crocodile Dundee, a man described by the Gatton Star as "strong as an ox and as brave as a lion," and who "survived for more than seven weeks on a small island at the mouth of a crocodile-infested river in the remote Northern Territory." That all sounds pretty badass until you get to the end of the story: unlike the cinematic Dundee, who gets the girl and saves the day, Ansell died in a hail of gunfire after "after a drug-crazed rampage that saw a police officer killed and three other men wounded." Yeesh.
Apparently, Ansell was whacked out on speed on August 2, 1999, when he shot and severely injured two men in the midst of a paranoid delusion involving the government and Freemasons. After that attack, Ansell hid out in the bush for a day until he ambushed police who'd set up roadblocks in an attempt to capture him. It's a crazy story, and one that arguably would have made for just as compelling a movie.