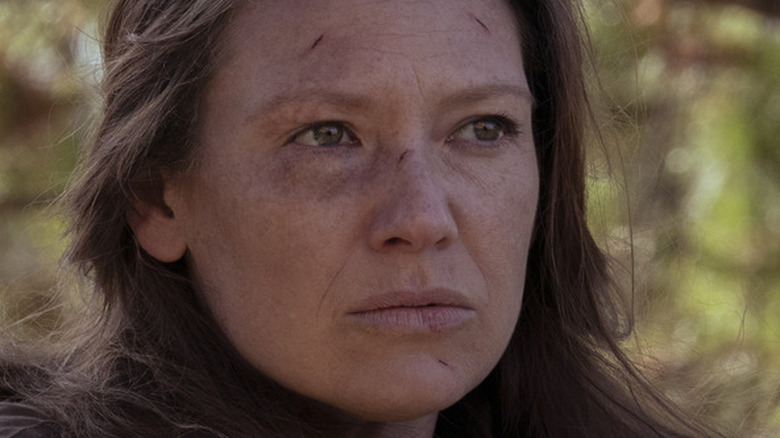 HBO's "The Last Of Us," the highly anticipated television adaptation of the popular 2013 video game, broke viewership records only three weeks after its premiere in January 2023, according to Variety. The show has endeared fans to its stellar cast, including Pedro Pascal, Bella Ramsey, and Anna Torv. The latter actor plays smuggler Tess in the new post-apocalyptic streaming series. Torv's fierce portrayal of the character has left a strong impression on viewers.
In a way, we can all relate to the pandemic element of the show, including Torv. "We've just gone through, what, a couple of years of a pandemic?" the actor mused to TVLine. "They're 20 years in and they're still on the run."
Torv looks rightfully grizzled and battle-worn in "The Last Of Us," but when she's not fighting fungus zombies, she's a fashionable, well-spoken Australian actor. Here's what Torv looks like outside of her role as Tess.
She knows how to rock the red carpet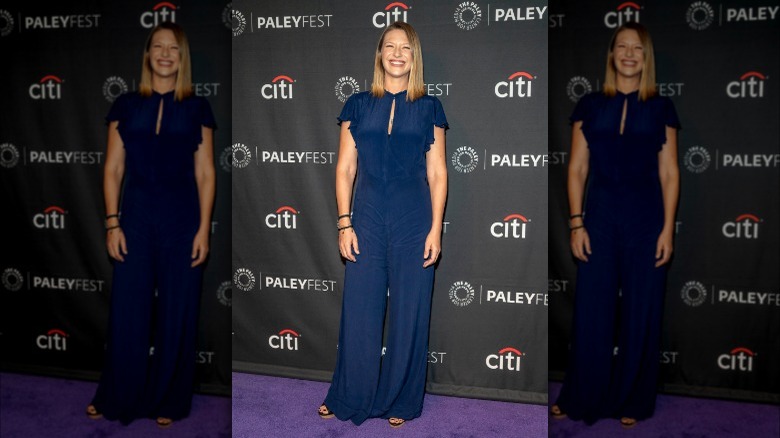 Though Tess goes for function over fashion, wearing dark practical clothing, Anna Torv doesn't shy away from color. In 2019, she wore this navy blue jumpsuit for the PaleyFest Fall TV Previews in Beverly Hills (per Getty). With its sleeve ruffles and form fitting design, this outfit is definitely a far cry from Tess' olive-drab jacket.
It turns out Torv is the perfect red carpet interviewee too. During a 2018 interview with Gold Derby, she had no problem answering questions about her "Mindhunter" character Wendy Carr on the spot. Though it's hard to hear her over the clamor of other guests, she's as well-spoken as ever. "I hadn't read the book," she explained. "I did a bit of research, even though my character is very loosely inspired." She even helped the reporter wrap up the interview with: "It's not very often you get to sit down and do a 10 to 12 page scene on television. I think that's something that's incredibly special — and it continues!" In case you're wondering, the actor told Newshub she would love to do more seasons of "Mindhunter", if the show ever breaks free of its indefinite hold.
She's always smiling and cracking jokes
You probably wouldn't have guessed that the woman who's portrayed an FBI agent, an ambitious newscaster, and a hardened apocalypse survivor has an unstoppable wit. In fact, she and Pedro Pascal, who plays Joel Miller in "The Last Of Us," were so giggly together on set that they infuriated their crew. Torv told IMDb, "We used to get the giggles a lot. It's because you spent so much time being so serious that you'd start going, 'This is ridiculous!' And we would just crack up, like tears running down our faces." Pascal added, "The crew was ready to kill us, which just made us laugh even more."
During candid interviews, Torv is charismatic, often joking around with the hosts. Back when she appeared on "Conan" in 2012, she had Conan O'Brien and his audience laughing over a discussion of Christmas traditions. She tried to trick him into believing Australia, her homeland, didn't celebrate the holiday. "You can't fool me," he said. She kept going, saying, "In Australia, we just put out beer for Santa Claus. … [He's] in board shorts and rides white kangaroos." Though we're not sure this tradition is honored by all Australians, we can confirm Torv isn't the only Aussie who has left Santa some booze on Christmas Eve (via Taste).
She can be very modest and private
Though she can rock the glamorous Hollywood bombshell look whenever she pleases, Anna Torv tends to choose more relaxed, casual outfits for her public appearances. One can usually spot her wearing collared shirts, blazers, and other high-neck blouses.
The actor herself has admitted that she really doesn't like to show off. She isn't on social media either. "I'm terrible at it," she said of her ability to self-promote to The Sydney Morning Herald. "I just wish I was better at it, honestly, because sometimes I think I miss out on things that would be fun because I'm so uncomfortable." That being said, Torv likes the privacy she's been afforded as a result.
"I do think you can't put what you're eating for breakfast on the internet and then be upset when people are invading your space," she stated in a separate interview with the publication. "If you just don't do it, then you are given an element of respect and they don't talk about it."
She stays fit with an active, balanced lifestyle
With her sleeves rolled up, looking elegantly tough, you can clearly see how fit Anna Torv is. To the 2017 premiere of "Lucky", a Magnolia Pictures film, she wore a casual black fit. However, as the actor once told Women's Health, "To be really honest, I don't love the gym." She continued, saying, "I work in an industry where everyone is flawlessly beautiful, but I just want to be healthy."
She explained that she grew up exploring her local national forest, so she prefers a workout that takes her outside. "My mom was very free. It was always 'Out of the house!' There was no watching television on weekends." Torv went on to detail her workout strategy of the time, which is surprisingly freeform. "When I'm stressed, I go for a walk — breathing deep and taking in the horizon. … Every now and then, when I'm feeling tired, I'll go to my dressing room and do yoga stretches to get loose." She added that she also enjoys hiking, mountain biking, and camping on weekends.
All in all, the actor has said she feels her best when she gives her body what it needs. "If you take care of your body, your body will take care of you," she said. "But it's not just about working out or eating right — it's about knowing when to rest."
She takes very good care of her skin
When every day is a fight for survival, there's no time for skin care. While Tess boasts a number of bruises, cuts, and blood smears on screen, the actor underneath the makeup has a perfectly undamaged visage. In fact, Torv looks to have smooth and dewy skin in real life. Though she likes to stay active, she clearly isn't letting that wreak havoc on her skin.
Torv's healthy skin is thanks, in part, to her diligent sunscreen use over the years. As she once told Women's Health, "Like a lot of Australians of Irish or Scottish descent, the people in my family have fair complexions. I spend a lot of time in the sun, but I've never been burned, because my mom used to slap 30-plus sunscreen on me. Now I wear it every day."
Also, unlike her zombie-fighting counterpart, Torv can often be spotted wearing some makeup – though she keeps it minimal. "I don't love to have my freckles popping out, but I don't like to look like I'm wearing a mask, either," she admitted.
She can pull off multiple hair colors and cuts
Anna Torv has shown off a few distinct hair colors and cuts over the years. She rocked red hair and bangs for her role as Fauxlivia in "Fringe," which she apparently pushed for. "When they finally gave me this character, I was so hands-on," she told Los Angeles Times. "[I said,] 'Let's give her long red hair. Let's make her kinda sexy and cooler.' And they let me." She also maintained a smooth, brunette bob for her time on "Mindhunter," which made her almost unrecognizable. Truth be told, she looks fantastic with blonde, brunette, or red.
There's been a lot of debate on social media about the ways hair color can affect the way people perceive you. "When I was blonde, I got the most attention from men I'd ever gotten in my whole life," one TikToker admitted. It turns out Torv experienced something similar. When asked whether people treated her differently when donning red locks, the actor confirmed to Collider, "People absolutely look at you differently."