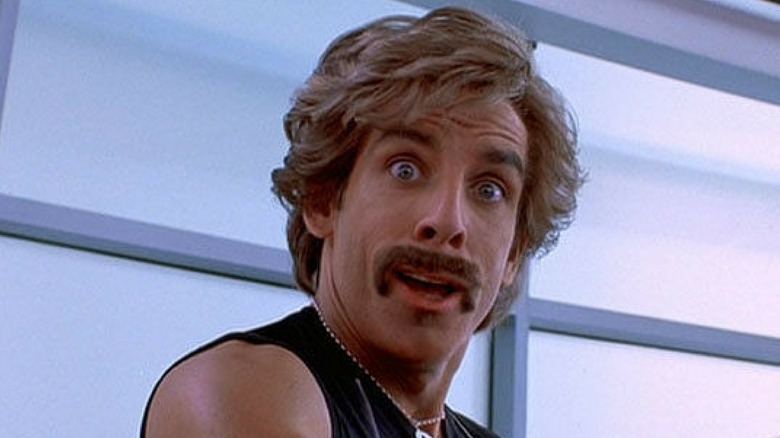 DodgeBall: A True Underdog Story taught us all that if you can dodge a wrench, you can dodge a ball, with the classic sports film reaching almost Mean Girls-levels of quote-ability over the years through its many sayings of wisdom and hilarity. While it's hard to believe that the movie came out nearly 15 years ago, it's been a long, long time since the Average Joe's team first hit the big screen in 2004. As we ponder just how, exactly, we got this old, let's take a second to see where the movie's main players find themselves nowadays.
Vince Vaughn – Peter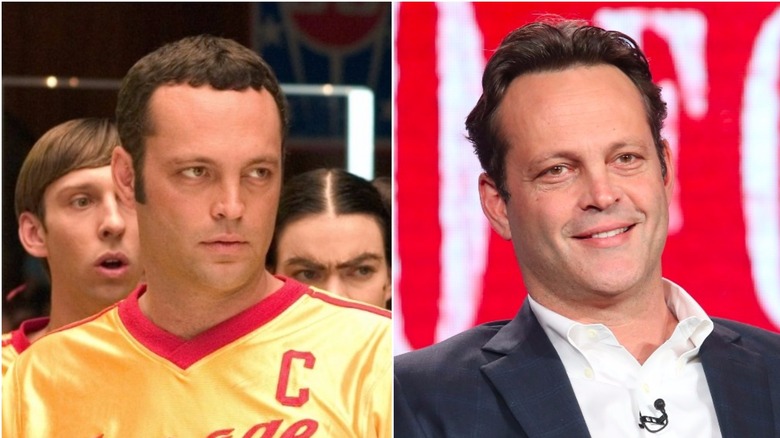 Vince Vaughn may have already been well-known for Swingers, The Lost World: Jurassic Park, and Psycho when he starred in DodgeBall, but the film seems to have marked the beginning of a new phase in Vaughn's career: that of big budget, big screen comedies. The next year, he appeared in Wedding Crashers, which solidified his status as a comedy leading man.
Vaughn's next movies included a number of films that he also helped to write and produce, including The Break-Up, Couples Retreat, and The Internship. Outside of projects he had multiple roles in, he also reunited with his DodgeBall co-star Ben Stiller in The Watch and appeared in The Dilemma and Delivery Man.
Including a starring role as a crooked casino owner on the second season of True Detective, Vaughn departed from his fast-talking comedy roots with an appearance in the war drama Hacksaw Ridge, which was nominated for Best Picture at the Academy Awards. His most recent roles veer toward "family" entertainment — literally. He nabbed a recurring role as Chet Stevenson on the Netflix animated comedy F is for Family, and he played Hutch in Fighting with My Family, a movie about the rise of WWE star Paige.
Ben Stiller – White
Ben Stiller has had a varied career as an actor, writer, and director, and it seems like it was really launched in 2004, the year DodgeBall was released. While Stiller was already famous for Meet the Parents and Zoolander, 2004 saw him starring in Meet the Fockers, Starsky & Hutch, and Along Came Polly, some of his most popular films.
That was just the start for Stiller, though, and he has continued to be hugely successful since, lending his voice to the Madagascar series, appearing in the Night at the Museum franchise, and writing, directing, and starring in Tropic Thunder. More recently, he appeared in Zoolander 2 (earning him a few Razzie nominations, but hey, we all make mistakes sometimes). He also appeared in 2017's The Meyerowitz Stories opposite Adam Sandler, which made its debut at the 2017 Cannes Film Festival with a standing ovation. Plus, he's moved behind the camera and into more dramatic work as of late, producing and directing the based-on-a-true-story prison break miniseries Escape at Dannemora, which earned 12 nominations at the 2019 Emmy Awards, including Outstanding Limited Series.
Stiller hasn't forgotten his DodgeBall days though, as he recently organized a charity competition for his Ben Stiller Foundation focused around the film. Stiller was able to reunite quite a few of his co-stars for the video, which gave fans the chance to play dodgeball with him and some of his famous friends. (Hopefully not in character, for their sake.)
Christine Taylor – Kate
Christine Taylor was already known for being a (movie) Brady when she signed on to DodgeBall, and she had a lot of other memorable roles before the film as well, including parts in The Wedding Singer, Zoolander, and The Craft. Following the film, she has kept mostly off the screen, appearing in films like License to Wed and Little Boxes and in TV shows like Burning Love, Search Party, and Elementary.
Taylor has appeared in a number of projects with Stiller over the years, including Zoolander, Tropic Thunder, and Arrested Development, and there's a good reason for their frequent positioning as co-stars. The two were married in 2000 after meeting on the unaired pilot Heat Vision and Jack, and had one of the most stable relationships in Hollywood—for a while.
The pair unfortunately announced their separation in May 2017, with sources close to the couple saying that Stiller spent a lot of time focusing on his career, while Taylor was focused on being a mother to their two children. Luckily, their split was amicable, so the two could potentially work together again some day in the future.
Rip Torn – Patches O'Houlihan
Rip Torn had a not so great fate as the Average Joe's team mentor Patches O'Houlihan in DodgeBall, a role that came far into an already successful career. Torn later took on roles in films like Yours, Mine, and Ours and Bee Movie, along with appearances on TV shows like 30 Rock.
Torn's successful career hit a snag in 2010, in which he was arrested and charged with drunkenly breaking into a Connecticut bank. Among the charges were allegations that he was carrying a "loaded revolver" and was "highly intoxicated" when he was found; he was officially charged with burglary, criminal trespass, criminal mischief, and weapons charges.
Torn eventually pleaded guilty and was sentenced to a two-and-a-half year suspended jail sentence and three years of probation. The arrest came right around the time that his 30 Rock character was killed off, and since then his career hasn't been the same, with the veteran actor only signing on to a few smaller films since. He did, however, reprise his Men in Black role in an Air New Zealand safety video in 2015.
On July 9, 2019, the veteran actor died at his home, surrounded by family. Rip Torn was 88 years old.
Justin Long – Justin
Getty Images
Justin Long earned himself a concussion from his character's bad ball dodging on the set of DodgeBall, but he also earned himself a pretty lofty status in Hollywood for someone who was just 26 years old. The movie marked one of his earliest roles following appearances in Galaxy Quest, Jeepers Creepers, and Crossroads, but it was just the start for the young star, who would go on to star opposite Lindsay Lohan in Herbie: Fully Loaded the following year.
From there, he starred in a number of comedies including The Break-Up and Accepted. He moved into action territory with Live Free or Die Hard and went back to horror with Drag Me to Hell. He later had memorable parts in Zack and Miri Make a Porno and Funny People. He also loaned his voice to the Alvin and the Chipmunks film trilogy series as the titular troublemaking rodent. In 2018, Long enjoyed a two-episode stint on The Conners as Neil, a potential love interest for Darlene (Sara Gilbert), and he was also cast as a fussy lawyer in Kevin Smith's hotly anticipated 2019 sequel, Jay and Silent Bob Reboot.
Long has had a number of high profile celebrity relationships, dating Drew Barrymore from 2007 to 2008 (the pair later starred in He's Just Not That Into You and Going the Distance together) and Amanda Seyfried from 2013 to 2015. However, the role he is perhaps most known for isn't as a celebrity or any of his film parts—it's playing the Mac in Apple's "Get a Mac" campaigns, which ran from 2006 to 2009.
Stephen Root – Gordon
Getty Images
Stephen Root unleashed his inner Hulk for his role as Gordon in DodgeBall, but the rest of his roles have been much more tame. Shortly after the film was released, Root appeared in the romantic comedy Just Friends, and then lent his distinctive voice to Ice Age: The Meltdown. He later went on to have small roles in No Country For Old Men and Over Her Dead Body before booking appearances in Drillbit Taylor and Leatherheads.
Root has found himself in small parts in many a high profile film, and you'd be surprised to hear how many things you may recognize him from. The actor has appeared in The Men Who Stare at Goats, J. Edgar, The Lone Ranger, Selma, Trumbo, and more. He even had a part in the recent hit Get Out, playing one of the film's predatory villains Jim Hudson.
Root has also had an extensive career in television, appearing on True Blood, 24, Boardwalk Empire, Pushing Daisies, Justified, The Newsroom, and Idiotsitter. Plus, back in the '90s, he gave life to two iconic TV roles: unpredictable boss Jimmy James on NewsRadio and sad sack Bill Dauterive on the long-running King of the Hill. In 2018, he landed the role of Monroe Fuches, handler and mentor of the titular character on Bill Hader's pitch-black hitman comedy Barry. For his work in the show's second season, Root received his first-ever Emmy nomination.
Joel David Moore – Owen
Getty Images
Joel David Moore had an adorable love affair with the other team in DodgeBall, and since then, he has continued to use his sweetness to charm audiences across the board. DodgeBall was one of Moore's earliest roles, but he quickly followed it up with an appearance in Hatchet and further roles in American Hustle, Gone, and CBGB.
Moore has also been a consistent television guest star, appearing on multiple episodes of Bones and Medium and starring in the short-lived ABC drama series Forever. He has also popped up on shows like Chuck, House, My Name is Earl, and Last Man Standing. You may also recognize him from some of his music video appearances, with the actor starring in videos from the likes of Fall Out Boy, Katherine McPhee, and Katy Perry.
Moore's most notable role to date, though, was in James Cameron's Avatar. Moore played Dr. Norm Spellman in the original 2009 hit. He'll be kept busy for the next few years continuing on with the role, with Moore set to play Spellman in all four of the Avatar sequels that Cameron has planned. The movies are set to shoot back-to-back, with release dates stretched out over the next few years, so get ready to see a lot more of Moore.
Chris Williams – Dwight
Getty Images
Chris Williams was already an established actor when he took on the part of Dwight in DodgeBall, and he has continued to be a popular comedy star since the film was released. Williams followed up the film with guest starring appearances on shows like Reno 911!, CSI: Crime Scene Investigation, Monk, and Weeds, at the same time lending his voice to a number of video games, including Saints Row, Spider-Man 3, and Open Season.
Williams landed recurring roles on shows like Californication, One Big Happy, and Curb Your Enthusiasm (in the memorable part of rapper Krazee-Eyez Killa). He was among the regular cast of the CBS sitcom The Great Indoors, but it was canceled after just one season. But Williams still had that recurring role on HBO's popular and acclaimed Silicon Valley as Hoover, the loyal and sycophantic assistant to evil tech boss Gavin Belson (Matt Ross).
Alan Tudyk – Steve
Getty Images
You'll recognize Steve the Pirate if you're a fan of sci-fi, as actor Alan Tudyk was already well-established as Wash in Joss Whedon's cult hit Firefly. A sequel to Firefly provided one of Tudyk's early DodgeBall follow-ups, with the actor coming back to tear everyone's hearts out in the Firefly big screen movie Serenity.
Tudyk has had a number of other very high profile roles as well, though, with the versatile actor appearing in films like I, Robot, 3:10 to Yuma, Transformers: Dark of the Moon, 42, Maze Runner: The Scorch Trials, and Trumbo. You also heard (but didn't see) Tudyk as the droid K-2SO in the recent big screen hit Rogue One: A Star Wars Story.
Rogue One isn't the only time Tudyk has lent his star power to a film off screen, either. The actor has some prolific pipes, lending his voice to huge films like Wreck-It Ralph, Frozen, Big Hero 6, Zootopia, and Moana. He is also a popular voice actor on TV, appearing in episodes of Young Justice, American Dad!, and TripTank. On the small screen, Tudyk also had a main role on the ABC cult hit Suburgatory and appeared in the one season wonder Powerless, which was recently canceled by NBC despite its lofty status as DC's first televised comedy. And in the final season of the Netflix zombie comedy Santa Clarita Diet, Tudyk replaced his Firefly costar Nathan Fillion in the role of Gary, a decomposing, disembodied head.
Gary Cole – Cotton
Getty Images
Gary Cole played the straight man of the DodgeBall commentating duo as Cotton McKnight, giving a good enough performance to submit for any sports commentating reel. Cole decided not to go that route, though, sticking to acting and appearing in films like Pineapple Express, Tammy, Talladega Nights: The Ballad of Ricky Bobby, and The Bronze.
While you've almost definitely seen Cole elsewhere on the big screen, you're more likely to have seen him on the small screen, where he's had a prolific career as a guest star on TV shows like Supernatural, Psych, Chuck, and 30 Rock. He's also had recurring roles on Entourage, The Good Wife, Suits, and Veep, for which Cole earned an Outstanding Guest Actor in a Comedy Series Emmy nomination in 2014 for his role as inscrutable presidential strategist Kent Davison.
Cole is also a well-known voice actor who has lent his pipes to properties like Family Guy, Harvey Birdman, Attorney at Law, Kim Possible, Scooby-Doo! Mystery Incorporated, Bob's Burgers, Rick and Morty, and F is For Family. His upcoming projects include the crisis-themed romantic drama Under the Eiffel Tower and the comedy Married Young.
Jason Bateman – Pepper
Getty Images
Jason Bateman got the chance to deliver some of DodgeBall's most memorable lines in his role as the commentator Pepper, an outlandish part that was a huge departure from his most notable role at that point as the straight man Michael Bluth on Arrested Development. The part of Michael Bluth remains to date Bateman's most famous, and he reprised it when Netflix resurrected the show for a fourth and fifth season.
Bateman hasn't just stuck to the model home, though. The actor has also had a lengthy on-screen career, appearing in films like Juno, Hancock, Up in the Air, Couples Retreat, The Switch, Horrible Bosses, The Change-Up, Identity Thief, This Is Where I Leave You, Zootopia, Office Christmas Party, and Game Night.
Despite the movies, few actors have racked up as lengthy a TV resume as Bateman has, who landed his first small screen role in 1981, as James Cooper Ingalls on Little House on the Prairie. He earned two Emmy nominations and won a Golden Globe for Arrested Development, but the TV stalwart finally got his Emmy in 2019 for the extremely stark Netflix crime drama Ozark. But while Bateman stars on the show, he won his Emmy for directing an episode.
Hank Azaria – Young Patches O'Houlihan
David Livingston/Getty Images
The late Rip Torn portrayed old, crotchety, slightly mad dodgeball coach Patches O'Hoolihan in DodgeBall, but Hank Azaria played the character as a younger man, back in the good old days and in a dodgeball training video. Azaria is a comedy journeyman and gifted actor who's been a major part of some of the biggest and funniest shows and movies of the past three decades. Since the series' inception, he's been a utility voice actor on The Simpsons, portraying, among others, Chief Wiggum, bartender Moe, Carl Carlson, Superintendent Chalmers, Comic Book Guy, and Kwik-E-Mart proprietor Apu (although, because he's a Caucasian man, not without some controversy).
In 2017, he turned Jim Brockmire, a baseball announcer he played in a Funny or Die sketch, into a full-length sitcom called Brockmire for IFC. Azaria also portrayed Gargamel in two big-screen Smurfs movies, while enjoying a recurring role on Showtime's Ray Donovan and two brief appearances in Netflix's Maniac.
Al Kaplon – Tournament Referee
While dodgeball isn't a real professional sport (or at least it wasn't when DodgeBall hit theaters in 2004; some leagues have popped up since then), filmmakers managed to keep the playing sequences as realistic and above board as possible. Portraying "Tournament Referee" in the film's climactic showdown between Globo Gym and the Regular Joes, we've got Al Kaplon, an actor and real-life minor league baseball umpire. Kaplon called strikes, balls, safes and outs for a decade as an official in the Pacific Coast League. Upon his release in 1986, he moved into acting, sort of, portraying an umpire in the baseball movie Talent for the Game. He followed that up with small parts on episodes of The X-Files and the sports-themed sitcom Inside Schwartz, as well as appearances in commercials for Toyota, Nike, and Viagra. He played an umpire in all three of those campaigns, so at least he got to call something other than baseball when he was cast in DodgeBall.
Following that high-profile gig, he was named the head referee on NBC's short-lived, 2008 primetime revival of American Gladiators. That's his most recent credit, so Kaplon seems to have retired from his second-act career as a fake referee.
Jamal Duff – Me'Shell Jones
Following small roles in the action movies S.W.A.T. and The Rundown, DodgeBall was Jamal Duff's third movie, and the actor portrayed Me'Shell Jones, dodgeball monster and loyal second-in-command to White Goodman. Duff strikes an imposing figure in real life, too. The 6'7" actor played as a defensive end and defensive tackle for three years in the NFL in the 1990s. And in the 2000s, he decided to give acting a shot.
After DodgeBall, Duff booked dozens of roles in movies and TV shows, often playing large and in charge characters such as a bouncer on This Is Us, security guards on Future Man and Raven's Home, and "Tough Guy #1" on an episode of Fresh Off the Boat. Probably his most high-profile work to date is a recurring role as Zeke on Brooklyn Nine-Nine. Fellow burly football player-turned-actor Terry Crews co-stars on the show as Terry Jeffords, and Duff plays Zeke, Terry's bullying, belittling, and much bigger brother-in-law.
Julie Gonzalo – Amber
Jason Kempin/Getty Images
Like her on-screen DodgeBall love interest Justin Long, Julie Gonzalo was well into her 20s when she portrayed a teenager, specifically a cheerleader named Amber who needed the help of Justin (Long) for her important cheerleading routine, but at the expense of the Average Joe's dodgeball squad. Around the time of DodgeBall's release in 2004, Gonzalo played a lot of teens, such as in Freaky Friday and A Cinderella Story. In 2006, Gonzalo scored her biggest early career role, as the outgoing Hearst College student Parker Lee on the third and final season of the cult classic Veronica Mars. Gonzalo reprised the role for an installment of the 2019 Veronica Mars revival.
And speaking of reboots, Gonzalo is also well-known for her role as Pamela Rebecca Barnes on TNT's 2012-2014 Dallas sequel series. Along with guest star gigs on series ranging from Castle to CSI: Miami to Grey's Anatomy, Gonzalo landed one other major role on a short-lived show, playing attorney Maggie Dekker on the fantastical legal dramedy Eli Stone.
Missi Pyle – Fran
Getty Images
Even if you've seen DodgeBall hundreds of times, you probably wouldn't be able to pick Missi Pyle out of a line-up. The gorgeous actress made a huge transformation for the part of Globo Gym player Fran, going from blonde to dark brunette and adding in a unibrow and an intense glare for good measure. (The actress says she was uncomfortable being around set in the extreme outfit, although she still says the process was "a ton of fun.")
Since DodgeBall, Pyle has gone back to her normal self, but she's had good luck as a character actress throughout her career. Shortly after DodgeBall, Pyle played Violet's overbearing mother in Charlie and the Chocolate Factory. She later appeared in Captain Fantastic, Gone Girl, Just My Luck, Percy Jackson: Sea of Monsters, and Jumanji: Welcome to the Jungle.
In addition to dominating the big screen, Pyle has popped up all over the small screen, amassing dozens of guest starring credits to her name, including appearances on Inside Amy Schumer, Lady Dynamite, One Mississippi, Major Crimes, The Catch, Two and a Half Men, Mom, Another Period, and Bob Hearts Abishola.