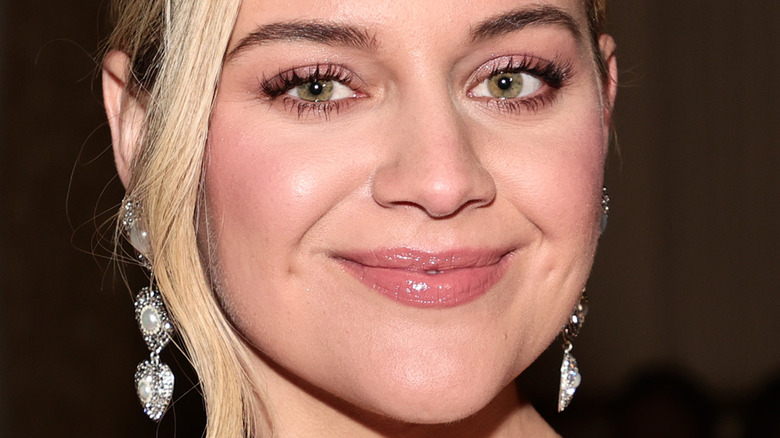 Kelsea Ballerini and Chase Stokes are one of young Hollywood's most intriguing couples. On an episode of "Call Her Daddy" (via iHeart Country), Ballerini revealed she reached out to Stokes via Instagram DMs in December 2022, and it sounds like they've been enjoying each other's company ever since. As she put it, "I'm just vibing."
The duo reportedly linked up after they both left high-profile relationships. Stokes dated his "Outer Banks" co-star Madelyn Cline before moving on with his current girlfriend. As for Ballerini, the country music star was married to musician Morgan Evans for five years before they divorced in 2022.
Stokes and Ballerini were in the middle of major moments in their careers when they began dating. Stokes, who plays the lead character in Netflix's "Outer Banks" had the show's third season to look forward to while things heated up with his new fling. Ballerini was working on her short film "It Wasn't Fate" and her highly anticipated EP "Rolling Up The Welcome Mat" when her connection with Stokes made headlines. As busy as their careers are these days, they've apparently still found just enough time to fall for each other. Keep reading to take a look inside Kelsea Ballerini's relationship with Chase Stokes.
Kelsea Ballerini rebounded shortly after her divorce
As previously mentioned, Kelsea Ballerini was married to Morgan Evans before she hit it off with Chase Stokes. The former couple reportedly met at Australia's Country Music Channel Awards and they really hit it off. They shared their first kiss that same night and went on to tie the knot in 2017. The couple regularly graced red carpets together and even collaborated on music; Ballerini was featured on Evans' song "Dance With Me."
In August 2022, Ballerini and Evans took to their Instagram Stories to break the news to their fans that they had filed for divorce that year. "Friends, I've always tried my best to share my life with you in a real and vulnerable way, while also protecting layers of my personal life as they unfold," Ballerini penned. "This is now public record so I wanted you to hear from me directly that I am going through a divorce." Evans' message was a little more straightforward: "I am very sad to confirm that after almost 5 years of marriage, Kelsea and I are parting ways. I wish it were otherwise but sadly it is not." Although moving on was likely difficult for Ballerini, it seems that she didn't give up on love.
Chase Stokes previously dated Madelyn Cline
Kevin Winter/2021 Mtv Movie And Tv Awards/Getty Images
Chase Stokes already had a bit in common with Kelsea Ballerini before they even got to know each other. Much like Ballerini, the actor was also in a relationship that did not exactly fly under the radar. After connecting on Netflix's "Outer Banks," Stokes and Madelyn Cline went public in 2020. In a classic "life imitating art" scenario, their characters happen to be romantically involved on the show, too.
In a 2020 chat with "Today," Stokes opened up about his on-screen connection with Cline and how it became an actual connection. "It was cool to work with somebody you're really good friends with," he shared. "And to take the time to fall for each other after the show had wrapped was really cool. I was talking to my mom about it … it was cute and fun and it's super cool to be a part of something with your partner and watch the success of it all together."
Although the couple once seemed to be in love, they went on to part ways in 2021, just one year after they announced they were an item. Luckily for "Outer Banks" fans, the co-stars told Entertainment Weekly that they don't plan for their breakup to interfere with the show. "Mads and I have been working together now for 30 episodes, and we made a promise to each other before we even started dating that the work was always going to come first," Stokes told the outlet in part.
The two were spotted getting cozy at a football game
Kathy Hutchins/Shutterstock & Frazer Harrison
In the wake of their respective breakups, it looks like Kelsea Ballerini and Chase Stokes were ready to give love another chance. In January 2023, Stokes shared a photo of the cuddling up to each other at a college football game. He even tagged Ballerini in the Instagram photo, making things IG official.
The two also posed at the football game in a series of photos posted on Instagram by Raising Cane's founder Todd Graves. A number of other stars were in attendance as well, including Stokes' "Outer Banks" co-stars Austin North and Johnathan Davis. So, one might go so far as to assume that Ballerini and Stokes' friends knew about their relationship long before they went public. The two continued to make their affection for each other clear on social media after Stokes took to the comments of Ballerini's Instagram post to share a bit of his humor. "Could you please add piping hot sake to the list on slide 8 please with a side of burnt finger tips?," he penned, seemingly joking about Ballerini's Del Taco order.
The two had little to say about their relationship at first
With Chase Stokes and Kelsea Ballerini's social media PDA, you'd think they aren't the kind of couple who keeps quiet about their relationship. Well, it turns out that this wasn't the case — at least not at the start of their courtship. Ballerini first (kind of) spoke about Stokes in a TikTok she posted in January 2023. The video features the "Dibs" singer reacting to a screenshot of a conversation shared by the Hollywood gossip account DeuxMoi.
The conversation included speculation about what was going on with Ballerini and Stokes. "I know, I know. Stop reading, stop looking," the "Miss Me More" singer said in the clip. "But what is happening, guys? Let's not do this, you know?" Needless to say, Ballerini wasn't quite ready to outright confirm things.
Stokes also kept the details to a minimum when he spoke about his situation with Ballerini publicly for the first time. "She's a sweet girl," he told TMZ. "We're having a good time. That's all I'll say." Paparazzi continued to ask the TV star about Ballerini, but he stayed relatively tight-lipped. Hey, after all of the gossip and speculation surrounding their previous relationships, can you blame the two for wanting to keep their new relationship relatively under wraps for as long as possible?
Chase Stokes and Kelsea Ballerini don't mind a bit of PDA
Chase Stokes and Kelsea Ballerini took things to the next level near the end of January 2023. TMZ reported that they even visited Ballerini's home state of Tennessee that month. (Hmm … we wonder if Stokes met his new girlfriend's family during the trip.) The pair reportedly enjoyed their time in Nashville, visiting local spots like Robert's Western World for dinner. According to TMZ, onlookers shared that the couple did a little canoodling during their date night. They held hands and sat facing each other while they enjoyed their meal. but reportedly left after only 30 minutes. Maybe they knew they were being filmed?
Stokes and Ballerini were also spotted getting close at an airport just days later. TMZ shared some photos of the two hugging and kissing before parting ways. And in February 2023, Stokes took to IG Stories to share a snap of Ballerini smooching him on the cheek.
By all accounts, Ballerini really isn't too worried about how her ex-husband feels about all of the PDA-heavy photos. The singer said in part on the "Call Her Daddy" podcast (via Life & Style), "I'm not married to him anymore, and I don't need to care about his feelings anymore." Well, that sure answers that.
The couple's exes have moved on
With all of the news about Kelsea Ballerini and Chase Stokes' relationship making headlines, you might be wondering what their exes have had to say. As for Madelyn Cline, it looks like she's unbothered and onto the next. "I am happily taken," she revealed in an interview with Cosmopolitan in February 2023. "All I know is he makes me incredibly happy. And I've truly never been happier, and I feel very, very empowered." Cline has yet to reveal the identity of the mystery man who has seemingly swept her off of her feet.
On the flip side, Morgan Evans doesn't seem too thrilled about how his ex-wife has navigated their divorce. After Ballerini's "Call Her Daddy" episode dropped in February 2023, he took to Instagram to respond to claims the county star made about their split. "It's really sad for me to see this person, who I spent so much of my life with, and loved with all my heart, saying things that aren't reality and that leave out what really happened," Evans wrote. "She knows I'm not the type of guy to speak on those things publicly." He added, "If this is what she needs to heal I hope it helps." The musician went on to ask his followers not to send hate to his ex or anyone else. Fans speculated that Evans also shared his side of the story in his 2022 song "Over For You."