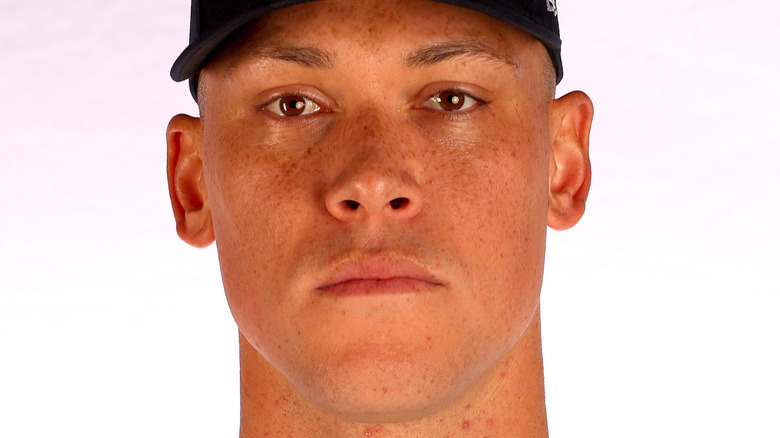 Major League Baseball (MLB) is full of dedicated and talented athletes who also happen to have swagger and sex appeal, and it has been since its advent. As far as former players go, we could probably write an encyclopedia-length list with the number of hot men that have played the game. Even if we were to stick to recent memory, there are far too many men — from Anthony Recker to Chris Davis to Trevor Plouffe — to wrangle with. So, we focused our list on the hottest players in the game today, which still proved to be a difficult task. It might not seem like a lot of work to cobble together a list from the current MLB rosters, but the issue was not finding our favorite hotties, it was finding too many.
Though active rosters are capped at 26 players, an extended roster can include up to 40 men. And since there are 30 teams in the MLB, that means there were well over a thousand players we had to consider. There must be something in the water (or Gatorade?) too, because there happens to be an exorbitant amount of sexy dudes in the MLB. There are many, many hunks we could have included — Brandon Crawford, Noah Syndergaard, Mike Trout, Danny Mendick, Mitch Haniger, Eric Hosmer, and more — but we had to make some tough cuts and we stick by them. In no particular order, here is our list of 20 of the absolute hottest MLB players in the game today.
Bryce Harper is a sexy beast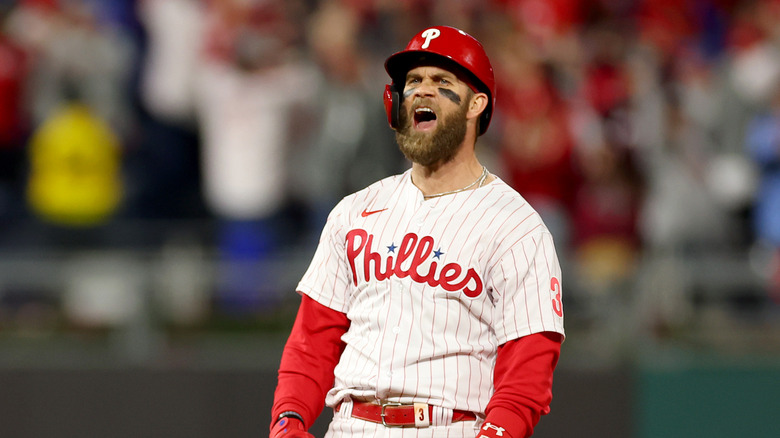 According to the Major League Baseball website, Bryce Harper was the fifth best player in the league for 2022. He is also one of the league's hottest players, something that has landed him on virtually every list of MLB hunks that has ever existed. With his talent and his attractiveness, it is no surprise that Harper is incredibly popular on social media, with 1.7 million Instagram followers and a million Twitter ones, as of this writing. He is also in high demand for endorsements and, in 2016, even broke records when he signed a deal extension with Under Armour. Thankfully for us, he has modeled underwear for the sportswear brand, which has resulted in some pretty steamy pictures.
Harper also steamed it up when he posed nude for the 2015 ESPN Body Issue, which somewhat shocked us given that he is a devout Mormon. Still, we love that his religious beliefs are flexible enough to allow him to show off his body — though he also looks good in his uniform, street clothes, or formalwear. Harper has been in the public eye for over a decade, ever since joining the MLB in 2018. He spent seven seasons with the Washington Nationals and has been with the Philadelphia Phillies since 2019. In 2019, Branded Sports asked, "Is Bryce Harper actually hot or are guys just mansplaining his hotness to us?" We can confirm: he is actually hot.
Max Kepler is finer than most male models
There is nothing that is not hot about Max Kepler. Seriously, even his first name, Maximilian, is sexy. The German-born athlete, who joined the MLB in 2015, has played for the Minnesota Twins for the entirety of his major league career. He is probably not leaving baseball anytime soon — he has a massive 35-million-dollar, five-year contract with the Twins — but The Athletic and other sources reported that he may be traded in 2023. Still, if things don't work out in his favor, he could totally have a career as a male model. Yes, Kepler is that fine.
From his sculpted jawline to his piercing blue eyes to his cheeky smile, Kepler's face is immaculate. At 6'4" and 225 pounds and with a muscled but not bulky physique, Kepler's body is great as well. He does not have a ton of pictures on his Instagram, but that hasn't stopped us from recognizing his beauty. So too have others, which is why he's number one on Ranker's list of "The Hottest Baseball Players of 2023." Kepler also has a spot on SportyTell's 2022 piece, "41 Hottest Baseball Players in The League Right Now," and in 2019, was listed as one reason for women to be baseball fans in a super gender-stereotypical article by Barstool Sports.