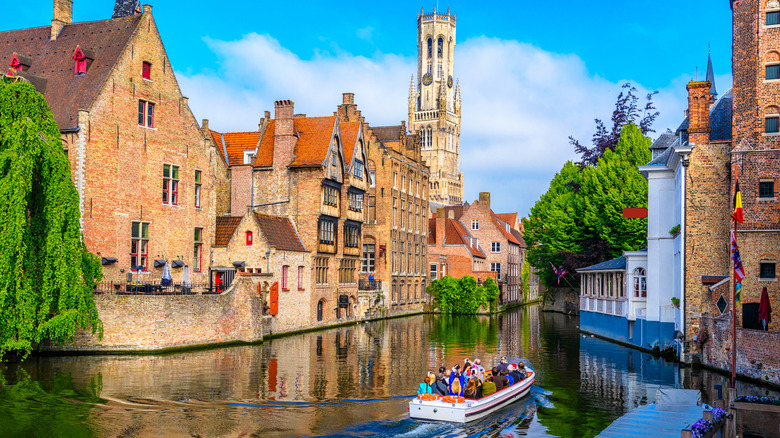 There's something about Europe that seems to scream luxury. Indulge in the continent's clichés and you might find yourself dreaming of fine Parisian restaurants, stunning Swiss chalets, and sprawling villas on the Italian coast. Maybe that's part of the appeal — according to a report published by Statista, Europe welcomed around 303 million tourists in 2021. Before the pandemic, visitor numbers peaked at 746 million. All in all, that makes Europe the world's most popular region for international tourists.
All 303 million of those people don't dine at L'Ambroisie every year, however, so it stands to reason that there's a lot more to Europe than extravagant self-indulgence. Obviously, a lot of money will go a long way, but it's entirely possible to experience the best Europe has to offer without having to take out a second mortgage — all you need to do is know where to look. From the coast of Ireland to the mountains of Romania and pretty much everywhere in between, these are the best European cities for budget travelers.
Budapest, Hungary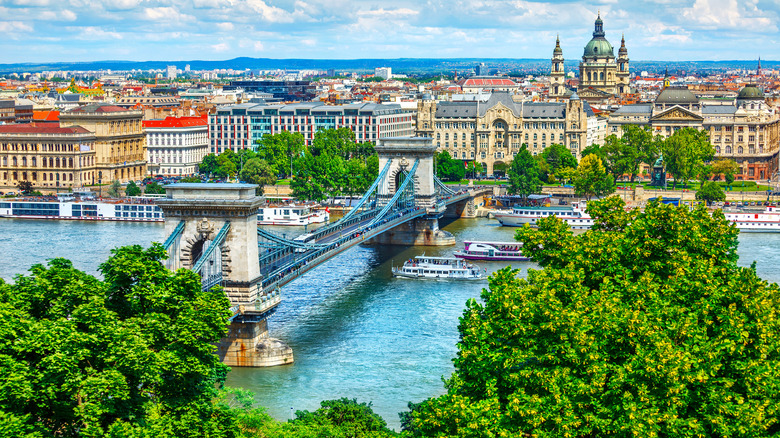 Veteran travelers will be well aware that, by quite some margin, the most affordable cities in Europe are almost exclusively located toward the eastern end of the continent. Budapest is no exception. According to Lonely Planet, Budapest has long enjoyed a reputation as an inexpensive city to visit, and while it is gradually becoming more expensive, it's still much cheaper than most other European capitals — especially those on the western side of the continent.
Like most capital cities, there's plenty to see and do in Budapest. The good news is that you'll be able to get around for a pittance: In 2022, a single bus ticket costs 350 Hungarian forints, which is about $1. Lonely Planet recommends using the city's public transport system as your own personal sightseeing tour, especially since many of the bus and tram routes pass Budapest's most famous views and monuments.
Meanwhile, the city is home to a number of market halls, each containing plenty of food options for as little as $10-15. You can also visit many of the city's famous thermal baths for less than $10 per visit. The Dandár Baths is a great option for couples or solo travelers, while Pünkösdfürdői Beach is a good option for families. All prices generally take a steep drop if you visit out-of-season in the spring or fall. Plus, the stunning autumnal colors along the Danube River are a great highlight for any fall getaway.
Sofia, Bulgaria
Bulgaria probably isn't at the top of your list of must-visit destinations. As one of the oldest cities in Europe, Sofia has been described by some as "drab," with a "distinct lack of charming old buildings."
But don't write off Sofia — or Bulgaria — just yet. This is a city filled with secrets and pleasant surprises, with far more to offer than what you'll see at first glance. According to Kayak, a walk around Sofia might have you stumbling across the ruins of a Roman theater, a charming flea market, or a top-notch Lebanese restaurant. Beyond that, the city is known for its museums and historical attractions, as well as the stunning hikes around Mount Vitosha. But how much of this can be done on a tight budget?
The answer: More than you might think. A number of cafés and kiosks offer cheap eats for tourists, and you won't have any trouble finding a hostel or guesthouse for a decent price, either. According to Metro Sofia, you can currently get a day ticket for every form of public transport for just Лв4 (4 Bulgarian Levs), or about $2, and a three-day pass isn't much more than that. The museums aren't free, but they're not expensive, either — for example, an adult ticket to the Sofia History Museum in 2022 will cost you Лв6, which is around $3. Give it a go, and you might just find that Sofia isn't quite as drab as you've been told.
Tallinn, Estonia
Situated on the northern coast of Estonia, Tallinn is a city that offers all the icy beauty of the Baltic region without any of the eye-watering costs (We're looking at you, Finland!).
Once you're done taking in the city's fairy-tale spires and charming, colorful old town, Visit Tallinn recommends that travelers on a budget visit some of Tallinn's free museums, such as the Contemporary Art Museum of Estonia in Kalamaja or the Museum of the Bank of Estonia. Many of the city's most interesting sights can be seen from the street, too, including the Danish King's Garden or the Cat's Well, which was once used as a place of sacrifice to keep a local water spirit happy. You can also get a great view over the whole city at one of the viewing points on Toompea Hill, which is free to visit.
Tallinn offers some genuinely great food for low prices, too. Among the eateries recommended by Visit Tallinn are Kolmas Draakon, a medieval tavern offering hearty fare for unbelievably low prices, the affordable yet hugely popular Latvian bistro chain Lido, and Sõõrikukohvik, which sells donuts by the kilo. And if you find yourself with some spare cash to spend at the end of your trip, you might also consider taking a ferry over to Helsinki. Be warned, though, that the crossing will cost you $84 on average and leave you in a city that, to put it mildly, is notably pricier than Tallinn.
Kraków, Poland
Kraków, a city in southern Poland, is a city on the rise. Statista reports that 900,000 tourists visited the city in 2021, a 24% increase on the previous year, and much of that popularity can likely be attested to the city's impressive array of things to see and do — as well as its low prices.
Budget travelers can stay in one of Kraków's hostels or could opt to get a hotel room for between $56 and $86 a night, depending on when you're visiting. You won't go hungry, either, as street food staples like zapiekanka, a kind of toasted baguette, are sold for loose change around the city center. Kraków's milk bars, which are basically public cafeterias, also provide cheap yet plentiful meals alongside an experience that In Your Pocket describes as "a required cultural experience" for tourists in Poland. Best of all, many of the more traditional bars in Kraków will sell you a decent-sized drink for about $1.
Some of the most notable attractions and historical sights just outside of Kraków include the jaw-dropping Wieliczka salt mines and the Auschwitz-Birkenau Memorial and Museum, while the city itself is known for its botanical gardens, range of museums, and impressive main square.
Porto, Portugal
artem evdokimov/Shutterstock
Once you move out of Central and Eastern Europe, you're going to find that prices tend to rise. That doesn't mean that Western Europe is totally off-limits to the budget traveler, however. Among the region's more affordable cities, and one of its most alluring, is Porto, Portugal.
As the second-largest city in Portugal, Porto offers plenty of things to do for every type of tourist. Lonely Planet points out that many of the best things to do in Porto, such as the nearby beaches and hilltop views, are free, while a one-way trip on public transport will cost just over $1 in the city center, so getting around won't be much trouble, either. There are plenty of budget hotels that will keep you comfortable for much less than $100 per night, while hostels run even cheaper; Lonely Planet cites some rooms as typically costing around $26 a night during the high season. Be warned, however, that while the off-season (between November and February) will offer even cheaper accommodation, the weather will be wetter and the days considerably colder.
Some things remain constant, though: The city's tabernas offer classic Portuguese food at great prices year-round, while a glass of local wine shouldn't cost much more than $5. And while you're generally going to pay more here than you would in, say, Sofia or Budapest, there's something to be said for enjoying a nice meal and glass of Douro wine in the evening sun — without worrying about what it'll do to your bank account.
Galway, Ireland
Dublin seems like Ireland's most obvious port of call, but, if you're looking for affordable travel, you might want to hold off. While you can try to cut corners and costs in Dublin, it's not the most attractive destination for thrifty tourists.
Fear not though, Hibernophiles, as you can still experience the best of Ireland without having to spend a year's wages on a Dublin city break. Described by Ireland's tourist board as a "balmy, bohemian city with a love of traditional music," Galway is a place that truly embodies the spirit of Ireland. There's a pub on every corner, Gaelic culture continues to thrive, and you can reach some of the country's most beautiful sights in under an hour.
Kayak estimates a hotel room in Galway can cost as low as $100 in the (very rainy) off-season, while single bus fares begin at €2, or less than $2. You can also purchase a weekly fare for just over €20. If you're staying inside the city, you should be able to walk anywhere you need to go, but car rentals aren't too expensive either, just in case you opt to use the city as a base to explore the western side of the country. Kayak also estimates the cost of an average meal in the city at about $25 — which isn't too bad for a city described by the outlet as "a seafood lover's delight."
Bucharest, Romania
Romania might be best known for its rugged Carpathian scenery, medieval villages, and infamous-if-tenuous connection to Bram Stoker's Dracula. But Bucharest, the country's capital city, offers so much more.
At first sight, Bucharest isn't the most enticing place in the world. According to Rough Guides, this is due to the redevelopment projects instigated by Nicolae Ceaușescu's communist government in the 1980s. The result of Ceaușescu's schemes was the destruction of the city's old town and the establishment of the behemothic Palace of Parliament, which is now open to the public for a standard admission fee, in 2022, of 40 lei, or about $8.
Luckily, there's a heck of a lot to do in Bucharest: EasyGuide suggests tourists embark on a number of walking tours, visit the King Michael I Park, or even go on a pub crawl, while Rough Guides claims that the city's clubbing scene is one of the best in the Balkans. Perhaps most notably, Bucharest also boasts some of the cheapest classical music performances in the world, with tickets to the opera, ballet, and theater available for between €2 and €15. Who needs vampires?
Tirana, Albania
Lauded by AlbaniaVisit as both "the heart and capital city of Albania" and "one of the safest capitals in Europe," Tirana is rife with the kind of attractions that you'll find in so many other European cities: museums, galleries, architecture, restaurants — you know the deal. So why choose Tirana?
For the answer, we can turn to Rough Guides' travel advice for Albania, which states that you can get a bottle of red wine for the equivalent of €6, a dish of lamb koftas for €2, a night in a budget hotel for €30, and a train ride to the northern city of Shkodra for €1.50. Europe really doesn't come much cheaper than this.
There's an impressive amount to do, as well. Some of the must-see attractions, according to Lonely Planet, include the Bunk'Art underground art and history museum, the cliff-side fortification known as Petrela Castle, and the almost unbearably creepy House of Leaves museum, which was once the headquarters of the city's secret police. If none of that takes your fancy, though, you could always venture out to some of Albania's gorgeous coastal or rural regions. According to Albania Tour Guide, you can catch a bus to the ancient port city of Durrës for just €1, which will put you within a stone's throw of the incredible Divjakë-Karavasta National Park.
Liverpool, England
Liverpool's global brand very much revolves around the history of The Beatles, and, in fairness, the city hasn't done much to divorce itself from that reputation. Look past the interminable (and often overpriced) Fab Four tourist traps, however, and you'll find one of the United Kingdom's trendiest and most affordable cities.
There are many ways to save money in Liverpool. Lonely Planet points out that many of the city's museums are free, including the Mersey Maritime Museum, the historical and scientific World Museum, and the Liverpool outpost of the renowned Tate institution. The city is also filled with parks, including Sefton Park, which has a stunning Palm House at its heart, and Calderstones Park, home to one of the oldest trees in England. Liverpool is becoming particularly renowned for its food scene, with the indie restaurants on Bold Street offering some of the best food in the city for surprisingly low prices.
It's also entirely possible to get around most of the city on foot, and, if that doesn't sound like much fun, you can rent a bicycle for just £3 per day. Score some cheap digs for the night on top of that — Lonely Planet claims you can get a basic hotel room for two for as low as £45, or about $50. With all those savings, you'll be twisting and shouting your way to Penny Lane before you can say "Ob-La-Di, Ob-La-Da."
Palermo, Italy
logaen/Shutterstock
Italy's more luxurious cities can easily be counted among the most expensive in Europe. Then again, nobody expects anything less — you know what you're getting with Milan or Venice. And while you'll need to head out of the cities to really get your money's worth out of Italy, it is possible to enjoy a city break without going broke.
Palermo is the capital of the Mediterranean island of Sicily. A city steeped in history, Rough Guides marks Palermo as an ideal destination for street food fans, architecture aficionados, and anybody who wants to stick it to organized crime by supporting anti-Mafia businesses. Particular highlights include the Ballarò street market, where you can purchase an array of fruits, vegetables, meat, and fish (if you can handle the chaos), as well as the Cattedrale di Palermo, which, at the time of writing, offers entry to the crypts, tombs, and viewing terraces for €7. There's also the Museo d'Arte Contemporanea della Sicilia, which costs just €6 to enter.
Once you're done with all that art and history, you'll be able to get some of the best food in the world at a bargain: According to a 2019 article published by The Guardian, you can generally nab a beer for €2, and a three-course dinner for around €40.
Český Krumlov, Czech Republic
Český Krumlov isn't the most famous city in Europe — it's not even the most famous city in the Czech Republic — but it's well-deserving of at least a stopover. Admired by Rick Steves both its historic, cobbled Old Town and the vast castle that overlooks it, Český Krumlov is a city that feels like it has been torn straight from the history books.
If you want to get the most out of Český Krumlov, you'll need to buy the aptly-named Český Krumlov Card. In 2022, this pass costs Kč 400 (Czeck Korunas), or around $15. It's valid for 12 months and offers a single entry to a range of attractions in the city: the Egon Schiele Art Centrum, the Monastery Museum, the Castle Museum and Tower, the Museum Fotoatelier Seidel, and the Regional Museum. History lovers will want to take time to visit the Castle Theater, a remarkable preservation of a 17th century Baroque theater; a full tour costs Kč 280, or about $10.
According to the region's official tourist board, accommodation can run as low as Kč 350 per person, per night at one of the city's hostels, while the cheaper guesthouses and apartments will cost you at least Kč 500. Some of the prices at the more central hotels run from Kč 600 to as much as Kč 2500, which sounds like a lot until you realize that it's only a fraction of the cost of a hotel stay elsewhere.
Bruges, Belgium
Thanks to the work of esteemed writer/director Martin McDonagh, Bruges is best remembered by film fans as the setting for the hilarious crime-thriller "In Bruges." And while Colin Farrell's character spends basically the whole movie insulting this small Belgian city, budget travelers might find its charms to be far more appealing.
Kayak describes Bruges as the "Venice of northern Europe," a reputation it has garnered due to the network of labyrinthine canals that wind through the city. The pedestrianized town center and original historic buildings only make Bruges feel even more like a fairy tale. And then there's the food: According to St. Christopher's Inns, some of the best restaurants and cafés in Bruges serve up meals for less than €10, from soups to pasta to the fries for which Belgium is so renowned. They've got the beer to match, too, and the Bauhaus Bar, a popular bar in the center of Bruges, will serve you some of the trendiest lagers, ales, pale ales, and IPAs from all over Europe at around €4 per pour.
Being a beautiful, tourist-friendly city in the north-west of Europe, it's probably fair to say that Bruges isn't quite the most affordable city in the world. However, it's great value for your money in a part of the world that's well worth visiting.
Valencia, Spain
Spain's official tourist board describes Valencia as a city that falls somewhere between "classic and avant-garde." This city, which sees over 300 days of sunshine each year, is as known for its historic old town as it is for the many sleek, modern buildings that litter the landscape. It's home to gleaming beaches, legendary museums, and more paella than you could possibly imagine. Basically, it's Spain in a nutshell.
And it's cheap, too. As of 2022, a 24-hour Valencia Tourist Card costs just €13.50 if you book online, while 48- and 72-hour alternatives are also available for only a little more. The card will grant you free transport on the city's buses, subways, trams, suburban trains, and rides to the airport, as well as free admission to all municipal museums and monuments, a map of Valencia, 35% off in over 130 shops and restaurants, and even a free tapas meal.
As for other things to do, Hotels.com suggests that budget travelers might want to spend €2 to see the city from the lookout area atop El Miguelete, the bell tower of the city's cathedral. Other sights include the Mercado de Colón, a Valencian Art Nouveau food bazaar offering countless local foods and specialties, the bustling La Malvarrosa beach, and the Cat House, which is exactly what it sounds like.
Sarajevo, Bosnia and Herzegovina
To say that Sarajevo has a troubled history would be something of an understatement. During the 1990s, the city fell under a four-year siege, part of the greater conflict known as the Bosnian War. It's all the more remarkable, then, that Sarajevo has so utterly transformed itself in the decades since.
Today, Sarajevo is a thriving city with a beautiful old town, filled with mosques, markets, restaurants, and cafés. For those with an eye for history, many of the scars of the siege remain, such as the poignant "Sarajevo Roses" scattered around the city, the Historical Museum, and the Tunnel Museum, which commemorates the only way in or out of Sarajevo at the time. Otherwise, there are plenty of late-night bars to keep tourists and locals happy, while the ćevabdžinica grill-style eateries will be perfect for the foodies.
How much will all this cost you? Well, In And Around Sarajevo claims that bargain-minded travelers can stay at a hostel for two nights, visit a few museums, take a day trip by bus to the nearby city of Mostar, hike to Skakavac waterfall, and eat like a local for about 240 KM, or around $120. Throwing in some better accommodation, more coffees, and a guided hike, and, they say, you're looking at about 450 KM (Bosnian Marks), or a little over $200. Not too shabby, don't you think?