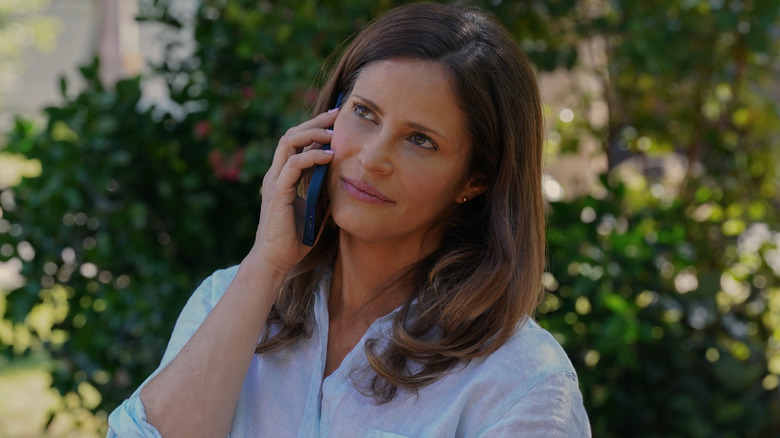 The main attraction of "Tulsa King" for most people is likely Sylvester Stallone. The Paramount+ series marked Stallone's first big jump into television, and Stallone promoted it as the mobster role he'd been trying to get since Francis Ford Coppola's "The Godfather," released in 1972. Creator Taylor Sheridan did round out the ensemble around Stallone with some talented performers though, even if many of them aren't as immediately recognizable as the show's lead.
"Tulsa King" follows Dwight 'The General' Manfredi, a New York City mobster exiled to Tulsa, Oklahoma after a long stretch in prison. The cast of the show includes "Freaks and Geeks" star Martin Starr as a weed-selling hippie who becomes an unlikely ally to Manfredi, and "Sopranos" alum Max Casella as a fellow mobster exiled to Oklahoma for very different reasons. Some of the small parts in "Tulsa King" are also filled with faces surely familiar to fans of Taylor Sheridan's flock of shows. Michael Beach, for instance, stars as Warden Moore on "Mayor of Kingstown," but he also pops up on "Tulsa King" as Mark, the concerned father of a local kid Manfredi takes under his wing.
One face from "Tulsa King" that Sheridan did not pull from his past work is Andrea Savage. The actress plays Stacy, a cop who becomes Manfredi's complicated love interest. Though her name might not immediately bring back memories of her work, she's done plenty, including more than a few things people will likely recognize.
She had a run on Sweet Valley High
Andrea Savage got her start on "Sweet Valley High" in 1996. She would appear in 22 episodes of the four-season series. "Sweet Valley High" starred Brittany Daniel and Cynthia Daniel as Jessica and Liz Wakefield, twins attending high school in Sweet Valley, California.
Brittany Daniel would go on to appear in the "Joe Dirt" films and "It's Always Sunny in Philadelphia," while Cynthia Daniel took a break from cameras after a "That 80s Show" appearance in 2002 and didn't return to acting until 2022's "Cheaper By the Dozen" remake. The show, based on a series of young adult books by Francine Pascal, gave the pair their start and had quite a run totaling more than 80 episodes. Savage starred as Brazilian exchange student Renata Vargas through the show's 4th season. According to her, she actually faced some roadblocks due to the show being non-union.
"I did 22 episodes with an accent and fruit on my head. I was actually union, and then 'Sweet Valley High' was nonunion, so I had to leave and go into penalty and pay a fine and then to get back in the union I had to pay all over again. But worth it. Worth it. Renata Vargas was worth it!" she told Backstage in a 2019 interview.
On top of her work on "Sweet Valley High," Savage's younger career was also marked by her time with the famous improv troupe Groundlings Theater, according to an interview she gave to the Los Angeles Times in 2017.
She was Will Ferrell's therapist in Step Brothers
Andrea Savage's time with the Groundlings Theater prepped her plenty to share the screen with Will Ferrell in 2008's "Step Brothers." The film was part of a string of hits from Ferrell and director Adam McKay that also included "Talladega Nights: The Legend of Ricky Bobby," "Anchorman: The Legend of Ron Burgundy," and "The Other Guys."
In "Step Brothers," Savage played Denise, a supporting character who easily could have easily been a throwaway piece to the story without two pros like Ferrell and Savage. Denise is the therapist of Brennan Huff, a manchild who has managed to avoid employment and any sort of self-reliance for decades until one day his mother decides to get married and decided it's time for Brennan and his new stepbrother, fellow manchild Dale Doback (John C. Reilly), to learn to finally be adults.
Denise shows up multiple times in "Step Brothers," but the scene that likely stood out the most to audiences was Brennan and Dale's separate therapy sessions. Dale confesses to his own therapist that he's secretly Matt Damon's genius janitor from "Good Will Hunting," while Brennan shows an unhealthy, puppy-like obsession with Denise after she shows the slightest bit of empathy.
She made an impression in The League
Andrea Savage further showed off her expert comedic timing with a guest spot on "The League." The show followed a group of friends who belong to a fantasy football league, but most of their shenanigans went far above picking their favorite players with their buddies.
Savage appeared in "The League" Season 4 Episode 4 ("The Breastalyzer") as Gail, a woman who has a troubled and short love affair with Rafi (Jason Mantzoukas). The two had incredible chemistry on-screen; Savage was able to perfectly mix exaggerated outbursts with perfect deadpan responses, and Mantzoukas was, by that time, fully aware of how his frantic and wild personality onscreen could make people roll over laughing.
One appearance from Savage wasn't enough as she returned as Gail in Season 6 Episode 10 ("Epi Sexy"), where Rafi finds Gail has a new man and he's ready to throw some knuckles to win her back. Making the episode even more hilarious is the fact that comedian Bobby Lee is thrown into the mix as Savage's new boyfriend, Lee Wei Lee.
Savage has collaborated with the comedic voices behind "The League" outside of the show. She previously appeared on "Kroll Show" in 2014 with "The League" star Nick Kroll, and Mantzoukas would actually guest star on Savage's own show "I'm Sorry."
She created and starred on the underrated I'm Sorry
Andrea Savage has done more than just appear in front of the camera. She's also made a career as a comedy writer and director. Her credits include writing a number of segments for "Funny or Die Presents…" and creating and starring in "I'm Sorry," a criminally underrated series that aired from 2017 to 2019.
The show earned strong reviews but unfortunately didn't make it more than two seasons. It should be noted though that "I'm Sorry" aired on truTV, which primarily airs unscripted programming. The network didn't even acquire its first scripted comedy until 2015, according to Deadline. "I'm Sorry" was a show that perhaps could have flourished more on HBO or a similar streaming service as it was a raw, politically incorrect comedy that had no interest in being a traditional sitcom.
The series followed a middle-aged comedy writer named Andrea (Andrea Savage) as she hilariously navigates parenthood and the general absurdity of life. It was the perfect chance for Savage to finally take center stage as the stories came from her life.
"I think that is what I am most proud of about the show. It's funny, but it involves aging parents or it involves divorce or it involves friendship, and it really is about something real, and I really wanted to make sure they weren't going to be fluffy, cliche stories and I'd become a caricature," she told Variety in a 2019 interview promoting "I'm Sorry" Season 2.
She played Laura Montez on Veep
Continuing to show off her comedic chops, Andrea Savage also appeared in HBO's "Veep" opposite "Seinfeld" alum Julia Louis-Dreyfus. Savage appeared in eight episodes across the 5th, 6th, and 7th seasons.
Appearing as Laura Montez, Savage served as an adversary to Selina Meyer (Louis-Dreyfus), using some serious political maneuvering to push herself into the presidency following a tie vote in the Electoral College. It's all the more impressive since she was only running as vice president at the time. Meyer eventually gets her political revenge on — and her office back from — Montez, and the two actresses showed great potential for a long-running comedic duo if they decide to team up again.
According to Savage in a 2019 interview with Backstage, her audition was entirely based on improving with Louis-Dreyfus. She didn't even know the character she was playing. When she was informed, she was given a deadpan "Veep"-style warning.
"They gave me a big speech to cold read that was just a very straight speech, and I thought, hmm, OK. And then after I got it, they were like, 'Oh, by the way, you're going to be the President of the United States of America. And if you tell anyone we'll kill you,'" she said.