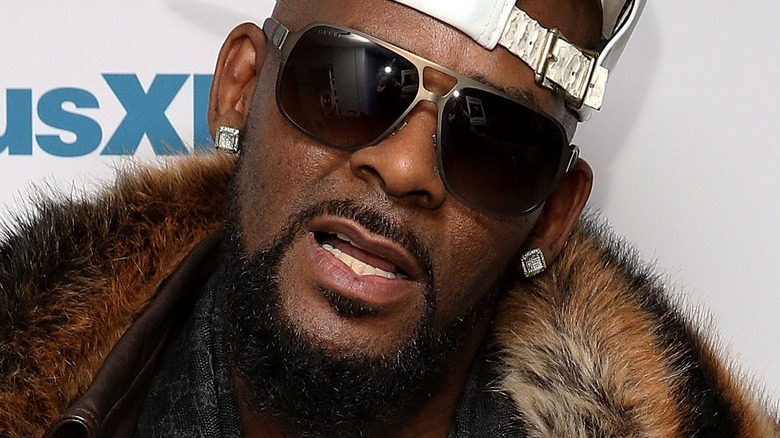 This article contains allegations of sexual abuse, child abuse, and suicide.
R. Kelly has been battling sexual misconduct allegations since the '90s, but it wasn't until 2019 that the "I Believe I Can Fly Singer" was placed behind bars to await a trial. Kelly's questionable behavior began in 1994 when, at the age of 27, he married a 15-year-old Aaliyah. In 1996, he was sued by Tiffany Hawkins, who dated Kelly when she was 15 and alleged "personal injuries and emotional distress." In the early 2000s, the singer was sued by three more women, and in 2002, he was slapped with 21 counts of making child pornography, followed by 12 more charges and an arrest in Florida.
Insufficient evidence resulted in his walking free, and it wasn't until a 2017 Buzzfeed feature alleged Kelly of running a sex "cult" that more women began to come forward. The Lifetime documentary "Surviving R. Kelly" followed, and Kelly was arrested in February 2019. He was charged with 10 counts of aggravated criminal sexual abuse against four women (including three minors) and was released on $100,000 bail.
That July, Kelly was arrested again, except this time, there would be no bail. After being charged with 18 counts of "kidnapping, forced labor, child sexual exploitation and child pornography production and obstruction of justice," he was placed behind bars, where he remains. Here's what R. Kelly's life in prison is really like.
If you or someone you know may be the victim of child abuse, please contact the Childhelp National Child Abuse Hotline at 1-800-4-A-Child (1-800-422-4453) or contact their live chat services.
If you or anyone you know has been a victim of sexual assault, help is available. Visit the Rape, Abuse & Incest National Network website or contact RAINN's National Helpline at 1-800-656-HOPE (4673).
R. Kelly spent his 53rd birthday behind bars
On July 11, 2019, R. Kelly was arrested while walking his dog in Chicago and slapped with a 13-count indictment, which, according to ABC News, included charges of "sexual exploitation of children, conspiracy to defraud the United States, coercion and child pornography." He entered a plea of not guilty but remained behind bars at the Metropolitan Correctional Center in Chicago to await his trial.
Just a few weeks later, in August 2019, Kelly was brought into a courtroom by three US Marshals with his hands "clasped" behind his back, per ABC News. Kelly was reportedly wearing "blue prison scrubs and orange slip-on shoes with a white and blue striped sole" and sporting a "thick beard" as he faced another set of charges, which were filed against him in Brooklyn Federal Court. This time, Kelly pled not guilty to five charges claiming he ran a venture of managers, drivers, assistants, and more whose job wasn't just to promote his music but also to procure women and girls for Kelly's illegal sexual endeavors.
Despite Kelly's plea, Magistrate Judge Steven L. Tiscione denied him bail and ordered the singer to be detained pending trial. On January 8, 2020, Kelly celebrated his 53rd birthday in jail, and, as of November 2020, it appears that's where he'll also be spending his 54th.
He was in prison during the COVID-19 pandemic
In late March 2020, shortly after the World Health Organization dubbed COVID-19 a pandemic, R. Kelly asked a federal judge to set him free due to health concerns, as reported by CBS Minnesota. In the filing, which was submitted to the US District Court in Chicago, the singer's lawyers wrote, "The health risk to Mr. Kelly, because of his age and existing health issues, especially considering the conditions at the MCC, necessitates his release on bail." They claimed that the Metropolitan Correctional Center, where Kelly is awaiting trial, lacks access to basic hygiene measures, including soap and hand sanitizer, and that the size of the cells makes social distancing impossible. They also argued, "The courts have long recognized that there is no greater necessity than keeping a defendant alive, no matter the charge."
However, their plea fell on deaf ears. As The Hollywood Reporter learned in April, Judge Ann M. Donnelly ruled that R. Kelly would remain in prison, as he was deemed a flight risk as well as a potential threat to the community and any potential witnesses in the case.
Is R. Kelly eating Snickers behind bars?
In August 2019, The Blast learned that R. Kelly's lawyers were petitioning for his release from solitary confinement. They claimed that the star was living in total isolation — not just in being denied access to social contact, but also in being denied adequate time outdoors. They added that he couldn't even buy snacks, even though other inmates were allowed to.
All of these claims of unfair treatment were quickly shut down by prosecutors who stated in court filings published by The Blast, "He has had a cellmate for quite some time despite his initial refusal. In fact, he has had more than one cellmate so far," they added. They also revealed that he'd had seven social visits up to that point, as well as three purely social phone calls. While Kelly wasn't granted access to the outdoor rooftop, he nonetheless was able to enjoy indoor recreational activities three times a week.
As for those snacks, prosecutors claimed that Kelly had indeed bought supplies for himself from the commissary — including snacks like Snickers bars. The court papers insisted, "MCC staff have taken steps to ensure [the] defendant's safety, and in doing so, have treated him with dignity and respect."
He was placed in solitary confinement for his safety
In August 2020, TMZ learned that R. Kelly was placed back in solitary confinement for his own safety following an attack that took place inside his cell. According to sources, Kelly was sitting on his bed when the inmate walked in and began punching him because he was mad that protests staged by the singer's supporters outside the MCC were causing the facility to go on lockdown.
Kelly's lawyer, Steve Greenberg, wasted no time using the attack as a reason to ask for his client's release. "We have not been provided any information from the jail, nor has Mr. Kelly called," he tweeted, adding, "Regardless, it is time to release Mr. Kelly. The government cannot ensure his safety, and they cannot give him his day in court," he argued. "We should not incarcerate people indefinitely because we cannot provide them with due process!"
Instead, MCC decided to put Kelly in solitary confinement, for his own protection. Explaining the root of the altercation, Greenberg told Page Six, "My understanding is, every time there is a pro-R. Kelly protest outside of the jail, they lock down the entire facility. When they do this, inmates don't get their commissary, they don't get their shower, stuff like that and since they're fairly sporadic anyway, they get upset," he said. "So they're penalizing everyone in the facility because people are protesting in support of Kelly."
Did no one intervene while R. Kelly was attacked?
In October 2020, R. Kelly's lawyers rehashed the altercation that took place in his cell in August in a new court filing, claiming that the performer received no help from prison staff until the violent attack had already gone on for a while. Per CNN, his lawyer, Michael Leonard claimed, "Mr. Kelly has suffered significant physical and psychological injuries. … An unresolved issue remains as to whether MCC personnel encouraged, and then allowed, a beating of Mr. Kelly to take place. That alone merits an evidentiary hearing."
Meanwhile, prison employee D. Szyhowski — who broke up the fight — said the lawyers' claims were simply not true. As he told it, he acted immediately upon the discovery of Jeremiah Shane Farmer repeatedly punching Kelly's head and torso. Szyhowski explained that he ordered the attacker to stop and when he refused, he deployed pepper spray to stop the attack. As for Farmer, he claimed in docs obtained by TMZ that he had attacked Kelly in a bid to shed some light on what he believed to be government corruption. The outlet described this alleged corruption as being related to how he felt he'd been mistreated by the justice system.
R. Kelly is allegedly 'petrified' and 'paranoid'
These days, R. Kelly appears to have as many lawyers as charges. Following the attack in his cell, yet another lawyer spoke out on behalf of her client, telling the Chicago Sun-Times, "Fear and terror have left him petrified and paranoid." Nicole Blank Becker went on to claim, "[Kelly] can't sleep and is now afraid to leave his jail cell during the two hours he's permitted daily to venture out. His insomnia is serious … He's even afraid to get his hair cut." What's more, she alleged that he felt as though his life was under threat and that Kelly had additionally gained a great deal of weight since the COVID-19 pandemic due to a lack of exercise.
Becker went on to share her (very different) account of the attack. "[Kelly] was lying down with a blanket covering his face and wearing ear pods on the bottom tier of a bed bunk at 9:45 a.m. … when someone wearing shoes entered his unlocked cell and began to stomp and kick his face." Claiming the decision to keep him behind bars to be wrongful, she argued, "He's stuck in jail and can't get a trial because of the pressure of COVID-19 on the prison system; he can't have contact with the outside world; he lives in a tiny little cell in fear of his own safety; and he suffers from headaches from being beaten up physically," she lamented.
COVID-19 wreaked havoc on his trial dates
R. Kelly was set to face charges of racketeering and sexual misconduct in Brooklyn federal court in July 2020. But as Vulture confirmed in April, Judge Ann M. Donnelly rescheduled it for September 29 due to the pandemic. As the outlet noted, this would likely cause his Chicago federal trial, which had already been moved once from April to October 13, to be pushed back once more.
Come August, jury trials had resumed in Chicago, but if Kelly was hopeful he'd keep his court date, he was wrong. Per the Chicago Sun-Times, they petitioned the court to postpone his hearing, noting the difficulty of keeping everyone safe as they planned to call 50 witnesses, up to 13 of which would have to travel in from a different state, including up to nine of whom would be coming in from states on Chicago's coronavirus quarantine list. Arguing that the risks were too high, they also predicted that the trial would attract up to 36 people to the courtroom, excluding spectators.
US District Judge Harry Leinenweber agreed, concluding that the circumstances made the October trial unfeasible. Per the Chicago Tribune, Kelly's lawyer, Steve Greenberg, argued, "Mr. Kelly shouldn't have to rot away in jail just because the government doesn't want their witnesses to spend a short time in quarantine." But even if Leinenweber conceded, Kelly was ordered to be held without bond over his New York charges, so he wouldn't be released anyway.
The 2nd Court of Appeals kept R. Kelly locked up
Trying their best to get R. Kelly out of prison, his lawyers asked for his release a total of six times and were denied on every occasion. Their final attempt arrived in September 2020, when they petitioned the Second Circuit Court of Appeals, arguing that the singer hadn't been able to prepare for his case for six months and should therefore be released.
Speaking with CNN, Kelly's legal team stated that they hadn't been able to meet with their client in person since March due to coronavirus restrictions and noted that because Kelly cannot read or write, he is unable to review documents on his own or provide adequate feedback. Per CNN, attorney Tom Farinella said, "For half the time he's been incarcerated, he's not been able to meet with counsel." Attorney Steve Greenberg added Kelly didn't pose a flight risk or a danger to the community. Additionally, he suggested that the former star's high profile made him an easy target for other inmates.
Unfortunately for them, the court ruled that the prosecution was able to present evidence Kelly was both a flight risk and a danger to the community, and they denied Kelly's request.
R. Kelly's various prison sentences, explained
In September 2021, a New York federal jury convicted R. Kelly on nine counts of charges which included racketeering and sex trafficking offenses, per CNN. Jacquelyn Kasulis, acting US attorney from the Eastern District of New York, proclaimed, "Today's guilty verdict forever brands R. Kelly as a predator, who used his fame and fortune to prey on the young, the vulnerable, and the voiceless for his own sexual gratification."
His sentencing followed in June 2022 with US District Court Judge Ann Donnelly giving Kelly 30 years behind bars. In her verdict, she addressed arguments made by his attorneys who claimed that the rapper's childhood — in which he was sexually abused — was to blame. "It may explain, at least in part, what led to your behavior," Donnelly said, per CNN. "It most surely is not an excuse." That September, Kelly appeared at his second federal trial, this one in Chicago, where he was convicted of three counts of child pornography and three counts of enticing a minor.
His lawyer, Jennifer Bonjean, tweeted, per ABC, that they would not stop fighting and noted, "We won seven counts of this indictment (more than we lost)." His sentencing followed in February 2023 and Kelly was slapped with another 20 years in prison. However, 19 of those years are to be served concurrently with his New York sentence, thus extending his total jail time by just one year. As of this writing, Kelly has two more trials pending: one in Minnesota and one in Chicago state court.
The rapper spent time in two of the toughest prisons
R. Kelly was locked up in two facilities as he faced charges in Illinois and New York — both are said to be among the roughest in the country. The rapper was initially held at the Metropolitan Correctional Center (MCC) in Chicago after being arrested in 2019. One of his lawyers, Michael Leonard, told Billboard, "MCC is a very tough place to spend time because it's a small facility, to begin with — and it doesn't offer a lot in the nature of programming." Leonard noted that the COVID-19 pandemic only heightened the challenging conditions, saying, "It's a horribly emotional time to be detained, maybe one of the worst ever." What's more, he was adamant that Kelly received no special treatment and was forced to spend 22 hours a day in a two-person cell measuring 8×10 feet.
In June 2021, Kelly's circumstances worsened when he was transferred to the Metropolitan Detention Center (MDC) in Brooklyn. MDC has been repeatedly criticized for its deplorable conditions. In February 2019, inmates were left without heat, hot water, and electricity for days. Two years later, its guards were accused of killing a prisoner, per the New York Post. And that same year, Ghislaine Maxwell's attorney claimed that prisoners faced unsanitary conditions, including vermin feces falling from air vents and remains of raw sewage permeating her cell.
In July 2022, a month after Kelly was sentenced to 30 years in prison in New York, he was moved back to MCC to face charges in Illinois.
He was placed on suicide watch and sued the prison
After receiving his 30-year prison sentence from U.S. District Judge Ann Donnelly in a Brooklyn courtroom on June 29, 2022, R. Kelly was returned to the Metropolitan Detention Center (MDC). Once there, he was soon placed on suicide watch. However, according to Kelly and his lawyer, Jennifer Bonjean, that move was unwarranted and so, they sued the prison. "Mr. Kelly was placed on suicide watch for purely punitive reasons in violation of his Eighth Amendment rights," she argued in a statement obtained by Page Six.
Bonjean added that she had spoken to her client who was adamant that he was doing fine, before slamming the facility and its actions, claiming, "MDC Brooklyn is being run like a gulag." She argued that Kelly didn't deserve to face the conditions he was being subjected to because he wasn't suicidal. "They are stripped of their clothing and underwear and forced to wear a smock made of material akin to the blankets moving companies use when they wrap up furniture," she said. "They are denied utensils for eating; They cannot shower or shave." Speaking with CNN, Bonjean claimed, "It's punishment for being high-profile, and it's horrifying frankly."
Days later, on July 5, prosecutors confirmed in a memo seen by Page Six that the lawsuit was now rendered irrelevant. They wrote, "Following a clinical assessment, Plaintiff Robert Sylvester Kelly, also known as 'R. Kelly,' was removed from suicide watch as of this morning."
If you or anyone you know is having suicidal thoughts, please call the National Suicide Prevention Lifeline​ by dialing 988 or by calling 1-800-273-TALK (8255)​.