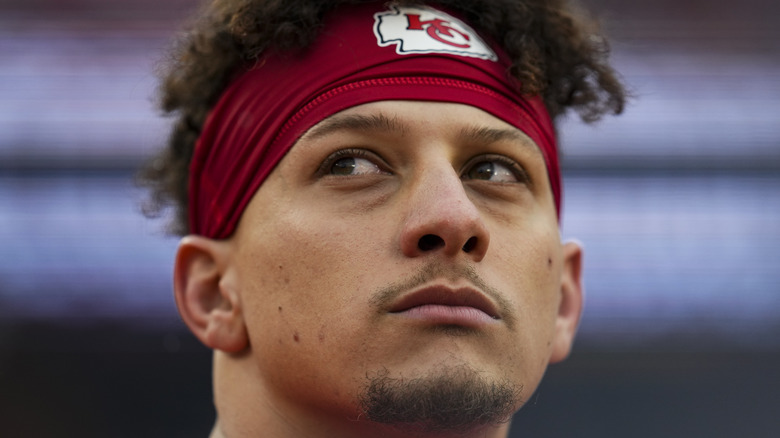 The son of a former professional baseball player, Patrick Mahomes was literally born to play sports. While briefly flirting with following in his father's footsteps (more on this below), Mahomes chose football. And since being drafted by the Kansas City Chiefs in 2017, the young quarterback has set the league on fire with his spectacular play. In just his first year as the full-time starter in 2018, Mahomes had a season for the ages. He tore through NFL defenses with 5,097 yards and 50 touchdowns en route to winning the NFL's Most Valuable Player award at just 23 years old, with the trophy presented by lifelong Chiefs fan Paul Rudd. Hollywood couldn't come up with a better story than that.
But wait, there's more. In just his second season, Mahomes successfully led his team to the Super Bowl to battle the San Francisco 49ers and emerged victorious. While the Chiefs' next Super Bowl outing against Tom Brady and the Tampa Bay Buccaneers failed the nab the coveted Vince Lombardi Trophy in 2021, resulting in a crushing 31-9 loss — Mahomes and the Chiefs were not to be counted out in subsequent seasons. The team would return to football's biggest game for the third time in four seasons in February 2023, taking on the Philadelphia Eagles.
Will this star QB's fairy tale career continue? We'll have to wait and see, but in the meantime, let's huddle up and find out 22 facts about Patrick Mahomes.
Patrick Mahomes survived a potential brush with death
During Patrick Mahomes' rookie year in 2017, he was second on the depth chart behind starting quarterback Alex Smith, so he didn't see much action on the field. Off the field was an entirely different story. Per ESPN, on May 12, Mahomes and four of his friends were robbed at gunpoint in Tyler, Texas after attending a baseball game.
"After the baseball game was over, he and his friends returned to one of the residences. They had pulled into the driveway and were exiting the vehicle when a suspect pulled in behind them and blocked them in," Sgt. Darrell Coslin said. "He exited his vehicle and approached them on foot, acting as if he was armed with a handgun." According to Coslin, it "was a completely random act" as the perpetrator "had no idea who he was robbing." No one was injured, but after police arrived at the scene to obtain the suspect's vehicle information and description, the vehicle was found nearby.
Two men were arrested for the crime, one of them confessed, and the stolen property was recovered. "The team is thankful Patrick and everyone involved are safe because that's what's most important," the Chiefs said in a statement to NFL.com. In October 2017, the man who confessed to the crime was sentenced to 12 years in prison (via CBS Sports).
Have you tried the Kansas City Chiefs QB's cereal?
In the mood for some Mahomes Magic Crunch? If so, you'll unfortunately have to battle it out with other novelty sports merch collectors online, per Sportscasting. But back in 2019, all you had to do was visit the Midwest and go shopping at Hy-Vee, a chain of 265 supermarkets. Retailing at $3.99 a box, it was initially believed that the cereal would sell around 50,000 boxes, according to Hy-Vee spokesperson Tina Potthoff (via Forbes). But much like Patrick Mahomes himself, his namesake breakfast staple outperformed expectations and sold 300,000 boxes.
"The excitement Hy-Vee's Mahomes Magic Crunch cereal has created for Kansas City Chiefs fans is truly unmatched in our company's history," said the supermarket's CEO, Randy Edeker. Proceeds of each sale were donated to Mahome's charity for underprivileged children in and around Kansas City, called 15 and the Mahomies Foundation (more on this organization's work below). Potthoff claimed that, as of January 2020, "More than $88,000 has been donated to the foundation." The cereal's production would ultimately end that same year, but it was a big deal at the time for Chiefs fans.
Praising the quarterback, Edeker continued, "Patrick Mahomes is a true MVP both on and off the field. His generosity and mission to help so many children in Kansas City is inspiring, and we're proud to partner with him to support that mission because Hy-Vee has a rich history in Kansas City as well." Now we're craving some cereal.