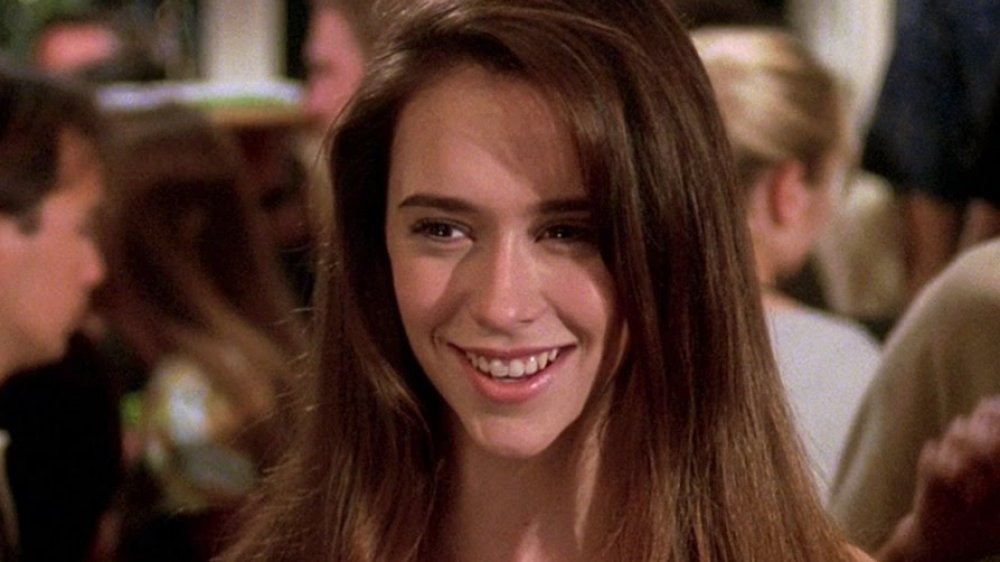 Take a bunch of mostly struggling young actors and give them a script that calls for a wild party, a lot of extras, and night shoots, and you have the perfect combination of excitement and anticipation to make a last-night-of-high school movie to remember.
It's hard to believe now, but Can't Hardly Wait wasn't a hit when it came out in 1998 — at least not at the box office. But it stuck with the people who did bother to watch it, whether they were in the same position as the teens in the film or looking forward to their own legendary graduation night in the future.
At the time, the characters who fit into their prescribed high school molds — the jock, the nerds, the outcast — may have felt like lazy stereotypes to critics. But years later, audiences still enjoy watching characters who think they know who they are at the beginning of the film experience the world from slightly different perspectives over the course of one fateful night. Some snap straight back to form, but others are changed forever. It lets us relive that pivotal moment when we first ventured into the adult world, or perhaps it lets us picture how it could be.
As for the actors involved, the movie didn't exactly propel them into superstardom, although a few were already on their way there. But what are they all doing today? Well, from bracing for the apocalypse to voicing superheroes to fielding emergency calls, here's what the cast of Can't Hardly Wait is doing now.
Lily Tomlin adopted Ethan Embry (well, on TV)
Ethan Embry had already appeared in another box office bomb-turned-iconic teen movie before his turn as love-struck Romeo Preston. He'd played sweet-natured stoner Mark in Empire Records in 1995. As with Can't Hardly Wait, the movie performed terribly at the box office, only later becoming a slow burn cult favorite. It wasn't until 2002's Sweet Home Alabama, playing Melanie's (Reese Witherspoon) childhood friend Bobby Ray that Embry finally had a box office hit — albeit one the critics slammed.
The rest of Ethan Embry's career has been somewhat of a slow burn, too. He told TV Insider that he's been turned down by the Coen brothers three times (and has no hard feelings about it), but he's been doing well in recent years. He played the real Pete Murphy in Amazon's acclaimed dark conman comedy Sneaky Pete, and he's appearing in Netflix's late-life divorce comedy Grace and Frankie as Lily Tomlin's character's adopted son, Coyote.
Although we're seeing more of Embry on-screen, you may not be aware of something else that's changed since his time on Can't Hardly Wait. He's now got a lot more tattoos. He already had a few when he was in the film, but now he's covered, including a large Stars and Stripes chest piece. He told Inked magazine that seeing his tattoos helps him stay anchored to himself when he's getting immersed in a role.
Charlie Korsmo made the ultimate nerd move after Can't Hardly Wait
Charlie Korsmo's William had arguably the most transformative arc in the movie, leveling up from bitter nerd to high school rock star (and jailbird) overnight — only to immediately plummet back down the social ladder. Korsmo may identify more with the first William, as he was studying physics at no less an institution than MIT when he was cast in the movie.
Korsmo had been a child star in the early '90s, appearing in hit movies like Hook and Dick Tracy. Then he quit the business to go to college. But in his sophomore year, he reconnected with his agent, filmed an audition tape for Can't Hardly Wait and some other projects in his dorm room, and was called in for the part (supposedly to replace another former child star, Jumanji's Adam Hann-Byrd).
While many in the cast were partying, Korsmo was still studying, a decision that probably worked out for him in the long run. He went on to get a law degree from Yale in 2006, passed the New York Bar exam in 2007, and has worked at the Environmental Protection Agency (EPA) and for the Republican Party in the House of Representatives. He's now teaching the next generation of lawyers as a law professor in Cleveland. Despite his current super serious career, Korsmo doesn't regret his acting days because they helped him pay for college — and he still gets royalty checks from Can't Hardly Wait.
Lauren Ambrose's career is not six feet under
Michael Loccisano/Getty Images
Misfit Denise has a pretty bad night in Can't Hardly Wait, culminating in a bathroom sex scene and the world's shortest relationship. But Lauren Ambrose's career has proven more resilient.
The year after Can't Hardly Wait, Ambrose had a short run on Party of Five (sharing one episode with former co-star Jennifer Love Hewitt). In 2001, she landed the role of Claire Fisher in Six Feet Under, the dark comedy about three siblings struggling to run their dead father's funeral home. If you haven't seen the show, which ran until 2005, you may recognize her voice as KW in 2009's Where the Wild Things Are.
Alternatively, if you know what lies under the cobalt pyramid, you may remember Ambrose from Torchwood. Ambrose played a power-hungry PR in the Doctor Who spinoff for seven episodes in 2011. In 2016, she landed a role in a different rebooted sci-fi classic, playing doctor turned FBI agent Liz Einstein in three episodes of The X-Files.
Ambrose's most recent project teamed her up with another icon. In 2019, she played a grief-stricken mother who gets way too attached to a doll in Apple TV+'s thriller series Servant, which is produced and partly directed by twist-loving mastermind M. Night Shyamalan. In regards to the show, Ambrose told Today, "I've never been in a thriller before and to do it with [Shyamalan] at the helm — this master of the genre — seemed like a good idea."
Peter Facinelli appeared in a very big franchise after Can't Hardly Wait
Jock and jerk Mike Dexter peaked in high school, but Peter Facinelli is still popular. That said, it took him some time after Can't Hardly Wait to find his stride. He had a short recurring role in Six Feet Under as Jimmy, an art student who befriends Claire Fisher, played by Lauren Ambrose. (So yes, there's a universe where Mike the football star and Denise the sarcastic party pooper hook up.) And in 2008, he became part of the Twilight series as Dr. Carlisle, the adoptive father of sparkly vampire Edward Cullen (Robert Pattinson).
Facinelli's next big role was also a doctor, but this one was definitely grounded in the real world. He played handsy emergency room doctor Fitch Cooper in the acerbic medical dramedy Nurse Jackie, starting with the pilot in 2009 until mid-way through the final season. In between episodes, in 2013, he landed a more joyful role as Rupert Campion in four episodes of the choir drama Glee.
In 2015, Facinelli appeared in the first season of the CW's Supergirl as villain Maxwell Lord. He then switched things up in 2017 to appear in S.W.A.T. In 2018, Facinelli made another sideways step, directing his first feature film, Breaking & Exiting. He released his next directorial effort, the missing child thriller Hour of Lead, in February 2020.
Freddy Rodriguez may sound familiar to cartoon fans
Matthew Eisman/Getty Images
Credited as Jock #3, Freddy Rodriguez played one of Mike's dim-witted and treacherous girlfriend-having friends. Luckily for his career, he's played many more characters with actual names since then.
The year after Can't Hardly Wait, Rodriguez popped up in three episodes of Party of Five. He played a robber (named Albert) who held former co-star Jennifer Love Hewitt's character at knifepoint (they made up later). He reunited with another Can't Hardly Wait alum, Lauren Ambrose, in 2001, when he got the part of restorative assistant Rico Diaz in Six Feet Under, which he played until 2005.
Rodriguez's next recurring role was more lighthearted. He voiced twin superheroes Mas y Menos in Cartoon Network's animated series Teen Titans, characters he reprized in 2014 for one episode of Teen Titans Go!. Not afraid to be typecast as the guy who talks like teenage superheroes, he also voiced Ed Dorado in seven episodes of the network's cartoon Young Justice.
Speaking of lighthearted, fans of fashion and/or telenovelas may remember Rodriguez best as the sandwich-selling love interest of America Ferrera's title character in Ugly Betty. More recently, he's played lawyer Benny Colón in Bull, CBS' attempt to rethink courtroom dramas by focusing on the surprisingly dramatic world of jury manipulation.
Sean Patrick Thomas had a moment in the 2000s
Frazer Harrison/Getty Images
Sidelined as a cool but nameless jock in Can't Hardly Wait, Sean Patrick Thomas would burn bright as a rising star in the early '00s.
He appeared regularly on TV as Detective Temple Page in CBS' D.C.-set crime drama The District, which ran for four seasons from 2000 to 2004. But he made his mark on pop culture when he starred in teen classics Cruel Intentions in 1999 and Save the Last Dance in 2001. In the latter, Thomas played male lead Derek, the good guy trying to avoid gang life on the south side of Chicago, who falls for ballet dancer Sara (Julia Stiles) and introduces her to hip-hop. The role won him MTV Awards for Best Breakthrough Male Performance and Best Kiss (with Stiles). Thomas followed up in 2002 with another rewatchable favorite, Barbershop, about the community that forms around, you guessed it, a barbershop (also on the south side of Chicago). He'd then follow that up with a couple of more entries in the Barbershop series, released in 2004 and 2016.
Since then, Thomas' star has lost a little of its shine. He's consistently had small roles in shows, including Madam Secretary, Criminal Minds, and NCIS, and in 2019, he was in the Lifetime movie Christmas Hotel. But we could be about to witness a comeback. Thomas has been cast as Monteith in Joel Coen's adaptation of Macbeth, starring Denzel Washington in the title role.
Jay Paulson has shown up in some big shows since Can't Hardly Wait
In Can't Hardly Wait, Jay Paulson played one half of the nerdy duo who spend their night on a roof waiting to pull a prank on Mike the jock. His career since then has involved a lot of small roles, occasionally in big series. For example, he played Adam Whitman, the long-lost brother that Don Draper (Jon Hamm) tries to pay off in Mad Men (with tragic consequences). More recently, in 2019, he appeared in I Am the Night, the crime drama that reunited Wonder Woman director Patty Jenkins and leading man Chris Pine. In the TNT limited series, Pine plays a journalist trying to solve the 1947 murder of Elizabeth Short, aka the Black Dahlia. As for Paulson, he's an LAPD detective who served alongside Pine's character in the Korean War and who's trying to help his old friend when he stumbles into trouble.
If you prefer your crimes with a financial angle, you may have caught Paulson's blink-and-you'll-miss-it appearance as a pastor overseeing a funeral in The Laundromat, Netflix's 2019 tale of the Panama Papers scandal. But Hulu subscribers may know him as a different religious figure, as Paulson played the chaplain in the streaming service's adaptation of Catch-22 in 2019. Of all the projects he's worked on, a particular aspect of this one stood out. "I'm a book guy," Paulson told Hollywood in Toto. "So to get to bring a book to life is an extra special thrill." Still a nerd at heart.
Jenna Elfman is handling the apocalypse
Jesse Grant/Getty Images
It's not often you get a stripper — sorry, dancer — stumbling into a teen movie dressed as an angel. But Jenna Elfman, who didn't even get a credit for Can't Hardly Wait, managed to make the unnamed character sweet rather than sleazy when she befriended the down-on-his-luck Preston.
At the time, Elfman was among the better-known cast members, thanks to appearances in various music videos and her role as free-spirited yoga teacher Dharma in odd couple sitcom Dharma & Greg. The show ended in 2002, and Elfman moved from one small role to another in series including Brothers & Sisters and Two and a Half Men. She occasionally landed bigger parts in shows like Accidentally On Purpose and Courting Alex. Her most popular movie was Friends with Benefits, in which she played Mila Kunis' sister.
Elfman later forged a comeback by aligning with one of the most discussed shows of the 2010s, sinking her teeth into zombie apocalypse prequel Fear the Walking Dead, playing traumatized nurse Naomi. "It's physically, emotionally, and mentally demanding but all in the most satisfying way," Elfman told Variety.
Seth Green made a hit show out of toys
Although his character Kenny, aka Special K, isn't exactly admired for his intelligence, Seth Green had already played an evil genius in spy parody Austin Powers by the time he showed up in Can't Hardly Wait. He also started playing musician and werewolf Oz in Buffy the Vampire Slayer in 1997, a role he continued on and off until 2000. Keeping both franchises going, he appeared in the two Austin Powers sequels in 1999 and 2002, respectively, and a season one episode of the Buffy spinoff, Angel.
Despite having a very expressive and seemingly ageless face, Green is now best known for animated TV shows. He voiced Marvel character Howard the Duck in the animated Guardians of the Galaxy series and two episodes of Ultimate Spider-Man, and he reprised the role for the Marvel Cinematic Universe in a Guardians post-credits sequence. He's also moonlighted as Rocket Raccoon for various Marvel animated shows. And in the world of more adult cartoons, he's played goofball Chris Griffin in Family Guy and the spinoff The Cleveland Show.
Most famously, Green is one of the creators and voices behind the stop-motion series Robot Chicken, which has won multiple Emmys. As he told Stephen Colbert, "I've always likened it to doing a play in your parents' basement and winning a Tony for it." He's also tried directing humans. In 2019, he wrote, directed, and starred in live-action feature Changeland, about a man who goes on a soul-searching trip to Thailand after his fiancée cheats on him.
Jaime Pressly brought us Emmy-winning joy
Vivien Killilea/Getty Images
Watching Jaime Pressly playing one of Amanda's anonymous, vacuous girlfriends feels strange when you know her most famous characters. After Can't Hardly Wait, Pressly appeared in one-off parts in Charmed and 2002's The Twilight Zone, and she landed bigger roles in short-lived series like college sports soap Push and Jack & Jill. (No, not that Jack & Jill.) She played another blonde bimbo in genre parody Not Another Teen Movie, while music fans may also recognize her from videos for Marilyn Manson and Aerosmith.
Pressly's dues finally paid off when she landed the role of sharp-tongued trailer park resident Joy in NBC comedy My Name is Earl. The part could've been one-dimensional, but Pressly's comic timing and the script's wit synced up perfectly. She was nominated for a Golden Globe in 2008 and won the 2007 Outstanding Supporting Actress in a Comedy Series Emmy, having also been nominated for the same prize the previous year.
My Name is Earl ended in 2009, and Pressly went back to jumping from role to role, including a one-episode appearance in Melissa & Joey with former Can't Hardly Wait co-star Melissa Joan Hart. And in 2014, she started playing recovering (and occasionally relapsing) alcoholic Jill in the Allison Janney-led sitcom Mom.
Look for Melissa Joan Hart behind the camera
Alberto E. Rodriguez/Getty Images
Already known as explain-it-all Clarissa and teenage witch Sabrina in 1998, Melissa Joan Hart received no credit for her role as the school's most persistent yearbook message collector. She followed Can't Hardly Wait with a lead role in teen rom-com Drive Me Crazy in 1999, and yes, the title was actually tied to a Britney Spears song. Sabrina the Teenage Witch finished in 2003, but Hart reprised the character for an episode of Seth Green's Robot Chicken (and a sketch with James Corden).
Hart's next big project was sitcom Melissa & Joey, which ran for four seasons from 2010 to 2015. In 2014, she released a memoir detailing some of the behind-the-scenes exploits she got up to in what many people assumed were her squeaky clean teenage years. She admitted to using drugs but said she was never addicted, and she named names when it came to her love life. (Yes to Nick Carter, no to Ashton Kutcher.)
Having gotten her directing start on Sabrina, Hart has now directed episodes of The Goldbergs, Schooled, and Young Sheldon. She was supposed to do more, but she couldn't find the time after she signed up to appear in 20 episodes of the Netflix sitcom No Good Nick. The gamble didn't entirely pay off, as the show was cancelled in 2019. But at least that leaves more time to make magic behind the camera.
Jennifer Love Hewitt has been incredibly busy since Can't Hardly Wait
Frazer Harrison/Getty Images
Jennifer Love Hewitt worked consistently before she played reluctant boy magnet Amanda in Can't Hardly Wait. She'd been in Sister Act 2 briefly and several TV shows, and she played Can't Hardly Wait co-star Seth Green's sister in The Byrds of Paradise. Her most famous TV role came through Fox's orphaned siblings drama Party of Five, in which she played Bailey's (Scott Wolf) girlfriend, Sarah. In 1997, Hewitt got her first big break, starring in the teen horror hit I Know What You Did Last Summer.
After Can't Hardly Wait, Hewitt was supposed to carry a Party of Five spinoff, Time of Your Life, which followed Sarah to San Francisco, but the project was canceled after one season. From 2005 to 2010, she was the lead in CBS's supernatural drama Ghost Whisperer.
More recently, Hewitt traded chatting with the undead for saving those at risk of being killed, playing former FBI Agent Kate Callahan in season ten of Criminal Minds. But the real reason Jennifer Love Hewitt left Criminal Minds is the same reason her character left the Behavioral Analysis Unit — well, apart from the kidnapping plot. Hewitt was pregnant. Since then, Hewitt has moved on to another character charged with preventing crimes (and also medical emergencies). She's been playing 911 operator Maddie Buckley on Fox's 9-1-1 since 2018.