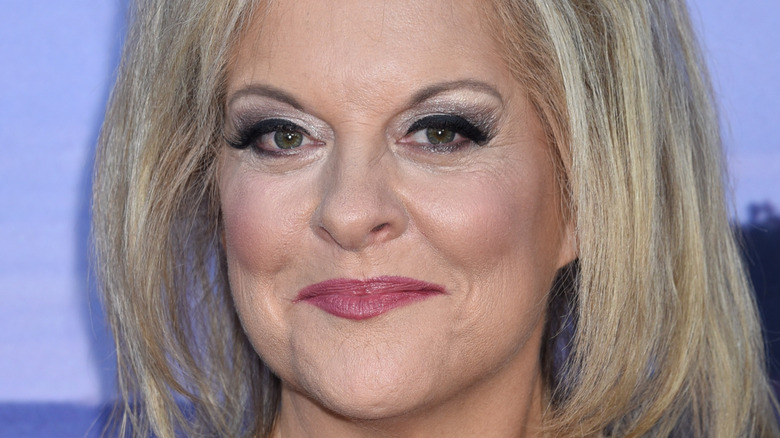 The following references suicide, sexual misconduct allegations, and domestic abuse.
If you're a news anchor, odds are you never want to be the story. Alas, as some news anchors deliver breaking news to their loyal audience, every now and again, there are scandals bubbling behind the scenes — and those scandals can boil over in a big way.
Understandably, there have been a number of scripted shows and movies about the highs and lows of local and cable news, such as "The Morning Show." Though it is a work of fiction, some of the storylines closely mirror real-life scandals — and as anyone who's kept tabs on recent daytime news scandals knows, there's a lot to mine. "The show was always going to be pulling a curtain [back] on the New York media world and the morning talk shows," Jennifer Aniston explained at a press conference in 2019, per IndieWire. "[But] once #MeToo happened, the conversation drastically changed and we just incorporated it [into the show.]"
From drama between co-hosts to affairs between co-workers to criminal behavior, there's plenty of scandal to work with. Though they would prefer their shady behavior be kept out of headlines, we certainly don't mind keeping up with the drama. Here are a few news anchors who woke up and found their shady behavior in the headlines.
Feven Key was found sleeping behind the wheel
Some wild nights turn into long mornings. In April 2021, Las Vegas news anchor Feven Kiflegiorgis, also known as Feven Kay, presumably had a long morning when cops found her naked and asleep in her parked car, reportedly smelling of alcohol. According to the Las Vegas Review-Journal, Kay would not give a blood test at the time of the incident.
Kay was arrested and originally charged with reckless driving with a disregard for the safety of a person or property. She was also given a $1,000 fine. According to the New York Post, the charges were later reduced to misdemeanor reckless driving. After a brief hiatus from her job, she returned to her hosting duties and directly addressed the incident to the audience. "Many of you have noticed I've been off air for a few weeks," Kay said on Fox 5. "To all of you who have reached out, a sincere thank you for your concern. As I move forward, I want you to know I have learned from this and I will continue learning and I truly thank you for your support."
Rob Morrison resigned after his arrest
Rob Morrison was a news anchor for CBS-Channel 2 before resigning in 2013 after a domestic violence scandal involving his ex-wife. According to the New York Post, Morrison was arrested after violently choking his wife in their Connecticut home. When police arrived he was clearly intoxicated and combative. At one point, he reportedly told the officers, "I can't go home tonight man, I'm f**king killing her!"
Following his arrest, he quickly resigned before the network could fire him but maintained his innocence. "I did not choke my wife. I have never laid hands on my wife," he told reporters outside the courtroom. With a protective order issued, he was meant to stay away from her and not attempt to contact her. However, this seemed to be a task too difficult for him.
In 2014, he was arrested and charged with violating the protective order and second-degree harassment. According to the New York Daily News, Morrison allegedly harassed his wife with over 121 phone calls in a span of several days. His lawyers claimed the charges were unnecessary and said the two simply had an argument about their son. This time the judge issued a more restrictive protection order and Morrison was released after posting a $50,000 bond.
If you or someone you know is dealing with domestic abuse, you can call the National Domestic Violence Hotline at 1−800−799−7233. You can also find more information, resources, and support at their website.
Lu Parker took a cop's headphones
Between the long lines and uncomfortable pat-downs, going through airport security isn't exactly the most fun experience. Even with that in mind, no one expects to be arrested by a fellow passenger in line. In 2016, KTLA news anchor Lu Parker had an experience at LAX she likely won't forget. According to CBS Los Angeles, Parker was pulled from her flight after she yanked someone else's pair of $200 headphones from a TSA screening area.
The pricey headphones didn't belong to a civilian, but to an off-duty LAPD officer who later would escort Parker off her flight and arrest her. She was then booked on suspicion of petty theft but insisted she was innocent. Parker admitted to grabbing the headphones but claimed this was not a case of sticky fingers. According to the anchor, her attempt at being a good Samaritan backfired.
"After going through the security line at LAX, Lu noticed earbuds were left behind. She picked them up intending to return them to the owner whom she had been speaking with while in line to clear TSA," KTLA said in a statement after her arrest. According to the Los Angeles Daily News, her theft charges were later dropped after she accepted a plea deal. Parker agreed to complete a diversion program for those who commit misdemeanors. Next time you go through TSA, make sure to only grab your belongings before you leave — a cop could be behind you.
Brian Williams helicopter story landed him in hot water
A news anchor caught in a lie can cause irreversible damage to their career. For many years, anchor Brian Williams was the face of "NBC Nightly News." Williams reported on important stories from all around the world and viewers connected with him. According to Business Insider, he was once considered one of the most-trusted people in America. That all changed in 2015.
Up until that point viewers believed Williams was a heroic reporter who once traveled in a helicopter hit by a grenade while reporting in Iraq, an account he shared many times over the years. However, inconsistencies began to show up. His story originally went from being a witness to the attack to him being aboard the attacked helicopter, per CNN. After he told the story again on an episode of his show in 2015, the military personnel who were on the helicopter in question publicly called him out on Facebook.
According to Vanity Fair, Williams immediately apologized and blamed it on a memory lapse. "Nobody's trying to steal anyone's valor. Quite the contrary: I was and remain a civilian journalist covering the stories of those who volunteered for duty," he wrote in a comment to the veterans. Due to the outrage from viewers and his credibility taking a hit, Williams was suspended for six months by NBC. In 2021, he announced his departure after 28 years on the network.
Heidi Jones fabricated an assault report
News anchors tell stories every day, but usually the stories are filled with facts, not fiction. Heidi Jones was a WABC-TV meteorologist who started a storm after telling the police a bunch of lies. As CBS News reported at the time, in 2010 she was arrested after telling police a totally false story about being assaulted while out for a jog. Jones claimed her attacker, who she said was a Hispanic man, dragged her into a wooded area of Central Park, per New York Daily News. She also told cops he found her near her home some months after the first attack and harassed her.
After thoroughly investigating her claims and noticing inconsistencies in her story, police determined Jones was lying. "She tries to paint the picture of a stalker, but things don't add up," a source told the New York Daily News. "We're thinking, 'She doesn't want there to be any witnesses we can talk to, so she's as vague as possible.'" She ultimately confessed to making false claims, pled guilty, and was sentenced to 350 hours of community service, per New York Post.
Her co-workers at WABC were reportedly outraged by the incident. "It was an outrageous lie," one staffer told the New York Post. "All this trust we had is shattered. We're like a family. We feel betrayed."
Vic Faust's behind-the-scenes rant cost him his job
One highlight of any news show is the chemistry between co-hosts. Audiences always love seeing the playful banter between them. Sometimes the friendship is natural and other times it's played up for the camera. On the flip side, when co-hosts truly don't like each other, things may eventually implode in a spectacular fashion. In September 2022, Fox 2 anchor Vic Faust let his true feelings about his co-host Crystal Cooper slip during a heated rant. According to the St. Louis Post-Dispatch, as their radio show went off air, Faust went into a verbal attack on Cooper because he apparently felt she was rude on the air.
The full audio of his rant later was anonymously sent to the outlet. "Listen, you're a f***ing fat, nasty, b***h. And you don't f***ing bring up s*** up on-air when I f***ing had your back, you're a f***ing, fat, b***h," he could be heard telling her. He went on to call her a terrible mother and demand that she quit the show. "You're a fat, self-righteous, b***h. And every day you come into this f***ing studio, I will f***ing call you what you are: a f***ing fat nasty b***h," he told her.
The vile tirade didn't go well with viewers and neither did his apology. Following the leaked audio, Faust was fired from KPLR, Fox 2's parent company, and launched a podcast called "Cancel This."
The T.J. Holmes and Amy Robach saga
In 2022, "GMA 3" fans woke up to a scandal no one could've seen coming. The drama came to light when the Daily Mail reported hosts T.J. Homles and Amy Robach had begun an affair despite both being married to other people. The report featured photos of the two cuddling in public and holding hands during different outings.
Following the shocking news of their secret relationship, both hosts returned back to the set and seemed to laugh everything off. However, the network apparently didn't find things too funny and decided to pull them off air as the story continued to unravel. According to Page Six, Holmes had a string of affairs with other coworkers, one of whom was a "Good Morning America" producer. "T.J.'s cheating with ABC staffers was definitely one of the reasons why they were yanked off," said a source. "It has become a distraction." The report even alleged long-time anchor Robin Roberts confronted the pair about their affair.
Despite the cheating allegations, the co-hosts both claimed they officially separated from their partners in August. In December 2022, word got out that Robach was in the middle of finalizing her divorce from actor Andrew Shue; Holmes filed for divorce in late December as well.
Larry Mendte violated a coworker's privacy
Affairs in the workplace are bound to end up in the headlines, especially when the two people involved are both news anchors themselves. Philadelphia news anchors Alycia Lane and Larry Mendte's alleged workplace romance began in 2004 and quickly ended with a hacking scandal. Per the Daily Mail, Mendte claimed he and Lane began an affair that only came to an end after his wife found out about it. Lane, on the other hand, maintained the supposed affair never happened.
Whether there was an illicit affair or not, Mendte evidently wasn't happy with the way things played out. So much so, he broke into Lane's work email and fired off scandalous messages to other reporters — an offense that cost him his job and landed him under house arrest. Lane later sued her employers over the invasion of privacy, per The Philadelphia Inquirer. Mendte eventually offered an apology to his former colleague.
"I deeply regret my actions with respect to Alycia Lane and the harm that I caused her," Mendte wrote in a statement. "I repeatedly and illegally invaded her personal email accounts, obtained personal information and fed stories to the press to make it appear as if she was carrying on inappropriate relationships with men, which was untrue and unfair."
Kelly Tilghman's golf commentary caused outrage
Sports commentary is just one highlight of a live sporting event, as it can keep things interesting and help inform the audience of what's taking place. However, in 2008, Kelly Tilghman took a bad shot while reporting on golf Hall of Famer Tiger Woods. According to ESPN, during the telecast for the PGA Tour's opening event, Tilghman and her co-host discussed the new generation of golf players and how they could challenge Woods. Tilghman chimed in and said the young players should "lynch Tiger Woods in a back alley." The comment certainly raised some eyebrows, and unfortunately, it was just one of many racist remarks aimed at Woods throughout his career.
After many expressed outrage over the comment, Tilghman publicly apologized."On Friday during our golf broadcast, Nick Faldo and I were discussing Tiger's dominance in the golf world and I used some poorly chosen words," her statement read. "I have known Tiger for 12 years and I have apologized directly to him. I also apologize to our viewers who may have been offended by my comments." Despite Woods' agent claiming the golfer did not find anything offensive about the comments, Tilghman was still suspended for two weeks, per ESPN.
Mark Halperin's views on cancel culture
A decade after his time as a political director for ABC News, over a dozen women came forward with allegations of sexual harassment against Mark Halperin. A college student also accused the pundit of making unwanted advances at her during a dinner party with other students, per The Daily Beast. According to Vox, the scandal caused Halperin to lose a book deal and an HBO mini-series based on the book. Over at Showtime, they replaced him on the docuseries "The Circus," per Vanity Fair.
As his reporting career went down the drain and his attempt at an apology didn't go over well, Halperin was essentially blackballed and he wasn't happy about it. According to Mother Jones, in 2020 Halperin appeared on a panel to discuss cancel culture. "It's akin to being a refugee," he stated. He also compared being canceled to living with post-traumatic stress disorder.
The former pundit even argued that being canceled is a lifetime sentence that actual criminals don't have to live with. "Murderers in our society who get out of prison are afforded an opportunity to go on with some aspect of their life," he told the audience. "The challenge to a lot of people who are canceled is there's no mechanism for that, regardless of what they've done, regardless of whether they've tried to make amends."
If you or anyone you know has been a victim of sexual assault, help is available. Visit the Rape, Abuse & Incest National Network website or contact RAINN's National Helpline at 1-800-656-HOPE (4673).