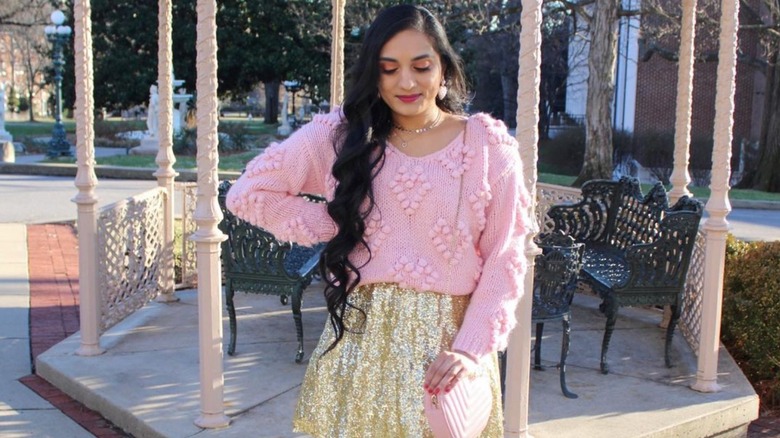 Throwing on a cozy yet highly stylized outfit doesn't have to be complicated, and the simple yet elegant design of the sweater-over-dress look is evidence of that. This classic fashion style is popular for its ease, effectiveness, and endless styling potential, so it's no wonder that the trend has over 100 million views on TikTok. Its elevated-casual nature makes it the perfect outfit for a wide range of daily activities.
With only two items needed to complete the style formula, the sweater-over-dress fashion is an easy approach to layering that is bound to upgrade your outfit every time. Once you get the hang of the style, it will be simple to assemble outfits that transition easily from day-to-night wear or looks that are visually compelling and filled with contrast.
The sweater-over-dress look is simple to style in various ways using your wardrobe favorites, which is why this look is a go-to for so many fashion enthusiasts. You can refresh this classic look with contemporary sensibilities, creating trendy iterations of this time-honored style. The versatility of the sweater-over-dress look is its biggest strength, and there are endless ways to style the look for your own life.
Mix and match styles
Feel free to have some fun while styling your sweater-over-dress outfit by mixing an artsy top with a patterned dress — the more unexpected the pairing the cooler the outfit becomes.
Create color continuity throughout your outfit by matching your shoes to your sweater and a fashion accessory, such as a hat, to your dress. Finish off the look with a pair of boots or chunky sneakers for a hint of informality. There's nothing more rewarding than a fashion risk that pays off well.
Loosely tie the sweater around your neck
A sweater tied over the shoulders is no longer as synonymous with preppy style as it once was, it can be rendered in a more undone fashion if the sweater is chunky and simply thrown over the shoulders instead of tied. This coastal look is an easy layering idea and is ideal for people with a penchant for undone yet elevated styles. Recreate the outfit from the example above by taking a cue from the monochrome fashion trend but mix it up with a pop of color in the choice of sweater and bag.
Fasten your sweater with a belt bag
When pairing a sweater with a satin or a silk dress, you can secure the top half using a stylish belt bag. It's an elegant and creative solution to a minor problem that can occur while styling finer materials, like silk. The belt bag is a great work around for cinching your waistline while wearing a baggier style, since it can be fastened as tightly or as loosely as needed throughout the day.
Don't be afraid to go casual
To cultivate a relaxed vibe, style your sweater-over-dress outfit down by opting for a cotton crewneck instead of a cashmere sweater or decorative knitwear. Not only is it a comfort-first option, but it's also a genius way of masking evening wear while getting to your destination if needed. Once you've arrived, remove the sweater and no one will be the wiser. Take a styling cue from the example above and pair yours with simple apparel for yet understated yet elegant look.
Wear contrasting colors for visual complexity
Contrasts are what make life interesting, and the same goes for outfits. Add rich contrast into your sweater-over-dress look by styling a lightly hued top with a dark-toned dress or vice versa. The result is a cozy yet stylish outfit that is perfect for any occasion, whether you require chic office wear for work, a sophisticated outfit for a meal with friends, or an easy number to slip on to run errands. The magic is in the versatility of this outfit.
Alter the style with a sweater vest
When we imagine the sweater-over-dress look, we typically think of a long sleeve sweater, but you can always opt for a sweater vest instead. The vest-over-dress look is a stylish alternative to its traditional counterpart. It's especially interesting if the dress you are wearing has unconventional sleeves that you'd like to display. Opt for a brightly-hued vest for a go-to spring and summer look.
If you don't have a sweater vest, turn to some of the older sweaters in your closet; it's pretty easy to DIY an old sweater into a trendy new sweater vest.
Layer it up with a coat for cold weather
The sweater-over-dress outfit is already a great layering look, but it can be made even more interesting by adding another layer on top. Throwing an oversized jacket over your sweater is a solid styling option and will allow you to stay warm in cold weather climates, especially during the winter. Use the picture above as inspiration and add a heavy coat and matching scarf to stay chic yet comfortable in the cold.
Combine day and night fashion
This style might be one of the easiest options for people who are in need of a unique, party-ready outfit. All you have to do to achieve it is pair a daytime sweater with a slip dress for an unforgettable look that will help you stand out at any event. Take inspiration from the example above and create a spontaneous style using mixed materials. Not only will the outfit appear more interesting and pulled together, but it will also make it visually compelling.
Style your dress with a fashion forward sweater
Colorful sweaters are a cold-weather closet staple and happen to be one of the biggest fashion trends of the moment. For fashion forward dressers, opting for a grunge-inspired sweater is an easy way to make a time-honored outfit trendier.
Whether it be an extra-chunky sweater, a use of mix and matched patterns, or a knit rendered in extraordinarily bright material, these sweaters are a way of making a classic style look contemporary.
Opt for a monochrome outfit for a cohesive look
Monochromatic outfits are a fashion forward way of styling the sweater-over-dress look for any occasion. The combination has an instantly-elevating effect on any outfit, but especially in this style. This perfect pairing also simplifies the process of assembling your sweater-over-dress outfit, while still maintaining the style's interesting look. If you can't find a sweater-over-dress pairing that's readily available as a twinset, then combine comparable looking pieces in your wardrobe for a similar effect.