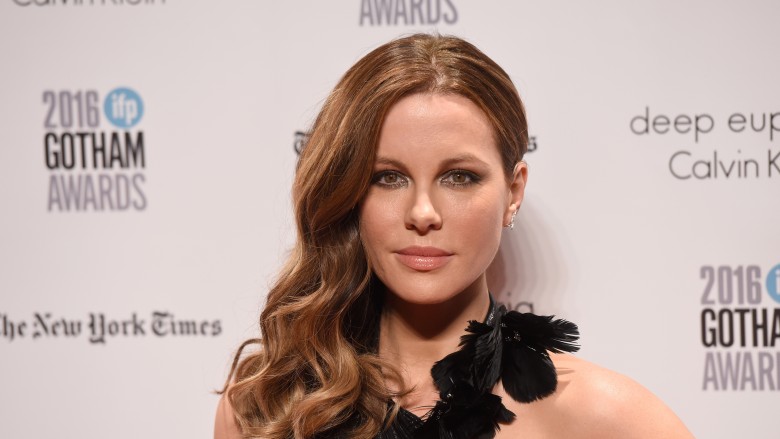 Even as one of only a handful of female leads to carry a multi-million-dollar film franchise, Kate Beckinsale still feels unknown—or at the very least, perhaps unappreciated. The supernaturally driven Underworld action series launched her film career into the blockbuster stratosphere and helped turn Beckinsale into an internationally recognized star, but over the long run, its success may also have contributed to a somewhat surprising professional stagnation. When Beckinsale is free to move, she's capable of delivering highly acclaimed work—for example, just check out her appearance as Lady Susan Vernon in Whit Stillman's 2016 Jane Austen adaptation, Love & Friendship. But in spite of what she's proven she can do with the right script even if the story doesn't involve vampires and werewolves, opportunities to display her dramatic chops have come far too infrequently. Why isn't Hollywood offering Kate Beckinsale more opportunities to lead movies these days? Let's take a look.
Underworld was a surprise hit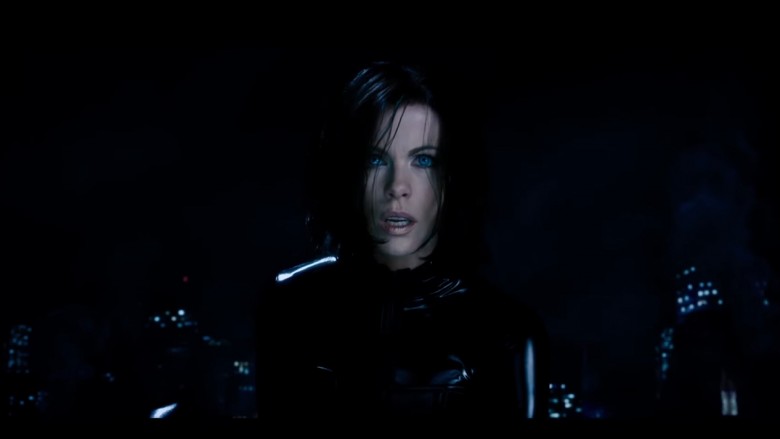 Before the release of Underworld in 2003, Beckinsale was still finding her career footing. She'd received excellent reviews for her performance in Whit Stillman's 1998 indie comedy The Last Days of Disco and starred opposite Ben Affleck in the not-so-hot Michael Bay blockbuster Pearl Harbor. Along the way, she kept doing plays and smaller period dramas, including a 1995 touring production of Chekhov's The Seagull, where she met actor (and future longterm boyfriend) Michael Sheen. After she was tapped to play Selene in Underworld, Beckinsale petitioned the then-married director of the film, Len Wiseman, to cast Sheen in the movie, which he did. But once filming started, Wiseman and Beckinsale hit it off, became romantic, and were married within two years.
Now more than a decade later, Wiseman and Beckinsale have worked on multiple films together (many of them installments of the Underworld series). The action/fantasy films cost relatively little to produce. They do well at the box office and have been quite profitable, but they aren't exactly considered great cinema, so while the franchise has been rolling along, Beckinsale's career has suffered the knife's edge of the series' success. Amongst audiences, directors, and casting agents, she may be too closely associated with Selene from Underworld to imagine her in any other way.
That could all change…
In late 2016, Wiseman filed for divorce from Beckinsale, citing irreconcilable differences. While divorce is rarely a blessing, in this case, there could be a silver lining for her: no longer married to its director, the actress can walk away from the Underworld franchise without personal conflict or hard feelings. According to Vulture, she received an $8 million contract to return to the role of Selene after sitting out the third movie, Underworld: Rise of the Lycans. With money in the bank, Beckinsale is free to pursue roles outside the action/horror genre—and not a moment too soon, because it looks like she might be tired of the fight between werewolves and vampires. In this 2016 interview, she appears visibly pained when discussing the Underworld films, even forgetting the name of the latest installment.
She has a daughter
Four years after meeting Michael Sheen on the stage of The Seagull, Beckinsale became pregnant with their child, Lily Mo Sheen. Now no longer a child and the daughter of two famous actors, Lily Mo has become somewhat of a star herself, at least in the eyes of the paparazzi. Beckinsale speaks highly of her daughter and their relationship, and even remains friendly with her ex Sheen. It's the case with any job, but the work-life balance in Hollywood appears to be particularly strenuous. Between the recent uptick of public interest in her daughter, her divorce from Wiseman, and the constant responsibility of motherhood, Beckinsale has had a significant if slightly stunted output over the years.
Pearl Harbor was a flop
Beckinsale's potential big break for American audiences ended up as a complete disaster. After an underestimated performance playing alongside Claire Danes in 1999's Brokedown Palace, she was poised to really bust out as a leading woman. The 2001 period blockbuster Pearl Harbor, which saw Beckinsale playing the love interest to both Ben Affleck and Josh Hartnett, was almost unanimously panned; as a New York Times review of the movie put it, "Pearl Harbor has as little interest in character as it does, ultimately, with history." Had this film succeeded, or had Beckinsale's performance outshined the production itself, the actress' career likely would have taken a different path—one leading to more high-profile, dramatic roles. To make matters worse, after Pearl Harbor stunted Beckinsale's growth as a viable lead in a big-budget drama, her next film all but stopped her chances of working in the romantic comedy genre.
Serendipity didn't hit, either
The 2001 romcom Serendipity starring John Cusack and Beckinsale fell flat with critics as well as the general public. By that point, audiences had suffered through or supported nearly two decades of adorable yet hapless John Cusack characters—starting with Bryce from Sixteen Candles—and by the turn of the century, the magic had started to wear thin. This is not to say either star was particularly to blame for the film's ultimate failure—or that a different cast could have helped a release that moved one critic to write, "Alas, Serendipity is so stringently a 'romantic comedy,' you could review it with a pie chart." Peter Chelsom, the film's director, would later work on 2004's Shall We Dance with Richard Gere and Jennifer Lopez as well as the 2008 Hannah Montana movie. Had Serendipity been better, it might have been a perfect pivot for Beckinsale. Alas, it was not to be.
Her most popular roles don't take advantage of her British roots
Many of today's hot British exports—like Tom Hardy or Benedict Cumberbatch or Emma Watson or Carrie Mulligan—all had the benefit of breaking out to American audiences speaking in their native tongues. It seems like a small thing, but most of the non-American, English-speaking actors who are so beloved today were able to prove their chops in their native dialects. In The Last Days of Disco, Brokedown Palace, Pearl Harbor, Serendipity, and even Underworld, Beckinsale is using an American accent. She's had roles without it, but somehow during this big entertainment expansion, she got left out of the neo-British Invasion.
Ageism
Beckinsale is in a kind of acting purgatory—simultaneously too old and too young to snatch up the more desirable roles in the industry. As critics have pointed out, there's a strong (and arguably growing) strain of ageism in Hollywood directed specifically toward female actors. While male leads can work well into their 50s and 60s, female leads are more often than not left out of roles once they pass 40. As it stands, Beckinsale had only one credit listed for 2017 on her IMDb, a drama called The Only Living Boy in New York. In the movie, Beckinsale's character plays a mistress who begins an affair with her lover's son. The cast also includes Jeff Bridges, Callum Turner, and Kiersey Clemons, and working with established talent and rising stars can only be good for Beckinsale's continued success in Hollywood. This doesn't change the fact, however, that she was chosen for her role (as a mistress turned young man's fantasy girl) precisely because of her age and her looks.
Sexism
Many sexist remarks and policies within the film industry go unmentioned and unchecked, though thankfully that's beginning to change. In 2015, for example, Jennifer Lawrence expressed outrage over the pay gap between male and female lead actors. The following year, Beckinsale dug up some disparaging jabs director Michael Bay made at her while he was on the press junket for Pearl Harbor. "When we were promoting the film, Michael was asked why he had chosen Ben [Affleck] and Josh [Hartnett], and he said, 'I have worked with Ben before and I love him, and Josh is so manly and a wonderful actor,'" Beckinsale said while on the Graham Norton Show in May. "Then when he was asked about me, he'd say, 'Kate wasn't so attractive that she would alienate the female audience.'" According to Beckinsale, Bay continued to mention this during different press engagements for the movie. In a 2001 interview with Movieline, Bay confirms his sentiments, saying of why he cast Beckinsale, "I didn't want someone who was too beautiful. Women feel disturbed when they see someone's too pretty." Nice guy…
Michael Bay was wrong
Getty Images
Despite Michael Bay's sexist remarks, Beckinsale's career has been crowded with roles in which the actress has been typecast for her good looks and physique. She's been a model in commercials for Gap, Diet Coke, and Absolut Vodka in the past. Many directors and agencies cast Beckinsale to play characters who move the action onscreen through a steely look, a horrified gasp, or an acrobatic gesture rather than a well-constructed bit of dialogue. Whether in recent horror films such as The Disappointments Room or Stonehearst Asylum, or action flicks such as Total Recall or the Underworld series, she's rarely given enough space to really shine creatively. Having played so many of these types of characters over the past 20-plus years, it's easy to see how she's been overlooked for subtler, more emotional roles.
Hollywood sea change
For better or worse, the average cost to produce and market a wide-release film has skyrocketed over the last 30 years, and studios are no longer willing to take risks on small-budget indies or period dramas without major star power. Unfortunately, these are precisely the types of films in which Beckinsale has excelled, whether it be her small part as Ava Gardner in the lauded 2004 biopic The Aviator, her appearances in two Whit Stillman films, or even her role as Alex in the 2002 sleeper hit Laurel Canyon. The only major studio projects that really seem to gain consistent traction are mega-budget monster movies, superhero adventures, or disaster thrillers. With the big screen less hospitable than ever, it's unsurprising that she'd turn to TV: in 2018, Beckinsale was announced as the star of the limited-run series The Widow, about a woman drawn into a dangerous quest after spotting her "late" husband on the news. Clearly, an actress of her talent and diverse résumé is always just the right script away from a comeback.