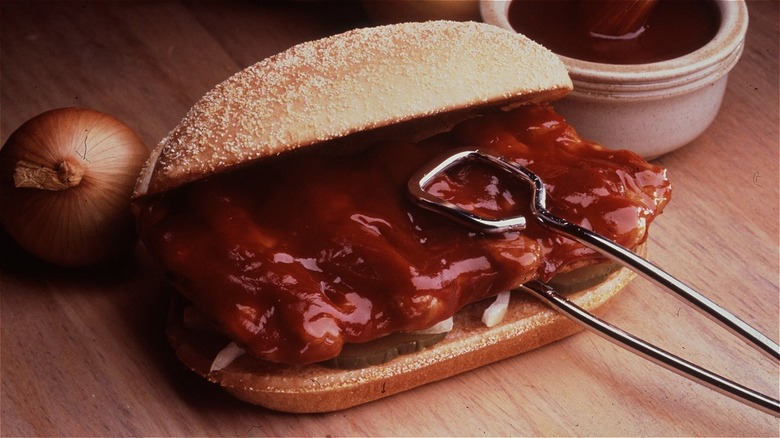 Ah, the McRib. Who would've thought a fast-food sandwich would gain such a cult following? According to Business Insider, Chicken McNuggets were so popular in the early 1980s that McDonald's restaurants across the country were often sold out of the item. The chain needed a crave-worthy replacement — and fast. Leave it to Rene Arend, executive chef with McDonald's and inventor of the Chicken McNugget, to come up with a sandwich featuring a boneless pork patty shaped like a rack of ribs, smothered in tangy barbecue sauce and topped with onions and pickles (via Maxim). The sandwich was introduced nationwide in 1982 and was only on the menu for three years before McDonald's axed the McRib in 1985 due to poor sales.
Yet absence makes the stomach grow fonder: The McRib returned in 1994 to help promote "The Flintstones" movie and has been available for a limited time each year since 2006. But in October 2022, our beloved McRib went on a farewell tour … maybe. McDonald's said in a press release for the event that "this isn't a 'goodbye' but a 'see you later.'"
Whether or not the McRib returns in 2023, you can feed your need by making the sandwich at home or with a similar sandwich offered at another restaurant. Either option is just as yummy as the real thing!